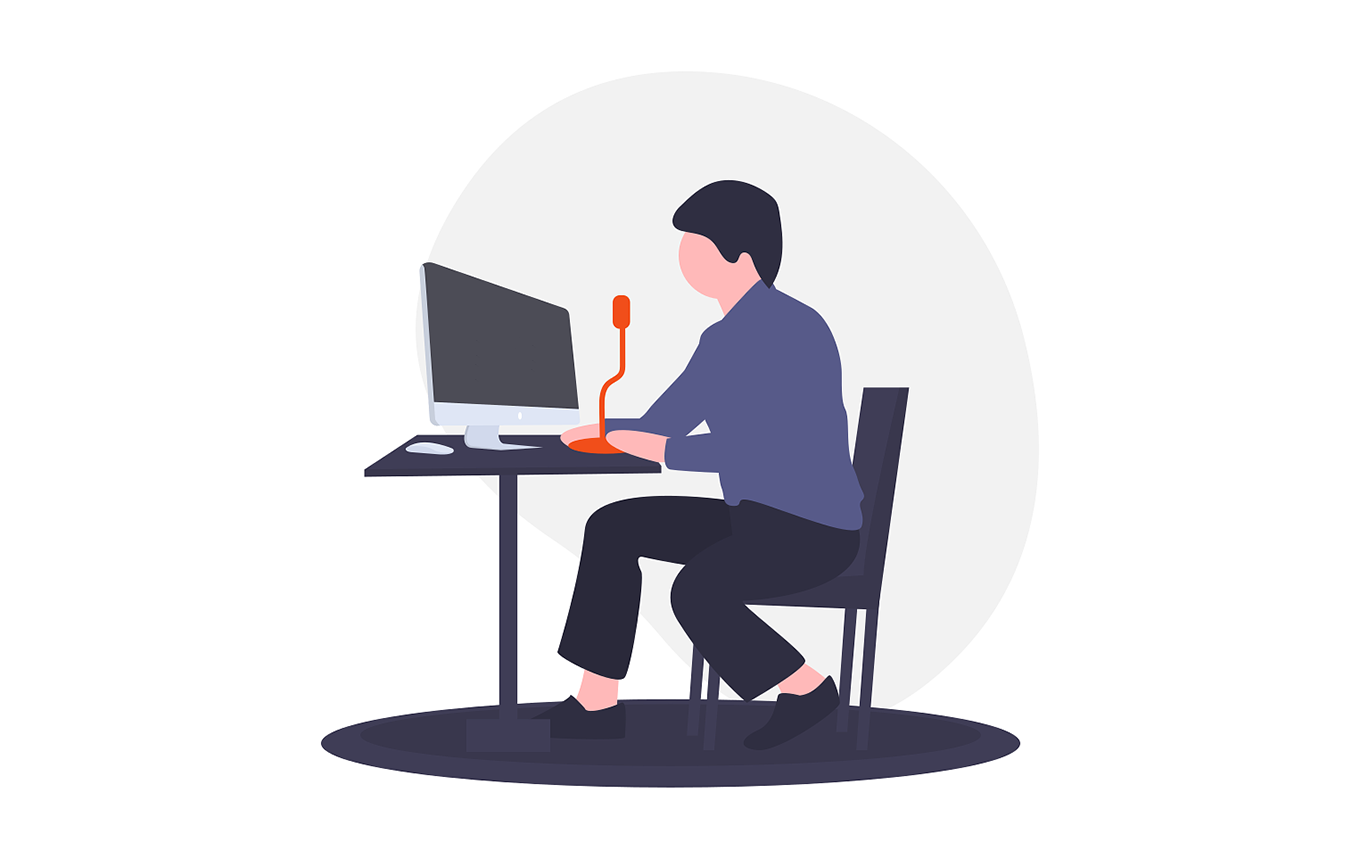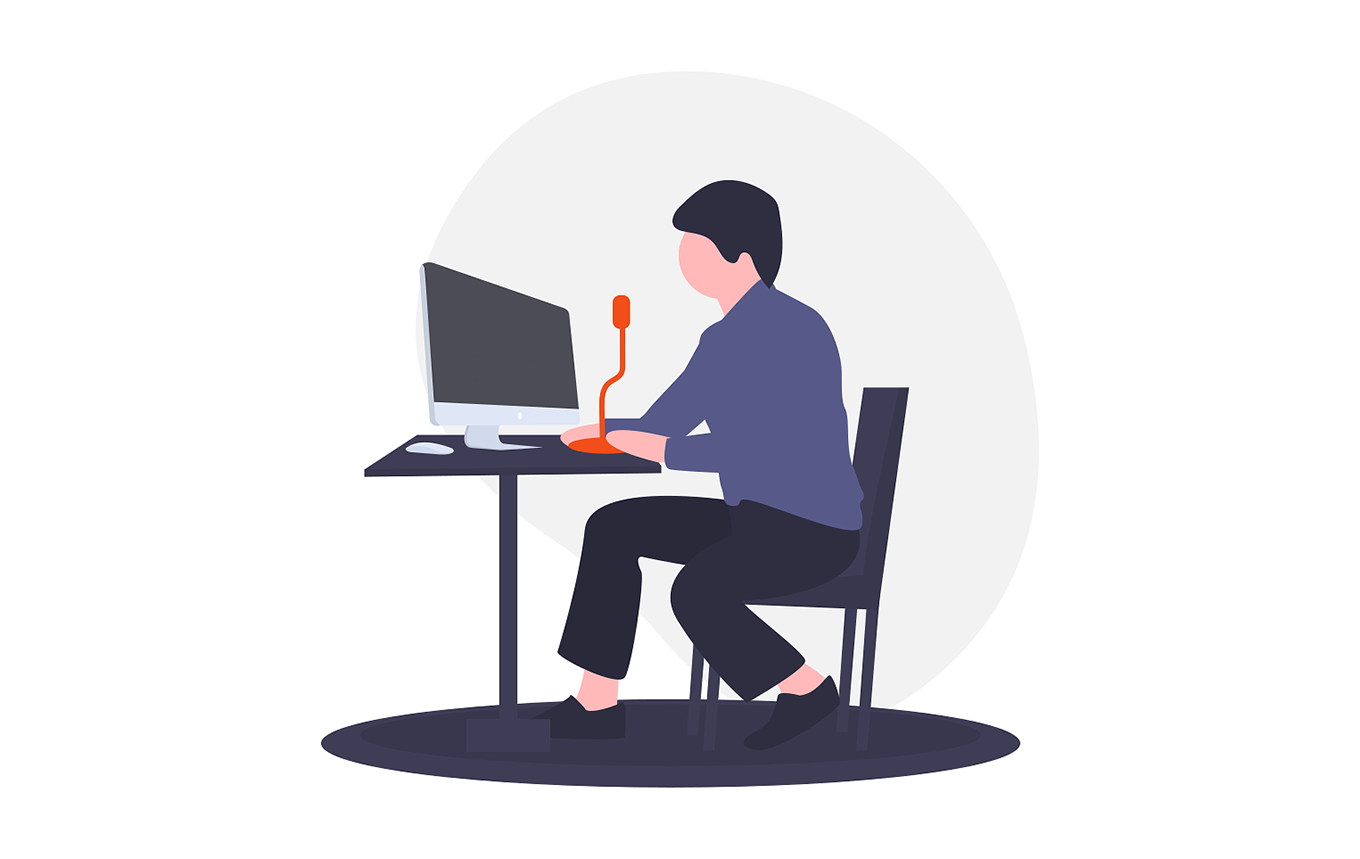 You have just chosen your equipment, set up your studio and are finally ready to broadcast live for the first time on your Internet radio station. The stress is rising and it's completely normal, in this course we will see how to succeed every time you broadcast live.
By the end of this course, you will know:
Preparation: an essential step before a live broadcast
---
It would be more than tempting to click on ON AIR and take the microphone as soon as possible, but it's probably the best way to ensure your show is missing something. Performing a live Internet radio broadcast requires preparation if you want to offer your listeners the best possible show.
When should you broadcast live?
Broadcasting live requires time and concentration, so it is important to get organized.
Depending on the concept of your radio, you will not have the same way of approaching live broadcasting. On FM stations, morning and early evening shows are very popular on weekdays, but you don't have to follow these examples. In any case, the essential element to remember for a successful live broadcast is: regularity. Choose a time when you will go live and stick to it.
You can choose to broadcast your show live every Wednesday of the month, or to take the show live from 2 to 3 in the morning, no matter what, the most important thing being to be faithful to the appointment. There's nothing worse than blowing off your listeners at the last minute.
You may, of course, choose to create special shows for special events, but emphasize on the uniqueness of the show (this is a great argument to attract more listeners. ?).
Whatever the nature of your live broadcast, never forget to announce it on social networks and don't hesitate to mention your guests or take pictures of the studio a few minutes before the live broadcast to get the excitement going.
Prepare your show
Live radio is great, but you have to know what you're going to say to your listeners and how to say it.
You must already have the type of show you want to produce in mind. Do you use live coverage to keep your listeners informed of the latest news? Are you going to do an interview? A debate? Each type of show is different and does not require the same preparation.
In any case, you must always have a plan for the show. The plan allows you to know where you are in your show, what music should be played, when to let your guests speak, etc. Always keep your plan within reach to keep control over your live broadcast.
Be careful not to write too much at the risk of reading it, which could make your speech sound unnatural. Speaking is not the only part you need to prepare, if you decide to broadcast music, remember to prepare your tracks as well.
First, check that the tracks you want to broadcast are the right ones, their duration…. It would be a shame to put the wrong version on air after announcing the title. Then, download the music for your live broadcast in advance. If possible, use the Queue function available on many broadcasting software.
Finally, don't forget to include the times when your titles will be broadcast in your plan.
Personal preparation
You may feel a little pressure when you go live, don't panic, it's normal especially the first few times. It is therefore important to warm up well in order to be able to control your voice. There are several exercises that will help you control your voice during live broadcasts.
First, focus on your breathing, because it is an important element in managing your voice. Begin by taking care of your posture: if you stand/ sit up straight, the air will circulate better.
Here is a diaphragmatic breathing exercise that will allow you to relax and help you master your radio voice. To do this, place your hand on your stomach and the other on your chest to feel the movements of your breathing. Breathe in slowly through your nose while inflating your stomach, then exhale slowly as you retract. Do this exercise for about ten minutes before your live broadcast to be completely relaxed.
Now that you are completely relaxed, let's move on to a vocal exercise: humming. The aim is to release your jaw completely, inhale and exhale on a hummmm. Do you feel a vibration? Perfect! Now try to spread the hum over several tones. Repeat the exercise several times.
We'll never say this enough: hydrate yourself! Indeed, dehydration will affect the tone of your voice. So always keep a bottle of water handy so you won't be caught off guard.
Last tip: Smile and enjoy yourself, your listeners will hear it. ?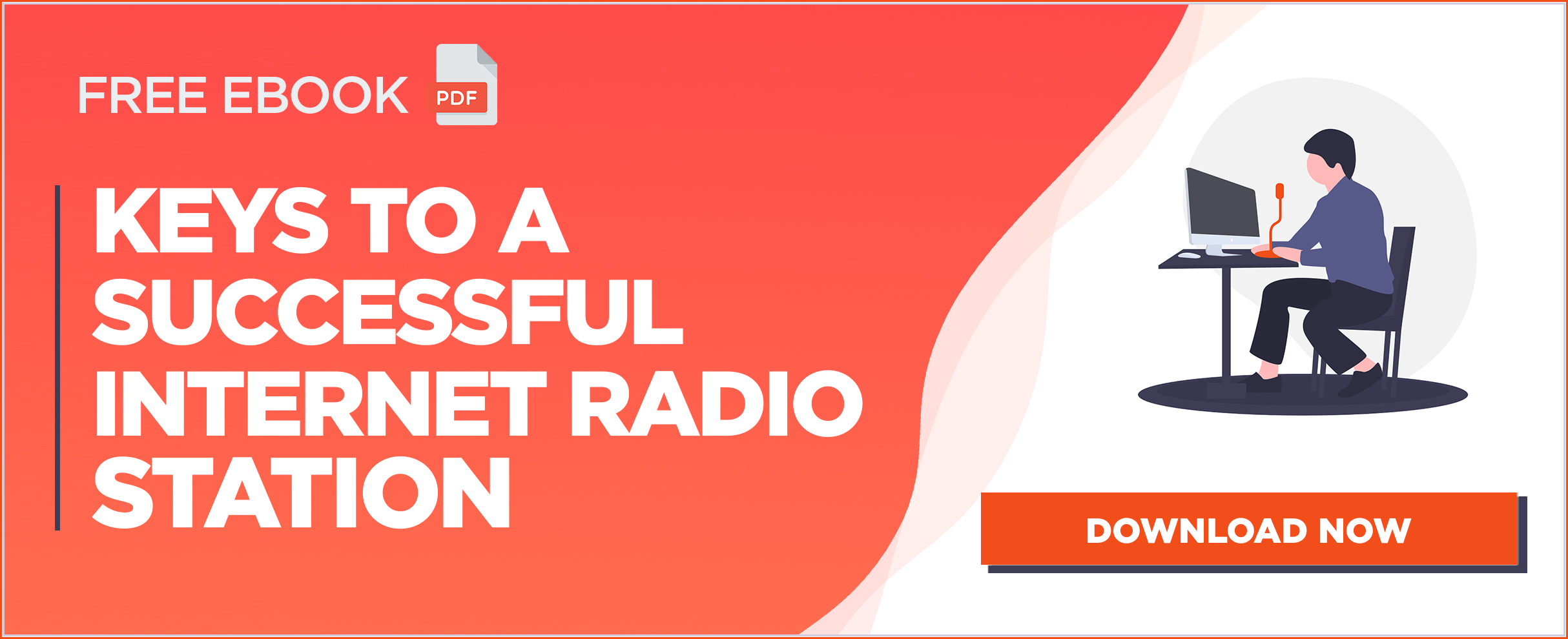 Enhance your live broadcast
---
Now that you are ready to start your live broadcast, let's look at ways to spice it up so that your radio show is unlike any other.
Add sound effects
To spice up your live broadcast, don't hesitate to add sounds. Indeed, sound effects are welcome to help embellish your show. There are several ways to integrate them.
Beds: A bed is a musical background music on which the host speaks. This ensures that the cut between the jingle and the live broadcast is not too rough. A bed generally reflects the theme of your intro. The volume of the bed must always be a little lower so that your speech can remain audible.
Samplers: Samples are small sound pads that are used to enhance your show. They can be used to illustrate a point, or even become a comic element depending on how you want to use them. Any sound can become a sample, a cult replica of one of your hosts, applause, etc….
Top Tip: Keep your sound effects within reach in your broadcasting software by creating a special folder.
Put your listeners live on air
What would a radio show be without listeners? Many radio shows base their concept on their listeners live participation. Why not let your listeners express themselves on your Internet radio station. To do this, there are several ways to get your listeners live on your radio.
You have a mixer: the simplest technique is to connect your phone directly to your mixer using a 3.5 MM RCA/mini-jack cable, but be careful, with this device the listener will hear you through your phone's microphone.
You don't have a mixer: No worries, even without a mixer it is possible to get listeners on the air. To do this we will use Skype.
You will also need to download a virtual audio interface: VoiceMeeter.
VoiceMeeter is only available on Windows, if you are on Mac an alternative (not free, but easier to configure) exists: Loopback.
In order for VoiceMeeter to be fully up to date you will also need to download 2 software programs: VB-Cable & Hifi-Cable & Asia-Bridge. Once these 2 software are downloaded, unzip the archive, open the folder and run it, then click on Install. Repeat the manipulation for the second software. Once this is done, finally open VoiceMeeter, it should look like this: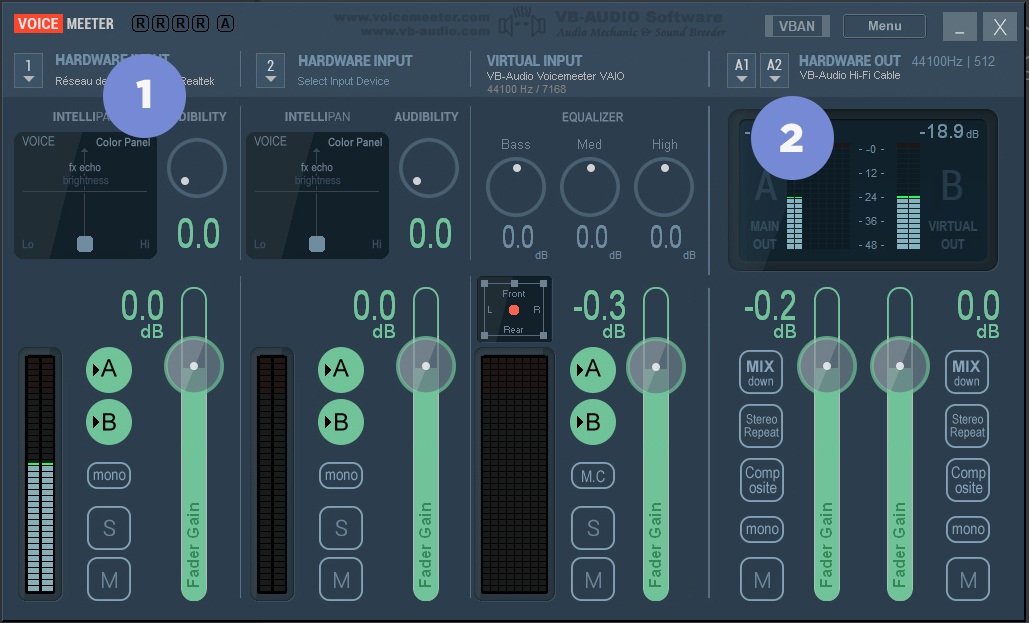 In the 1st column (1) select the microphone input you are using.
Then in the Hardware out column (2) select KS: VB- Audio Hi-fi Cable.
Are your Voicemeeter settings done?
Now open Skype and go to the Audio settings in the Speakers field and select Hifi Cable Input. There you go! Simply open your favorite broadcasting software and configure in the input devices: Hifi Cable Output.
Remember: If you don't have Skype, this set up also works with Discord.
Broadcast live via your smartphone
Sometimes you may want to broadcast live in the heat of the moment without having all your equipment on hand. No problem, because you can also broadcast live via your smartphone. For that you will only need is… your smartphone and an application specially designed to broadcast live.
Once you have downloaded an app on your phone you will need to configure it just like a regular broadcasting software. You're now good to go!
Broadcasting live and much more…
---
Retransmit your live broadcast via video streaming
It is no secret that filmed radio has already conquered major national radio stations. Simple solutions exist if you also want to get started. For this purpose, there are several options: Youtube, Facebook Live and even Periscope. The choice of platform will depend above all on the consumption habits of your listeners and your own habits.
In any case, one streaming software will be essential: OBS. This software is free and will allow you to broadcast your radio live and film yourself via your webcam. OBS may seem difficult to tame, but it will also prove to be a valuable ally if you are considering making filmed radio. It will also allow you to create scenes, where you can broadcast images, text, etc.
Remember: Whether you choose to broadcast your Internet radio station on Facebook, Youtube or Periscope, be very careful with music broadcasting because these platforms are very strict on this subject. Opt to broadcast talk shows with royalty-free music.
Create a podcast of your live broadcast
So, your live broadcast is over and it was fantastic! No wonder you want to share it with those who couldn't listen to it. Don't worry, you can always offer your listeners the chance to listen to it again in a podcast.
First step: Retrieve the recording of your live broadcast. Before starting your show, remember to activate the recording of your live show. Most broadcasting software offers this option, so don't forget to activate it before you go live.
You can then choose to offer a direct replay of your show on your website if you have one, or on podcast listening platforms such as iTunes, Spotify, etc…. For this option you must provide the RSS feed of your podcast.
What is an RSS feed? An RSS feed is an address that contains all the information of your podcast: the name, title, etc., it allows platforms to retransmit your program to your listeners. The easiest way to generate the RSS feed of your podcast is to use a specialized podcast host.
There are several of them, it is up to you to choose the one that suits you : Ausha, Soundcloud or Spreaker for example.

TO SUM UP:
---
The preparation before your live broadcast is an essential step.

Feel free to propose a different type of live broadcast by broadcasting it via video for example.

Relax and don't forget to enjoy yourself!
We've reached the end of this second course, thank you for reading! We hope you enjoyed this course and that it provided you with answers to your questions before starting your Internet radio station. You can now move on to the next course… So go ahead!
---

Ready to create your own Internet radio station?
Enjoy our free 7 day demo and create your radio easily with the Radio Manager.
No commitment, you can cancel at any time.