Do you want to become the best radio presenter and create a community of listeners that are loyal to your radio station or show?

To do this, it's important to establish yourself as a reference in the audiovisual world. You'll also have to work on your personality, boost your general culture and understand various techniques that will allow you to captivate your listeners. To help you, we've listed some tips to help you become the best radio presenter.
12. Collaborate with other radio presenters 
If your main goal is to become the best radio presenter and satisfy your listeners, you should consider the idea of collaborating with other hosts. Whether it's a presenter on the same station or on another radio station, this collaboration will allow you to practice, learn from the other host's experience, and take your first steps. If you already know which host or broadcaster you want to work with, make sure they share your values and have a similar target audience to yours. That way, you can pick a few of them up along the way! 😉
Take a look at our article on how to define a target audience for your radio!
11. Work on your general culture 
A radio presenter has to study and master the different topics covered during his or her show. You may be asking how? Simply search the Internet about the topics that may be covered, the latest news and even famous people related to the subject. This will allow you to easily bounce back during the show, which is essential if you want to become the best radio presenter.
10. Being the best radio presenter means being authentic
Authenticity is another key factor to being the best radio presenter. Stay true to your origins, to the people who have been with you from the beginning and to yourself. Fame can easily change who you are. Always remember that if you're famous today, it's thanks to the person you've were before. In order to become the best radio presenter, you must be approachable, humble and know how to listen.
09. Stay connected 
We live in an increasingly connected world. Social networks must be an integral part of your life. In addition to accounts dedicated to your show or radio station, you need to have a "Radio Host" account on Twitter, Facebook, Instagram and even LinkedIn for more professional contacts. Social networks will allow you to work on your image, follow the news and be closer to your listeners. They will also be the open door to criticism and even insults in extreme cases, but they will allow you to improve and correct certain things in hindsight.
08. Build a community 
To make listeners want to follow you, you need to show that you're able to listen to them. For example, you should respond when a listener comments on one of your publications or asks you a question on Twitter. To become the best radio presenter, you must show that you are human and accessible. You should also regularly invite your listeners to participate and exchange with you. This can be done by asking a question in an Instagram or Facebook story for example. You can also monitor your favorite presenter and note how they address their listeners and test it on your own audience!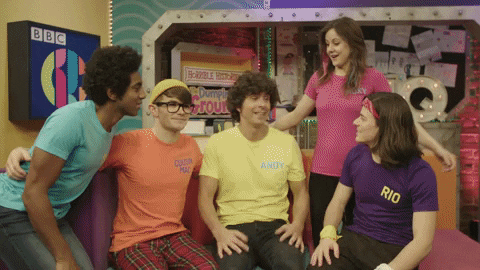 07. Prepare your shows in advance
If, like me, you thought that a show could be totally improvised, you may quickly be disappointed once you're live on air. If you want to become the best radio presenter, we advise that you plan your shows and prepare them beforehand. Radio hosts are responsable for the smooth running of their show. Therefore, they must have a global view to ensure fluidity and keep the attention of their listeners.
06. Become the best radio presenter by sharing anecdotes
Do you like to hear anecdotes about certain celebrities or entertainers? The same goes for your listeners. Share your best anecdotes with your listeners so they feel like they know you as an old friend. This doesn't mean you have to tell your life story on a daily basis, but it can be interesting to share a bit of your personal experience in response to a guest's story.
05. Network in real life 
Participate in events or festivals to make yourself known in the professional world. It's a great way to open new opportunities. Networking is the perfect opportunity to forge partnerships and meet your next guests in another setting.
04. Choose the right mic to help you become the best radio presenter
As a radio presenter, your microphone is both your best friend and your worst enemy. It's important to find one that best suits your voice and can give you the best possible results. The more accurate your voice sounds, the more enjoyable it will be for your audience, who will listen to you on a daily basis.
03. Professionalize yourself
Professionalizing yourself doesn't mean wearing a suit and tie in the radio studio! We simply recommend that you be punctual, prepared and organized. If you meet these three points, you will have nothing to worry about and your show will run smoothly. Furthermore, it shows that you are serious about your job and your show which are essential qualities if you want to become the best radio presenter!
02. Work on your voice
Whether it's low or high-pitched, a radio host's voice plays a curcial role in the success of their show. Unlike television or videos on the Internet, your voice does not interact with an image. It's essential that you work on your tone, rhythm and delivery.
01. Let loose! 
Radio is one of the few media that offers major freedom of expression, so don't hesitate to let loose! Try to make each intervention and subject as interesting as possible. Keep up the pace, don't be afraid of failure and your listeners will see in you the best radio presenter they have ever heard!
Ready to become the best radio presenter?

We hope that this article was helpful! If you have further questions or if you want to create your own Internet radio station, our team is here to help!