We've reached the final article in this 3-part series on low-budget radio equipment! After sharing our selection of headphones and mixers, this week we're moving onto best budget microphones.
USB Microphones
Samson C01U Pro
Blue Yeti
Marantz Professional MPM-2000U
XLR microphones
Behringer B1
sE Electronics V7
AKG P220
USB & XLR microphones
Final thoughts
Frequently Asked Questions
Best USB Microphones
USB microphones are a great choice if you have a limited budget, as you don't need any additional equipment (such as a mixer or audio interface). With a simple plug-and-play set up, you can connect your mic directly into your computer via USB cable. It used to be thought that USB mics didn't provide good audio quality compared to XLR type mics, however nowadays that simply isn't true. Here's a list of some of the best USB mics for recording, broadcasting and streaming.
Samson C01U Pro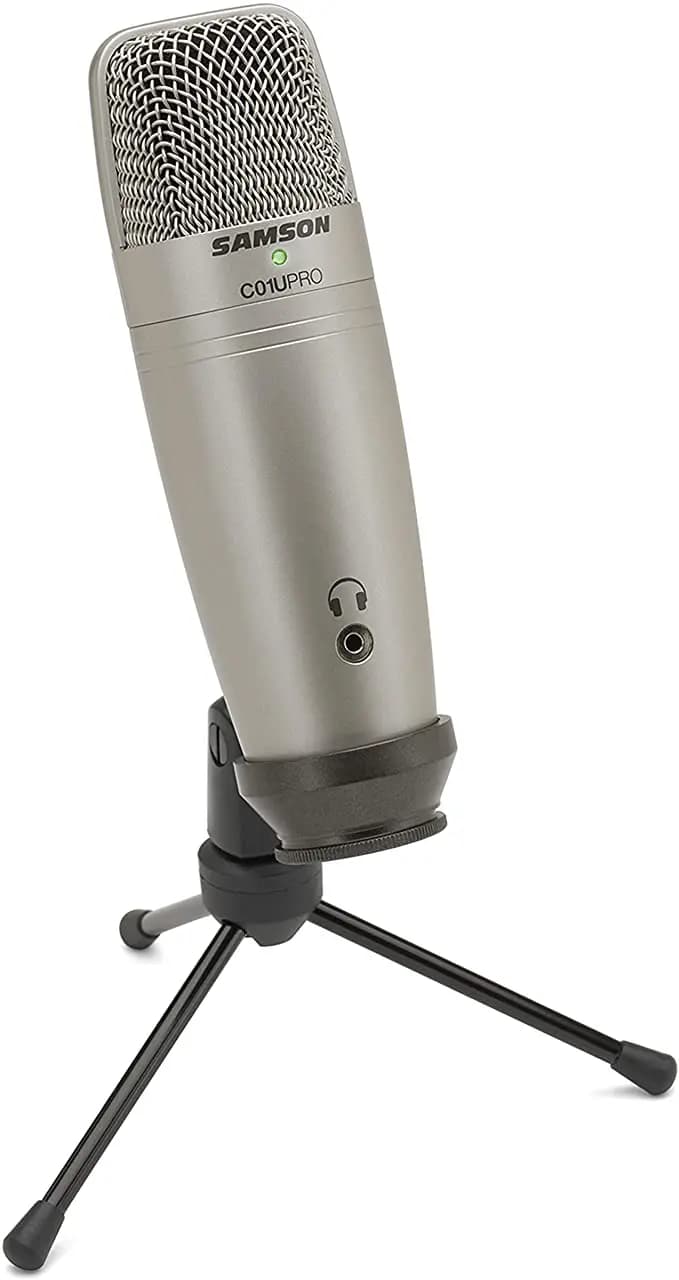 Price: $60
Type: Condenser
Polar pattern: Supercardioid
Build
The Samson C01U has an all metal body and grill, which means that the mic has some heft to it! It comes with a mount, as well as a microphone adapter that allows you to attach the mic directly to a stand or boom arm. Plus, a desktop microphone stand is included!
You'll also find a 3.5mm headphone jack that allows you to have latency free monitoring of the audio coming through your mic. There's a small led light that turns green when its receiving power, which will help you ensure everything is working correctly. This light also blinks red when the signal is clipping, warning you to adjust your levels to avoid your voice from being over-saturated.
Sound
This particular microphone has a supercardioid polar pattern, meaning that the highest sensitivity to sound is directly in front of the microphone. When using this mic, you'll need to keep it close to the sound source (your voice) to obtain the best results. It does a good does a good job at cancelling surrounding noises, however you may want to purchase a pop-filter to help avoid plosive sounds.
Overall, it's a simple yet sturdy "plug-and-play" mic. You'll probably have a hard time finding a better USB, with multiple accessories, microphone for this price!
Blue Yeti

Price: $130
Type: Condenser
Polar patterns: Stereo, cardioid, omnidirectional & bidirectional
Build
The Blue Yeti is a popular microphone, often used for podcasting, YouTube videos, and radio broadcasting. Just like the Samson C01U, the Blue Yeti also has an all metal body and grill, as well as a 3.5mm headphone plug.
This microphone has various integrated features such as: a headphone volume knob, a mute button and a gain knob (microphone volume). There are also 4 different polar patterns to choose from: cardioid, bidirectional, omnidirectional and stereo. This makes it an extremely versatile piece of audio equipment that can suit multiple needs.
Sound
Let's take a closer look at the available polar patterns:
Stereo: uses both left and right channels to capture a wide and realistic sound image.
Cardioid: records sound sources that are directly in front of the microphone, ideal for radio and podcasting.
Omnidirectional: picks up audio all around the microphone, leaving no dead spots.
Bidirectional: records from both the front and rear of the microphone, perfect for 2-person interviews.
Overall this microphone provides great audio quality! Plus, it has so many features that you can fine tune to do exactly what you need it to do.
Marantz Professional MPM-2000U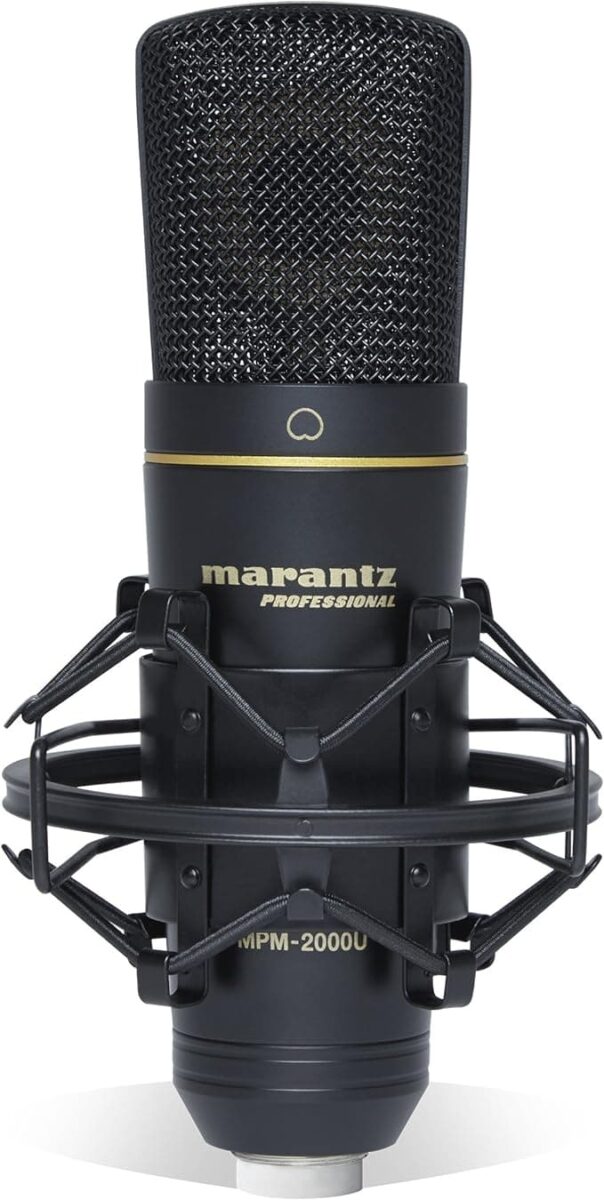 Price: $90
Type: Condenser
Polar pattern: Cardioid
Build
This microphone feels very well put together, with an all-metal construction. It comes with a shock mount, as well as a carrying case that is ideal for travel.
Sound
Again, this microphone has a cardioid polar pattern so you'll need to speak directly in front of it for the best results.
This large-diaphragm microphone has a surprising clean response. Its studio-quality frequency response makes it an ideal, inexpensive USB mic for recording vocals.
All in all, the MPM-2000U sounds amazing and even does a decent job at reducing any background noise.
Best XLR Microphones
As its name indicates, an XLR microphone is connected via an XLR cable. This means that, contrary to USB microphones, you will need a mixer or an audio interface in order to connect the equipment to your computer. XLR microphones are great if you're planning on broadcasting live or recording with multiple people because, (depending on the number of inputs on your mixer), you will be able to pick up the audio from multiple mics at once. This type of microphone also allows you to upgrade the components of your studio set-up at any time, as they are compatible with most industry standard equipment.
Behringer B1 Bundle

Price: $96
Type: Condenser
Polar pattern: Cardioid
Build
This bundle includes a carrying case, a shock mount, a stand adapter as well as a foam wind screen (and the mic of course!) for just $96. Again, this microphone has an all metal body and grill which gives a nice weight to it. Plus, we love a bundle that allows us to start recording straight away!
Sound
The cardioid polar pattern of this microphone is ideal for picking up your source signal while rejecting any background noise. You'll find a certain amount of clarity when it comes to recording vocals with this model which is great. Don't forget that, as this is a condenser mic, you will need to activate phantom power (48V) on your mixer or audio interface in order to give it the power it needs to function at full-capacity.
The B-1 also has a switchable -10 dB attenuator to capture high-volume signal sources without distorting, as well as a low-cut filter to tame ultra-low frequencies. Overall, it does a wonderful job at capturing details better than most condenser microphones.
sE Electronics V7 Bundle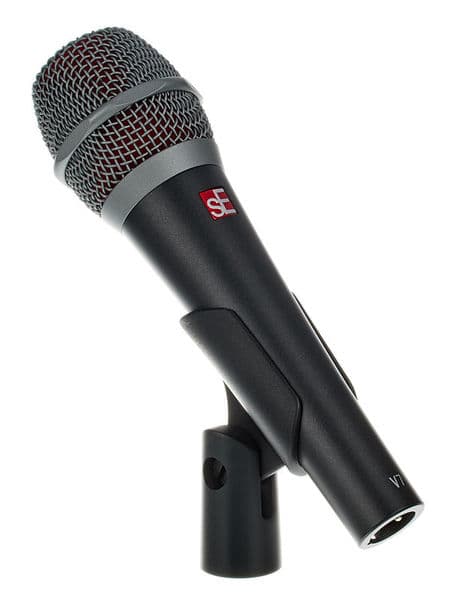 Price: $105
Type: Dynamic
Polar pattern: Supercardioid
Build
When purchasing the V7, you'll also get a microphone clamp, windscreen, carrying pouch and threaded adapter.
Once again, this microphone has an all metal body and grill which gives a decent amount of weight to it.
Sound
This model has a supercardioid polar pattern. This means that it has a tighter pickup angle than a classic cardioid, but it offers more side rejection as well as feedback rejection. It's a dynamic microphone which means that phantom power (48V) will not be needed.
This mic uses a neodymium magnet inside which helps extend the higher frequencies out to 19kHz. It's fair to say that it has a frequency response well above that of a lot of its competitors at this price point. Plus, this high frequency response is what gives this mic more detail.
AKG P220

Price: $155
Type: Condenser
Polar pattern: Cardioid
Build
The AKG P220 also comes in a bundle that includes; a carrying case, a shock mount and adapter to attach it to a stand. This is yet another microphone that has an all metal body and grill, giving it a sturdy and heavy feel.
At the front, you'll find a switchable high pass filter, as well as a -20dB pad used for recording loud sound sources.
Sound
This microphone has a cardioid polar pattern which, as explained earlier, means that the sound source is captured directly in front of the mic.
As it's a condenser microphone, you'll need to activate phantom power on your mixer or audio interface to give the mic the power it needs to work properly. It has a pretty flat mid section, which gives for bright vocals when recording. Altogether, when it comes to spoken word, this mic offers a full, clean and crisp recording with just the right amount of warmth!
XLR & USB Microphones
Having a hard time choosing between USB and XLR? Well, you don't necessarily have to, as you can now purchase hybrid microphones that offer both connectivity options! These mics allow you to use both an XLR and a USB cable. This type of mic is becoming more and more popular, so keep an eye out for new releases. In the meantime, you may want to take a look at:
Final thoughts
When it comes to choosing the best microphone for your needs, we suggest that you always test the equipment before purchasing it when possible. All voices are different, and some microphones will be a better fit for certain people. Ultimately, it comes down to personal preference, and the time you are willing to invest in post-production to ensure you provide the best audio quality possible. The mics we have listed above are considered to be some of the best for a low price point, whilst still providing great audio quality. There's a mix of USB and XLR mics, condenser and dynamic, with various polar patterns to give you a variety of options depending on your needs.
Go further:
Frequently Asked Questions
What's the difference between an XLR and a USB microphone?
The difference between these types of mics is the connectivity. USB microphones plug directly into your computer via USB-port. XLR microphones require additional equipment such as an audio interface or mixing desk in order to be connected to your computer.
What are the different microphone types?
The 3 primary types of microphones are condenser, dynamic, and ribbon. They are all best suited for specific situations, as they are designed to capture different elements.
Condenser microphones: provide a higher quality sound and are typically used in studio recordings for vocals and higher frequencies.
Dynamic microphones: ideal for live performances as they are designed to handle high volumes.
Ribbon microphones: a less popular option, however they are well-suited for certain genres of music as they offer a unique sound.
What are a mic's polar patterns?
The polar pattern of a microphone refers to the way it captures sound. The most common polar patterns are: cardioid, bidirectional, omnidirectional and stereo.
In which situations can I use these best budget microphones?
These best budget microphones are perfectly adapted for radio broadcasting, podcasting, streaming, gaming, YouTube videos and audio recording.
What equipment do I need to start a radio station?
You can start your own online radio station with minimal equipment! All you need is a computer, and an Internet connection. If you want to broadcast live on your radio, we invite you to purchase some basic equipment but don't worry there's no need to break the bank. You can do wonders with a one of the best budget microphones mentioned in this article. You will also need pair of headphones, and an audio mixer if you choose to purchase an XLR microphone.