Have you just launched your own online radio station? It's important to know which radio equipment you'll need in order to get your station up and running and provide great audio quality for your listeners!
1. Computer
2. Microphone
3. Headphones
4. Mixing desk
5. Broadcasting software
6. Where to purchase online radio equipment
In this ultimate guide, we take a look at all the radio equipment you need for your station. You'll also find a few suggestions for each category if you're not sure where to start!
Computer
The first piece of essential equipment you'll need when starting your own online radio station is a computer. With this computer, you'll be able to manage your content, schedule your radio broadcast and go live on air.
MacOS, Windows, or Linux?
The choice of your computer operating system (MacOS, Windows, or Linux) will mainly depend on which software you plan on using to broadcast live on your radio station. Some software is only available on one either MacOS, or Windows, whilst other are available to download on multiple operating systems. If there is a particular software that you want to use for your live broadcasts, make sure that your computer has a compatible operating system.
Other than that, there is no real difference between MacOS and Windows that will impact your online radio station. If you plan on managing your radio station on-the-go, then a laptop will be preferable to a desktop computer. Your computer will need access to the Internet (via wifi or an ethereal cable), and you won't need to leave it turned on 24/7 in order to broadcast automatically but we'll talk more about that later on!
Microphone
As a radio host, the choice of your microphone is extremely important. This piece of online radio equipment will have a direct impact on the quality of your broadcast, so it's important to choose wisely. We're not going to go into all the technical aspects, like pickup patterns, but rather explain which situations are best suited for a USB or an XLR microphone.
USB microphones
USB microphones are incredibly easy to use thanks to their simple "plug and play" function. Simply connect the microphone directly to your computer and you're good to go! They can be a great solution for anyone on a budget as they do not require any additional equipment, such as a mixing desk, in order to work. This makes USB mics incredibly portable, which is always a plus if you're planning on broadcasting on-the-go!
You may hear people say that USB microphones don't provide good quality sound compared to XLR microphones, but nowadays this simply isn't true. Obviously, if you go for the cheapest option the sound quality won't be as good as higher-end options. However, there are many USB mics that will provide you with equal (if not better) audio quality compared to some lower-end XLR options. Most USB mics will have an integrated gain button, as well as a jack input to plug your headphones in too.
If you're new to the world of audio, or are only planning on broadcasting solo, then a USB microphone is probably the best option for you.
Samson C01U Pro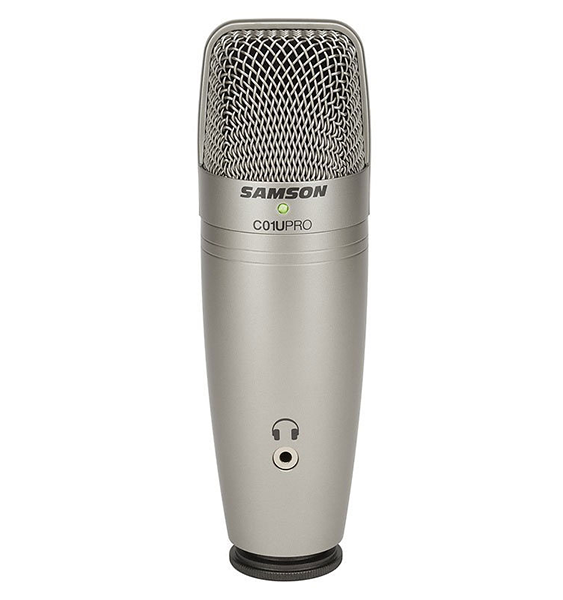 Blue Yeti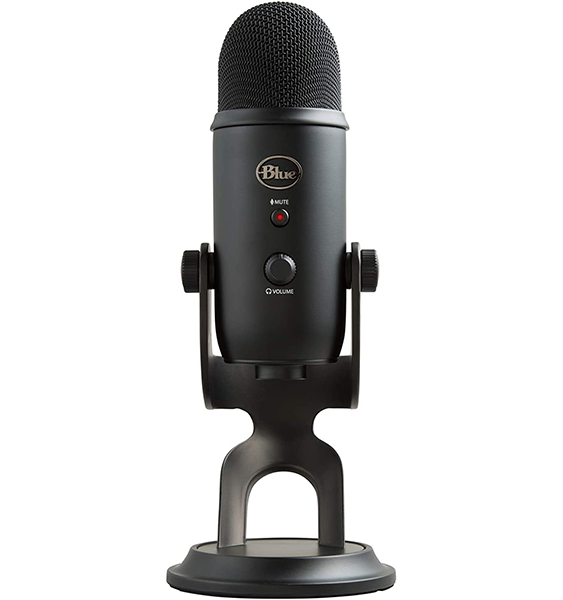 Rode Podcaster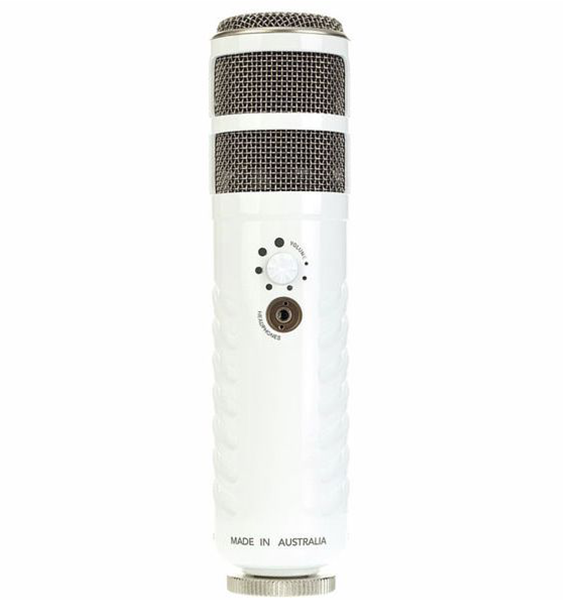 XLR microphones
The main advantage of XLR microphones is that they are an industry standard, making them compatible with all other audio gear. In order to connect an XLR mic to your computer you will need to purchase a mixing desk or an audio interface, as well as an XLR cable. Needing multiple pieces of equipment to get your studio up and running means that you can carefully choose each component, and upgrade them at any time without having to change your whole setup. In this sense, having an XLR microphone will give you plenty of room to grow. If you already have a bit of experience in the world of audio, an XLR microphone could be a great fit for you.
If you know that, at some point, you will be broadcasting with at least one other person on your radio station then a USB microphone will not suit your needs. As you will need a mixing desk (or audio interface) to connect your XLR microphone to your computer, you automatically open yourself up to the possibility of broadcasting with a guest. Audio mixers generally have at least 2 inputs, meaning that you can plug in two microphones.
Behringer B1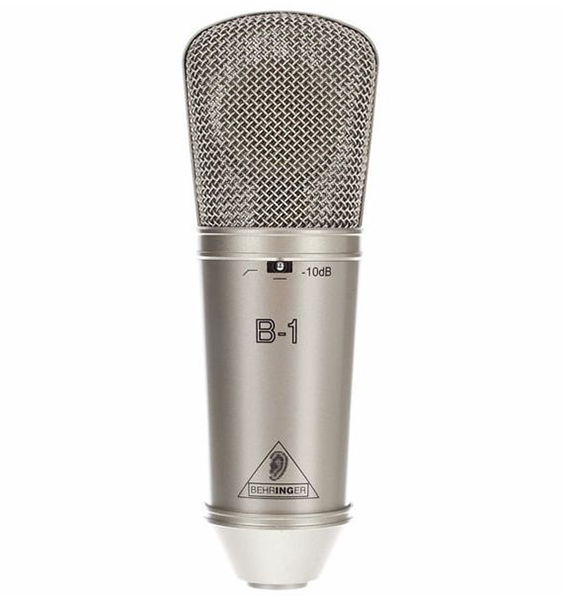 AKG P220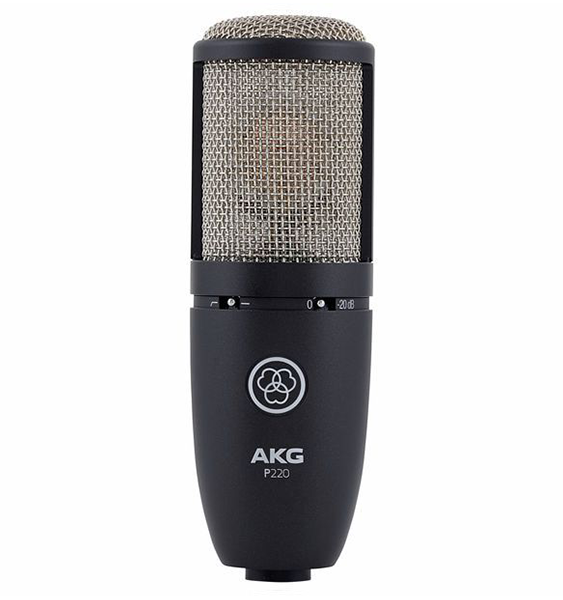 Rode Procaster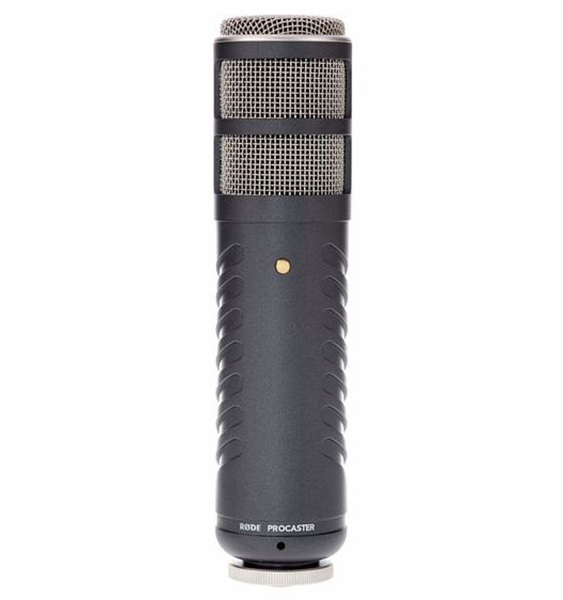 Accessories
There are also a number of accessories that you can add to your microphone to help improve the quality of your audio:
Pop filter: reduces any plosive sounds such as "p", "b", "t", "d", "k"…
Microphone stand: ensures that your microphone stays securely in place and avoids you touching it during your broadcast.
Shock mount: suspends your microphone in the air with elastic bands to help reduce any vibrations.
These accessories can generally be found for $10-$30 dollars and can make your radio more pleasant to listen to.
Headphones
The choice of headphones can sometimes be overlooked compared to the amount of time and effort that goes into choosing the right microphone or mixing desk. However, as a radio host it's extremely important to put thought into which headphones you'll be using on a daily basis. Not only do they allow you to hear what's happening on your radio station, they will also allow you to pre-listen to a track to ensure a smooth transition for example!
What to look for in headphones?
First and foremost, you must ensure that your headphones are comfortable as you will probably be wearing them for long periods of time. That is why we suggest that you try them out before purchasing them! You may also want to find a pair that has removable ear-pads so that you can replace them if they start to get slightly worn out after a while. This will help you retain ultimate comfort long-term.
For radio station hosts, we also suggest getting a pair of "neutral" headphones. This simply means that you will hear all frequencies equally, and no frequency range will be emphasized more than another.
Open back vs Closed back headphones
When doing your research, you may come across the terms "closed back" and "open back", but what's the difference? Let's take a look.
The design for both types of headphones are rather similar. However, one of the main differences is that open-back headphones have built-in gaps to allow air to pass through the ear cups. This design helps reduce pressure buildup which gives a very natural and spacious sound. Unfortunately, they provide little to no isolation, meaning that your mic may pick up on sounds coming from your headphones.
On the other hand, closed headphones are sealed to prevent any sound from escaping. This means that your mic won't pick up on what you're listening to, as they provide great isolation. For this reason alone, we suggest that you opt for a pair of closed headphones. Here are a few suggestions:
Audio-Technica ATH-M20x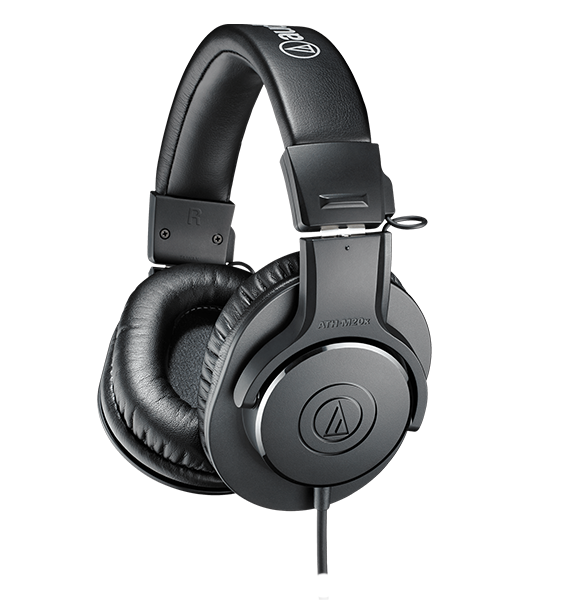 AKG
K361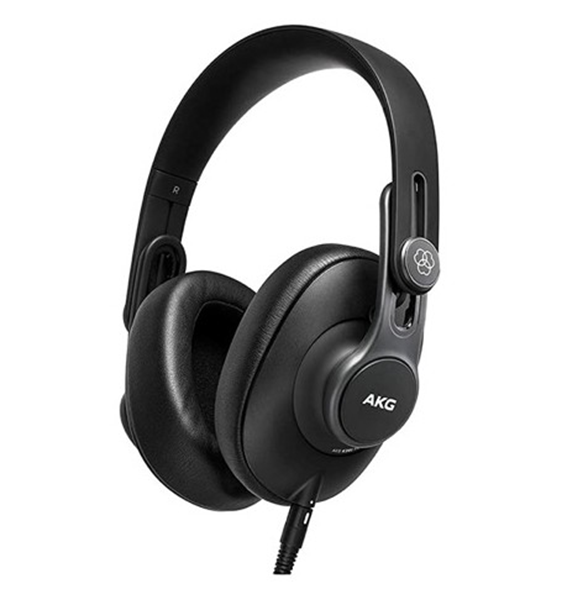 Beyerdynamic
DT-770 M
Mixing Desk
If you're planning on using a XLR microphone, you will need to purchase a mixing desk or audio interface in order to connect it to your computer. A mixing desk will allow you to mix several sound sources, group all inputs to one output and independently adjust the level of each input. You can connect multiple microphones, and various devices such as computers, smartphones, and tablets for example.
Your choice will mainly depend on the set up that you want, as well as the number of people you plan on broadcasting with.
Starter solutions
If you're looking for a simple solution to simply speak live on air with just 1 microphone, then an audio interface such as the Focusrite Scarlett Solo is a great option. You'll only need to plug in your microphone, your headphones and you'll be good to go!
If you want the possibility of broadcasting with a guest, you'll need a mixing desk with 2 microphone inputs. You'll also have control over each individual channel for things such as gain, EQ, FX (depending on the model.) These options are great for beginners and will allow you to take your first steps in the world of live radio broadcasting. Plus, they are relatively easy to take on the go!
Behringer Xenyx 802S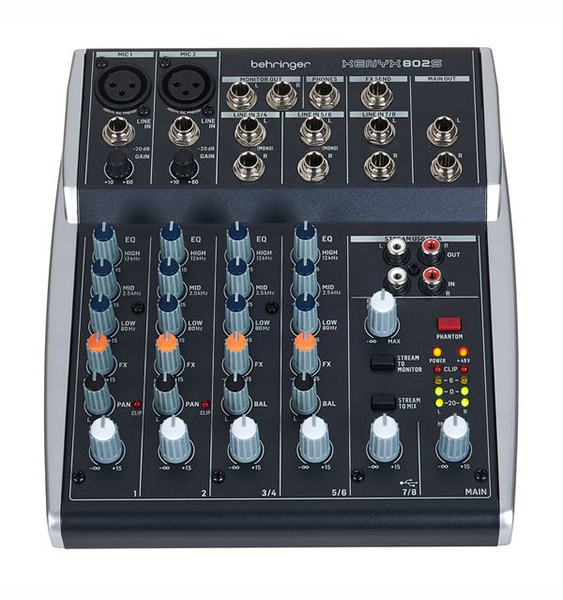 Focusrite Scarlett Solo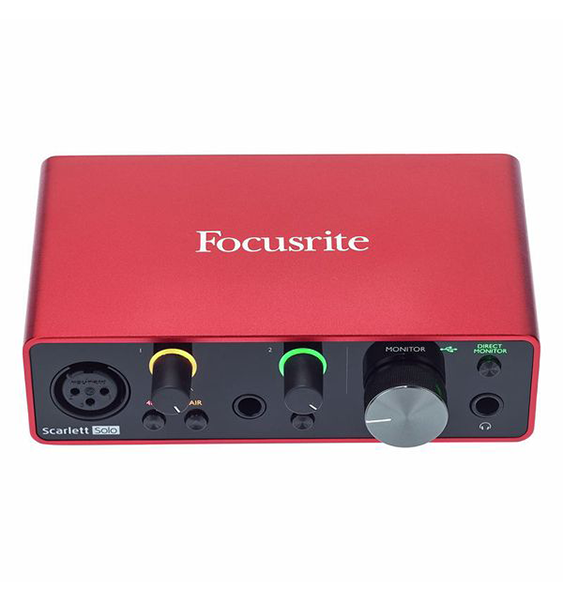 Yamaha
MG06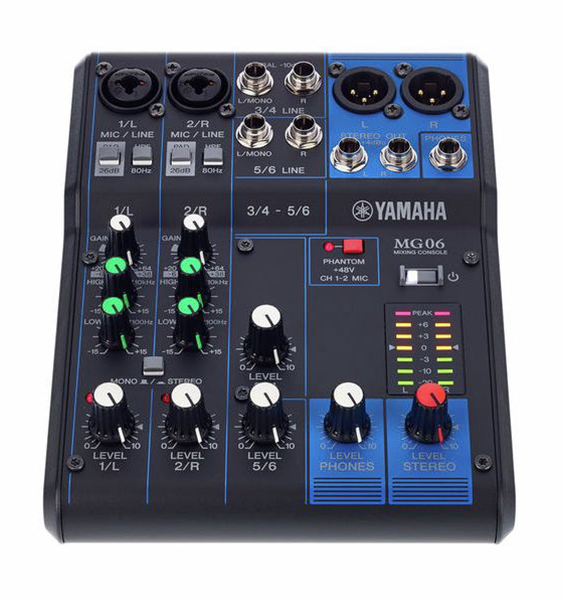 Advanced solutions
Are you looking for advanced solutions with more inputs and control, without breaking the bank? Take a look at our suggestions below. We won't go into details, but they offer great mixing capacities, effects and features such as bluetooth connectivity!
Alesis MultiMix 8 USB FX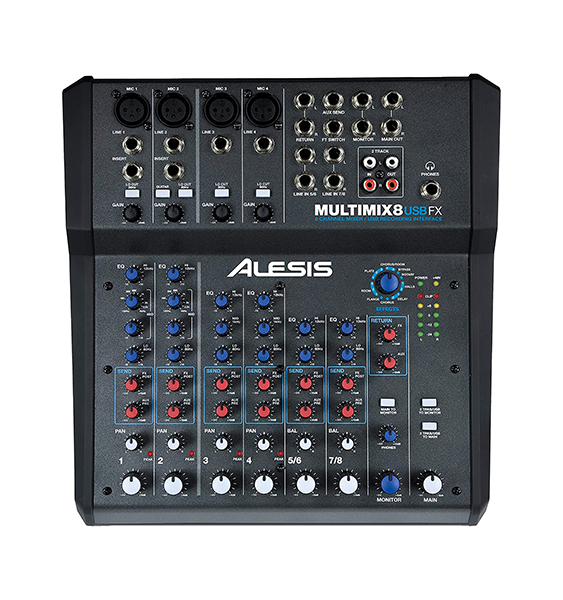 t.mix xmix 1202 FXMP USB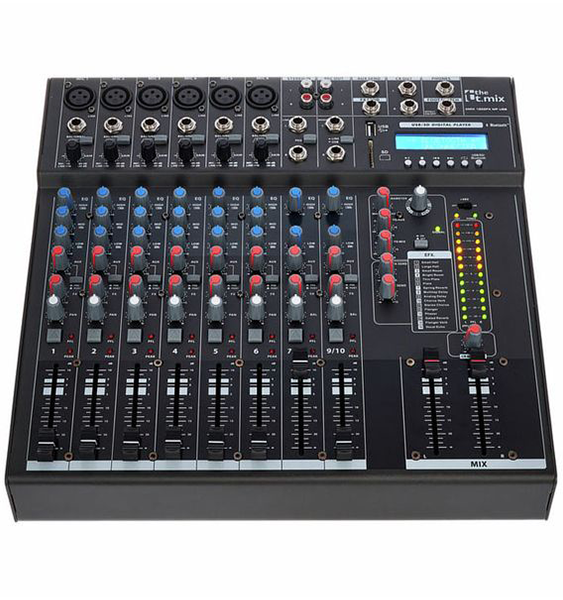 Mackie 1402
VLZ4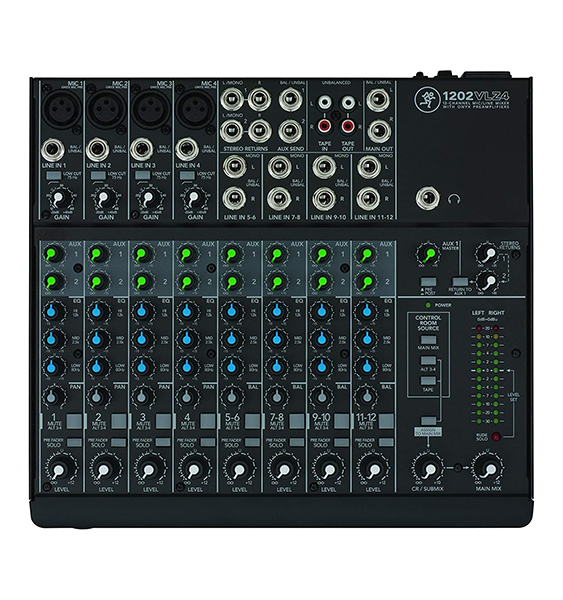 Broadcasting software
We're now moving away from physical equipment in order to talk about the necessary software to create a radio station. It's important to know that there are two types of broadcasting: automatic and live.
Automatic broadcasting
Automatic broadcasting involves using a cloud-based solution (like RadioKing) to manage the content and broadcasting schedule of your radio station. Put simply, your hosting provider (RadioKing) creates your radio stream that you manage via an online platform (Radio Manager). Via this Radio Manager, you can upload your MP3 files, create your own playlists & programs, and schedule your content to broadcast automatically 24/7, even if your computer is switched off!
Take a look at the diagram on the left:
You are a radio host who prepares their content on a computer, and uploads it to RadioKing and creates a broadcast schedule. Once that's done, the computer can be switched off. This data is sent to a RadioKing server, which executes the instructions made by the radio host. RadioKing then makes the content available to listen to via the internet!
Your listeners can then access your stream via their preferred device (smartphone, computer, connected car, etc…)
Live broadcasting
In order to broadcast live on your radio station, you will need to use a live broadcasting software. Most solutions are compatible with RadioKing, and are free to download. The most popular options are:
Mixxx (Windows & MacOS)
BUTT (Windows & MacOS)
VirtualDJ (Windows & MacOS)
Feel free to take a look at our full guide to live broadcasting software.
Once you have chosen your software, connect your radio by entering your live connection information (found in your Radio Manager). You can then speak live on air or broadcast music live on your radio station! Your listeners can tune in from the same listening links as your automatic broadcast. When your live broadcast is over, the Radio Manager will revert back to broadcasting your automatic content for you.

Whether you broadcast live on your own, or with a guest, live shows are a great way of creating unique content for your audience.
Where to purchase online radio equipment
Now that you know which radio equipment you need to get started, you're probably wondering where you can get your hands on all this gear?
Thomann: one of the top references when it comes to purchasing musical gear.
Amazon: although it's not specialized in radio equipment, you can often find the specific item that you're looking for.
Local music shops: head into town and check out your local music shops! It's a great way to test your equipment before purchasing.
Second hand: if you're on a budget, you may also want to look into second-hand options such as e-bay or Gumtree.
---
We hope that you found this guide to radio equipment helpful! Remember, there is no "right" or "wrong" answer when it comes to choosing your radio equipment. It all comes down to personal preferences, and what your specific needs are. Remember to try and test your equipment before purchasing to ensure that you're happy with it before making an investment!