As a Radio Host, choosing a mixer can seem extremely complicated. To broadcast your radio on the internet, a simple computer and microphone are enough. However to improve the broadcasting quality on your radio you can use a mixer.
In this article, Teddy shares his expertise in this area by giving us some tips and explanations on the mixer best suited to your needs.
What is a mixer?

A mixer is a tool that allows you to mix (as the name suggests) several sound sources, it can be analog or digital.
For example, it allows you to group all inputs to one output and independently adjust the level of each input. From a mixer you can add multiple microphones, computers or even a dedicated phone line to your radio.
How to choose your mixer?
To choose the most suitable mixer for your Radio, you must look at the following criteria:
. The number of entries (Mono, Stereo)
. The portability of the mixer
. The USB interface
. The brand
Starter mixer
Teddy's opinion: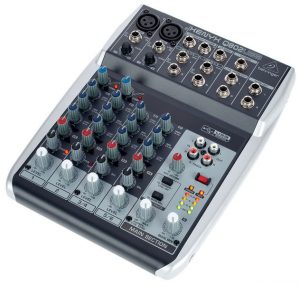 "Behind its not-so-impressive size, the Xenyx Q802 USB offers an acceptable performance. Two mono inputs for your microphones, two other stereo inputs for music sources, and a bonus USB input / output.
However, it's a shame that you cannot adjust the level of the USB input via a potentiometer, but the independent gain on each input makes up for this."
Name: Behringer Xenyx Q802 (USB)
Price: $75
Characteristics:
2 Mic Inputs with 48 Volt phantom power and compressor, 3 Band EQ and peak LED – 1 AUX (post) – 2 Stereo Line Inputs – 2 Track In/Out via jack – USB Audio Interface – Master potentiometer – External power supply – Dimensions: 195 x 248 x 50 mm – Weight: 1.1 Kg
Intermediate mixer

Teddy's opinion: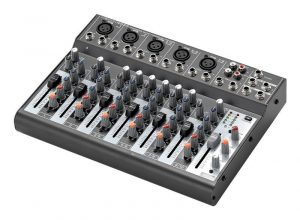 "A good quality mixer at an unbeatable price! Its impressive number of inputs (up to 5 mono or 6 stereo) and the ability to power itself by batteries makes it the perfect companion for programs or interviews outside the studio.
Plus, the gain adjustment of each input is independent, for a really perfect mix."
Name: Behringer Xenyx 1002 B
Price: $90
Characteristics:
Operates on batteries or via mains – 2 Microphone channels, 3 microphone/stereo-line channels, 1 stereo channel – 3-Band EQ on each channel – 2 AUX channels – 18 V phantom power for battery operation – 23 V phantom power for mains operation – Channel inserts in channel 1 and 2 – 60 mm Faders for channels and master – Operation via 3x 9 V batteries or power adapter (included) – Dimensions (H x W x D): 73 x 298 x 216 mm – Weight: 2.5 kg
Advanced mixer
Teddy's opinion: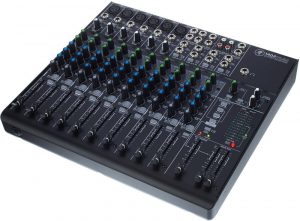 "It's a relatively large mixer that is not intended to be transported. But it hides many assets!
Starting with the excellent onyx micro pre-amps, a Phantom power supply (48V) available on all inputs, and two master outputs for a possible studio return (apart from interventions of course!).
Finally, the ability to isolate several samples in pre-listening and the look of the table convince us. Without counting on the very good reputation of the mark. "
Name: Mackie 1402 VLZ4
Price: $340
Characteristics: 
VLZ 4 Onyx mic preamps – 6 Mono microphone/ line inputs (XLR/ jack) – 4 Stereo line inputs (jack) – 2 Stereo Aux returns – 2 Aux sends – 6 Inserts – 3-Band EQ – Low cut filter 18 dB – PFL – 48V phantom power – Integrated power adaptor – Symmetrical XLR/ jack output – dimensions (WxHxD): 356 x 81 x 329 mm – Weight: 4.5 kg
Already have a mixer? Take a photo and share it with us on Twitter wit the hashtag #RadioKing! 
Discover the best USB microphones for your online radio station:

Create your online Radio Station today!