Rode is obviously a major name in the audio world, and it goes without saying that they have created some of the top microphones out there. 
In terms of microphones for our radio studio, we chose the Rode Procaster. Today we're going to review this mic and explain why we chose this particular model for our studio!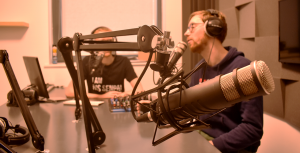 Characteristics of the Rode Procaster 
In terms of build, it's a super solid mic! It's a full metal construction which gives a nice weight to it (in other words, you could give someone a nasty concussion with it!) The microphone has an internal shock mount which helps reduce vibrations traveling up from the floor to the mic stand. It also has an internal pop filter which is great for reducing any popping sounds.
The Rode Procaster is an XLR dynamic microphone which means that you'll need an audio interface or a mixing desk in order to connect it to your computer. It is also very important to have a preamplifier to boost the signal.As it's a dynamic mic, it doesn't require phantom power to work.
Unlike condenser mics, dynamic microphones tend to pick up mostly what's in front of them, and the Rode Procaster is no exception! Be sure to place your mouth in the direction of the microphone when speaking. With its cardioid polar pattern, it's excellent at picking up your voice and blocking out any background noises.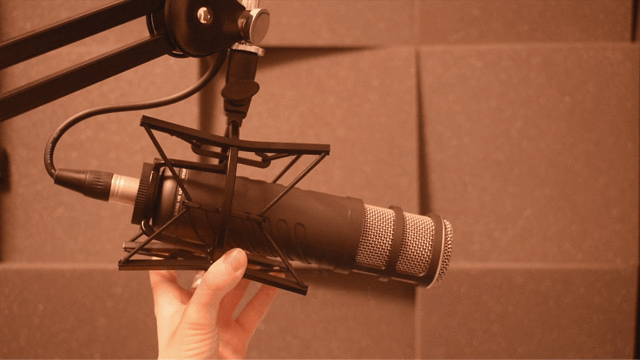 What's included? 
When you purchase the Rode Procaster, you (obviously) get the microphone. Along with that, you'll get a pouch to protect your mic when you're not using it, as well as a ring mount in order to attach it to a microphone stand or a boom arm.
How does it sound? 
The Rode Procaster gives a super clean, warm sound to your voice. Listen for yourself!
Here's an audio clip recorded via the internal microphone of a laptop:

Here's an audio clip recorded with the Rode Procaster:

Top Tip: We have noticed that the mic is pretty gain hungry, so you may need to turn your levels up.
Where can I buy the Rode Procaster? 
You can get the Rode Procaster on the official Thomann website for $152 / £139 / 166€. It is indeed a certain investment, but for the quality of the mic itself and the broadcasting sound, it's well worth it!
Our final say
Overall, the whole RadioKing team loves the Rode Procaster! The design of the mic itself it super sleek and smooth, and for the price, you get a highly professional sounding result. Teddy, our studio expert, made the final call on which microphones we'd be purchasing, here's what he had to say:
All in all, it's a great quality mic at a reasonable price. It's super directive and avoids picking up too much of your neighbours voice if you're in a confined room which is a real plus. However, you should still plan a sound treatment for optimal results. It's a great looking microphone, plus it goes perfectly with the Rode PSA-1 microphone arm!
If you're interested in seeing the finished result of our radio studio, click here!
Do you already have a microphone? Don't waste a minute and take advantage of the free 7 day trial to create your own online radio station!