Just started your online station with RadioKing? Why not get noticed on our own listening platform on which listeners can tune in to your radio station in a single click! Our goal is to significantly increase the audience of your radio station via our new social network, dedicated to radio stations of tomorrow.
Thousands of people visit the platform and it's for this reason that it's so important for your radio station to be present on the network! In this article, find out how to create and customize your radio page.
How to create a radio page on the new listening platform?

1. Head over to the Radio Manager by clicking here 
2. Click on Settings
3. Select the Platform tab.
4. Click on "Appear on RadioKing's platform" and click Save
Personalize your radio page
Once you've completed the initial procedure of setting up your radio page, complete the information on your page and customize it.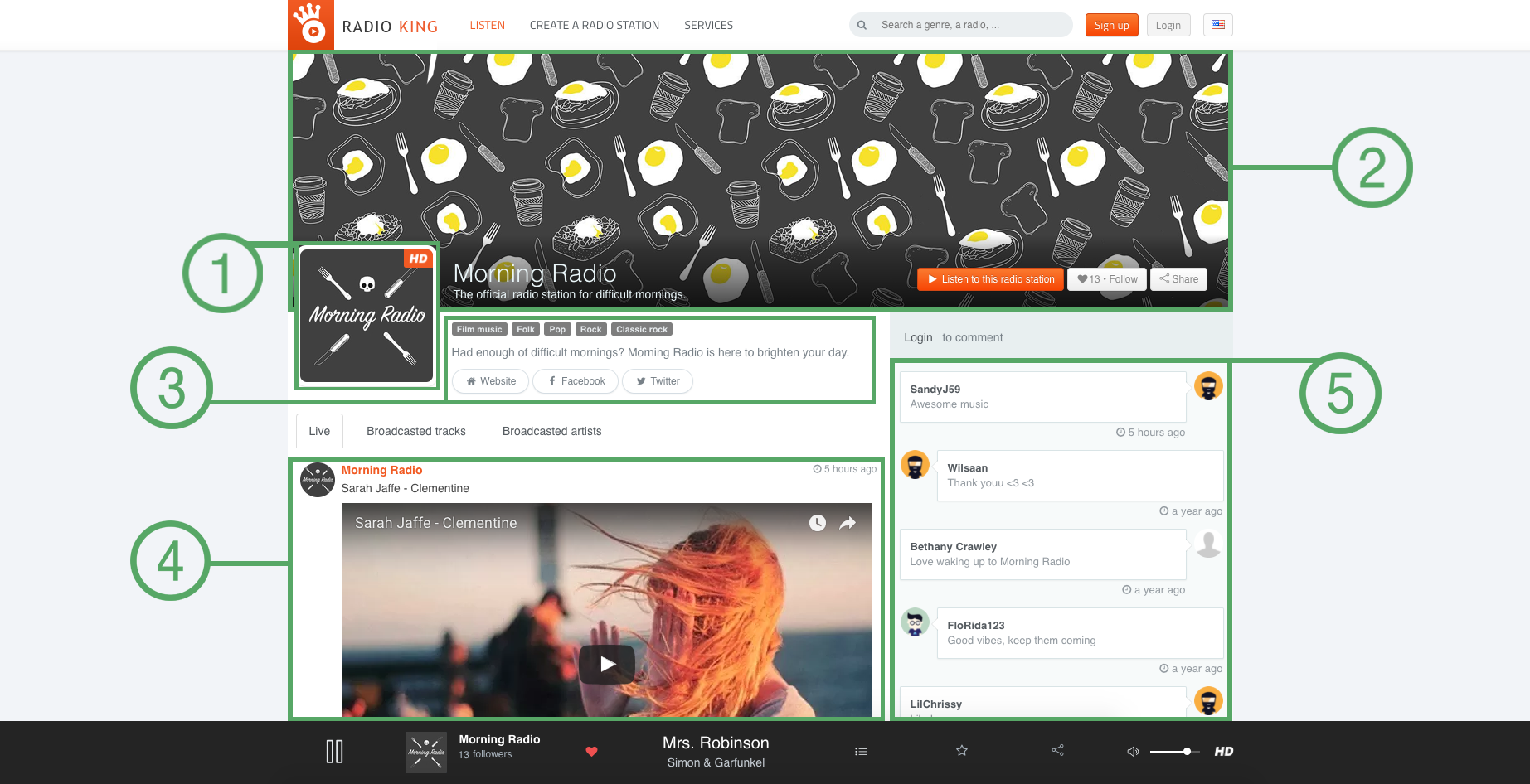 1. Your profile photo

The image that you choose as your profile photo should represent the identity of your radio station. After all, this is the image that will represent your radio station on our listening platform.
Our tip: We recommend using the same image that you use for your profile picture on Facebook, Twitter or Google Plus.
2. Your cover photo

You should view your cover photo as being a space of expression that leaves a lasting impression about your radio station. It's the ideal space to communicate your events, important news or to simply highlight your community.
Attention: The recommended visual size is 1140 × 315 pixels. We highly advise that you respect image and intellectual property rights when publishing your cover photo.
Our tip: Add a little message inviting your audience to subscribe to your radio station, it'll definitely gain you subscribers!
3. Your information

Be specific (but concise) when describing what you radio station broadcasts and what makes it different to other stations already out there.
On top of that, don't forget to assign your radio station with an appropriate genre, this way listeners have some kind of idea as to what your station might broadcast.
Attention: You are limited to 5 genres per radio station.

4. Share your radio page
In this section, you can share your Facebook and Twitter streams. Or, just like Facebook, use this this wall to share information, photos and videos.

Our tip: We recommend that you duplicate some of the radio website content on your radio page and invite your listeners to tune in via the radio page.
5. Chat with your listeners

Your listeners are invited to comment directly on your radio page, these comments are displayed on the right hand side. Conversations can be moderated by your hosts or stopped by RadioKing Manager admin.
Our tip: Use the comments section of your radio page to involve your listeners in your shows or in competitions when on air.
Can't wait to hear your station on the platform!