This week we're looking at the Phenyx Pro PTX-15 USB 4-channel mixing console. With the wide range of mixers available today, it can sometimes be difficult to decide which one to purchase. In this article, we go over the features of the Phenyx Pro PTX-15 to help you see if it meets your needs.
What's in the box?
For a total of $120, you get the Phenyx Pro PTX-15 mixing console as well as the power cable. You will also get a user manual that is easy to understand, and gives you clear information that will help you get your equipment up and running in no time.
Note: if you want to connect additional devices such as a computer, tablet, smartphone, or amplifier, you will need to purchase additional cables.
Cables
– Mic input: XLR input
– Line input: 6.35mm audio input jack
– Phone: 6.35mm headphone jack
– Rec out: Stereo RCA
– Return: 6.35 mono audio output
– Main out: XLR output
– Send: 6.35 mm audio output
– PC connection: USB to USB
Input channel section
The Phenyx Pro PTX-15 is a 4-channel mixer, meaning that you can record or broadcast with up to four people. Let's take a closer look at what each channel includes:
XLR input & line input: to connect your microphones/instruments. Only one can be used at a time per channel.
Gain control: to adjust the input signal level.
3 EQ band: adjust the lows, mids, and highs of each channel separately.
EFX send: adjust the amount of effects you send to each individual channel.
Pan/balance: choose whether to send the signal through the left, the right, or equal amounts to both for a balanced sound.
Fader: control the sound volume from the mic or other inputs for that specific channel.
Solo (PFL switch): press this button to monitor the sound before it goes through the output.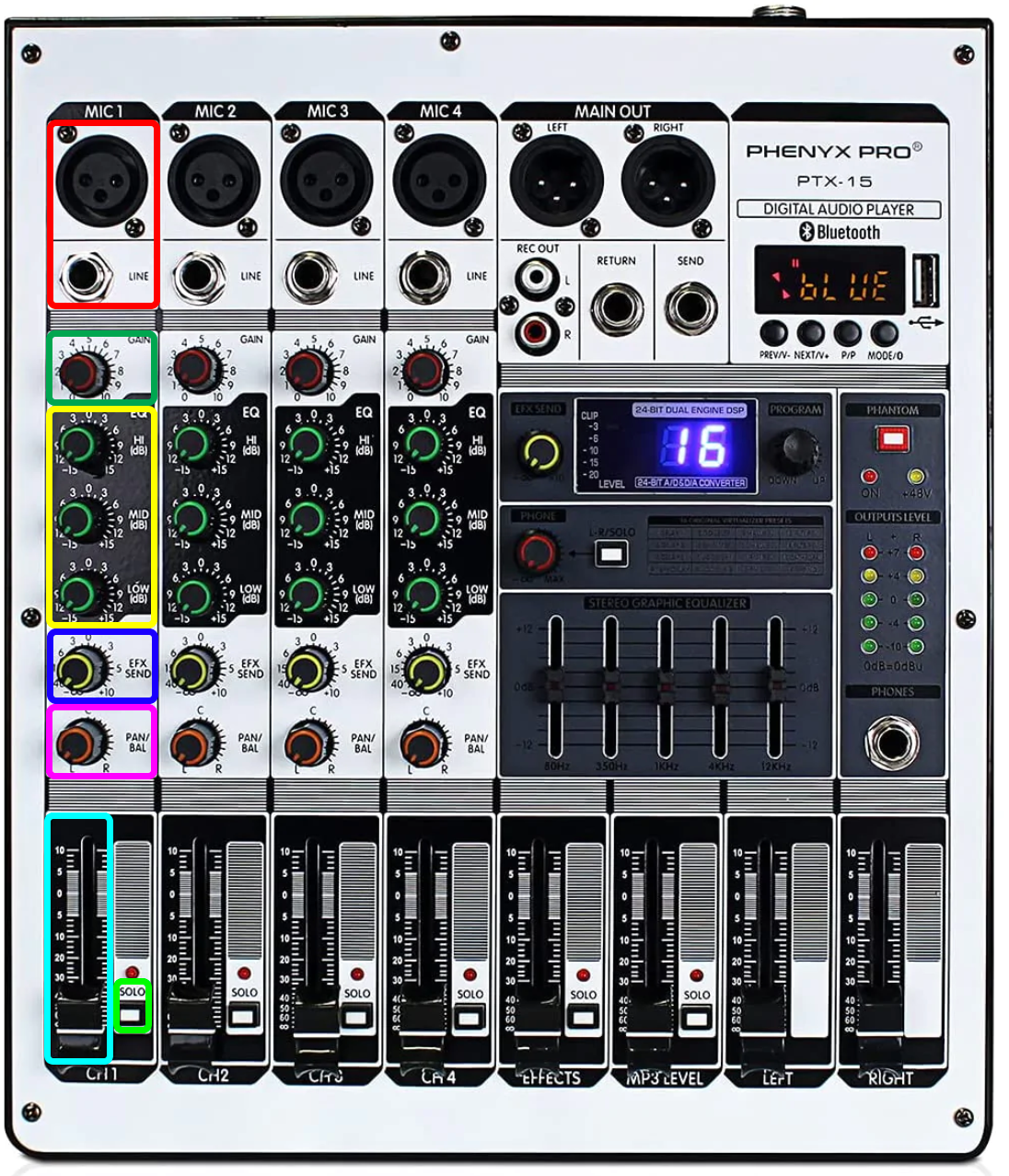 Having this much control over each channel is great for a product at this price point.
Mixer output section
We're now going to focus on the mixer output section at the top of the Phenyx Pro PTX-15:
Main output (left/right): the output mix to the main amplifier
Aux send/return jack: send mix out to outboard gear and have it come back in, or use an auxiliary output to send it to a computer
Rec out left/right: if you want to record your audio on another device using a RCA cable.
USB player: plug in a USB stick to use playback for WAV/WMA/MP3 files with built-in controls to play/pause/switch between modes.
Bluetooth: connect your device (smartphone, tablet…) wirelessly. Simply press "mode" on the USB player until "Blue" appears.

The various outputs allow for a number of different configurations depending on what you're planning on using it for. The USB player is a huge plus for DJs, broadcasters, and podcasters, as it's a quick and easy way to play audio. Additionally, the Bluetooth feature is incredibly handy for connected devices, especially if you don't have the right cables or adaptors to plug them into the USB player.
Master section
Finally, let's take a look at the master section of the Phenyx Pro PTX-15: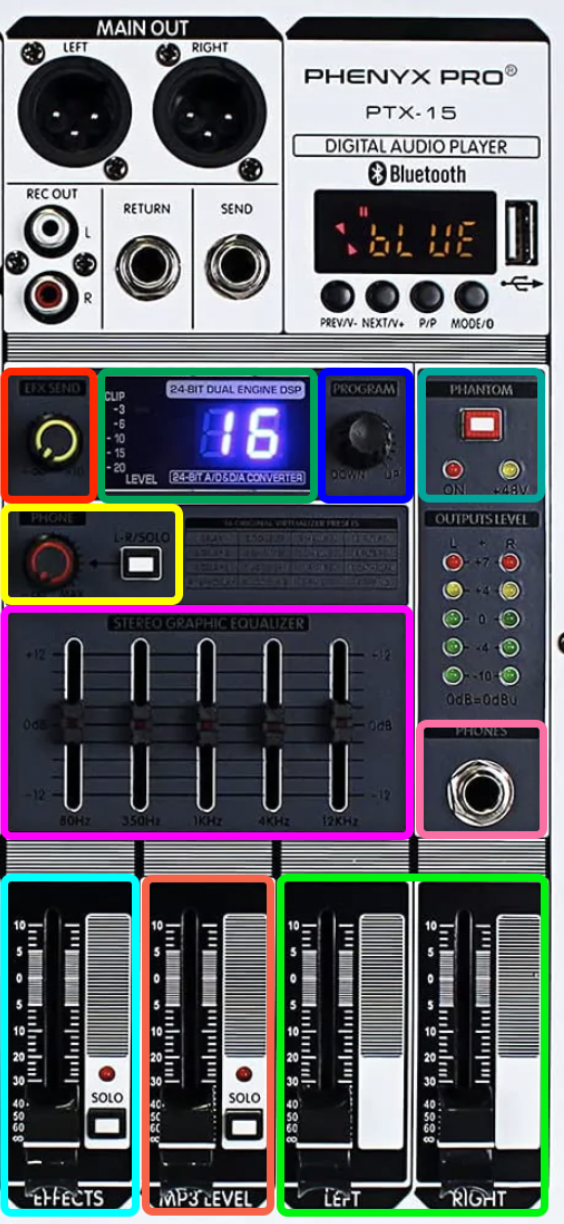 EFX send: adjust the strength of the selected effect for all channels.
Effect display: LCD screen displays the 16 available effects such as delay, shimmer, vocal enhancer, etc…
Effect selection: turn the knob to choose any of the 16 effects.
Phantom power (48V): activate the phantom power when using condenser microphones.
Headphone level: when the SOLO button next to it is activated, this knob can be used to adjust the volume of the signal sent to the headphones for sound monitoring.
Stereo graphic equalizer: provides tone control and precise high-quality sound over different frequencies.
Phone output: connect your headphones to monitor output sound. If the SOLO button is activated, you can monitor pre-fader sounds before sending them to output.
Effect fader:

the volume of the selected effect

MP3 level: adjust the volume of the MP3/Bluetooth input.
Output main fader (left/right): master fader for adjustment of left/right output volume
Here again, you can see the huge amount of control that you have over the audio coming in and out of the mixer!
Phenyx Pro PTX-15 features
The Phenyx Pro PTX-15 has various features that are extremely handy for radio broadcasters and podcasters, some of which we mentioned above. In order to show you how great this mixing console can be for radio presenters, let's take a look at the features that you may find useful for your live broadcasts:
Record: record your broadcast by connecting another device via the USB playback. By recording your broadcast, you can make it available as catch-up content to your listeners.
Effects: you have a total of 16 effects that you can apply to your channels. Although this is not a feature you will use all the time, it can come in handy for certain situations!
5-band EQ: allows you to play around with the tone control for the whole mixer which can save you time in post-production.
Solo: the studio monitoring feature facilitates monitoring/mixing music to ensure that you have smooth transitions.
Output levels: you also have a number of lights that will indicate if your sound is clipping so that you can quickly adjust the volume if necessary.
Bluetooth: another way to play music from a different device (including iPad). This is handy if you don't have the necessary cables to plug your device in via the USB playback.
USB playback: use this feature to play music from another device such as a USB drive, a Windows PC, a tablet etc…
Overall thoughts on the Phenyx Pro PTX-15
Overall, the Phenyx Pro PTX-15 is a great piece of equipment for $120! It has 4 channels, making it a great tool for broadcasting or recording with multiple people. Each channel has its own set of individual sound adjustments so you can get the best audio, even with various voices that don't sound the same.
The console itself is made out of solid plastic, with a metal front faceplate. We would have loved for it to be all-metal, however, at this price point, we're not going to complain, especially as it still feels pretty solid. Plus, the faders and buttons feel nice and sturdy.
This mixer was designed for live situations and, with the various features such as the SOLO buttons, the EQ bands, and individual faders, it could be a great ally for radio broadcasters!
---