Without a doubt, radio remains one of the communication mediums that can go where some technology can't. It's one of the most effective ways to deliver information! There are so many ways to communicate with your listeners, but one of the most effective ways is to broadcast live on your radio station.
Why broadcast live on your radio?
How to broadcast live on your radio station?
Get the right equipment
Choose a live broadcasting software
Prepare your live broadcast
Why

broadcast

live on your radio?
Broadcasting live on your radio is a way to promote your station, develop a brand, get more listeners, and build a loyal audience base. Here are 5 reasons you need to broadcast live on your radio station.
1/ Create original live content
Being able to listen to a broadcast live and unedited gives the users a sense of a genuine and humanized experience. You will be able to create original and authentic content that will make you stand out among your competition.
Contents last for a short time, and the content created on various radio stations targets the usual day-to-day information, which is one of the main reasons why people tune in to the radio. Use this to your advantage. Once you broadcast live with original content instead of prerecorded ones, people will quickly tune in to your station because once the live broadcast ends, it's gone forever.
2/ Invite interesting guests to broadcast live
Having radio guests participate can help boost your audience, especially if it is a live broadcast. Inviting intriguing and interesting guests can draw in new listeners and engage your current audience. You could have influencers, musicians/bands, bloggers, event promoters/organizers, etc. They should be related to the topics you cover or the music style you play. During the live broadcast, your listeners can interact with the guests, and you will be able to gather a good social presence.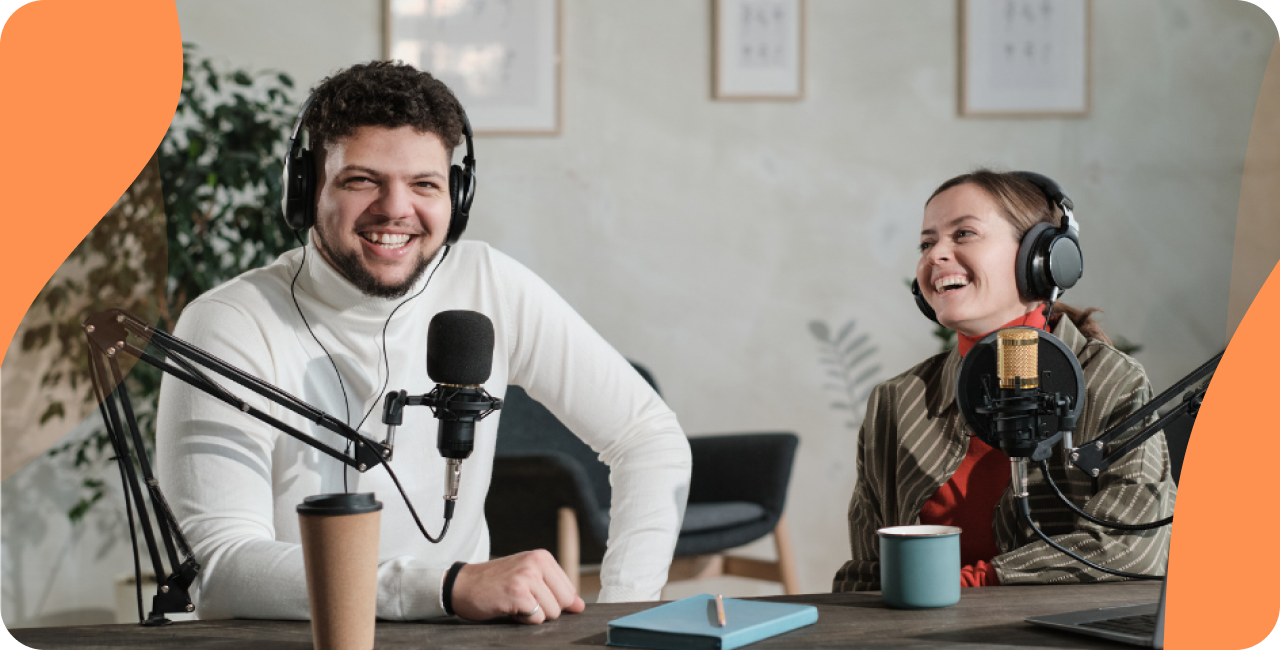 3/ Get listeners to participate in your live broadcast
Instead of just talking to your audience, build a two-way connection.
Broadcasting live on your radio enables your listeners to participate in the show. This gives your listeners the sense of being "in the moment." Your listeners can communicate with you via live Q&A sessions, live chats, contests and games, etc.
Not only can your listeners ask and respond to questions in real-time, but you can also respond in kind. This dynamic with your listeners is one of the reasons why you should broadcast live.
Remember: A positive user experience boosts the chances of users tuning in to your station and recommending you to their network.
4/ Show off your radio hosting skills
Broadcasting live on your radio also enables you to make a name for yourself. Since a live broadcast is not prerecorded but instead broadcasted in real-time, your listeners will be able to listen to the real you, your mistakes, etc. Therefore, broadcasting live is an excellent opportunity for you to show off your radio presenting skills and set yourself apart from other radio hosts.
5/ Relay a live concert or event
One of the reasons to broadcast live on your radio is to relay live concerts or events. Not everyone has the ability to attend a live concert or event due to work, school, health, etc.
As you are not restricted by geographical constraints, broadcasting live on your radio enables you to reach anyone in the world. It helps these users get involved in the event or live concert without being physically present.
How to broadcast live on your radio station?
One of the beautiful things about online radio is that you can broadcast live as long as you have a steady internet connection. You may be tempted to pick up your microphone and start broadcasting live on your radio station; however, without adequate preparation, you may be missing one or two things.
1/ Make a plan
Every good radio presentation begins with a plan. You don't have to have every segment scripted, but having an outline of the essential segments you want to cover is the best option.
2/ Prepare for your live broadcast
Broadcasting live is great, but you have to be prepared for it as it is not going to be recorded and edited. You have to know what to say, when, and how to say it to your listeners. Preparation is essential even if you have to "be yourself" in your broadcast.
Get the right equipment
Getting the right equipment is key to a successful live broadcast. If your equipment is incomplete or low quality, your live broadcast will be of low quality. Here's some of the equipment needed to get started.
1/ Microphone
One of the essential pieces of equipment to have is a microphone. If you are just starting out your online radio station, don't go for built-in mics, as they will produce low audio quality. There are various types of mics available, and the basic mic types include:
The dynamic microphone is best for broadcasting a live online radio program. For a start, get a cost-effective and efficient mic.
2/ Headphones
Headphones are one piece of equipment you can't do without as a radio host. They help monitor your sound transmission and give you complete control over your audio. You will be able to hear yourself or your guest clearly, what the audio is like, and ensure the audio setup is working properly. If you don't have headphones, earbuds can substitute; however, headphones are recommended for the best results.
There are so many efficient and low-budget headphones you can start with.
3/ Mixing desk or audio interface
A mixing desk or audio interface gives you more control over inputs, outputs, levels, etc. This equipment receives audio from various sources, mixes them, adjusts their volume, frequency, and other sound parts, and outputs them in multiple channels in a consistent way you can control.
This equipment is worth having if you want to improve the quality of your audio. You will have control over each speaker and take your radio quality to the next level.
Choose a live broadcasting software
Broadcasting software allows you to stream and broadcast your content with a lot more control. Understandably, radio broadcasters are looking for the best live broadcasting software available, and because there are so many criteria, getting one might be challenging.
Here are the three top live broadcasting software to choose from.
1/ Broadcast live with BUTT
Known as Broadcast Using This Tool, BUTT is a broadcasting software that is easy to set up and makes live streaming a breeze.
Its main purpose is to stream live audio data from your computer, and it runs on Windows, Mac, and Linux. One of the benefits of this software is that it supports Icecast or Shoutcast servers and can record your radio session. It's one of the simplest tools when it comes to live broadcasting.
2/ Broadcast live with Mixxx
Mixxx is a broadcasting software perfect for those who want full control over their music. Mixxx is a free and advanced open-source broadcasting tool. This software is a DJs software and is for users who want to be DJs on their radio stations. With Mixxx, you will be able to add your whole music library and organize shows locally on your computer.
The software functions on all operating systems, including Windows, Mac, Ubuntu, and Linux. You only need to install the software on your computer to get started.
3/ Broadcast live with VirtualDJ
VirtualDJ is an advanced broadcasting and audio mixing software. The VirtualDJ software is one of the biggest mainstream software that DJs use in place of CDs or Vinyl based decks to manage and mix tracks. It's perfect for radio broadcasters and is compatible with operating systems like Windows, Mac, and Linux.
Prepare your live broadcast
Feeling a little nervous or pressured before your live broadcast is completely normal. Therefore, to help reduce stress, the best thing you can do is prepare your live broadcast. Here are two essential steps to follow.
1/ Practice your radio hosting skills
Speaking isn't the only part you need to prepare and practice for; you must also practice your radio skills. This helps you know where your strengths and weaknesses lie.
You could record yourself talking and asking questions about the topic you will be presenting, then listen to it. This way, you will be able to correct any mistakes before going live.
2/ Prepare a radio script
Every second counts when broadcasting live on your radio, which is why preparation matters. Writing a radio script helps you structure your radio show and allows you to know where you are in your show, what activity you should do, what your talk should be about, what music should be played, when to let your guest have the floor, etc.
---
Striking the right balance between quality and quantity is one of the best ways to keep listeners coming back for more. Therefore, broadcasting live on your radio station gives you that perfect balance you need to engage your listeners and boost your audience base.