Everything you need to know about starting an Internet radio station.
If you've always dreamt of starting an Internet radio station but thought it was reserved for professionals, think again! Anyone can create an online radio! Below you'll learn everything you need to know about setting up an Internet Radio station. After reading this step-by-step guide you could be ready to broadcast today!
How do online radio stations work?
---
First, let's take a quick look at how online radio works and one of its biggest advantages.
An international scope
Internet radio has no geographical boundaries, so a radio host in London can be heard from Sydney or Rome thanks to the power of the Internet. It's also much cheaper and has fewer restrictions compared to traditional radio. Starting an online radio station is fairly simple and requires only a computer, a microphone and an Internet connection to start broadcasting.

Manage a radio from anywhere
Online radios work on the same principle as that of any popular radios you're used to listening to in your car or on your traditional radio set. The only difference is that you won't have any land borders thanks to the power of the Internet! With the help of an online radio host such as RadioKing, you can conceive automatic or live broadcasts from home and send them to a radio server with a simple click.
This radio server will then be in charge of sharing your programming worldwide via different media connected to the Internet. This could include: listening directories, social media, a website, a mobile application, a connected car and even on a connected speaker.
Why start your own Internet Radio Station? 
---
It may seem that online radio is only for experts and technicians. In reality, just about anyone can start their own radio station today. 
Increase in radio stream
Radio streaming remains a popular medium that gains new listeners every month. The lockdown we experienced in 2020 proved it to us by a strong increase in audiences and the creation of new radios, each more imaginative than the last. Creating your own radio on the Internet is therefore an opportunity to federate a community and share content that is different from what we are used to hearing on big FM stations, while freeing ourselves from the geographical limits imposed by this technology.
It's also the only media capable of fully integrating our daily lives: whether it's in the morning at breakfast, in the car or at work. Radio is a medium capable of giving rhythm to our lives like no other media. Deprived of an image, it encourages our imagination and can be listened to everywhere while pursuing other activities. There are so many good reasons to create your own radio station!
Create and manage a radio station community
To determine if you're ready to get started, you need to take the time to imagine a concept. Anique and original radio concept will attract loyal listeners. On the other hand, if you want to compete with an existing radio station, we recommend that you take the time to analyze it. Try to identify possible areas for improvement that you could apply to your own radio station and differentiate yourself.
The following questions will help you to quickly define the basics of your radio project and build your community:
What name would you like to give this radio station?
What type of radio broadcasting will you do? Only music?
What genres of music will you broadcast?
Will there be other radio hosts or DJs? If so, how many?
What kind of topics will the radio station cover?
Are you going to do call-in shows?
How will your radio be different from others?
To go further in creating and protecting your Internet radio station, we invite you to read this article on how to find the right idea for your radio station.
What is the best radio hosting solution?
---
There are many available solutions to host your radio on the Internet. However, there is no magic formula that suits everyone! The best solution will be the one that best suits your skills, your equipment and your goals.
Host your own radio station yourself
The first one is to host your own radio yourself. To do so, you must have serious technical knowledge, but also an Internet connection with a high upload speed. Bear in mind that your computer will need to be turned on constantly. This is a solution that may seem economical, but it does not guarantee you a stable and professional outcome.
Host on a specialised streaming
The other solution is to entrust the hosting of your radio to a specialised streaming service. Many companies like RadioKing can help you in the creation and broadcasting of your radio all over the world. However, each solution will not offer you the same expertises and functionalities.
Host your radio station on RadioKing
Here at RadioKing, we offer our solution to more than 3,000 radios in over 170 countries. From individuals, to associations and companies, our turnkey solution has been adapted over time to meet everyone's requirements. It includes:
An intuitive and efficient Radio Manager
The user-friendly design of the Radio Manager makes it incredibly simple to get to grips with. Whether you're on Windows or Mac, manage your radio station online with a simple browser, anywhere in the world.
High broadcasting quality (up to 320Kbps)
Offer your listeners a great listening experience by broadcasting at up to 320 Kbps. We also provide a low bandwidth AAC+ stream (between 32 and 64 Kbps) for mobile-optimized listening. 
Unlimited simultaneous listeners
There are no limits in terms of peak audience, which means that you can be listened to by an unlimited number of listeners at the same time.
Advanced statistics
Obtain detailed statistics to better understand the listening habits of your audience. Get better insights into:
how many people listen to your radio
where your listeners come from
on what devices they listen to your radio
the duration and distribution of listening sessions
Sound processing for a balanced broadcasting volume
Offer your listeners the best listening experience possible by normalizing your MP3 files to the same volume thanks to an integrated feature in the Radio Manager. 
A stream that's accessible everywhere, even behind a firewall
Your stream can be accessed worldwide 24/7 by anyone who has an Internet connection.
A customizable and exportable radio player (even on Facebook)
Customize your own radio player to the colors of your station and easily embed it on your website thanks to a generated integration code. 
A technical team at your disposal to help with any questions
Have any questions? Simply submit a ticket and our team will get back to you within a few hours! Please bear in mind that our team is available from Monday to Friday, 9AM – 5PM Paris time. (If your message is sent outside of those hours, we will get back to you first thing the next day – or Monday if your message is submitted over the weekend.) 
Various widgets (Audio shout-outs, Broadcasted Artists, Broadcasted Tracks, etc.)
All of our Radio Offers include various widgets to help you boost and develop your radio station:
Radio Player:

customize your player and embed it onto your website.
Track History:

display the latest tracks played on your radio. You can choose the number of tracks to display.
Top Tracks:

offers a ranking of your best tracks. You can set the number of tracks to display. The ranking is based on votes made via the RadioKing platform and the Player widget.
Current Track:

displays the track that is currently being played on your radio.
Next Track:

displays the next track that will be played on your radio.
Broadcast Artists:

displays the artists played on your radio.
Audio Shout-Outs

(Pro & Business Offers only): allows your listeners to leave you a vocal message of up to 30 seconds which you can then choose to broadcast on your radio station.
Compatibility with Icecast to broadcast with most live broadcasting software
Broadcast live with any Icecast compatible broadcasting software such as: Mixxx, VirtualDJ 8, BUTT, SAM Broadcaster, RadioBoss, Rocket Broadcaster, Winamp and many more…
If you're looking for an intuitive and simple radio streaming solution, RadioKing is the host you need. You can test the Radio Manager free of charge and with no commitment by clicking on the button below (no credit card required).

How much does it cost to start an Internet radio station?
---
The cost of creating a radio station will depend on various criteria such as: the number of simultaneous listeners, the broadcasting quality, the disk space to store your content (music, broadcasts, pre-recorded shows), the bandwidth, the support offered or the number of hosts/DJs authorized to access your radio station.
Radio station server
There are two ways to broadcast online radio: automatic or live mode. Automatic broadcasting allows you to schedule your content in advance using automation software. Meanwhile, live streaming will send the content created in real time, such as a live broadcast or DJ set. In both cases, the content is sent to a server that takes care of making it accessible anywhere in the world. Some offers may seem tempting, but too good an offer may actually hide poor quality servers that will scare your listeners away.
At RadioKing, we want to provide transparent offers that everyone can understand. Our offers range from $34 to $119 per month and are non-binding. You can also choose to purchase one of our offers annually and save up to two months, the cost will be between $348 – $1188 per year.
Discover RadioKing in 60 seconds!
Radio station website
In addition, other complementary services can be added to improve the visibility of your radio station on the Internet, such as setting up a website to welcome your listeners. Providing a radio website is a great way to make it easy to find and listen to your radio. It also allows you to showcase new types of content or tell the story of your radio station. You can choose to design it yourself in order to limit expenses or to entrust its realization to an external service provider.
Radio station mobile app
The icing on the cake: a mobile application dedicated to your radio! If you want your radio to be truly available everywhere, a mobile app is a must. By placing your radio at a click of your listeners' fingertips, they can listen to it in the city, on the subway, in the car, or even by the pool on holiday. On top of that, the RadioKing mobile app service offers additional features such as voting for top tracks, audio dedications, and even an alarm clock!
As for the creation and broadcasting of your radio on the Internet, RadioKing can accompany you in the creation of your own radio website or radio mobile application.
 
Which equipment will I need to start an Internet radio station?
---
The radio equipment you use is key to the quality you will be able to offer to your audience, and the enjoyment you will get from your radio. And, good news, good quality equipment is now affordable!
Radio station studio
After discovering that it's possible to create and broadcast your own online radio station for less than $129 per month, you may be wondering about the cost of creating your own radio studio.
Rest assured, you don't need a big budget or even high-tech equipment. All you'll need to start broadcasting your radio over the Internet is a microphone (preferably USB), headphones and an active RadioKing subscription (or a free demo).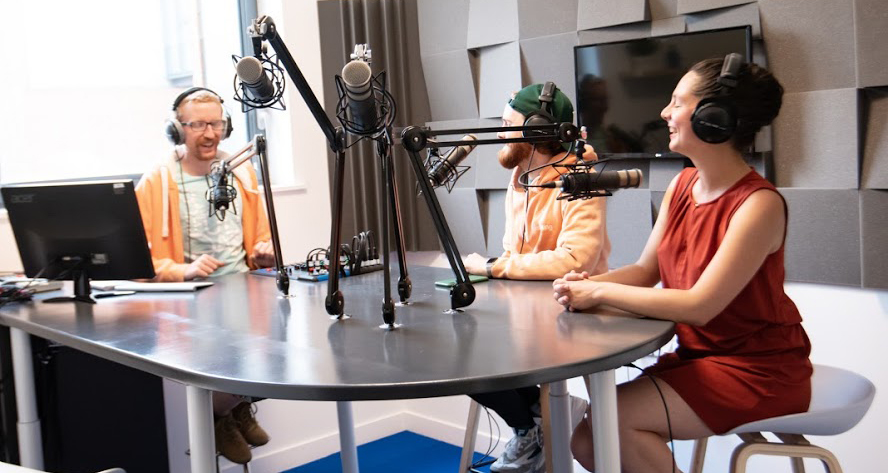 If you'd like to start building your own radio studio, we have prepared two examples for you: set up a radio studio for 2 people and set up a radio studio for 5 people.
Radio station online equipment
In addition to your studio equipment, you will also need various software.
Firstly, a recording software that will allow you to create the programs broadcast on your radio. A solution like Audacity is free and easy to use! 
The songs you play on your radio should be played without any difference in volume in order for your audience to have a good listening experience. To do this, you need to normalize your files beforehand. You can use MP3 Gain for this.
Speaking of music, you have to buy it somewhere! Of course, there are popular platforms for this, but there are also many lesser-known alternatives. Click here to find out where you can download music.
Just below, we'll be talking about broadcasting software!
.
What software do online radio stations use?
---
Each radio host is unique and has his or her own requirements to make their radio show as successful as possible. This is why RadioKing offers its users an Icecast compatible stream. This allows us to give you the choice that will be the most adapted to your needs when it comes to choosing your live radio broadcasting software.
How does broadcasting software work?
Broadcasting software helps you to improve the quality of your live shows, thanks to an interface and features designed for this purpose. Depending on the software you use, you may have access to tools such as virtual mixing decks, audio effects, beat synchronization, or equalizers for example.
Some software include a native encoder that allows you to link them directly to your radio stream without using an external encoder.
Mixxx, the best radio station online software
To save you a long and tedious search for the most suitable software, we've listed the most popular ones for you. Nevertheless, with our experience we can save you precious time by recommending Mixxx.
Mixxx has the particularity of being a very customizable software, with a complete selection of features such as:
Speaking live on air: Mixxx offers 4 inputs for your microphones and other devices.
Broadcasting music live: Broadcast your songs automatically with the Auto DJ feature by creating playlists or adding your tracks to the queue.
Recording live broadcasts: Record your live broadcasts with the click of a button and make your shows available as podcasts.
Are you ready to start your own web radio and get to grips with Mixxx like our colleague? 
There's a wide range of compatible software for your live broadcasts (including encoders and radio automation software). Discover our full guide to live radio broadcasting software.
Frequently asked questions on the internet radio station
---
Still have some questions before you start your internet radio? Take a look at the FAQ below, the answer you are looking for might be there!
Do I need a license to get started?
Depending on the country where your radio station is located, you may be subject to different organizations in order to comply with copyright laws and avoid legal problems. If you have the choice not to broadcast commercial music and to focus mainly on talk shows or interviews, licensing will be the least of your worries. However, if you wish to broadcast commercial music on your own radio station, you'll need to contact the relevant licensing authorities.
The cost may vary depending on the country you live in, but also on the status of your radio. Bear in mind that some organizations are more generous with individuals and associations than with companies. To find out which organization you should contact depending on your country, please read our article on Internet radio licensing. In this article you'll find a list of all the music authorities to contact depending on your country.
The use of royalty free music can also be an interesting alternative to reduce costs, but it may still involve certain rights. For example, you can get music from certain websites such as Jamendo, Auboutdufil, FreeMusicArchive, or Archive. Some radios also get content directly from young artists on YouTube or Soundcloud. We recommend, however, that you obtain written permission from these artists before broadcasting to protect yourself.
If in doubt, we recommend that you contact the relevant music authorities in your country. If you're not sure who to contact, you can message our team directly to tell us about your project and find out about the organization(s) in your country.
How can I promote my station to gain new listeners?
Before becoming a reference, your Internet radio station will have to build up a small group of loyal listeners. You can start with your friends, colleagues or family. This may seem small, but it will be enough to practice and test your concept before you share it with the world.
To do this, you can start by sharing your listening link. This is the direct link that allows you to listen to a radio (https://www.radioking.com/play/my-radio). It's with this link that you will be able to share your stream.
This link will also allow you to reference your radio on various online radio directories such as: TuneIn, Streema, Tunerr, Listen Radio Online, Radioline, Radio Garden or Deezer to gain new listeners. RadioKing's Radio Manager also offers you a customizable and exportable radio player to integrate your radio station anywhere: A website, a blog and even on Facebook!
Discover all our tips on how to share your radio and develop your audience.
.

Are there any guides I can use to get started?
To help you start your own Internet radio station, we have prepared a multitude of elements to guide you during this adventure:
How do I start an Internet radio station for free?
RadioKing offers a free 14 day trial (no credit card required) in order to allow you to test our radio creation services. Our free trial offers all the features of our Start Radio Offer, including your own listening link, a customizable radio player as well as access to an intelligent media library and scheduling tools. 
Bear in mind that you can create up to 3 free trials on one account!
Do Internet radio stations make money?
There are many different ways to make money from your radio station! Some of the most popular ways to monetize a radio station are:
Sponsorships & partnerships
Are Internet radio stations Legal?
In order to legally broadcast music on your radio station, you must acquire the necessary broadcasting license. If you have obtained the required rights, you may legally broadcast any songs covered by your music license. For more information, we invite you to contact the relevant licensing authorities from the country you are broadcasting from in order to get more information regarding the license you need.
Can I play any music on my Internet radio station?
The music that you can legally broadcast on your radio station will depend on the type of music license you have. Different types of music license will give you access to different catalogues of music. 
Bear in mind that you will still need a license even if you're planning on broadcasting royalty free music. 
How much do radio stations pay to play a song?
There is no set cost for a single song. The pricing will depend on the type of music you want to broadcast, as well as the status of your radio station. For example, the pricing for a commercial music license will be much higher than that of a royalty free license. For more information we invite you to contact the relevant music authorities in the country you're broadcasting from.
Whether you're new to online radio stations or have been broadcasting for years, with RadioKing, you can get started on a new adventure, with a free 14-day trial.
.

Any questions? Ask us!