So you've launched (or are planning on launching) your very own online radio station, but before you can really get started you need more information on the different ways you can share your radio station.
Well, you've come to the right place! In this article we'll be showing you the various ways that you can easily share your radio station with the world.
Smartlink
In order to share all your radio's media in one link, we created the Smartlink! It's the easiest way to redirect users to your radio's different anchor points.
With the Smartlink, there's no need to choose between sharing your listening link, your website, or one of your social networks. Everything is in one place.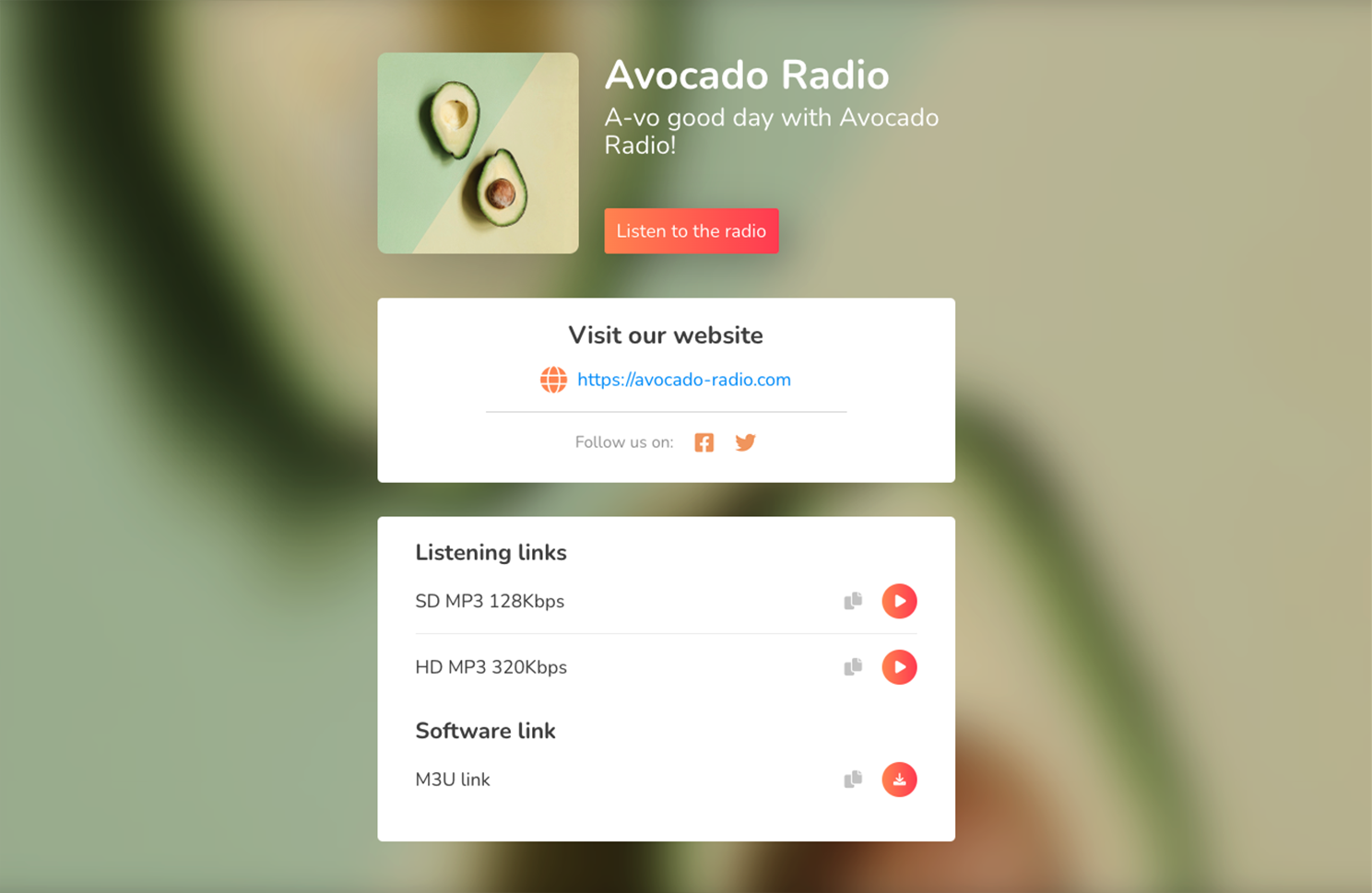 Customized to your colors, your Smartlink page is unlike any other. It redirects to listening links in different qualities, but also to your website and social networks.
To activate your Smartlink and copy its URL, go to the Sharing section of the Radio Manager.
Radio player
All of our Radio Offers include a free radio player! Head over to Share > Player in your Radio Manager to easily customize your radio player in a few simply clicks (colour, size, orientation, buttons…)
Once your player has been customized, you can easily embed it onto a website or blog by copying & pasting the generated code: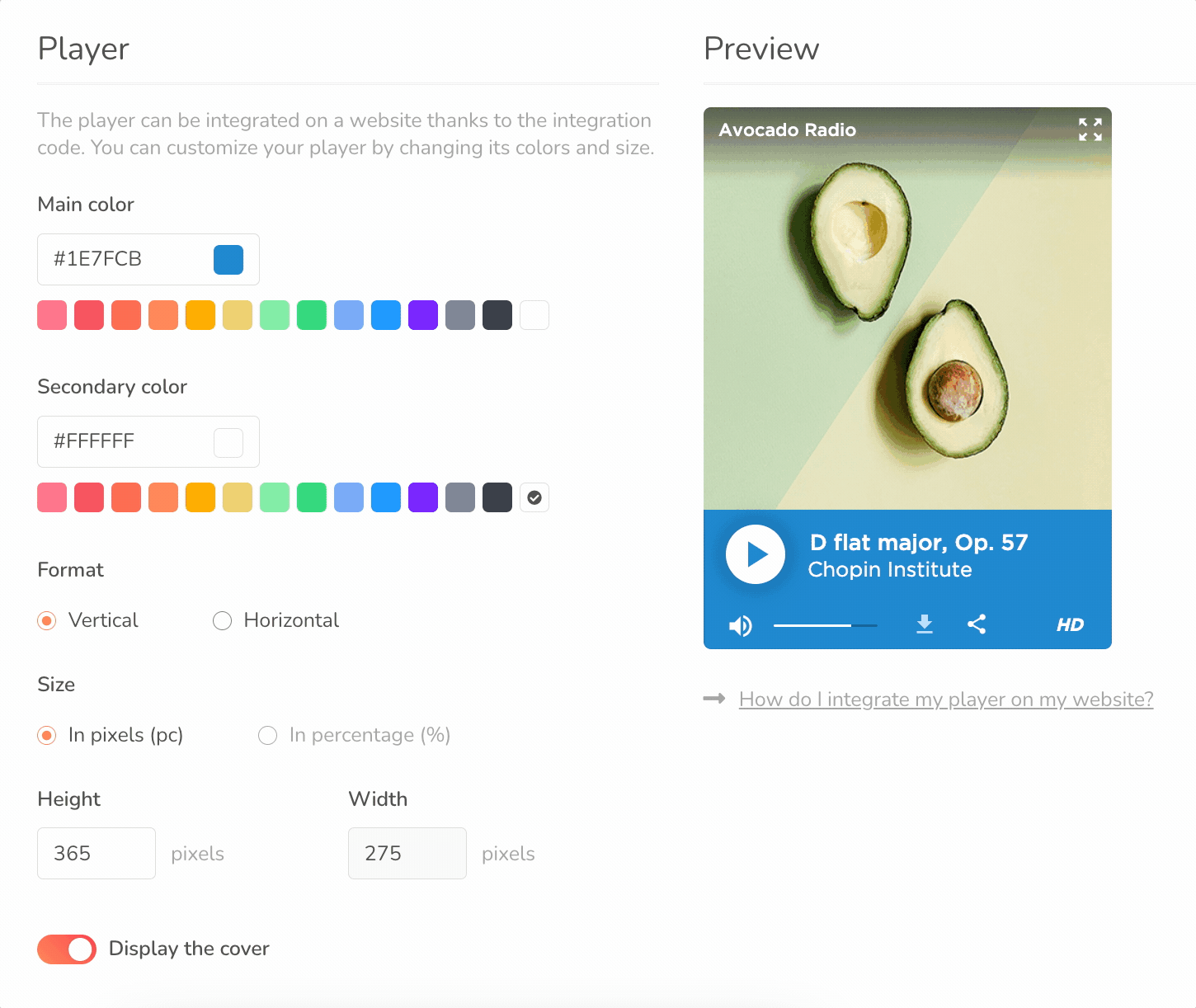 Radio Page
When you create a radio with us, you have the option of appearing on RadioKing's listening platform. If you choose to activate this option (under Settings > RadioKing Platform) you will have your own dedicated Radio Page on our platform where your audience can easily tune in. 
You can also link your Radio Page to your Facebook account, so that the content from your profile is automatically posted onto your page. Plus, it's great way for you to interact with your listeners as they can leave comments!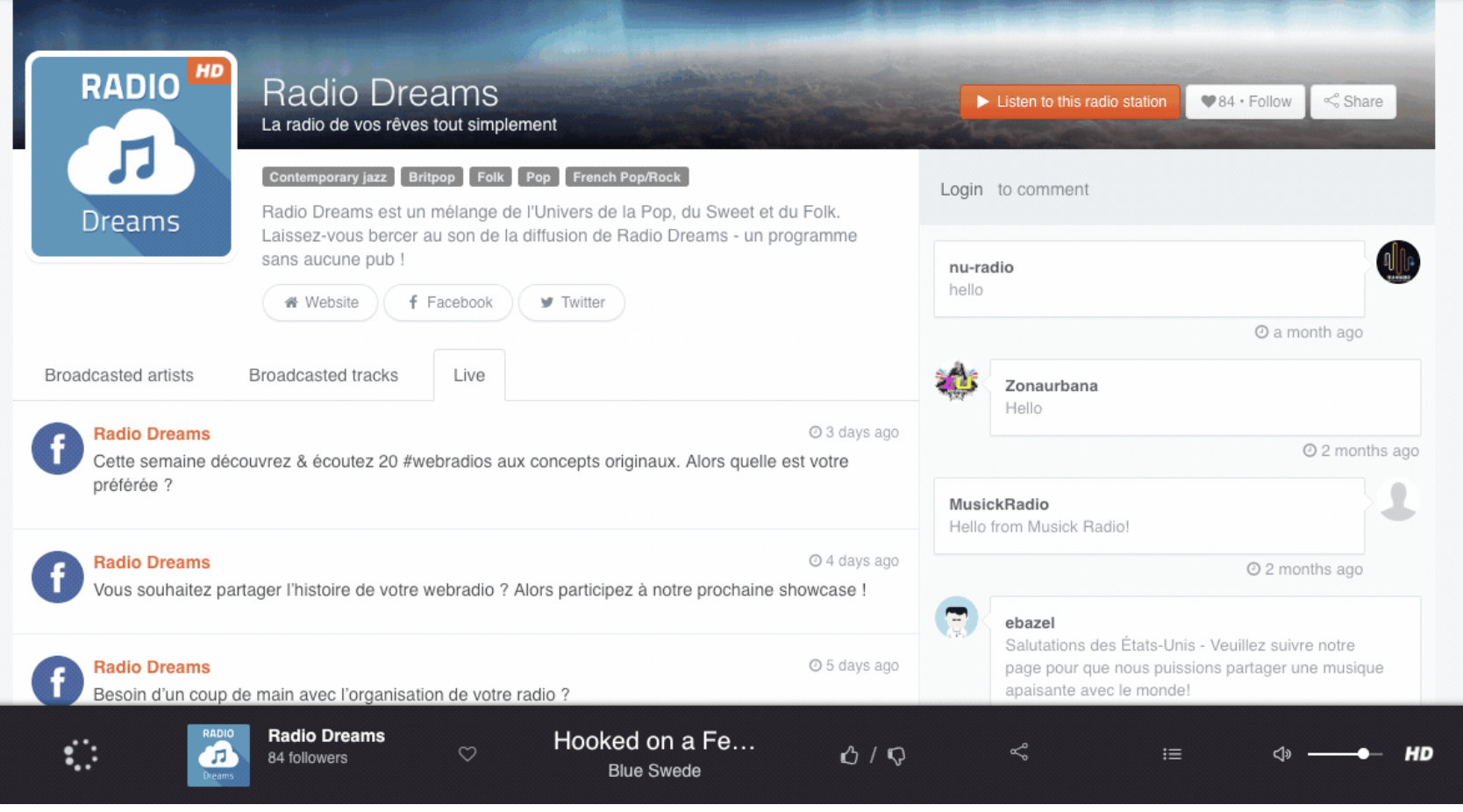 RadioKing Listening App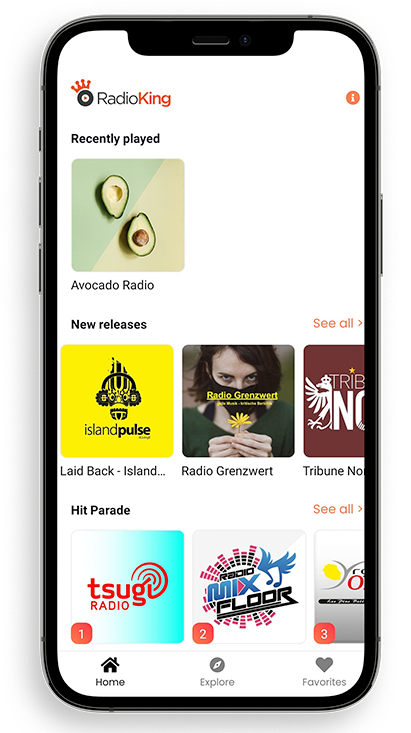 The RadioKing listening app is free to download on iOS and Android. It regroups the radio stations hosted by RadioKing (if this option is enabled under Settings > RadioKing Platform in your Radio Manager.)
Your listeners will be able to listen to your radio station and even add it to their favourites in order to easily find it whenever they open the app! It's a great option for people who want to listen to your radio on-the-go.
Listening Link
When you create your radio station, we will also provide you with a listening link (also called the default link). You'll find your link under the Share Tab of your Radio Manager.
This is the link to the audio stream of your radio station, put simply, people will be able to listen to your radio via this link.
If you don't want to share the link to your Radio Page, you can simply share your listening link with your listeners! Here are some ideas:
include your link in the description areas of your social media profiles
post your link regularly on your social media
include your link in your email signature or newsletter
You can also use this link to build your own web player!
Online

directories
What is an online directory? To put it simply, it's an online catalogue that regroups thousands of online radio stations.
Some directories are even accessible via Android TV, meaning that your listeners will be able to listen to you from their TV, or even on their connected speakers. Being present on online directories is a great way to make your radio station visible and accessible to hundreds of thousands of people!
Check out our list of free online directories.
Top Tip:

Don't forget that by creating a website , 

mobile

application

or Voice Applications for your radio station, you enable easy listening access for your listeners and improve your visibility!