Broadcast live like a pro with Mixxx
All the essential features to broadcast live are right here.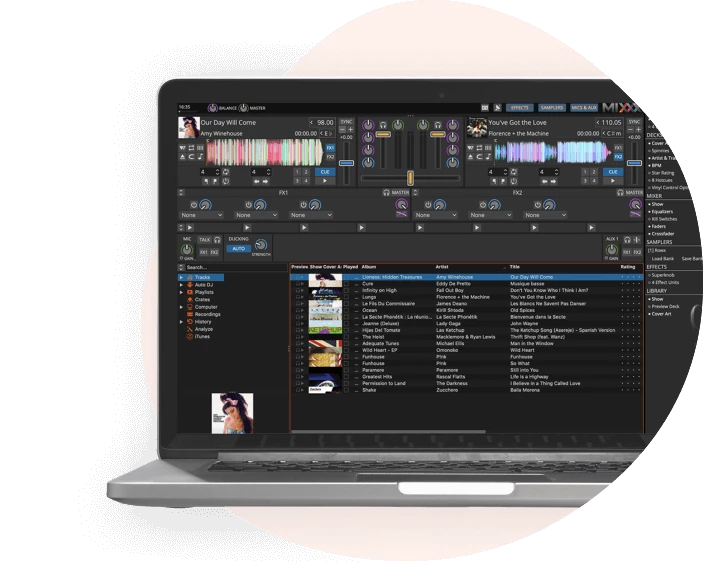 The particularity with Mixxx
Mixxx is an essential live broadcasting software that will allow you to easily go live on your radio station.
Mixxx has the particularity of being a very customizable software, with a complete selection of features. Learn how to configure Mixxx and take a tour of the software thanks to our tutorial.
The perfect tool for your online radio station
In addition to being free, Mixxx allows you to customise the interface so that it best suits your needs. The interface also allows you to hide or display certain areas, giving you the best visibility of your elements.
Whether you want to broadcast and mix music, or speak live on air, you can easily broadcast like a professional from the comfort of your own home with Mixxx.
Mixxx offers 4 inputs for your microphones and other devices. Start speaking live on your radio station with one simple click!
Broadcast your songs automatically with the Auto DJ feature by creating playlists or adding your tracks to the queue.
Record your live broadcasts
Want to record your live broadcast? Simply activate the live recording feature!
Your online radio in a few minutes! Test it for free today.
Frequently asked questions
Yes, Mixxx offers a recording feature that you can activate when launching your broadcast! This will allow you to repurpose the audio of your live stream for catch-up content for example.
Mixxx is completely free to download for Mac OS, Windows and Linux.
Of course! There are a number of solutions that are compatible with RadioKing. You can take a look at the various tutorials available in our Help Center. Our tutorials provide you with the necessary information to install and configure the various software solutions. We also walk you through the basic features for broadcasting and mixing live audio on your radio station.