One of the first things you may be asking yourself when starting an online radio station is whether or not you'll need a music license. In this article we'll explain in which cases you need a license for broadcasting, as well as where to get your license.
Do I need a music license? 
The general answer to this question is "it depends"… Depends on what, you may ask? Well, your need for licensing will mainly depend on what you want to broadcast, and where you want to broadcast to.
If you're planning on broadcasting commercial music, you will indeed need a music license to cover the royalties required by the recording artist or record label. Most online radio stations cover themselves with a "blanket license", also known as an "umbrella license". These will cover your radio and allow you to broadcast copyrighted music. Most blanket licenses are paid annually and will vary in price depending on where you are broadcasting from and to.
Licensing also concerns royalty-free music. These licenses are generally cheaper as you only need to make a one-time payment which will give you lifetime rights to use the music. If you intend to broadcast copyright free music or just talk radio then a music license won't be necessary.
Music licensing in the USA, UK & Canada
Licensing in the USA
There are 3 primary licensing bodies that offer statutory licenses in the USA. Statutory licenses are defined as radio broadcasts that are non-interactive, this refers to shows that cannot be skipped or when listeners can't select their own music.
Licensing in the UK
There are 2 main licensing bodies for the UK. Unlike licensing in the USA, UK licenses have one-time fees.
If you're planning on broadcasting music via an online radio station, then you will need licenses with both PRS and PPL. These are annual blanket licenses that cover your online broadcasts.
Licensing in Canada
The license fees that broadcasters pay to SOCAN, whether it's via cue sheets for individual music performances or blanket licenses for all music performances within a given time period, compensate songwriters, composers and music publishers that make up SOCAN.
Note: You'll find a list of licensing authorities for other countries at the end of this article.

What is geo-protection and how can I use it?
RadioKing offers you the possibility of choosing which countries can or cannot access your radio station thanks to the geo-protection feature. This feature can help protect you from any legal issues if your music license doesn't cover specific countries.
Simply head over to Settings > Security in your Radio Manager to activate the option and select the countries you want to allow or block: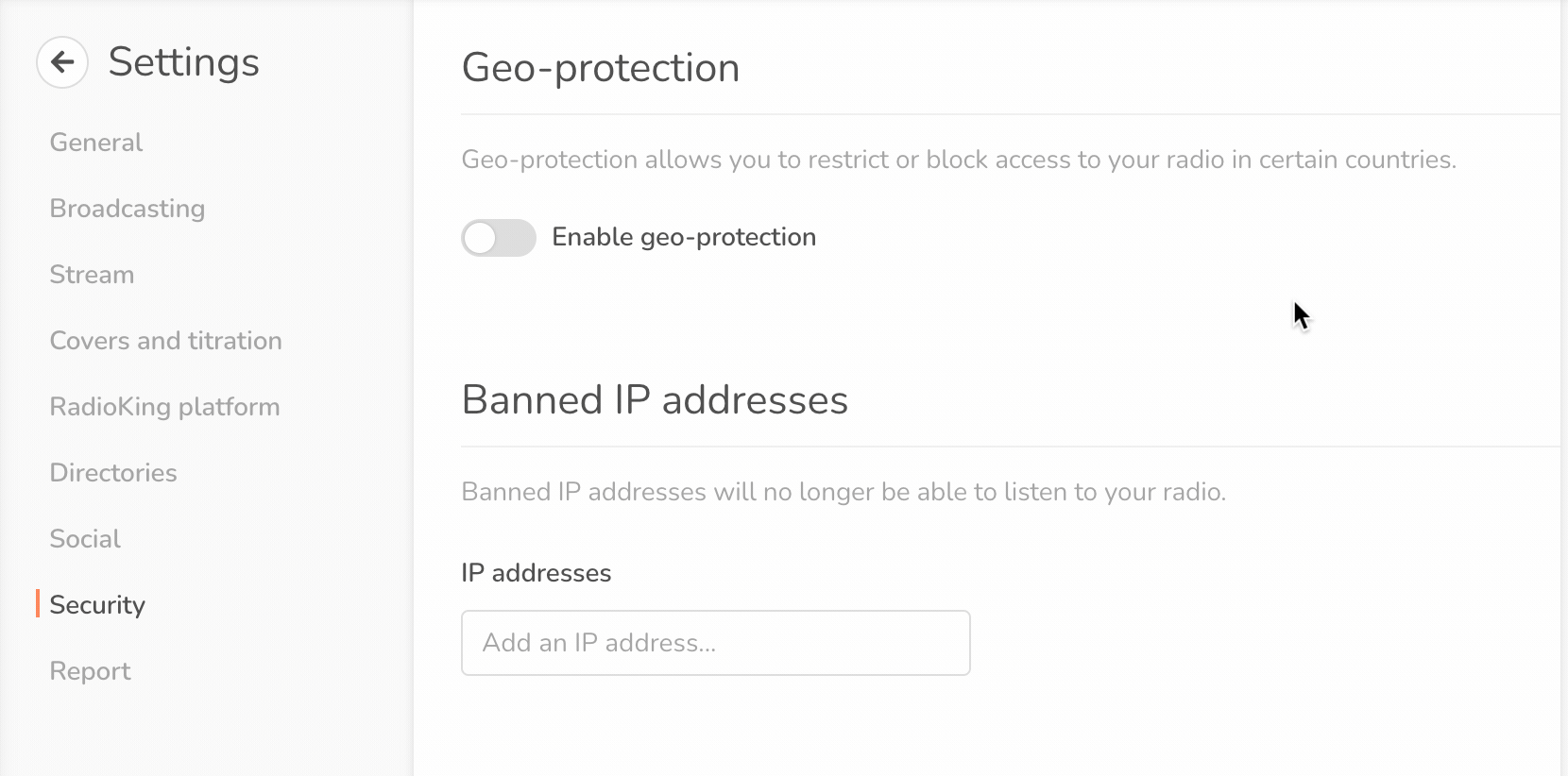 FAQ

Licensing bodies in different countries
Australia: PPCA
Argentina:  SADAIC
Belgium: SABAM
Brazil: ABERT, ABRAMUS, UBC
Chile: SCD
Columbia: SAYCO
Cuba: ACDAM
Cyprus: CRTA
Dominican Republic: SGACEDOM
Ecuador: SAYCE
Finland: TEOSTO
France: SACEM
Germany: GEMA, GVL
Greece: GEA
Guatemala: AEI
India: IPRS
Indonesia: ORARI
Ireland: PPI
Italy: NUOVOIMAIE
Japan: JASRAC
Kenya: PRISK, KAMP, MCSK
Lithuania: LRMD
Luxembourg: SACEM Luxembourg
Mexico: SACM
Netherlands: SENA, BUMA/STEMRA
New Zealand: APRA
Nigeria: NBC
Peru: APDAYC
Philippines: FILSCAP
Poland: ZPAV, ZAIKS, STOART, SAWP
Portugal: ANACOM, ERC, SPA, PASSMUSICA
Romania: CREDIDAM
Russia: VOIS
South Africa: CAPASSO, ICASA
Spain: SGAE
Sweden: STIM
Switzerland: SUISA
United Arab Emirates: TRA
Uraguay: AGADU
Venezuela: SACVEN
West Africa: MOICI