Starting your own online radio station is an exciting project, however, when it comes to attracting listeners it can be difficult to know where to start. We've put together some top tips in order to help you get more listeners to tune in to your radio station.
1. Define your listeners
2. Have an original concept
3. Make your listening options visible
4. Broadcast live on your radio station with guests
5. Be present on social media
6. Let your listeners have their say
7. Publish articles on your website
8. Offer competitions and prize draws
Building a loyal audience isn't something that will happen overnight. By putting in place a strategy and being consistent, you will start to see your listener base grow! Let's dive right in with 8 tips to help you gain more listeners for your radio.
Define your listeners
First of all, it's important to know who you want to attract to your radio station. By targeting "everyone", you will find it difficult to put in place an effective strategy as your audience will be too large. You won't be able to please everybody on your radio station, so try and think about who your radio is aimed at.
Determine your goals
In order to determine your target audience, think about the goals of your radio station and what you aim to provide your listeners with. For example, this could be news, music, entertainment, debates, information on a specific topic, or information based on a specific location. 
By having a clear goal for the content of your radio station, you will have a better idea of who it is aimed at. This will help you determine the kind of people that are likely to listen to your radio station.
Targeting segments
For a more precise idea of the type of listener that you will be targeting, you can also think about various targeting segments. There are many different segments, some of which include:
Demographic: age, gender, language, hobbies, race, ethnicity, education, etc…
Geographic: country, city, town, village, etc…
Music genre: rock, jazz, hip hop, country, pop, etc…
If you're not sure who to target or want to create a more general radio station, make sure you create multiple programs to suit a wide range of tastes. If you choose to do this, establish a clear schedule, for example, jazz in the morning, pop in the afternoon, and rock in the evening. That way you are sure that your listeners will tune in at the time that best corresponds to their needs.
Create an original concept
Creating a radio station with an original concept is also a great way to attract more listeners as it will stand out from other classic radios. With thousands of radio stations out there, you need to give your listeners a reason to choose your radio rather than someone else's!
Passions
Do you have a particular passion for something that you want to share with the world? Chances are that someone else out there shares the same passion as you do! Why not use that passion as a source of inspiration for your radio concept? Whether you have a love for the supernatural, true crime, gardening, or even mountain climbing, there's a whole world of content to be created around your passion. 
Expertise
Are you an expert in a specific field? Use your radio station to educate your listeners on a particular topic and curate content around it. You may be a tech whizz, a business mogul, or even a music producer! Whatever your area of expertise is, there's always a way to put an interesting spin on it and attract an audience.
Specific music
If you launched a radio station in order to broadcast music, you can still create an original concept! Stick to the musical genre(s) that you love the most, but try and think of deeper sub-categories, for example:
Rock: 70s British Rock
Pop: Pop bands from the '00s
By creating a more specific theme, you will stand out from more generic music stations, and attract a more curated audience.
Have multiple listening options
If you want to attract more listeners, make sure that your radio station is available on as many different platforms and media as possible. You want to make sure that your listeners have various different options for tuning in to your radio station, regardless of where they are, or the device that they're using.
Online radio directories
Radio directories are online platforms that regroup thousands of Internet radio stations by genre. Submit your listening link, logo, and a short description to register your radio station and make it available to a whole new potential audience. Plus, it's generally free to add your radio to a directory, so go ahead! 
All radio stations hosted by RadioKing appear on the RadioKing listening platform and mobile application in order to grant your listeners quick and easy access directly from a search engine, or smartphone. 
Website
Creating a radio website will make your radio station easy for your listeners to find and listen to. Make sure that your radio player is highlighted on your homepage so that your visitors can tune into your radio station in one easy click!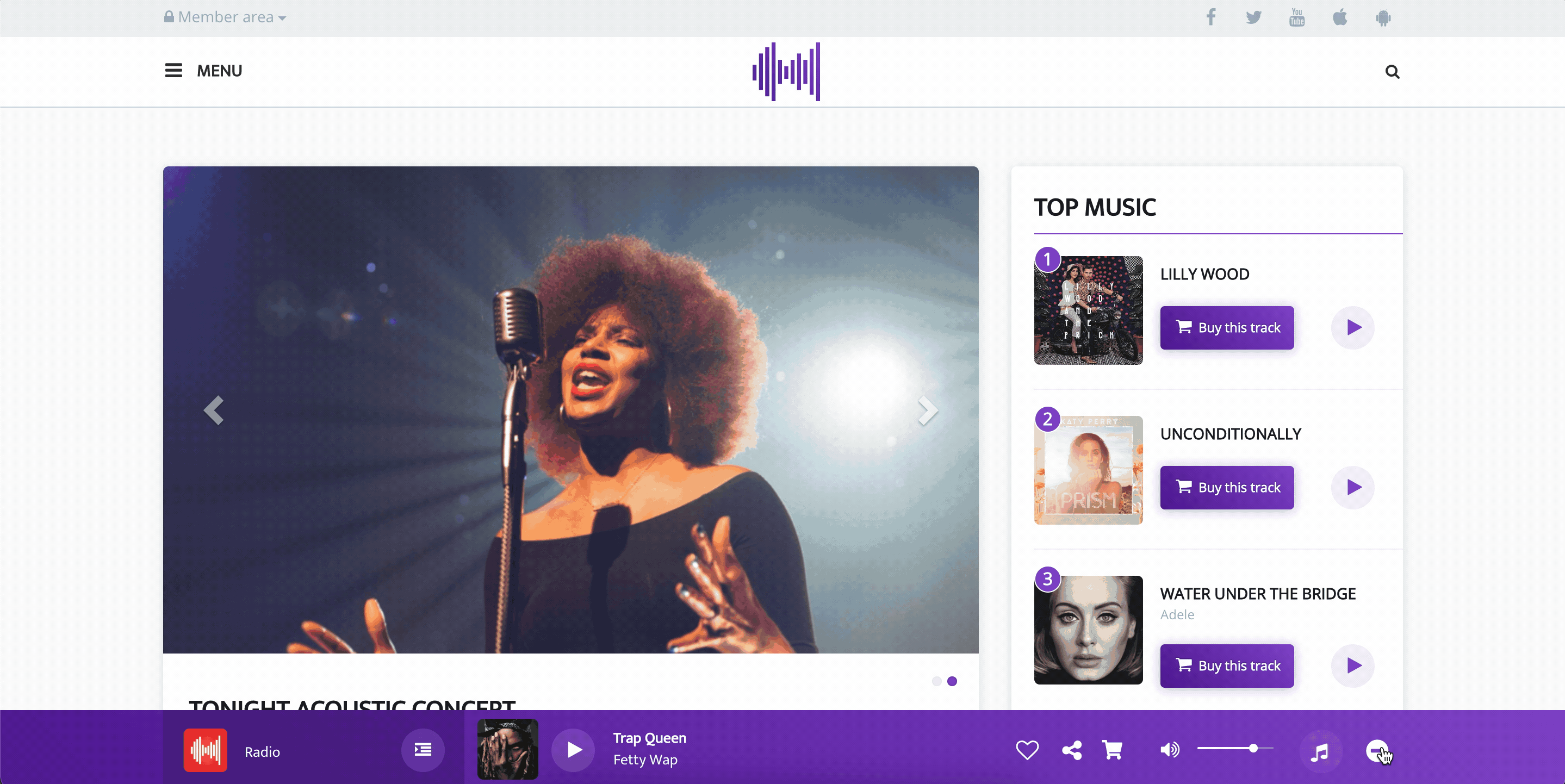 Top tip: with RadioKing, your radio website will have an integrated player bar that will allow people to listen to your station whilst navigating through your site.
Mobile App & Vocal App
Create a radio mobile application dedicated to your radio station so that your listeners can download your app and easily listen to your radio station on the go! Plus, you have a website and social media accounts, you can also link them to your mobile app to help create a community around your radio station.
With the rising popularity of smart speakers, it's also important to make your radio available via vocal assistants such as Alexa. Creating an Alexa Skill for your radio will allow your listeners to easily launch your radio station with a simple voice command.
Broadcast live on your radio station
Live broadcasts are a great way of attracting more listeners to your radio station by creating unique content. Be sure to let your audience know in advance that a live broadcast is coming up via social networks, a newsletter, your website, or push notifications.
Invite guests
One great way of creating live content is by inviting guests to appear on your radio show. Invite people who have a direct link to the concept of your radio station and can speak about relevant subjects that will be of interest to your listeners. For example, if you are a sports radio station then invite someone from the local football team (current or ex-player), a sports commentator, or a coach. Ask yourselves who your listeners want to know, and who can give them the answers that they're looking for. 
Live music
There's nothing quite like a live performance is there? If you're promoting a local band or artist, then invite them to your radio studio for a special live performance. This can be a great advertising opportunity for them and will create exclusive content for your radio show too. It's a win-win situation! 
You can also go to festivals or concerts and re-transmit the concerts live on your radio station thanks to mobile apps such as iziCast and MediaCast. Granted, the audio quality won't be studio-perfect, however, it's a great way for you to share the moment with fans that were not able to make it to the live performance themselves.
Broadcast your listeners live on air
Listener participation is key to any radio station that wants to create a strong connection with its audience. Whether it's for games, to share stories and anecdotes, or for shout-outs to their friends and family, get your listeners live on air! This can be done via a mixing desk by connecting a smartphone directly and broadcasting the audio to your radio stream. Alternatively, software such as Audio Hijack or Voicemeeter will allow you to create a virtual mixer and broadcast your listeners live too.
Be present on social media
Being present on social media is a guaranteed way to gain more listeners! If you haven't already created a Facebook page, Instagram profile, and Twitter account for your radio station, what are you waiting for?
Be visible to your listeners
By creating various social media accounts, you increase the visibility of your radio station and make it easier to find. If you don't have a website for example, someone who searches your name on Google will stumble across your social networks instead. Be sure to fill in your profile descriptions so that visitors instantly know who you are, and what your radio station is all about.
Interact with your listeners
Posting on your social media profiles is essential in order to gain (and keep) followers! Nobody likes to follow accounts that never post anything… Be sure to keep your networks alive by publishing exclusive behind-the-scenes content, and by giving information about upcoming shows or events. Even more importantly, don't forget to respond to any comments or interactions from your followers! It will help them feel seen and important and will reinforce your relatability. 
Let your listeners have their say
Listening to your audience is a big part of running a radio station as your audience wants to feel heard! Try and include them whenever possible, you'll soon see that it's much appreciated within your audience.
Ask listeners for their opinion
Your listeners want to feel like you are talking to them, not at them. You need to know what your audience wants, and what better way to do that than to ask them directly? Use your social media accounts to ask regular questions that will help you get to know your audience better. The better you know your listeners, the more authentic your relationship will be. 
Ask them their opinion on things such as: the time of a live broadcast for example. 
If more people vote for 8 pm, then you're sure to have a larger audience at that time compared to a live broadcast at 10 pm. 
Take listener song requests
By asking them to send in song requests, for example, you're letting them be a part of your project. Chances are, they will prefer to listen to a radio station that includes their listeners, so don't be shy! 
Publish content on your website
Radio is purely audio, but that doesn't mean that you can't create other types of content! If you have a website, use it to attract listeners by publishing news, articles, or opinions about a subject you know will be of interest to them.
Improve your SEO
Increasing the visibility of your radio brand will help you get more listeners for your station. Nowadays, in order to be visible, you need to think about SEO (search engine optimization). SEO essentially refers to how easily you will appear on search engines such as Google or Bing when someone searches for something related to you or your concept. By creating written content on your website that reflects who you are and what you are about, search engines will recognize and reward you for it, making you more visible on the Internet!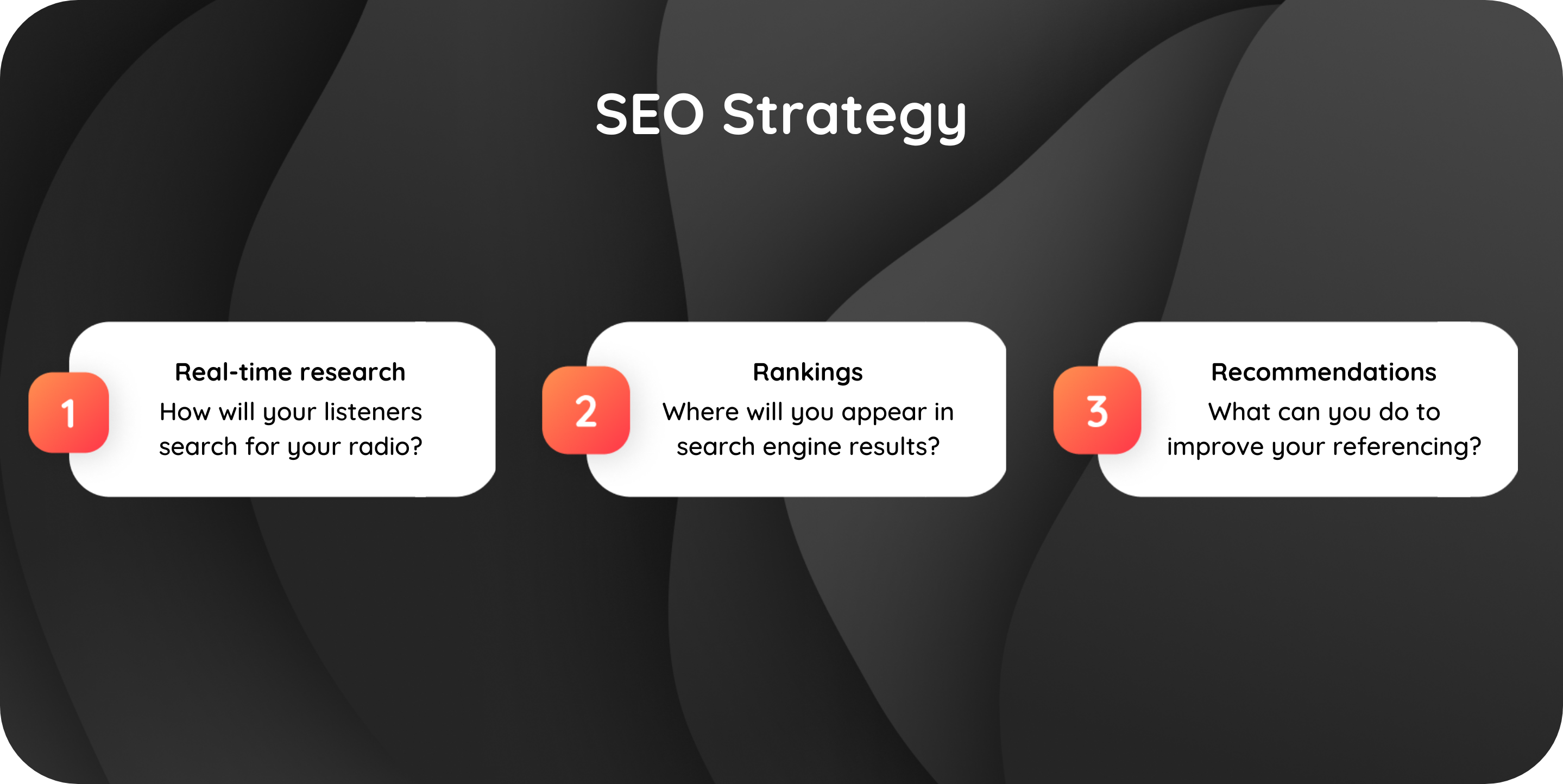 Repurpose your content
There are many ways that you can repurpose the content of your radio station and transform it so that it lives on. You can record your live radio shows, interviews, and debates and transcribe them into written content for your website. This a great way to make your content available to people who weren't able to tune in for example. Plus, if we think about SEO as mentioned above, someone who searches for a topic may come across your article on that subject and discover you for the first time!
Give more information
When people tune into your radio station for the first time, they won't necessarily get all of the information about you and your concept. Use your website to fill in the gaps and provide additional information for anyone who wants to find out more about your radio station! Your website should be a reference point for your audience, allowing them to contact you if necessary, or to get more information about something that you mentioned on air. For example, if you spoke about an event on your radio station, your listeners can head over to your website for more information!
Offer goodies and prize draws to your listeners
People love free stuff, right? So don't deprive your listeners of this opportunity and offer regular meet-ups, games, contests, and prize draws on your radio!
Goodies for your listeners
Think about creating some goodies with the logo of your radio station to give out to listeners for free at meet-ups and events. A few ideas could include:
Stickers
Magnets
Pens
Tote bags
Keychains
Tshirts
People will almost always accept a free gift, and it can be a great way to easily advertise your radio and spread the word!
Radio games and prize draws
Our last tip to help you gain more listeners is to organize competitions and prize draws on your radio station. Getting your listeners to call in to play games in solo mode, or against each other is a fun way to create content and create a link with your audience at the same time. As for random prize draws and competitions, they will incite your audience to tune back into your radio to hear the results and find out if they have won! It's a great way to have fun and get people to listen to your radio too. 
---
There you have it, with these top tips, you have everything you need to obtain more listeners for your radio station! Let us know in the comments if there's anything else you do to attract more listeners.