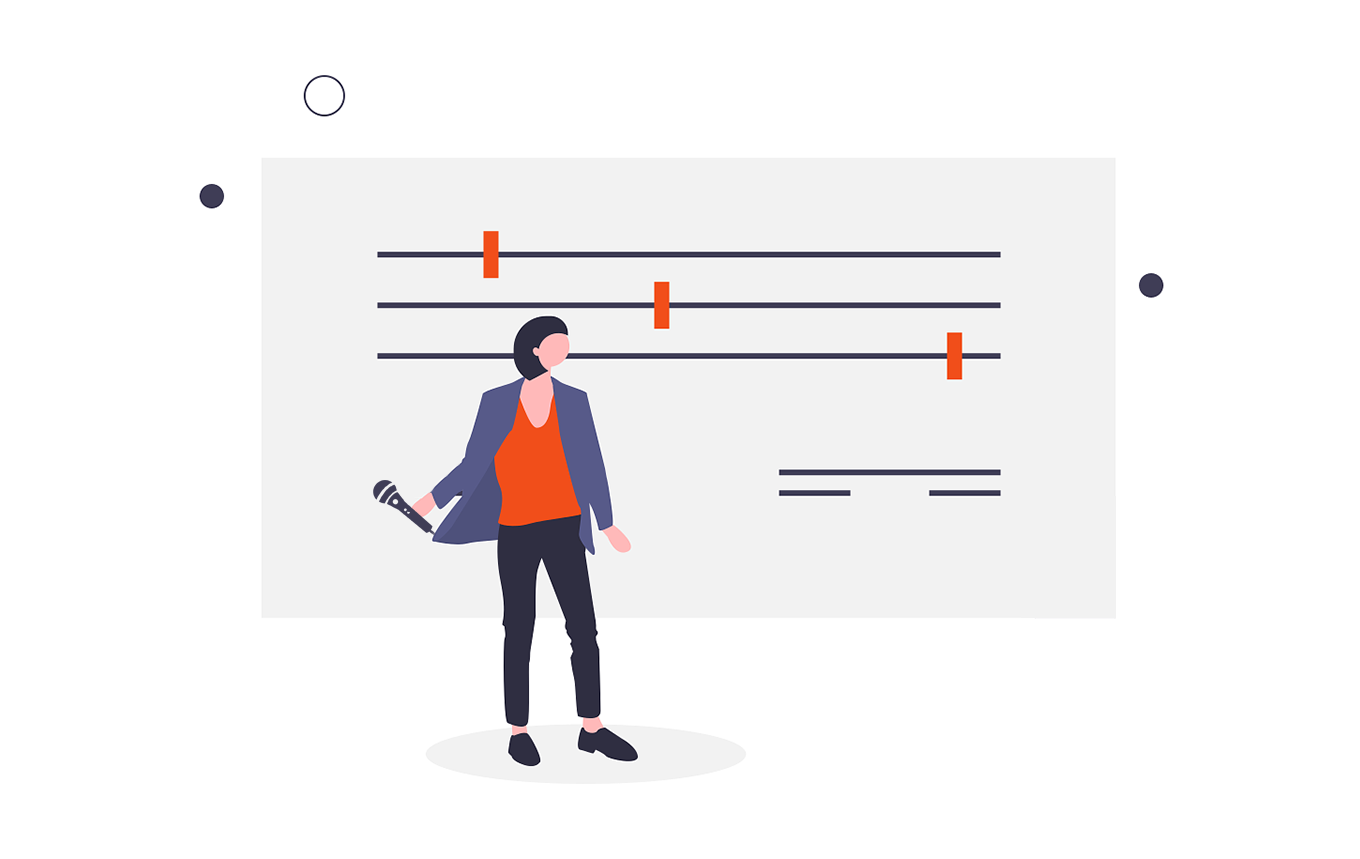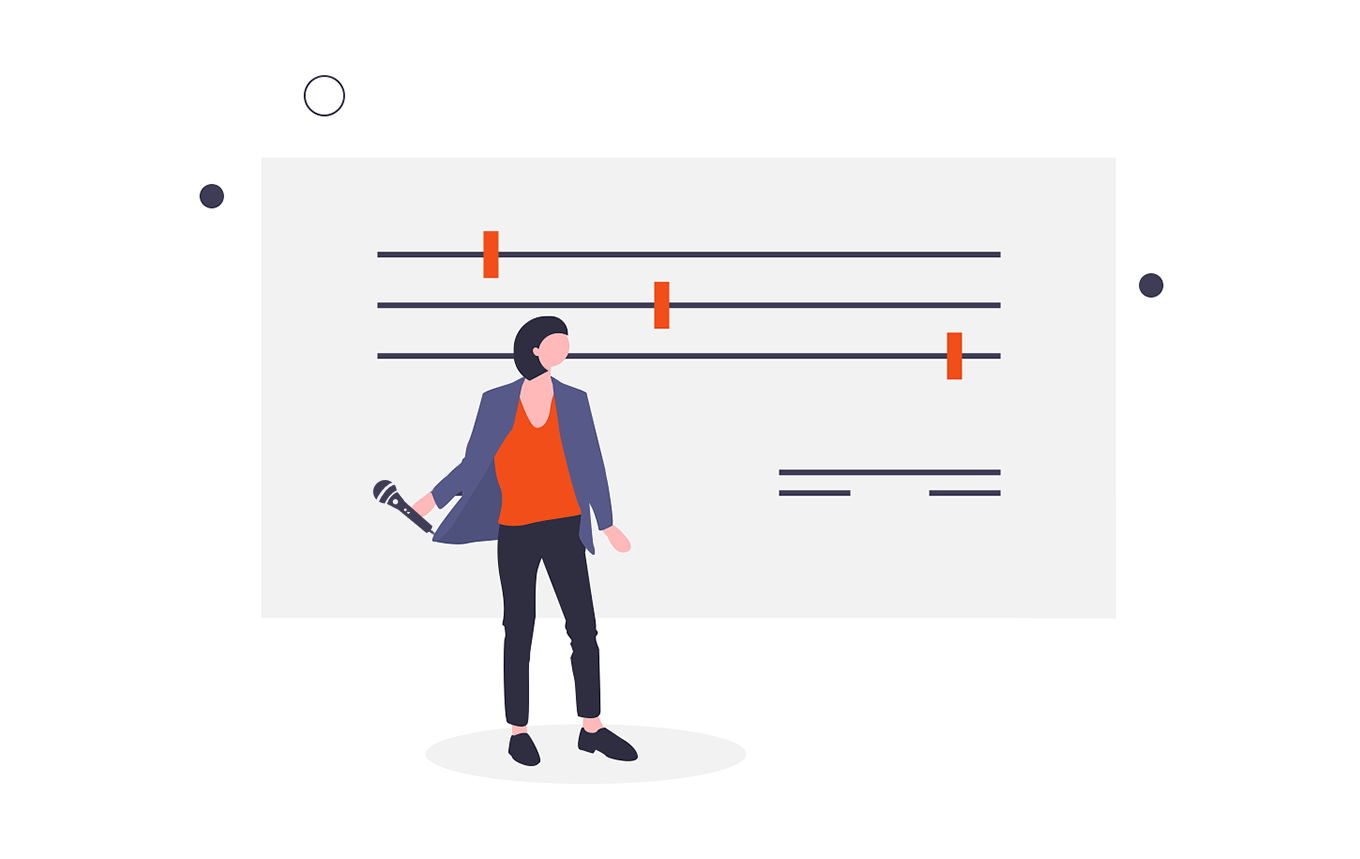 Now that you've established your project, you may want to get down to business and broadcast live on your Internet radio station. But which equipment should you choose between the multitude of choices out there?
In this course, we will learn the basics of radio broadcasting, how to choose your equipment according to your needs and how to set up your radio studio.
At the end of this course, you'll be able to:
Understanding live broadcasting
---
Before diving into the deep end, it's interesting to understand how live broadcasting works.
Live broadcasting, how does it work?
On an Internet radio station you can broadcast in two different ways: automatic mode and live. When you create your playlists and schedule them to play, it's automatic. To carry out a live broadcast on the Internet from your Internet radio station you must use a broadcasting software.
A broadcasting software is a program installed on your computer. This computer will need to be connected to the Internet in order to broadcast your show to the world. It's through this connection that you will be able to send your voice and music to the server that will forward your live feed to your listeners, regardless of the device they use to listen to you.

---

REMEMBER: It's quite normal for there to be a delay of around 45 seconds when going live, this is the time taken for us to receive the stream, process it, re-encode it and then send it to your listeners. The delay can vary between 5 and 30 seconds.
How to choose the right equipment for my needs?
All projects are unique and the ways to carry out a live broadcast are also unique. It is important to determine your needs in order to create the studio that suits you. Before you start buying, it is essential that are able to answer these questions:
Why are you going to broadcast live?
When are you going to broadcast live?
Under which conditions? (Outside, on the move…)
Will there be other hosts? If so, how many?
Do you have a dedicated space for your live broadcasts? A studio?
What is your budget?
If you have read the first part of this course, you already know that you can do a live broadcast with a computer and broadcasting software. In theory, by using your computer's internal microphone you could quite easily perform a live broadcast. But if you're looking for more professional conditions and sound, you will need to add a microphone.
Your microphone must be connected to your computer, generally a mixer (also known as a mixing desk or mixing table) is used for this purpose. If you are alone or recording in outdoor conditions, you may prefer a more mobile audio interface.
The mixer allows you to connect and manage several sources at the same time (microphone, telephone, headphones…). Finally, to achieve a live broadcast worthy of radio conditions, you will need a headset for your feedback. Feedback is when you hear your interventions, those of your hosts and the music directly in your ears through your headphones.
PLUS: Don't forget the cables that you will need to connect your equipment.
XLR cables to connect your microphone to your mixer (or interface)
Stereo Jack cable

A Jack to Jack Cable / RCA to RCA Cable
Choosing the equipment for your radio studio
---
We have prepared a selection of the different equipment for you, but, as we have already said, there is no such thing as a good microphone or mixer. The appropriate equipment will be the one that is adapted to your needs. If you have the opportunity, do not hesitate to test it before purchasing.
Choosing your live broadcasting software
Now, which broadcasting software to choose? It can be difficult to see clearly because there are so many of them. Feel free to test several of them in order to see the different functionalities of each one. Ask yourself why you are going to do live broadcasts. Retransmit a concert? Do an interview? Mixing music? Not all software is necessarily adapted to your project. Add to that the fact that you will not have access to the same software whether you are on Mac, Windows or Linux. Here is a small list of broadcasting software to help you see more clearly.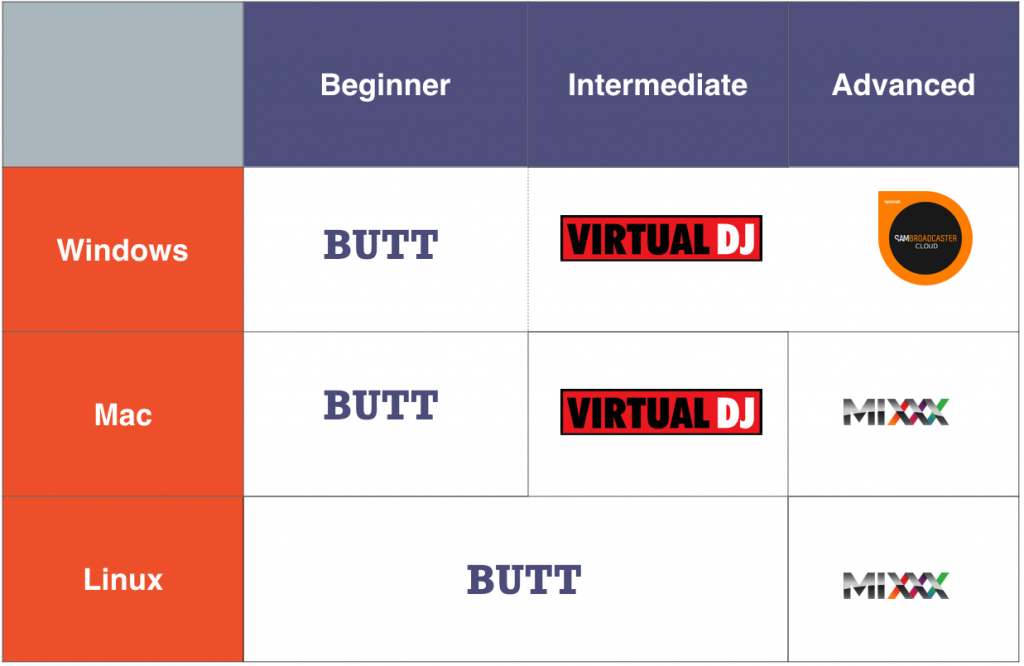 BUTT: BUTT stands for Broadcast Using This Tool. It's a small open source software for all operating systems. If its simplistic aspect can put some people off, it is one of the best allies for Internet radio stations. It is even used by FM stations to retransmit their streams.
Virtual DJ Pro: (Window and Mac). If you want to play a lot of music and you have a lot of songs in your folders, Virtual DJ may be right for you. It will cost you $299 to get the full version, although you can test the limited free version.
Sam Broadcaster: (Windows). It's an automation software so it may seem complicated at first glance, but it is one of the most advanced software. If the trial is free, you can count between $15 and $130/ month to acquire the software in its entirety.
Mixxx: (Windows, Mac and Linux). Suitable for all operating systems Mixxx offers a very high degree of customization. Unfortunately, the software can seem very complicated for beginners. However, it's worth it and to avoid ruining anything, it's free!
What if I want to broadcast live from my smartphone? Note that there are very few broadcasting software available for smartphones, or iPads. There are 2 of them: iCast 2 for iPhone (for a fee) and Mediacast for Android (free).
Choosing a microphone for your Internet radio station
The world of microphones is very vast, there are a multitude of models and a very wide range of prices (from $10 to more than $2000). To help make your choice there are several criteria to take into account:
Directivity: This refers to the sensitivity of the microphone and its ability to pick up the source of the sound. There are several types of directivity. Ominidrectional (the microphone picks up sounds from all directions, interesting for some recordings, but not recommended for radio). You may want to opt for a cardioid microphone that will only pick up the source in front of the microphone.
How it works: Sensitivity and rendering will depend on how it works: some produce a "warmer" sound (condenser microphones), others are more resistant (dynamic microphones).
Connection: It is recommended to acquire a microphone with an XLR connection so that you can connect your microphone to a mixer. But if you are alone, a USB microphone that you can connect directly to your computer can also be a wise investment.
Bear in mind that that condenser microphones require an external power source (phantom power) to operate.
In general, we advise you to invest in a dynamic microphone with a cardioid pick up pattern.
Here is a selection of microphones according to budget.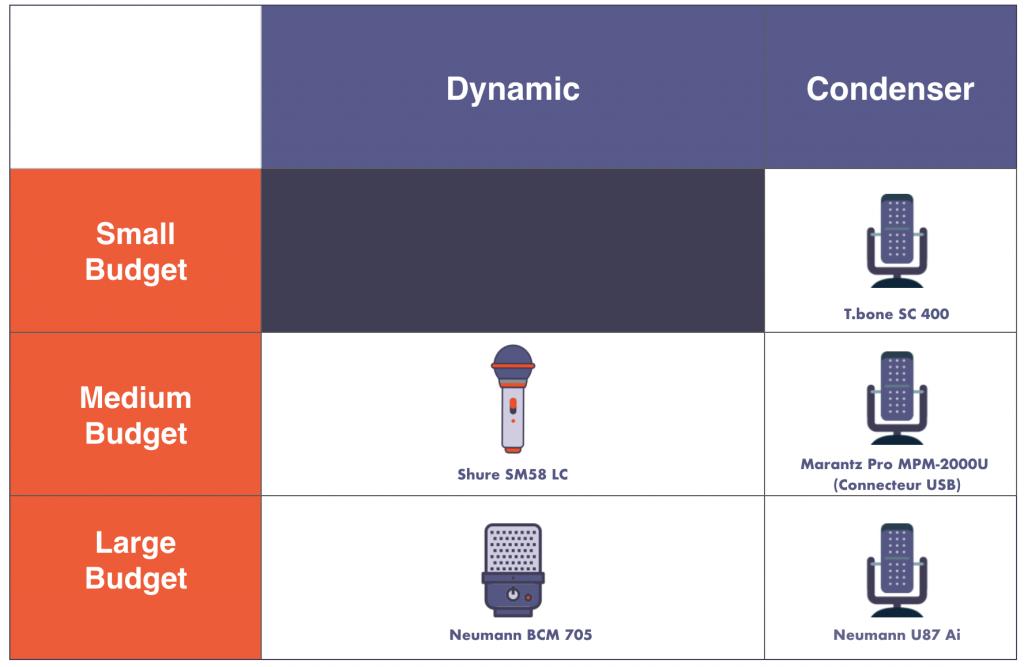 Choosing your mixer
A mixer will allow you to connect all your devices (inputs) and send them to the broadcasting system. You will be able to manage these entries independently. A mixer can be digital (more expensive, but which allows you to process the sound beforehand as well as save your settings) or analog. A mixer has several strips depending on its size. A strip corresponds to a source.
When choosing your mixer, be careful to take into account the number of inputs. How many devices do you want to connect to your mixer? Be sure to check the number and type of inputs you want to connect before purchasing a model. Each input is different, so a microphone can be XLR (or USB) type, you may also need a jack, USB etc.
CAREFUL: Also consider buying a USB interface to connect your mixer to your computer.
Here is a selection of mixers according to your budget and the number of inputs: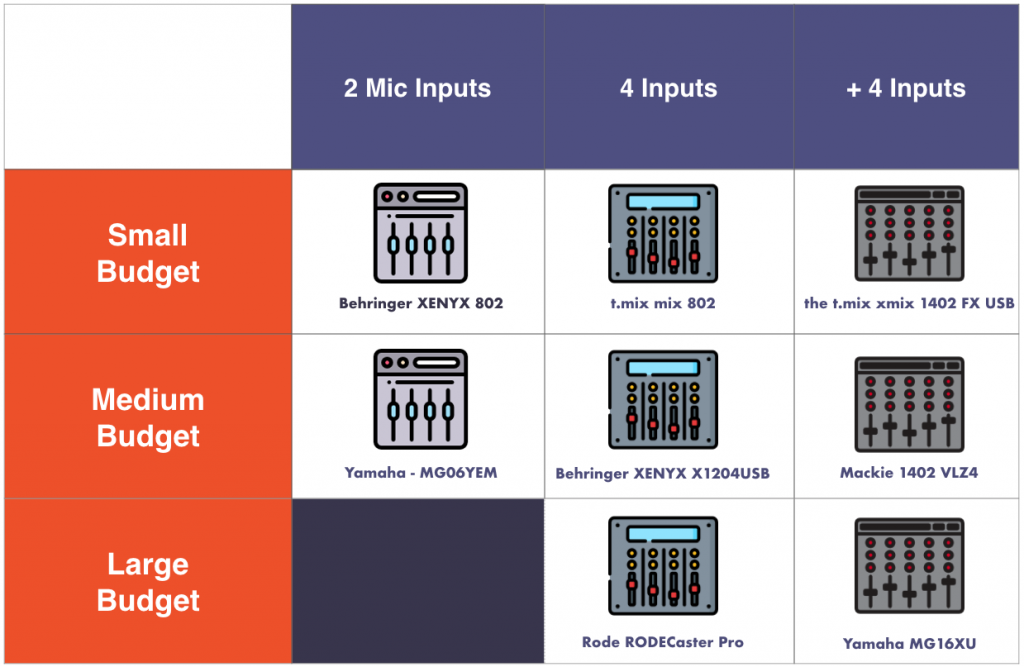 If you don't want to invest in a mixer or if you want to be mobile while enjoying a microphone, the iRig Pre could be a good alternative.
Finally, the last essential element for your radio studio: an audio headset. Don't neglect the search for good headphones, it's an important point for a radio host. Your headset will allow you to judge the quality of your broadcast.
There are several things to remember when it comes to choosing the ideal headset for your radio.
Choosing open or closed headphones: there are many debates on this subject. Open headphones allow a better sound reproduction, whereas closed headphones isolate you from your environment, therefore they allow better concentration during your shows.
Choosing comfortable headphones: this must be one of your top criteria, especially if you are doing long shows.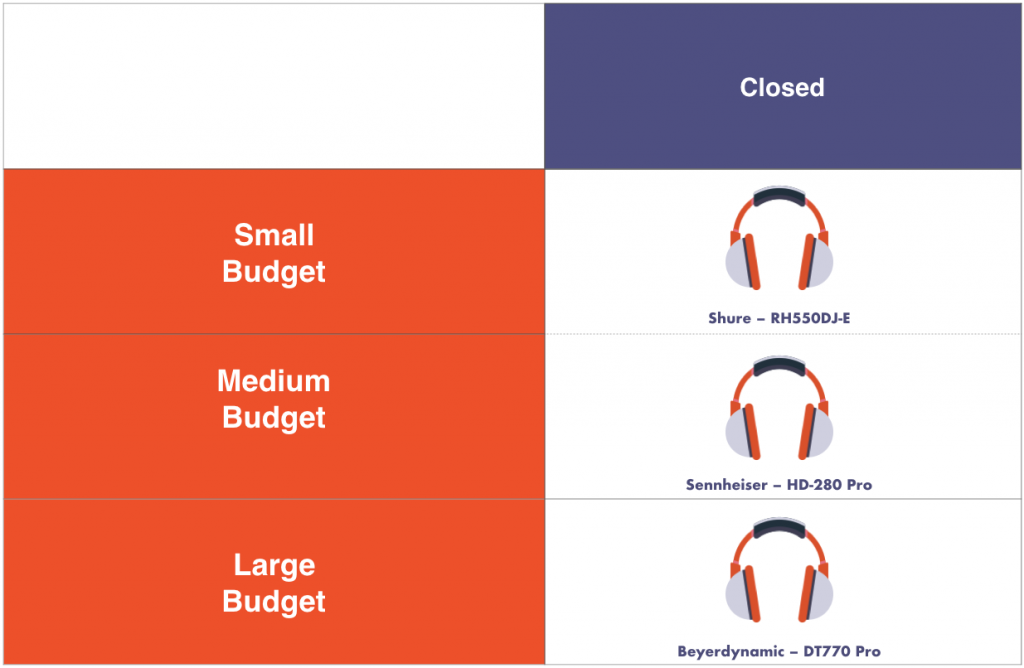 CAREFUL: For the set up of your radio studio, don't forget: a headphone amplifier, this will allow you to connect your headphones to your mixer.


Setting up your Home Radio Studio
---
So, do you have all your equipment and are looking forward to your first live broadcast? In that case let's move on to the next step: setting up your radio studio.
First of all, in addition to a mixer, headphones and a microphone you will also need cables!
To connect your computer to your mixer, you will need an RCA cable. You will also need a stereo jack cable to connect your headphone amplifier to your mixer. Finally, you will need as many XLR cables as microphones.
First, connect your microphones to your mixer. Then connect the amplifier to the mixer. Add the headphones to the amplifier. And finally, connect your computer with your broadcasting software to your mixer.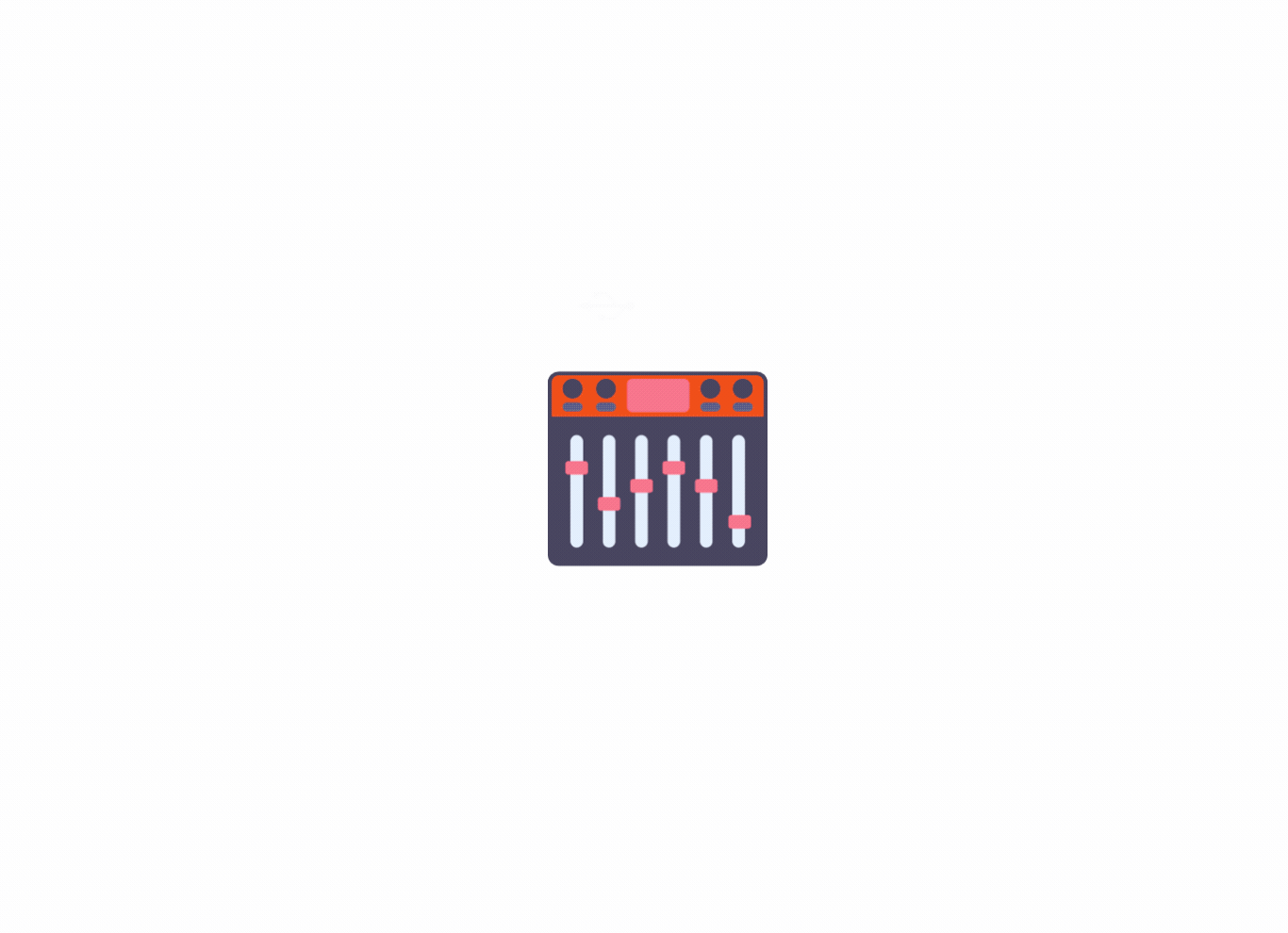 Don't forget your UBS interface so you can connect the mixer to the computer.

TO SUM UP:
---
Before making any purchases, ask yourself what are your needs?
If you can, try and test the equipment before purchasing
Don't forget the cables and other necessary elements to connect your equipment (interface, amplifier, etc…)
We've reached the end of this second course, thank you for reading! We hope you enjoyed this course and that it provided you with answers to your questions before starting your Internet radio station. You can now move on to the next course and find your format and content… So go ahead!
---

Ready to create your own Internet radio station?
Enjoy our free 7 day demo and create your radio easily with the Radio Manager.
No commitment, you can cancel at any time.