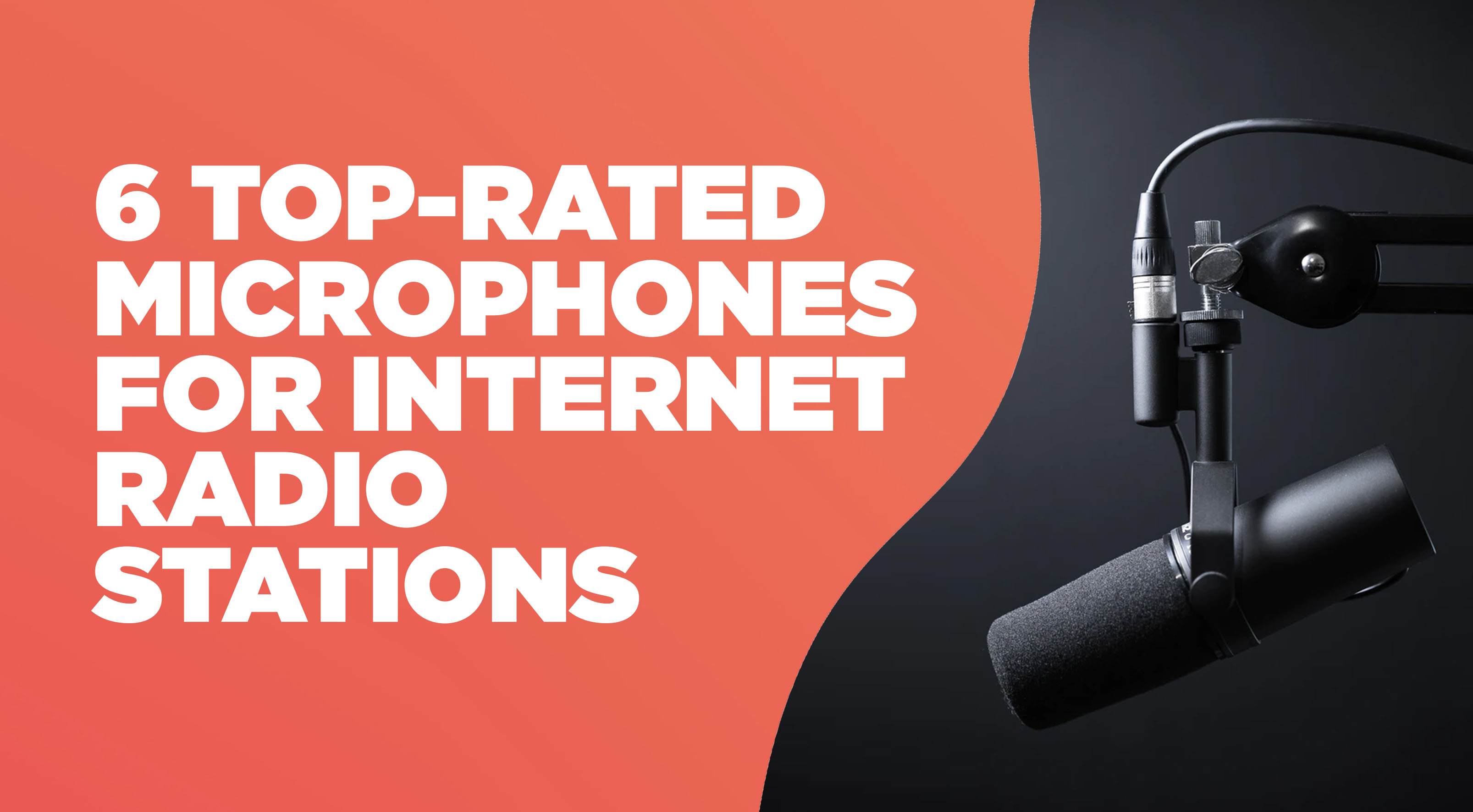 Are you a broadcaster or radio DJ looking for a new microphone for your Radio Studio? You've come to the right place!
Discover the best microphones to broadcast on your Internet radio station and record your podcasts in your studio with a professional sound quality.
Behringer B1, the perfect home microphone starting at $89

The Behringer B1 is an excellent XLR condenser microphone, perfect for home recording. For as little as $89, it offers a great price/performance ratio. The B1 would be the perfect ally to start your own radio studio at home or to record your first podcasts.
Thanks to its wider and flatter frequency response, it does a wonderful job at capturing details better than most dynamic microphones. It includes a handy -10dB switch that helps with attenuation, as well as a low-frequency roll-off switch.
Another advantage is the shock mount, wind screen, XLR cable and storage case that come with it! Overall, you get the crisp sound of a studio condenser mic at a price that's great for home usage.
Purchase the Behringer B1 on Thomann
Purchase the Behringer B1 on Amazon
---
Rode Procaster, our team's favourite starting at $173

The Rode Procaster (XLR mic) is a personal favourite here at RadioKing! With its cardioid polar pattern, it's excellent at picking up your voice and blocking out any background noises, so no need to have a professional studio!
The internal shock mount helps reduce vibrations traveling up from the floor to the mic stand and it also has an internal pop filter to help reduce any popping sounds. Something to keep in mind is that this mic is pretty gain-hungry, which means that you'll need to turn your input levels up. The XLR cable is not provided, however you can purchase one here for $4,20. Overall, it's an excellent microphone that delivers in terms of professional sound quality!
Purchase the Rode Procaster on Thomann
Purchase the Rode Procaster on Amazon
---
Rode Broadcaster, broadcasters choice starting at $398

As its name indicates, the Rode Broadcaster was designed for broadcasters and vocal situations. Although it's a condenser microphone, it proves extremely effective at cancelling out any background noise, even in an acoustically untreated room. It has a high output level which means that, although it does require phantom power, you won't need to pump up the volume of your audio interface/preamplifier.
Unfortunately, it doesn't come with an XLR cable or shock mount, so you'll need to purchase those separately. However, it does include an internal pop filter. Overall, this is a great sounding microphone that is pretty well known for capturing the richness of lower sounds.
Purchase the Rode Broadcaster on Thomann
Purchase the Rode Broadcaster on Amazon
---
SHURE SM7B, a popular choice starting at $399.

You've probably seen this dynamic microphone before, it's extremely popular when it comes to radio, podcasting and is even used by many YouTubers. The Shure SM7B has an internal shock mount as well as an integrated pop-filter which means you don't need to spend any extra cash on those accessories. You can find the bundle package (with XLR cable) here.
Overall, the vocal reproduction of this mic is very impressive. Thanks to its cardioid pick up pattern, background noises stay in the background, even if you don't have a professional set up.
Fun fact: Michael Jackson recorded "Thriller" with the Shure SM7B!
Purchase the Shure SM7B on Thomann
Purchase the Shure SM7B on Amazon
---
Audio-Technica AT2020, a great price/quality ratio starting at $91

The Audio-Technica AT2020 is a solid XLR microphone that will give you a great sound quality at an affordable price. It's perfect for picking up voices and acoustic instruments in a studio setting. The cardioid pattern helps reduce any unwanted background noise and focuses on the desired sound.
It comes supplied with a metal swivel-mount and a travel pouch. If you're looking for a bundle package (including XLR cable and a pop filter) click here. Overall, the Audio-Technica AT2020 is a great all-purpose mic that provides particular richness and warmth when it comes to voice recording.
Purchase the Audio-Technica AT2020 on Thomann
Purchase the Audio-Technica AT2020 on Amazon
---
Neumann U87 Ai, a MUST-HAVE starting at $2299

The Neumann U87 Ai is an extremely versatile studio microphone, thanks to the three polar patterns: omni, cardioid, and figure-8. It's commonly used as a vocal mic and has remained a top favourite in the audio world since its release in 1967!
A 10 dB attenuation switch is located on the rear and an additional switch at the rear allows to change the microphone's cutoff frequency. This is the most expensive microphone in our list of recommendations, but there is no denying the amazing sound quality that comes with it.
Purchase the Neumann U87 on Thomann
Purchase the Neumann U87 on Amazon
---
So overall, which is the Best Microphone?
Like many specialized forums and blogs, we could recommend that you opt for the Behringer B1 for its quality and price, however we aren't going to… For the RadioKing team, our choice is the Rode Procaster.
This microphone currently equips the 5 spots in our radio studio and we are more than delighted! Its price is certainly higher than a Behringer B1 or Audio-Technica AT2020, but the quality and finish of this cardioid polar pattern is worth it!

However, each voice is unique and the conditions under which you will use it will be as well. You must therefore pay attention to the room in which you will be recording your shows. If you have the opportunity to test several microphones before making your choice, we recommend that you wait before buying your microphone. You can also order on a platform like Amazon, which is open enough to returns if you change your mind!
In any case, if you're looking for a solution to create and broadcast your own online radio station, RadioKing is a solution that will suit all mics from Neumann U87 Ai to the Behringer B1.


Go even further: