In this article, we'll be looking at how you can better organise your schedule using the Programs module on the Radio Manager.

The Programs module on the Radio Manager is essentially like a broadcast clock, allowing you to create a set and structured template for your radio station that can be repeated in your planning when necessary.
In radio, the broadcast clock is an essential tool when it comes to planning live shows and making your station more professional. It facilitates the task of the program director when it comes to editing programs or managing the broadcasting grid.
The broadcast clock also plays an important role when local radio stations switch over to a national station for a particular show. If a show has a certain time allotment, the post needs to be respected in order to avoid the program from being cut off in the wrong place.
Why use the Program module?
Broadcast clocks don't always concern all radio stations however, when it comes to meeting time constraints, the Programs module on the Radio Manager is very much like a broadcast clock, minus the pie chart layout.
To get started, simply head over to the Scheduler tab in the Radio Manager and click on Programs!
This Program function allows you to manage the structure of your show. It allows you to decide on when you want to place breaks for adverts, jingles or bulletins, how you want to start and end your program (e.g. billboards) and even the weightings of specific genres.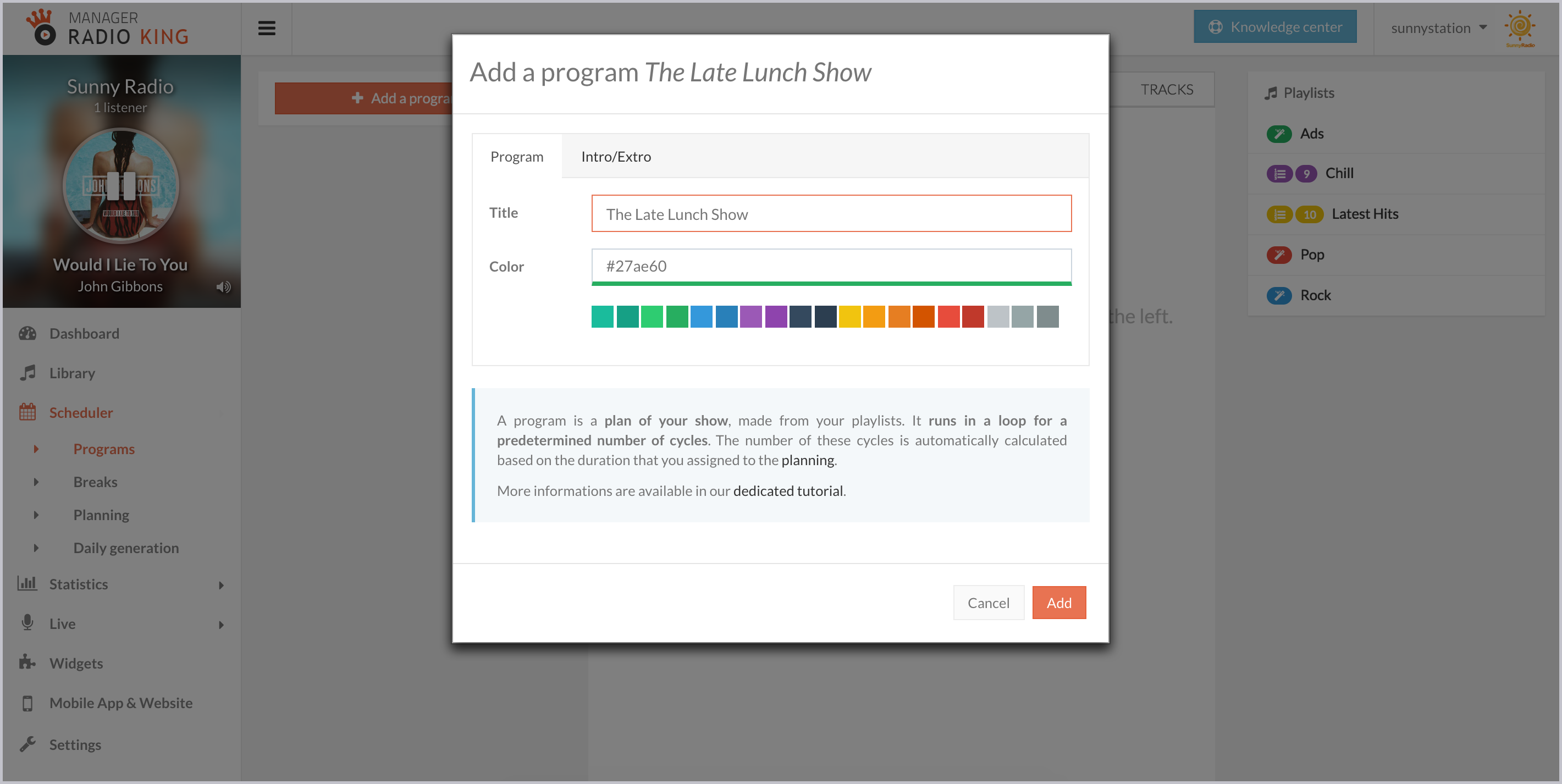 To start, click on "Add a program" and specify the title. We're going to create an example, "The Late Lunch Show".
Create your template by dragging and dropping your playlists onto the Program space, specify the number of tracks that you want to be played from that playlist and whether you want them to be sequential or random.

As you can see, the Programs module provides you with an overview of the desired sequences, as well as a reminder of your desired weighting.

If we have a look at the preview, we know that the program will randomly pick 3 titles from our playlist "Latest Hits" which will then be followed by 2 random pop tracks from our playlist "Pop".
Once you have created your program, simply head over to Planning tab to schedule it, by dragging and dropping your Program onto the grid. You can even stretch your program over a longer duration and the defined plan will repeat itself taking into account the other titles from your playlists.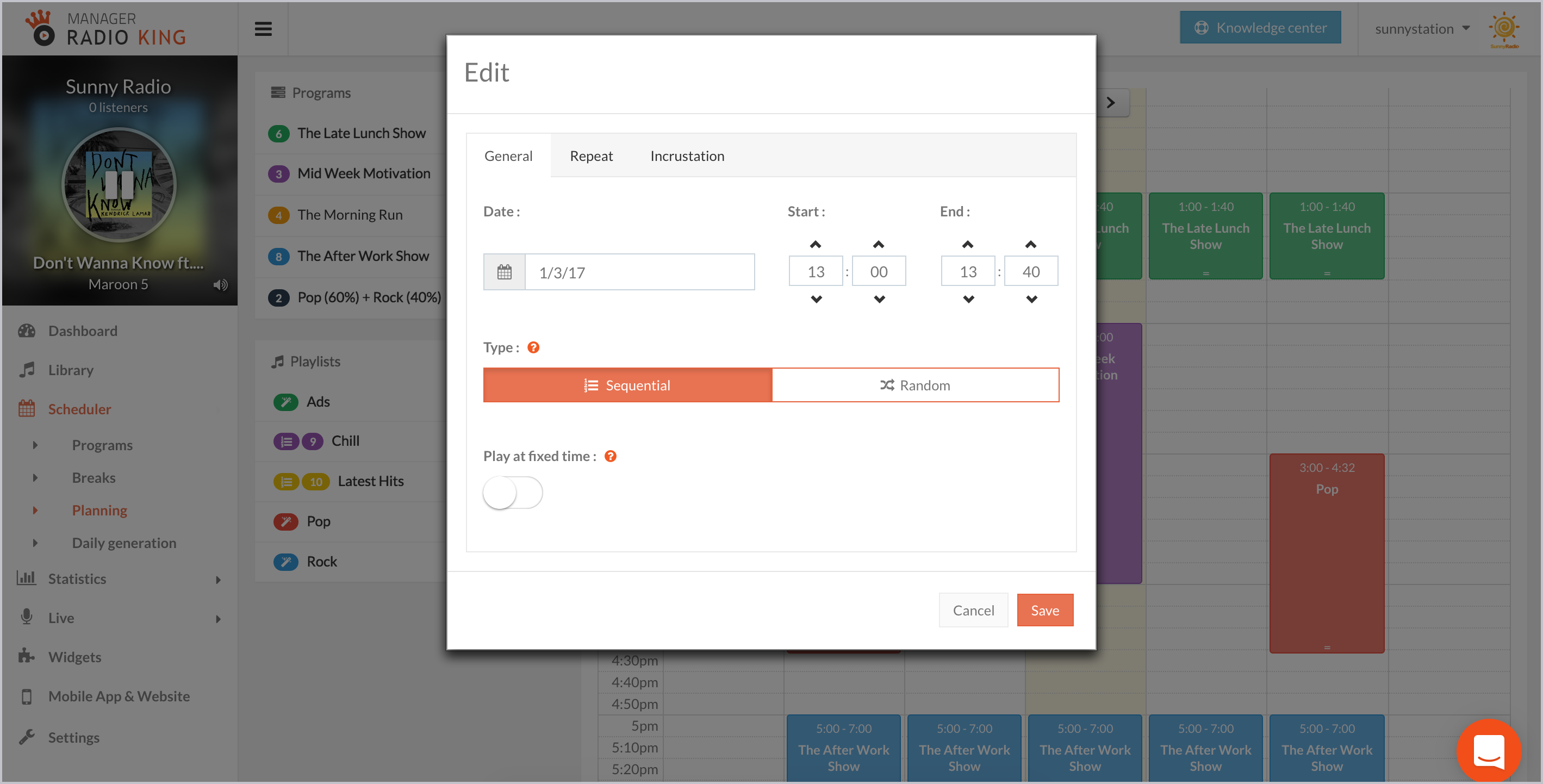 Finally, to preview your Program, all you need to do is click on the Daily Generation tab.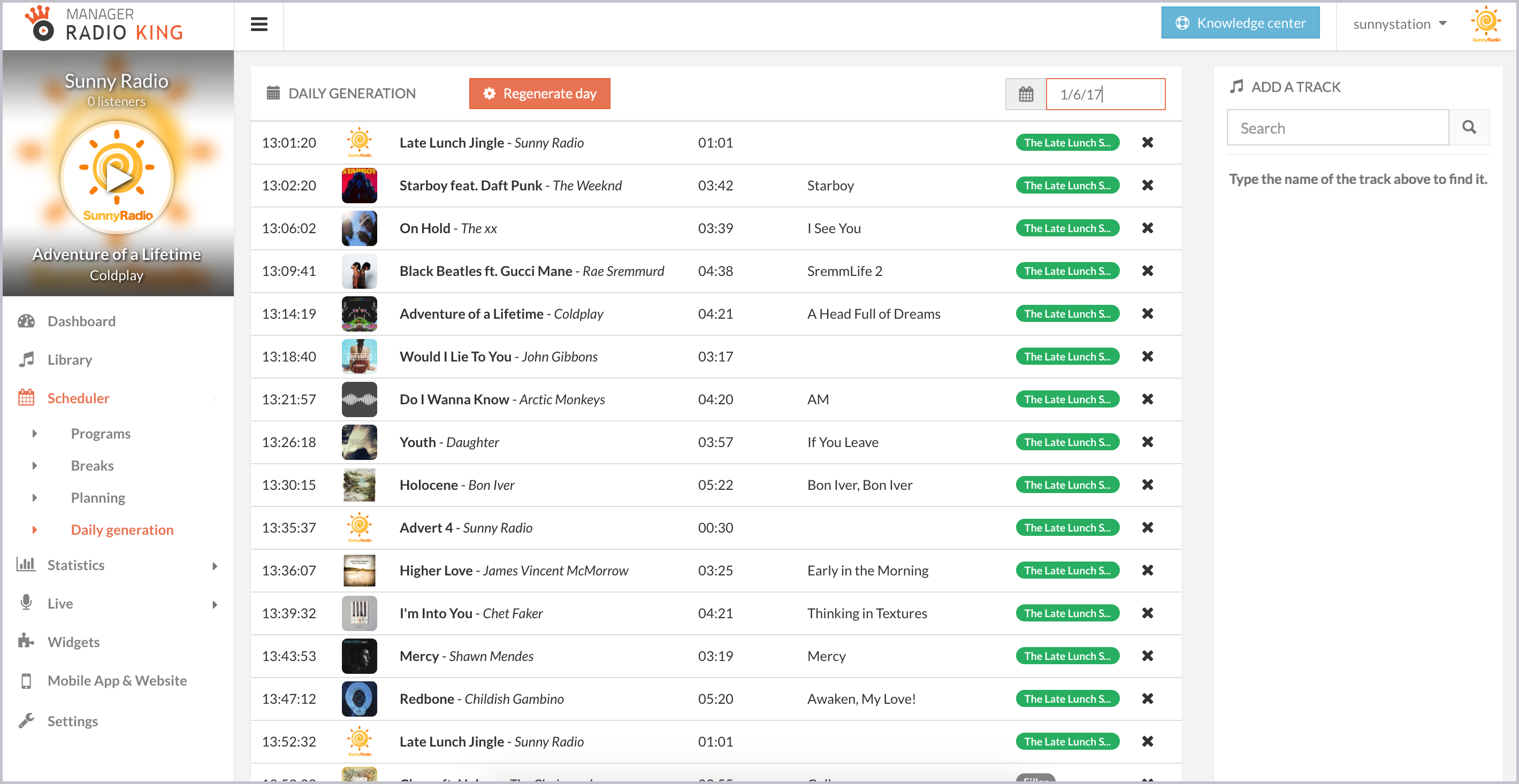 So as you can see, we have 3 songs taken from the Latest Hits playlist, followed by 2 pop songs, 1 rock, 2 chill tracks, an advert and another 2 chill songs before my program repeats itself from the beginning (with 2 of the latest hits) and finishes off with the jingle for the show..
So how exactly do you plan your program?
When you plan your radio show, you need to decide on what gets priority. Whether it's a talk show or a music show, you won't be able to cover everything. The Programs module requires you to create a plan that covers different content.
Our advice: When planning your program, it's always crucial to keep your listeners in mind so that you can focus on their interests. Think about the content that they'd like to hear and take into account the different time slots. This is all about your creativity, so let yourself get carried away!
We're already looking forward to hearing your next program!