Before you launch your own Internet radio station, you may want to take a look at this checklist. It provides all the information you need in order to properly prepare and launch your radio project in the best possible conditions! Thanks to this article, you'll have all the elements you need to get your station up and running in no time.
I/ Finding a concept for your Internet radio station
1/ Name and theme
The first thing you need to do when starting an Internet radio station is to choose a name and theme. Remember, your name should be catchy, memorable and easy to pronounce. Furthermore, it should represent the theme of your radio station so that people understand the concept immediately.
Your theme should be as original as possible in order to help you stand out. If you happen to choose a theme that has already been used by other radios, don't panic! You can totally have the same theme, however, try and find an original angle in order to differentiate yourself.
Go further 👉 Finding the right idea for your Internet radio station
2/ Radio format
Now that you've found a theme for your Internet radio station, it's time to choose the format. In the radio world, we tend to refer to 6 major formats:
Generalist: a mix of various topics (music and talk)
Musical: focuses on music (specific genre or top charts)
Thematic: targets a particular topic (sports, cinema, food…)
Local: spreads information regarding a specific location
Community: adresses people of the same religion, ethnicity, sexual orientation etc…
Informative: gives news
Top Tip: If you're planning on broadcasting music, don't forget to check the licensing regulations in the country that you're broadcasting from.
Having a rough idea of the format that best suits your project will then help you find and create content to drive your station!
Go further: Choosing the format and content of your Internet radio station
3/ Target audience
Defining a target audience for your Internet radio station is essential. It will allow you to better define who your show is aimed at, and therefore, adapt your content accordingly. You'll need to ask yourself questions such as:
What age group will I be talking to?
Where are my listeners from?
What subjects/topics are they interested in?
Once you've established who your radio station is aimed at, you can adjust your tone and content to attract that particular audience.
Go further 👉 How to define a target audience for your Internet radio station
II/ Setting up your Internet radio station
1/ Radio host
To start an Internet radio station, you'll need a radio host such as RadioKing. With all of our Radio Offers, we provide you with a 24/7 online stream that you can manage via a platform that we call the Radio Manager.
Upload your content, create your own playlists/ programs and easily schedule your content to broadcast automatically up to 6 months in advance! We then take care of broadcasting your content via your online stream. You'll also have access to the statistics of your radio station, various widgets (such as a radio player) and much more.

2/ Live broadcasting software
When it comes to broadcasting live on your Internet radio station, you'll need to use a live broadcasting software. There are many free solutions that are compatible with RadioKing (for MacOS and Windows).
Simply configure your radio stream thanks to your live connection information (available under the Live Tab of your Radio Manager) and start broadcasting live in just a few clicks! Going live on air is an important part of having a radio station, so be sure to test different softwares out to see which one best suits your needs.
Go further 👉 A full guide to live broadcasting software
3/ Equipment
Live broadcasts also require some equipment if you want a professional audio quality. The classic set up generally includes: a mixing desk, an XLR microphone and some headphones. (Depending on the number of people that will be broadcasting live, you'll need to adapt the number of mics, headphones etc…)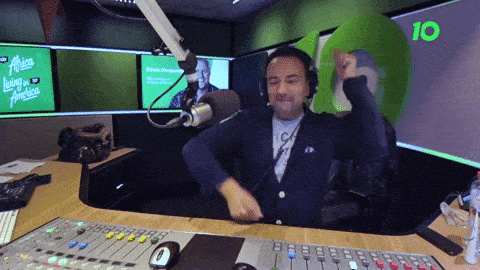 Bear in mind that if you're looking for a simple 1-person set up, you can also opt for a USB microphone that plugs straight into your computer!
Go further: 👉 Best budget microphones 👉 Best budget headphones 👉 Best budget mixers
4/ Recording software
You may also want to pre-record some of the content of your Internet radio station in order to save time, or prepare in advance. In this case, you'll need an audio recording software.
There are many free choices for MacOS and Windows, some more complex than others. Whether you want to record multiple tracks or add effects to your voice, there's a recording software out there for everyone!
Go further 👉 Top 5 audio recording software for your radio shows
III/ Attracting listeners
1/ Sharing your Internet radio station
To attract new listeners for your Internet radio station, you need to make sure that your radio is easy to find. There are multiple ways that you can share your radio station, such as:
Listening link: this is your unique streaming URL that allow people to listen to your Internet radio station. If you're a RadioKing client, you'll find your listening link under the

Share Tab

of your Radio Manager

Radio website:

creating a

website

for your Internet radio station is a great way to allow easy access to your listeners, and make your radio station easy to find. Plus, you can easily upload content (articles, photos, contests…) to keep your listeners updated with any news concerning your radio!

Mobile app:

creating a

mobile app

for your radio station is the perfect way to allow your audience to tune in, whenever, wherever! You'll also be able to send push notifications to remind them of any upcoming shows or events.

Vocal apps:

vocal apps

for connected speakers allow you audience to launch your radio with a simple voice command. They can also ask their Alexa or Google Assistant device what the title and artist of the current song is.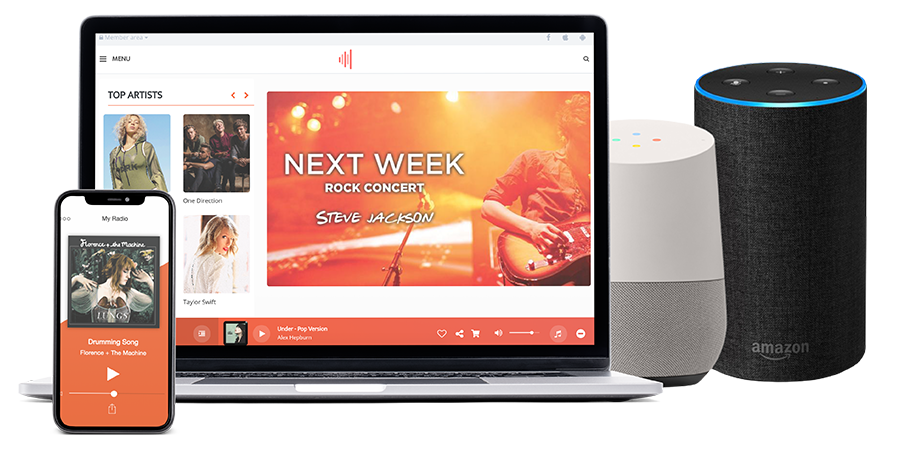 Radio player:

with all of our

Radio Offers

, you'll have a fully customizable radio player that can be easily embedded onto a website. A Facebook player is also included!

Radio page:

the

RadioKing listening platform

regroups all radio stations hosted by RadioKing. You'll have your own

dedicated radio page

where people can listen to your station and add comments. You can also post messages for your followers!

Online directories:

there are many

online radio directories

that allow you to add your radio for free. It's a great way to boost the visibility of your radio station for free.
Go further 👉 Different ways of sharing your radio station
2/ Social media
Social media is another great way to attract new listeners and interact with them. By creating Facebook, Twitter & Instagram accounts for your radio, you'll allow people to keep up to date with any news or upcoming live shows.
Use social media to post exclusive content such as behind-the-scenes photos, or fun facts about your team. It's also a great way to interact with your listeners, so be sure to respond to any comments on your profiles! You can also use features such as polls on the various platforms to increase engagement.
Go further 👉 How to use social media for your radio station
3/ Listener participation
Including your listeners in the life of your Internet radio station is a must! There are different ways that you can get them involved such as:
Integrating your audience as a part of your radio shows will help create a sense of community. Plus, it also helps you seem more approachable and close to your listeners.
If you've checked all the boxes in this list, you're ready to launch your Internet radio station!