Broadcast your online radio in your hotel with RadioKing.
Enhance the identity of your establishment with an online radio.
14 days free – No credit card required – No commitment
Offer a unique experience
Create a unique atmosphere for your guests by adding sound to all areas of your establishment, from the lobby to the restaurant.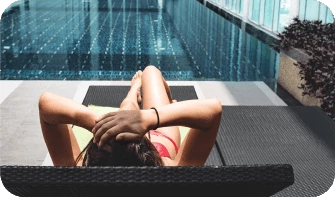 A relaxing and comfortable sound bubble, take your time to the rhythm of background sounds inspired by nature for example.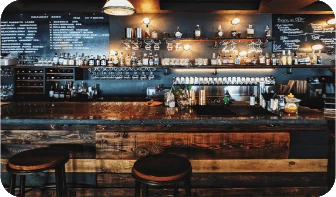 Invite your guests to take a seat and have a drink or dine to a soundtrack specifically designed to lull them into a relaxed atmosphere.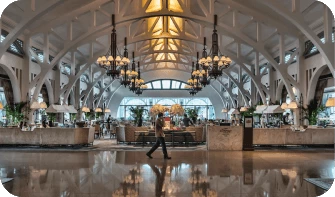 Offer your clients an elegant and warm atmosphere from the moment they walk in to your establishment thanks to specially curated background music.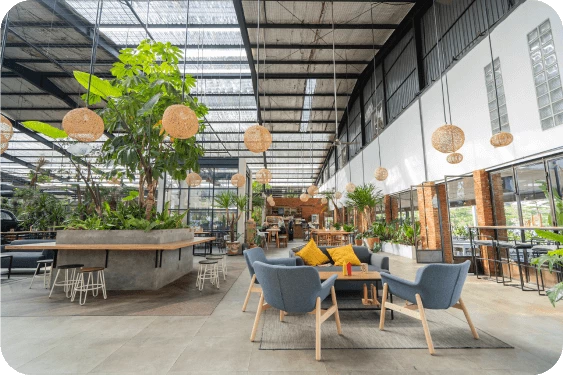 Compose the musical score of your establishment yourself.
Radio at the service of hotels.
Transport your customers as soon as they enter your establishment by welcoming them into a sound universe that reflects your brand.
Throughout their stay, they will be accompanied by the tempo of your radio, composed of both discreet and subtle playlists.
Test our product and create your establishment's online radio for free during a 14-day demo.
Be at your customers' side, even before they arrive.
Integrate your radio on all your digital media (website, mobile application) and give your guests an overview of your audio universe.
By listening to your hotel's radio, your clients will be able to easily project themselves, even before their arrival. This will contribute to the visibility and reputation of your establishment. They can even continue to listen to your radio after they leave… until their next visit.
Why create a radio for your hotel?
Accompany your customers throughout the year with a programming created exclusively for them, set the pace for their stays by creating customized programs and playlists that differentiate yourself from other hotels.
By broadcasting 24 hours a day, 7 days a week, every day of the year, you will be able to create your own universe in line with the seasons and the events that punctuate the life of your hotel.
Why choose RadioKing rather than a traditional platform?
With over 4,000 clients worldwide, we enable you to create a sound identity for your brand with our solution. With RadioKing you can choose the content you want to broadcast and create a specific mood to enhance the experience of your clients.
Schedule your days up to 6 months in advance and anticipate special events by preparing specific playlists.
Your online radio in a few minutes! Test it for free today.