Add sound to your exhibition with RadioKing
Offer a unique experience combining sound and art.
14 days free – No credit card required – No commitment
Immerse your visitors in your world of sound
Radio has always been at the service of culture. Add an auditory dimension to your creations to immerse visitors in a multi-sensory experience.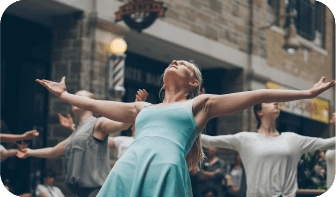 Enhance your performances with online radio. Play on the instantaneity of live broadcasting or the ephemeral nature of your radio station, and establish new concepts.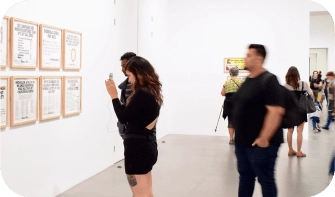 Offer a daring stage for an art opening and play with your visitors' senses thanks to a tailor-made musical program.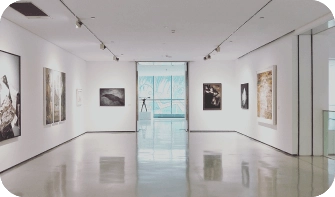 Add sound to your spaces to combine music and exhibitions, and offer new formats on your radio.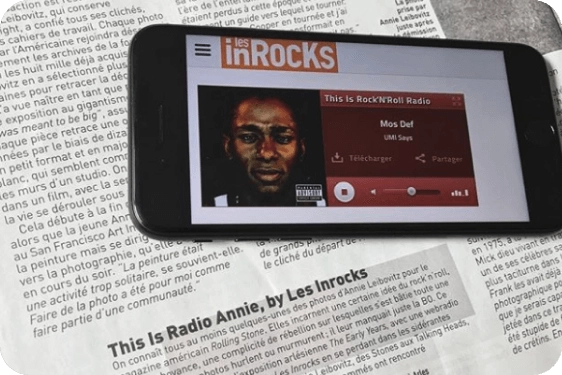 Reveal the hidden face of your artwork
A new approach to art through online radio.
Create ephemeral online radios and highlight an original aspect of your show. In 2017, the Inrocks magazine launched the This is Rock and Roll Radio during the "Annie Leibovits, les premières années" art exhibition. This online radio was available on mobile and featured tracks by artists photographed by Annie Leibovitz. An opportunity to delve deeper into the artist's world.
Test our product and create your establishment's online radio for free during a 14-day demo.
Re-invent radio.
Integrate your webradio on a website or create a customized application, and let your imagination run wild.
Turn your online radio into a concept, an experimental workshop, and play with the rules of traditional media.
Why create a radio to add sound to your exhibition?
Offer your visitors an experience that combines the senses. Adding sound to your exhibition can help capture another side of emotions. Inviting your visitors to download an application and listen to a selection of music related to the exhibition can be another use for the radio.
You can also showcase your online radio on the exhibition website, or create live broadcasts. Creating a radio station offers you a wide range of possibilities and complete freedom.
Why choose RadioKing rather than a traditional platform?
With over 2,000 clients worldwide, we enable you to create your own sound identity with our solution. With RadioKing you can choose the content you want to broadcast.
Schedule your days up to 6 months in advance and anticipate special events by preparing specific playlists.
Your online radio in a few minutes! Test it for free today.