Nowadays, pretty much all stations use some kind of radio automation software to manage (at least part of) their broadcasts. But what exactly is an automation software, how does it work and which one should you choose? Let's take a look!
What is radio automation software?
An automation software essentially allows radio broadcasters to upload and store their pre-recorded content (music, interviews, shows, jingles, ads…) on a computer hard disk, or cloud-based solution. This content can then be broadcast directly from that computer.
There are many radio automation solutions that exist. However, bear in mind that some solutions provide more in-depth features compared to others. The most part of radio automation software allows you to create playlists or queue your audio files in a specific order. Many solutions also offer broadcasters the possibility of scheduling their content to broadcast automatically on certain days, at certain times.
Complete solutions facilitate the life of radio presenters, as they can organise their radio broadcasts in advance and then leave their computer to do the rest. It's important to understand your needs and requirements when searching for the perfect automation software for your radio station.
What's the difference with a live broadcasting software?
A live broadcasting software will allow you to speak or mix music in real time! Unlike an automatic broadcast, in order to broadcast live you must remain connected to your software at all times during your live intervention.
When your live show is over, your radio stream will switch back to an automatic broadcast.
How does radio automation software work?
As you now know, a radio automation software allows a radio host to organise their content in advance. The software will send the information to a dedicated server. Then, the radio server executes the scheduled programming and makes it available to listeners via a radio stream that can be accessed via an Internet connection.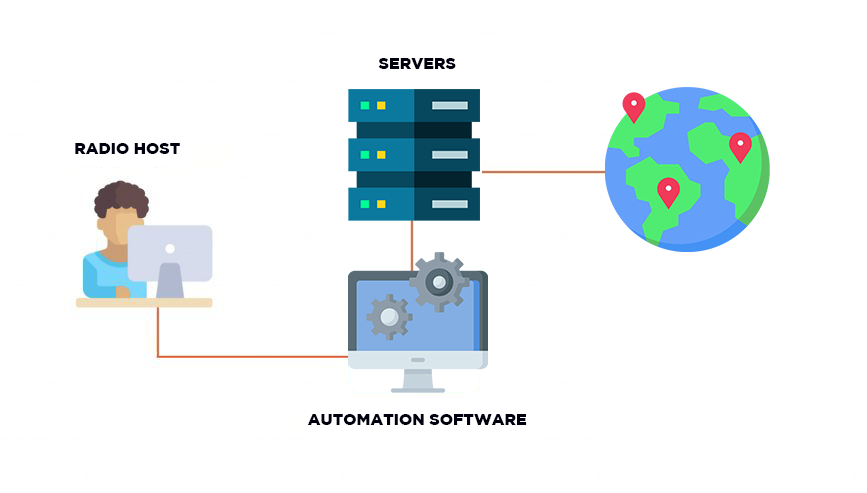 Which radio automation software to choose?
The Radio Manager is a cloud-based radio automation software designed by the RadioKing team. It allows you to manage your radio broadcast from A-Z thanks to a number of tools. Let's take a closer look at what can be done via the Radio Manager.
An intelligent media library
Upload your MP3 files directly to your media library according to the available "trays":
Music: the musical tracks that you'd like to broadcast
Radio Identification: your jingles
Recording: your pre-recorded content (podcasts)
Adverts: any ads that you'd like to broadcast
Audio shout-outs: if you have a Pro or Business Radio Offer, the audio shout-outs from your listeners will appear in this tray
Once you have uploaded your content to the media library, there are additional features to help you better organise it, such as:
Tags: create tags in order to categorize your music (by genre or mood for example)
Metadata: manually edit the metadata of your tracks (title, artist, album, year, BPM etc…) This will come in handy when it comes to creating dynamic playlists
Mix points: edit the mix points of your tracks to ensure smooth transitions
Furthermore, you can easily find tracks in your media library thanks to the search bar and filters!
Create playlists and programs
Creating your own playlists and programs to broadcast on your radio station is a piece of cake thanks to the Radio Manager!
Playlists
You can easily create 2 types of playlists with the Radio Manager:
Manual playlists:

manually add tracks to create a playlist
Automatic playlists: automatically add tracks to a playlist thanks to various criteria such as tags, artists, albums, song titles, BPM, release year, duration or even upload date!
Programs
A program is essentially a plan of your radio show, made up of your playlists. This feature allows you to create a programming slot made up of multiple playlists in your music library!
Schedule your content to play
The Planning Tab allows you to schedule your content up to 6 months in advance! Simply drag and drop your playlists/programs directly onto the calendar and adjust the settings to your liking.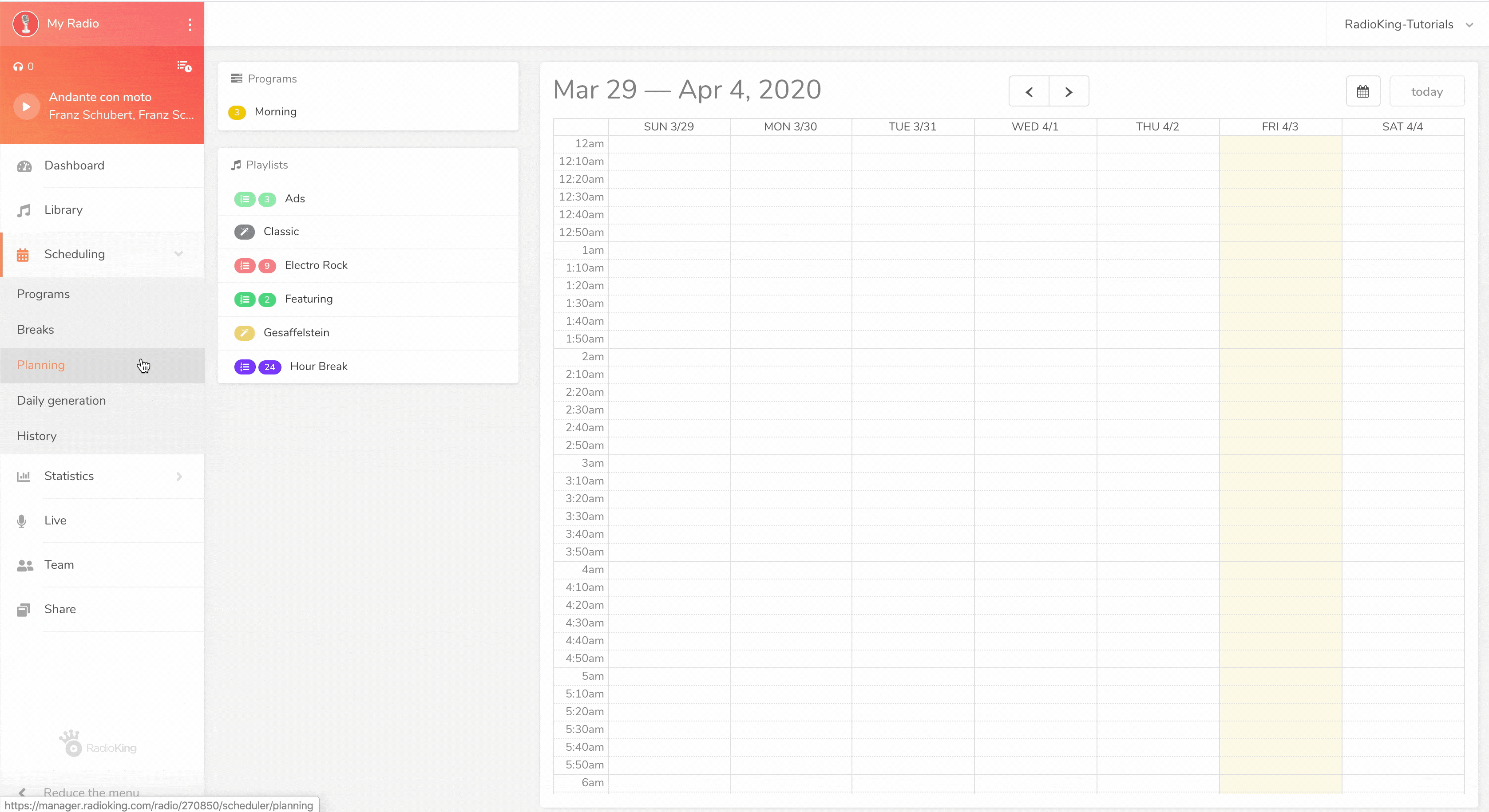 It's an extremely intuitive tool that can help you to easily plan your broadcasts ahead of time!
View your statistics
Understanding how your listeners interact with your radio station will help you organize the content you want to broadcast on your radio. Get key information such as: the location of your listeners, the number of unique listeners, a summary of your listening sessions, the length of listening sessions and the distribution of listening sessions throughout the day and more!
Other radio automation solutions
If you already have your own radio stream, there are a number of other tools that will also work as a radio automation solution. Here's a selection of available automation software:
Which radio automation software do you use to manage your radio broadcasts? Let us know in the comments!