Twitter is a micro-blogging social network that has continued to grow in popularity since its creation in 2006. According to Social Pilot, the platform has 330 million monthly users worldwide which represents a huge number of potential listeners for your radio! Have you just created an account? Great, let's take a look at how to manage your new Twitter account for your station.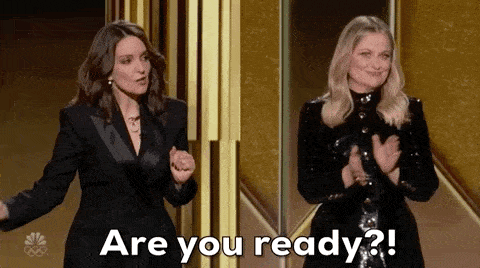 Twitter Profile essentials
Your Twitter profile is the first impression people will get from your account. It should contain enough information for people to immediately understand who you are. There are a few essentials to keep in mind when setting up a Twitter account for your radio station. Make sure to include the following information on your profile:
Images (1 & 2): add the

logo of your radio

as your profile picture so that people quickly recognise you. You can also add a banner with the colours of your radio.

Username (3):

your username should reflect the name of your radio station so that people can easily find you on the platform. (For example:

@RadioKing

)
Description (4): briefly describe the content or style of your radio station. This is your opportunity to attract new potential listeners, so it's important to highlight elements that could make your radio stand out from the rest!
Website (5): include a link to your radio website so that people can quickly and easily access your radio station! If you don't have a

website

, you can include the link to your

Radio Page

, or use your

listening link

.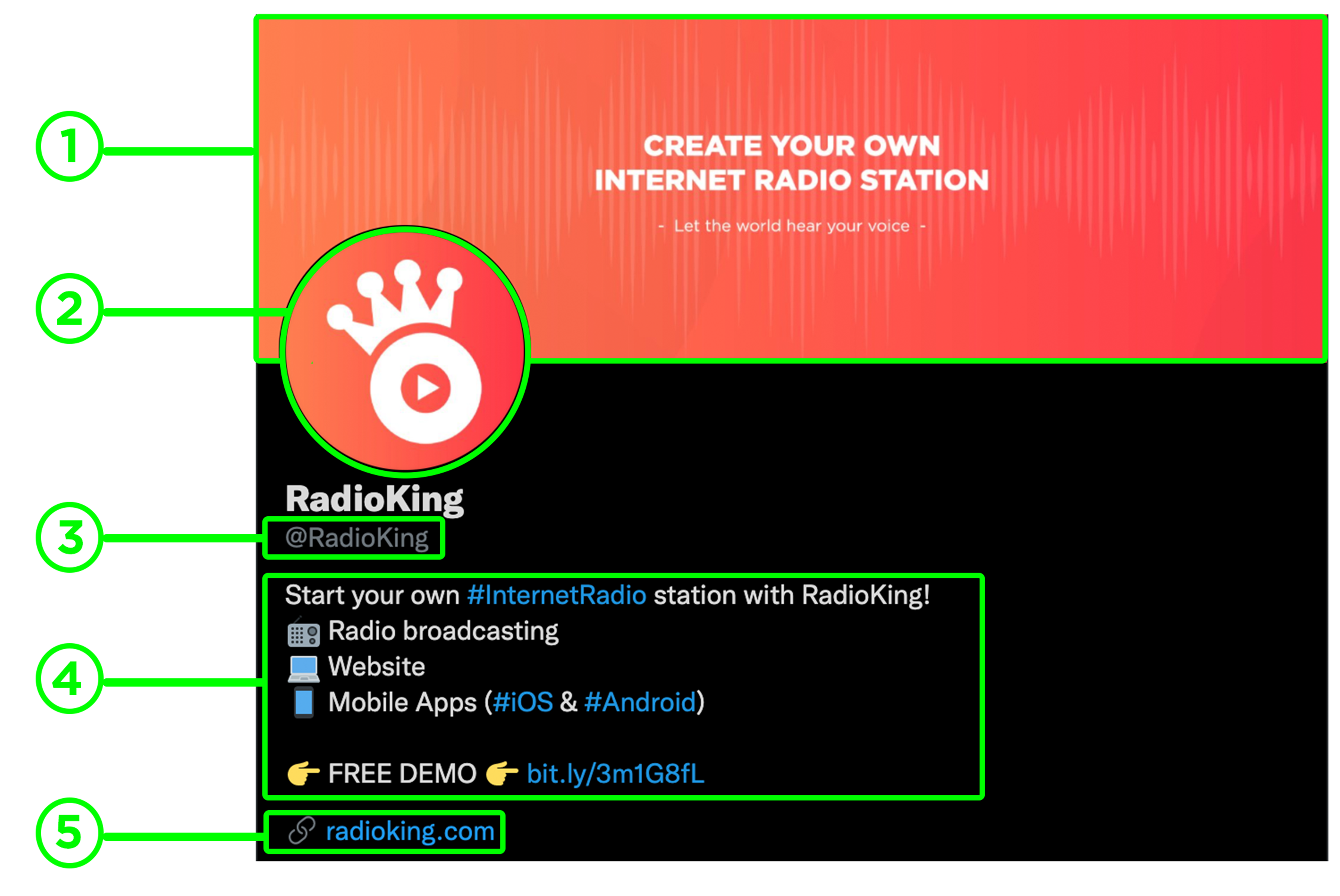 Keep in touch with your listeners
Twitter is the perfect tool to keep in touch with your listeners. You can use this network to speak directly to your audience and keep them up-to-date with what's happening on your radio!
You can tweet about your upcoming radio shows in order to remind your listeners to tune in. This can also be a great way to announce special guests or even prize draws and competitions on your station.
Interacting with your listeners is also a key element of managing a Twitter account for your radio. If a listener comments one of your Tweets, be sure to respond! This goes for anyone who retweets you too, take a few seconds and drop a ❤️ to show that you appreciate their support.
You can use the Poll Feature to get your listeners involved and ask their opinion on certain things. You can also use this feature to tease upcoming events on your radio.
All of these actions will help create a sense of community and closeness with your fans. This will, in turn, encourage them to engage with your content and listen to your radio station.
Automatic Tweeting
RadioKing provides an automatic tweeting feature via the Radio Manager which allows you to automatically share the titles that are being played on your radio.
You can choose the frequency of these posts, as well as the message and whether you want to share the album cover of the current track. To activate this feature, head over to Settings > Social in your Radio Manager.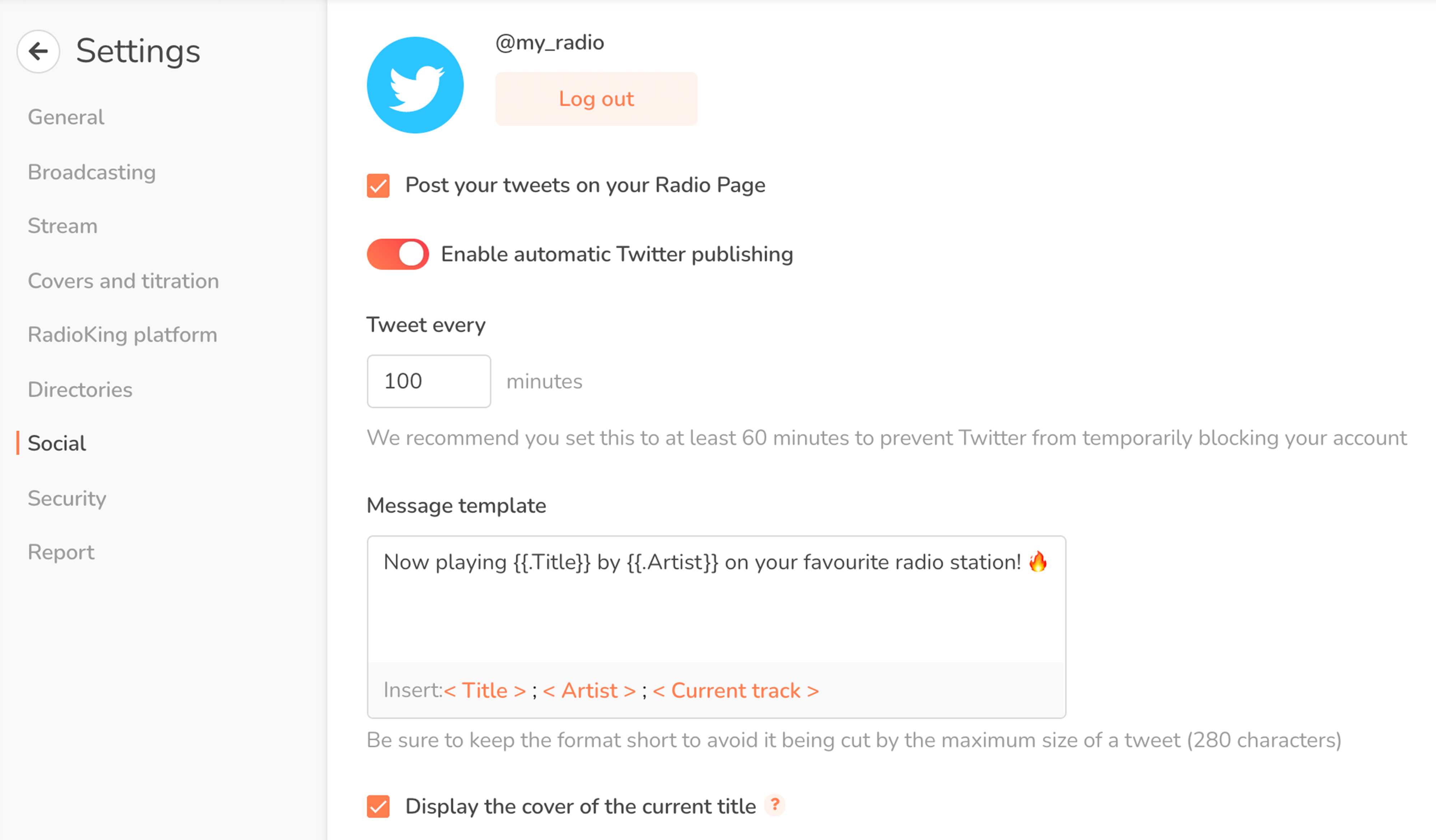 Top Tip: you can also set your tweets to be posted on your Radio Page.
Using hashtags (#)
Hashtags are also an essential feature that you should make the most of if you're present on Twitter. Hashtags are words or phrases in a tweet that start with the # symbol (for example #hashtag). By using hashtags in your posts, you're essentially creating a link to all other posts using the same hashtag. Twitter users can easily stumble across your content if you use a hashtag that they're interested in!
That being said, it's incredibly important to use relevant hashtags in your posts in order to reach the right audience. For example, if the theme of your radio station is Rock from the 60s, you could use hashtags such as: #60srock #rocknroll #rockmusic #rockradio. This will help people interested in those topics see your tweets and, potentially, listen to your radio station!
You can also check trending hashtags by going to Explore > Trending. These are the most popular topics discussed on Twitter at that particular moment, for example: you could use #MondayMotivation to get your followers ready for the new week!

Our last piece of advice concerning #hashtags is to create your own! By creating your own hashtag and getting other people to use it, you will help boost the visibility of your profile and, consequently, of your radio station! However, when thinking of your own hashtag be sure to keep these elements in mind:
🔎 Check that the hashtag isn't already taken (you don't want to cause any confusion!)
👌 Make your hashtag clear and simple (it should be short and sweet, but also unique.)
🙋 Put the name of your radio (or part of it) in your hashtag (it should make people think of your radio station!)
🗣️ Use your hashtag frequently and tell others to use it too!
Interact with other Twitter accounts
Twitter is a social network for sharing information, but don't get trapped in a cycle where you only use the platform for tweeting your own content. You should also interact with other accounts and tweets! Taking the time to follow other accounts with similar interests as yours and commenting or re-tweeting other posts is also incredibly important. Not only does it show that you are active on the platform, it's also a great way to increase the visibility of your account and allows you to participate in other discussions.
Speaking of interacting with other accounts, it's also important to tag people in your tweets (when relevant). If you're promoting an upcoming show with a guest, be sure to tag them! That way, they will be able to easily re-tweet your content to reach their followers too. Tagging your radio hosts will also allow your followers to visit their profiles and get to know them better! Often, listeners will get attached to radio hosts rather than the radio station itself.
You can also use Twitter as a tool to monitor what other radio stations are doing. Take a look at how they promote their content, the tone they use to address their followers, the type of content they share etc… We're not saying you should copy them, but it's always a good idea to keep an eye on competitors to push yourself to do even better. 😉
Most importantly, have fun with the platform and don't take yourself too seriously!
For more top tips on how to use social media for your radio station, we invite you to take a look at these articles:
📘 Why create a Facebook page for your radio station
📸 How to use Instagram for your radio station