This week, discover Lebonmix ("the good mix" in English), an online radio station that broadcasts carefully selected music for its listeners!
We're leaving you in the hands of Pierre, the man behind Lebonmix, to find out more about his radio.
Can you describe your project and the origins of Lebonmix Radio in a few words?
My goal is to get you to discover a lot of tracks, which I have rigorously selected. I have listened to them all one by one and classified them. I feel that the rhythms need to be adapted depending on the time of day. We broadcast a mix of soft house, acid jazz, trip hop, groove, electro, funk basis, never too much club or dance, always in the right tempo.  I make all the jingles and radio identification myself in the studio.
I offer 3 ways of listening to Lebonmix: Soft, Medium or Dynamic version. Three states of mind, leaving place to music with a minimum of jingles and no spoken intervention, always accompanied with a high quality sound.
Nowadays, modern techniques are available and the legislation of recent years allows the creation of online radio stations. Lebonmix Radio has its own radio studio in Toulouse. I broadcast at home and it's great! I broke open my piggy bank to buy some equipment and I can now broadcast worldwide from my 9m2 studio!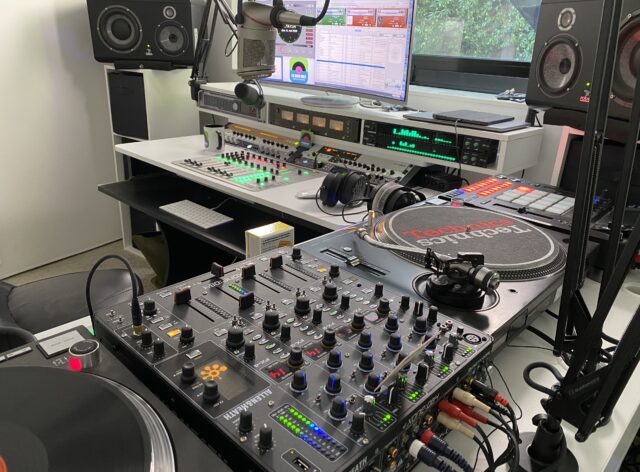 I have chosen to offer HD sound quality, each title is given "special" sound processing and "home-made" calibration.
Did you have any experience in the world of radio before?
Yes! When I was 15 years old, I got my first mixing desk for Christmas and I used to DJ at parties on Wednesday afternoons! When I was 20, I had my first FM radio experience at RDM in Cahors and since then, I've always kept this desire for broadcasting.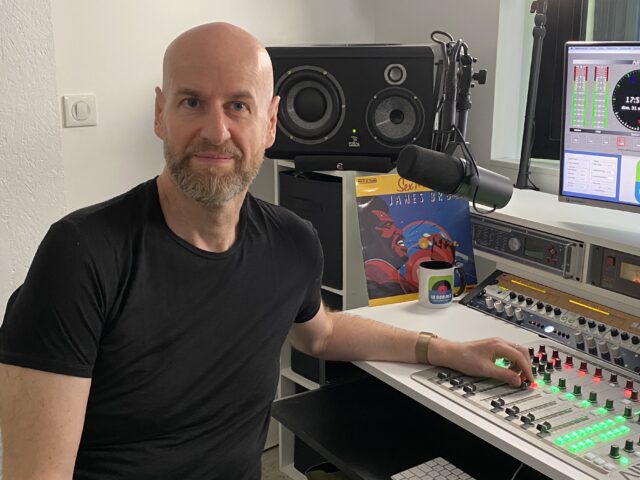 How did you discover RadioKing? 
By typing "create online radio" on Google. There are a number of offers, but RadioKing is by far the platform that has found a great communication tone. Plus the presentation of their services is well done.
What are the different ways to listen to your Radio Station?
You can listen to Lebonmix via the players on our website, but also via the mobile application on the AppStore or GooglePlay. Finally, you will also find the radio on various online directories.
Can you tell us about your audience profile?
It's important to define a target audience. I chose a target that I could identify with, the 45/55 year olds, because I am the first listener! Secondly, the target should not be too large in order to better meet the expectations of its listeners. In this age group, we like new things, but it's easy to please with an old title from time to time without sounding too old-fashioned either. My listeners accept eclecticism and a mix of styles, which makes Lebonmix!
What do you enjoy most about this project?
I love being able to run a radio station by myself. What I like the most is discovering new album releases. Sharing my music selection and feeling that listeners appreciate it is what motivates me the most in managing a radio station from A to Z! Giving a soul to my radio to make the difference with the more austere streaming platforms.

How do you choose the artists that are broadcast on your radio?
I work mainly with Qobuz, from whom I buy all the tracks. Every week, I go through the new releases one by one and I buy the albums, to extract the best from them. I also sometimes go on BandCamp and buy some albums from unknown artists. Then I get a lot of solicitations from artists who send me their songs. I listen and if I like it, I add it to the playlist!
Do you have an anecdote to share about the creation of your project?
It may not be an anecdote, but the fact that it comes up almost every day makes me want tell you! So many people ask me the same question via e-mail or social networks: "what is the frequency of your radio in such and such a city? ». I always answer by explaining that I'm an online radio station and how people can tune in.
I find that a lot of people still associate FM with radio (or the opposite). People generally assume that listening digitally is complicated (when it reality, it's super simple!)
What's next for Pure Vintage Radio?
At the beginning of July, I opened a new stream: Jim's Prophecy. Why this name? Because Jim Morrison had announced in 1968 that nowadays there would be only one person on stage surrounded by machines! Jim's Prophecy is a radio reserved for electronic music for the initiated, with the particularity of playing only 100% vinyl. I set up this project with a friend of mine who sells records in a bus parked at the media library in Toulouse. I manage the radio part, Electronic Music Vinyl Radio, the radio only plays the vinyls that are available on the bus!

This gives this new radio station a point of contact and exchange with its listeners. Of course, I entrusted this project to RadioKing and I am taking advantage of my technical experience gained with other radio stations to launch this new stream more easily, without asking myself too many questions.
To finish off, a word of advice for those who want to start their radio adventure?
It's super interesting to launch this type of project. I have a lot of messages from people who want advice, it's sometimes complicated to answer them at a distance and I lack time. Some people think it's all about equipment… but with RadioKing you can easily manage an online radio without having any!
What matters is how much I'm willing to spend each month on marketing to get the word out about my radio. Without marketing, the radio will not be listened to, even if a lot of effort is put into the playlists.

I find that it's necessary to invest heavily at the beginning and create a community on social networks, which allows you to keep in touch with your listeners. You have to pay for publications to be delivered and do targeted promotion on the networks. This is by far the most important cost.