For quite some time now, we've been offering you advice on how to start a radio and manage it on a daily basis. Today, we've put together 8 ways to help you make a radio station that everyone wants to listen to! Let's get started!

1. Create a radio station with a well chosen name
When you decide to start a radio station, one of the first steps is to choose its name. The name of your radio is obviously very important as it's often the first contact that your future listeners will have with it. It must reflect its identity in just 1 or 2 words, but that's not all! It should also be attractive, easy to pronounce and remember. This will encourage word-of-mouth and can also be practical when it comes to voice commands.
In short, be sure to make a radio station with a well thought-out name to get off to a good start!
→ How to choose the name of your radio station
2. Make a radio station with good musical programming
Chances are, most of your broadcast is dedicated to music. It's therefore essential that you offer a coherent and pleasant musical program.
Coherent, because the songs you broadcast should correspond to the theme of your radio. This doesn't necessarily mean a single musical style! Your music can be linked by a particular period, a geographical area, or other common points that only your radio holds the secret to.
Pleasant, because there are mistakes not to be made when concocting your program. For example, we invite you to avoid repetitions and be sure to regularly update your music library.
→ How to make a radio station with great playlists
3.

Add your radio station to online directories
Want to boost the visibility of your radio station by adding it to online directories? Well, the good news is thats it's super easy!
Radio directories exist precisely to gather online radio stations in one place and allow listeners to make their choice based on different criteria. Adding your station to these directories is a simple way to open yourself up to a whole new world of potential listeners.
If your radio convinces them, they may become loyal listeners and talk about you to their friends and family!
→ Top Internet directories to attract new listeners
4. Be present on social media
Creating an account for your online radio station on social networks is a very important criterion for its image and notoriety. These platforms gather your community and allow its members to interact, among themselves, and with you.
For listeners who already like your radio, they can show their support by following you on social networks so as not to miss anything you share.
Social networks can also be a source of acquisition if your fans share your posts to their own community.
→ How to communicate with your listeners via social networks
→ Engage your listeners on social networks
5. Broadcast live on your radio station
Live shows are the only time you and your community can interact with each other at the same time on your radio station. They allow you to give your listeners a regular rendez-vous, often weekly, and to spend time together.
Live broadcasts are also a way to put a voice and a personality behind a radio. This humanises your station and, therefore, greatly favours the attachment that people have to it.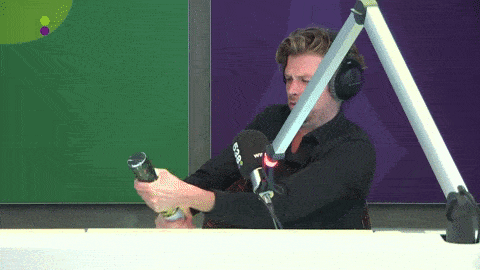 There are several good practices and mistakes to avoid when doing a live show. It takes a little preparation, but over time, you'll become more and more comfortable with this exercise!
→ Live radio: mistakes to avoid on air
6. Make a radio station website
A website is an excellent complement to the various directories and social networks that we've already mentioned. It allows your radio station to be referenced on search engines, which in turn allows people to find it easily and automatically gives it a more professional image.
In addition to being a new entry point to listen to your radio station, creating a website is the best way to mark its identity and to highlight its attributes: Why did you create it? What is your background? What drives you in the management of your radio station?
All this information is for those who are interested in you! It would be a shame not to make it available. RadioKing allows you to make a radio station website in a just few minutes! Launch your free 7 day trial here.
→ Why create a website for your radio station?
→ 6 tips to improve your radio website
7. Make a radio station mobile app
Just like the website, creating a mobile application is a great way to stay close to your listeners and give a professional touch to your radio.
Nowadays, we know that most Internet users prefer to listen to music via their mobile phones. Offering an application dedicated to your radio station allows those who love it to listen anywhere and anytime, without having to go through a browser or a directory.
Easily make a radio station mobile app with RadioKing thanks to our free online app simulator! If you like what you create, you can choose to purchase it and make it available to listeners worldwide.
→ 10 reasons to make a radio station mobile app
→ How to create an effective mobile app
8. Ensure great audio quality
The sound quality offered by your radio station is a key element to its success. Let's face it, nobody wants to listen to a radio with poor audio quality.
There are some basic steps that you can follow to make sure that you have the best possible sound quality. Whether it's to do with the source files of your content, your audio equipment, or even the Radio Offer to which you have subscribed.
Today, it is neither difficult nor expensive to achieve excellent audio quality, just follow these tips!
→ 6 ways to improve the audio quality of your radio station
---
If you follow all these tips, your radio will have a much better chance of finding its audience. Our blog is full of other interesting topics on how to make a radio station successful, so be sure to check it out!
We hope that you found this article helpful, and wish you good luck in applying these tips!