Starting a radio station can sometimes feel overwhelming, especially if you're doing it all by yourself. From finding a name, to creating a schedule, there are countless tasks that need to be taken care of to ensure your radio runs smoothly. Lucky for you, we've prepared a few tips to help you save time when running an online radio station!
1/ Automate social media posts
When starting a radio station, you need to make time to manage your online presence on platforms such as Facebook and Twitter. Having an online presence will increase the visibility of your radio, and help your community grow! But let's face it, we've all been in the situation where we forget to post and simply push it off to tomorrow, and then the day after that, and the day after that… What if we told you that there was a simpler solution?
RadioKing allows you to connect your Facebook page directly to your Radio Page! Simply the link to your Facebook page in the setting of your Radio Manager.
Any publications on your Facebook page will also appear on your Radio Page on the RadioKing Listening Platform, as shown below: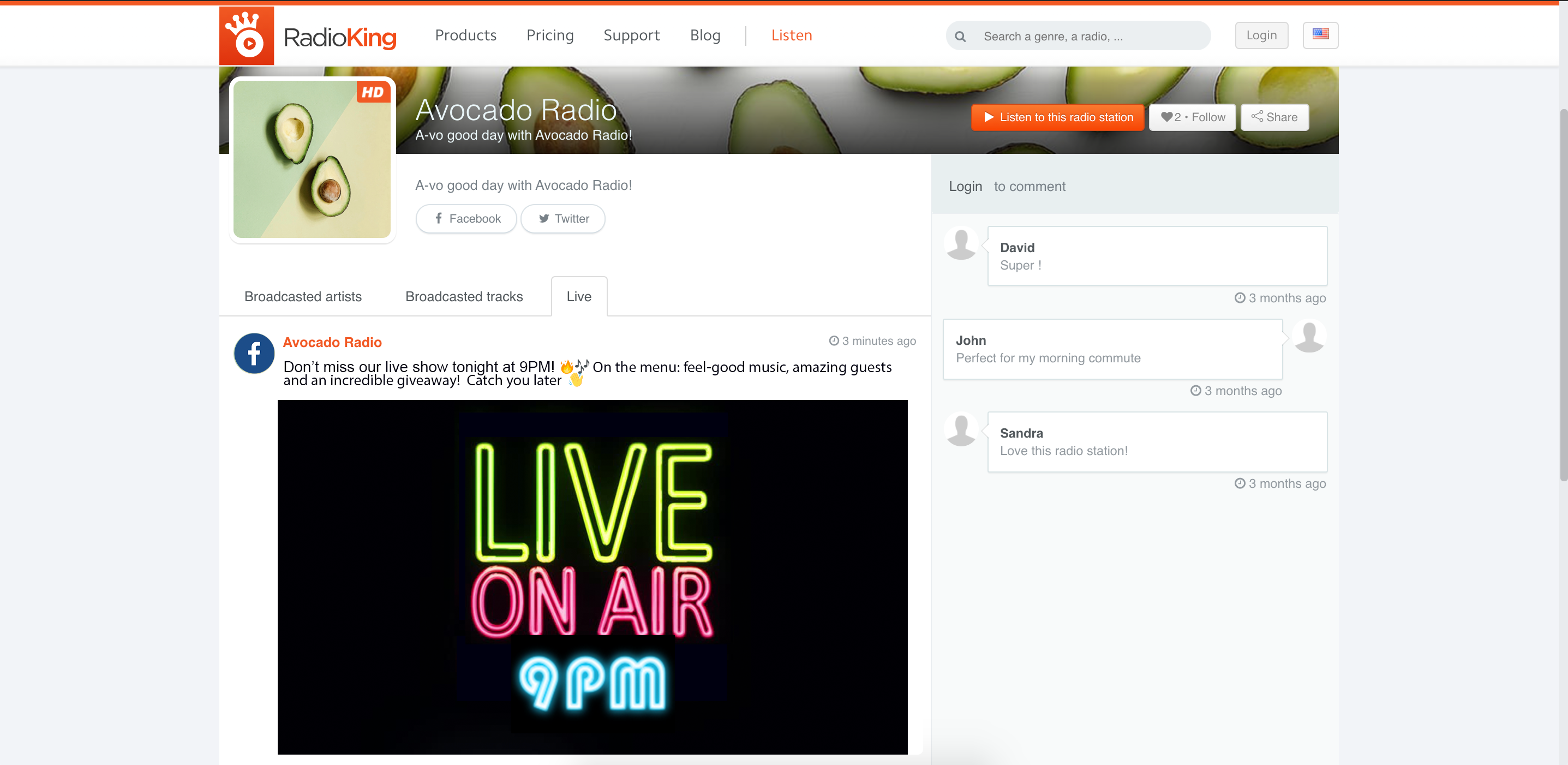 This listening platform regroups the radio stations hosted by RadioKing. It provides you with a unique webpage that you can share with your listeners and post updates about your radio.
2/ Create dynamic playlists
Another time-consuming task when starting a radio station is filtering your music in order to create playlists.
Well, lucky for you we've created an Automatic Playlist feature in our Radio Manager! This feature allows you to define the criteria for tracks to be automatically added to a playlist.
This criteria can be: Artist, Title, Album, Year, BPM, Duration, Date added or Tag
For example, you could create a playlist that:
Automatically adds any songs with the word "love" in the title
Only includes tracks that are under 3 minutes long
Only includes songs that were released between 1995 – 2005
…the possibilities are endless! Plus, any new songs added to your music library will automatically be sorted into a playlist if it meets the criteria. Take a look at our video tutorial for more information:
Note: you can, of course, create an automatic playlist with multiple criteria so let your imagination run wild! (Example: A playlist with songs that have a BPM higher than 120, and were released before 2010.)
This is without a doubt one of the best time-saving tricks you can use when it comes to organising your content into playlists!
3/ Use a simple planning tool when starting a radio station
Our last time-saving tip when starting a radio station is to use a simple, intuitive planning tool. Once your playlists/ programs have been created, you don't want to spend hours scheduling it all onto your planning. With the Radio Manager, you can easily drag and drop your content to broadcast on the day and time that you want: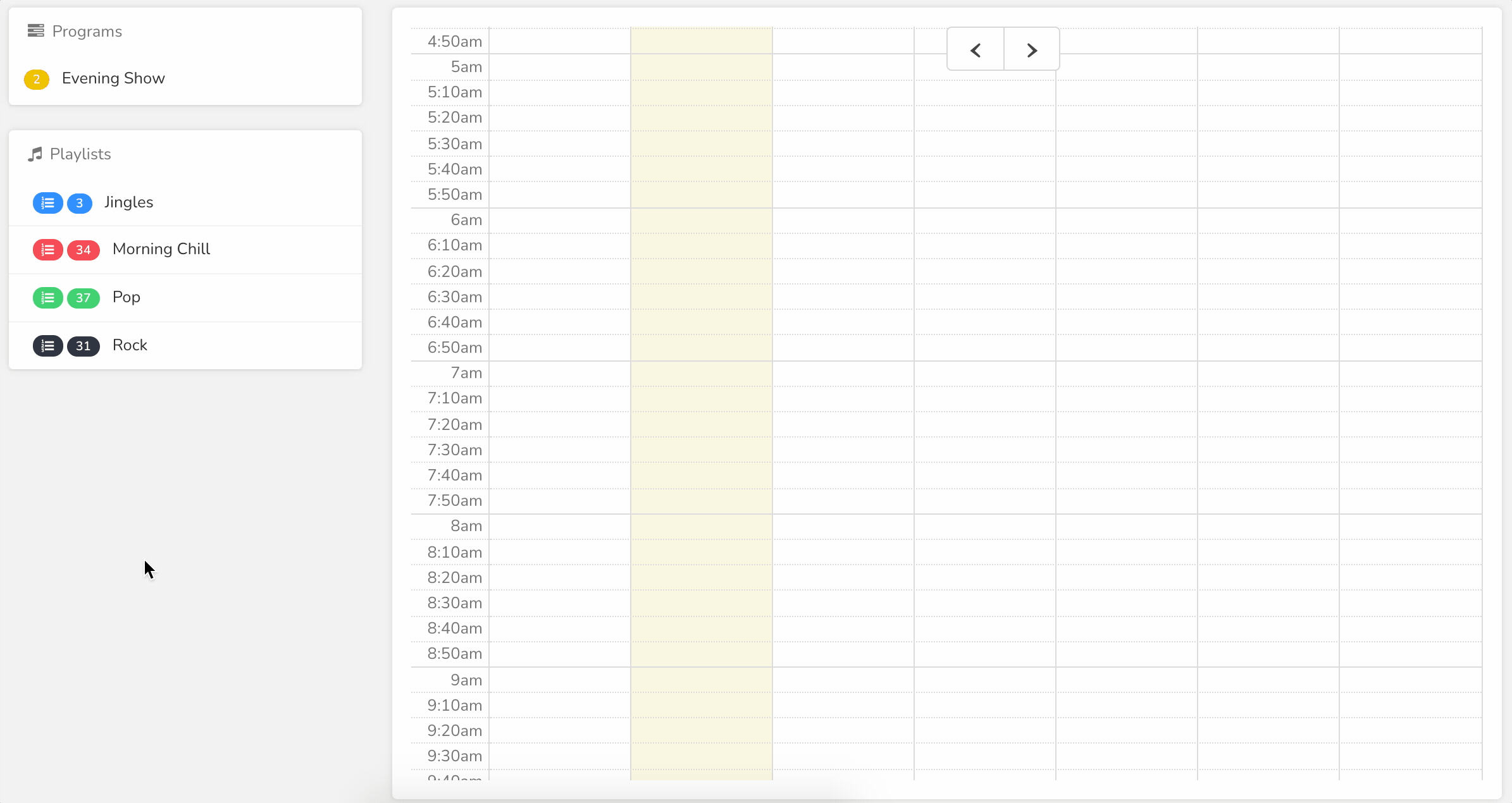 You can also schedule your content up to 6 months in advance! It's the ideal way to quickly organise the content of your radio station, and free up some time for other tasks.
Didn't have time to schedule your content to broadcast? No need to panic. If your planning is empty, the Radio Manager will automatically broadcast random tracks from your Music Tray in order to make sure something is always playing.
We hope that these tips will help you save time when starting a radio station! Don't forget to launch you free 7 day trial with RadioKing today!