We're always on the lookout for great radio broadcasting equipment so today we're super excited to talk to you about the Maono HD300 XLR/USB cardioid dynamic microphone.
It's a great option for anyone on the lookout for a reliable vocal recording solution, whether it's for your radio station, podcast or streaming, the HD300 doesn't disappoint.
What's in the box?
To start off, it's important to note that there are 2 bundles available when you purchase the Maono HD300:
HD300T: full bundle with a desktop stand
HD300S: full bundle with a boom arm
Today, we'll be looking at the Maono HD300T bundle, so let's take a look at what's included: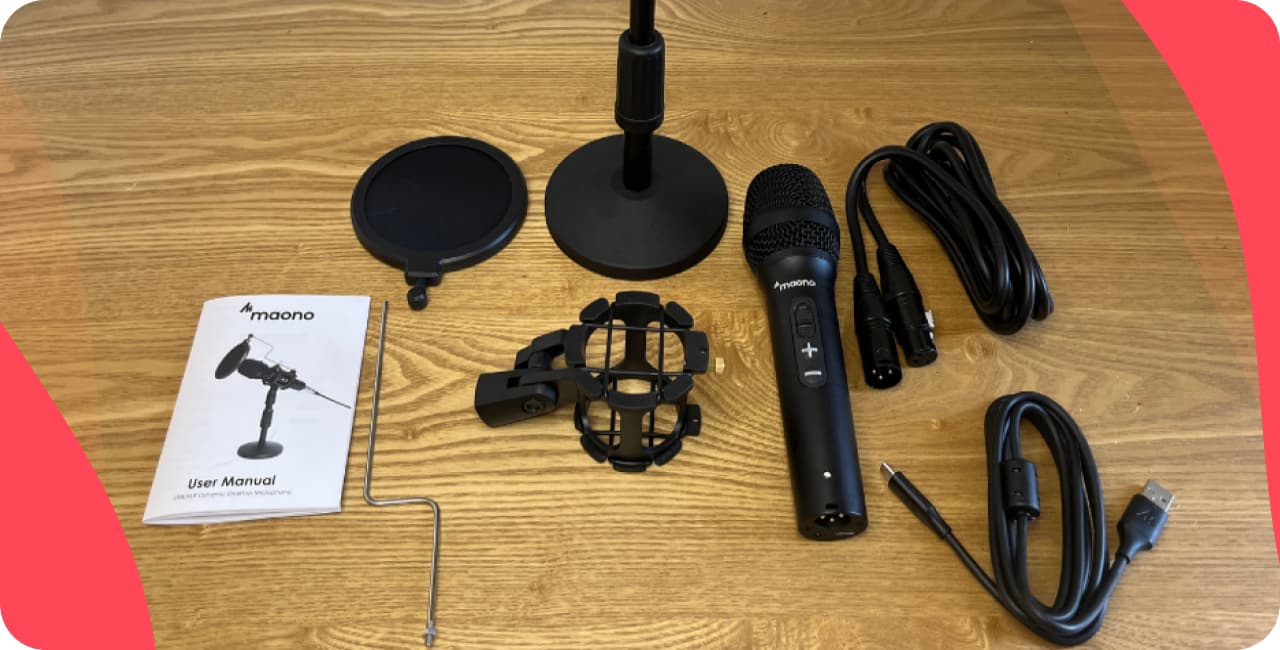 Microphone: obviously, you get the Maono HD300 XLR/USB microphone.
Pop filter: minimizes plosive sounds, as well as surrounding sounds such as heavy breathing.
Shock mount: reduces vibration noises.
Microphone stand: to easily set up your microphone.
XLR cable: powers your microphone with a mixing desk or audio interface.
USB cable: powers your microphone with your computer (plug-and-play)
User manual: gives a full understanding of the Maono HD300.
For just $69.99, you'll have everything you need to start broadcasting or recording straight away without having to purchase any extra accessories. Setting up only takes a couple of minutes, plus, we love how it takes up little space on a desk.
Maono HD300 specifications
We're now going to dive into the various features of the HD300 to give you a better idea of what you can expect from this mic.
Microphone type and pickup pattern
The HD300 is a dynamic microphone with a cardioid pickup pattern. This means that most of the sound is picked up directly from the front whilst sounds from the rear are mostly rejected. It has a large metal-coated condenser capsule that is perfect for capturing clean and natural sounds. This type of microphone is the most effective in a studio-setting or sound-treated room. As it's a dynamic microphone, it doesn't require phantom power (48V) to function.
Microphone connectivity
A great advantage of the HD300 is its dual compatibility with XLR and USB outputs. Let's take a closer look.
XLR
XLR connectivity requires you to use a mixing desk or audio interface in order to connect your microphone to your computer. If you already have one of these devices, then we highly recommend you use the XLR connection. It provides a clear, smooth sound that does a great job of staying true to the voice in question.
For optimal results, keep your mouth close to the microphone (-10cm) and ensure that you are speaking directly into the front of the mic. The audio quality is impressive for a microphone at this price, with few noticeable differences compared to more expensive equipment.
It's a great mic for radio hosts, podcasters, and streamers.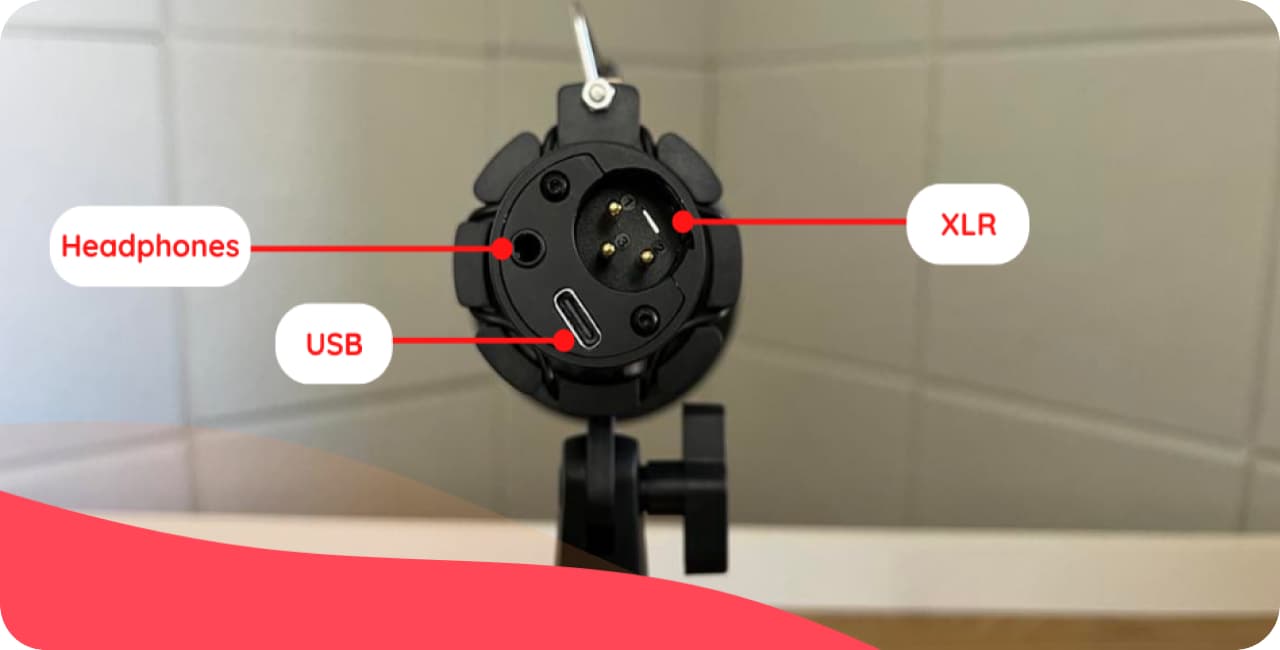 USB
USB connectivity allows you to plug your microphone directly into your computer, PC or Mac and start recording. If you're new to the audio-recording world, using a USB microphone is a great way to start your project without having to invest in too much equipment. As your project advances, you can improve your home studio with devices such as a mixing desk. The great thing about the HD300 is that, even if you do upgrade your studio equipment, you can keep using the same microphone regardless of your setup!
We found that via USB connection, the microphone tends to saturate faster and is slightly less efficient than via its XLR connection. Nevertheless, it still does a great job for a mic at this price point.
The USB connectivity option is also a great solution if you need to quickly set up your equipment, as you don't need to bother using your mixing desk or audio interface. You can plug it into your computer and begin recording within minutes.
Zero-latency monitoring and volume control
In USB mode, you'll have zero-latency monitoring thanks to a headphone jack (3.5mm), which allows you to monitor your own voice in real-time.
There are also volume control buttons on the microphone in order to easily adjust the monitoring headphone sound.
Note: The buttons are a bit noisy, so we invite you to make your sound level adjustments before you launch your recording or live broadcast.
Essential accessories
As we mentioned earlier, the Maono HD300 comes with various accessories such as a shock mount which will help keep your mic in place and reduce any vibration sounds. The pop filter will help diminish any plosive sounds ("p"s, "b"s, "t"s, "k"s…) and give your audio a cleaner outcome. It also comes with a small yet robust microphone stand that allows you to adjust the height and tilt the mic up and down to perfectly fit your set-up! And finally, you'll be equipped with both XLR and USB cables. We're very impressed with the number of accessories that are included, as well as their quality, for just $69.99.
High-quality build
Another great thing about the Maono HD300 is its full metal body which gives it a nice sturdy feel. The mic itself has a lovely, sleek appearance with a rather simple and classic design. We were pleasantly surprised with the overall quality of this mic which feels hefty and built to last, especially at this affordable price.
The pop filter, shock mount, and desktop stand help protect the microphone all around, and isolate the mic from physical vibration. We love the look and design of this microphone!
How does the Maono HD300 sound?
Many things about the Maono HD300 make it a great ally for radio hosts and podcasters!
Studio-Quality Sound
When purchasing a microphone, the main question you're going to ask yourself is "how does it sound?"
After having some fun with the mic, we're happy to say that we were very impressed with the overall sound quality, especially for a microphone at this price. If you're looking for a clean, smooth, and natural sound, then you'll really enjoy the HD300. It does a wonderful job of picking up vocal details which is important to take into account if you're planning on using it for radio broadcasting or podcasting for example.
The microphone also has a frequency response of 40Hz to 17kHz. This is slightly larger than other well-known dynamic microphones that can be found in this price range.
Unlike condenser microphones, the Maono HD300 cuts the low-end frequencies at 40Hz, which helps to reduce any background grumbling noises that may occur.
High Specification
As for the circuit design, Maono guarantees the use of premium components for the HD300. For this price range, the mic captures a great deal of detail, making it ideal for spoken-word content.
Dynamic microphones are designed to be less sensitive than condenser microphones, this characteristic is what helps cancel out any background noise. Here you'll find more details regarding the technical specifications of the HD300 provided by Maono:
Technical Specifications
– Polar pattern: cardioid
– Frequency response: 40Hz – 17 000Hz
– Bit depth: 16 bit
– Sample rate: 44.1/ 48kHz
– Controls: on/off switch
– Headphone volume control: Available on USB mode
– Monitor: Available on USB mode
– Headphone jack: 1/8 (3.5mm) TRS stereo
– Headphone output power: 30mW
– LED Indicator: Available on USB mode
– Power requirements: USB-DC 5V
– Output connector: USB-C/ XLR – Weight: 318g
– System requirements: MacOS X / Windows 7,8,10 – USB.20
Listen for yourself
To give you a more concrete idea of the audio quality provided by the Maono HD300, here are several voice recordings in USB & XLR mode, with and without a pop filter.
Note: this is the raw audio recorded with the HD300, with no post-production.
Type of connection: USB
Pop filter: Yes
Type of connection: XLR
Pop filter: Yes
Type of connection: USB
Pop filter: No
Type of connection: XLR
Pop filter: No
Overall, we highly recommend the Maono HD300 if you're looking for a solid, reliable mic for your radio broadcasts or podcasts! The sound quality is brilliant for a microphone at this price point, and it comes with all the accessories you need to start using it within minutes. Plus, the build quality of the mic itself feels extremely durable.
This microphone really shines when used for spoken-word content, especially when connected via XLR, and would be a great addition to your home radio studio! Its dual connectivity (XLR & USB) is also a huge bonus. For optimal results, we recommend using it in a studio-setting or sound-treated environment to avoid any echoes or reverberations. On the whole, it's a great value mic at a small cost!