Whether you want to create a radio station as part of your learning curriculum or as an extra-curricular activity, there are many benefits to launching a radio project for your school! Plus, thanks to the technological advances of recent years, starting a radio station has never been easier. Let's dive right in and take a look at how your students can benefit from running their own online radio.
5 reasons to create a radio station for your School or University
1/ Work on oral expression
Radio is all about speaking and listening. Whether you are presenting or listening to a show, these vital skills are not only fundamental in radio but are also essential for the real world. Radio is a great way of learning how to communicate with others via words and tone.
Go further: Check out how to master your radio voice
2/ Create a radio to encourage teamwork
Running a radio station, preparing the planning and presenting shows requires teamwork. Assign roles and responsibilities to your students such as: radio presenters, sound engineers, station management, etc… Learning how to work as a team and respect deadlines are important life skills that your students will develop through their radio project.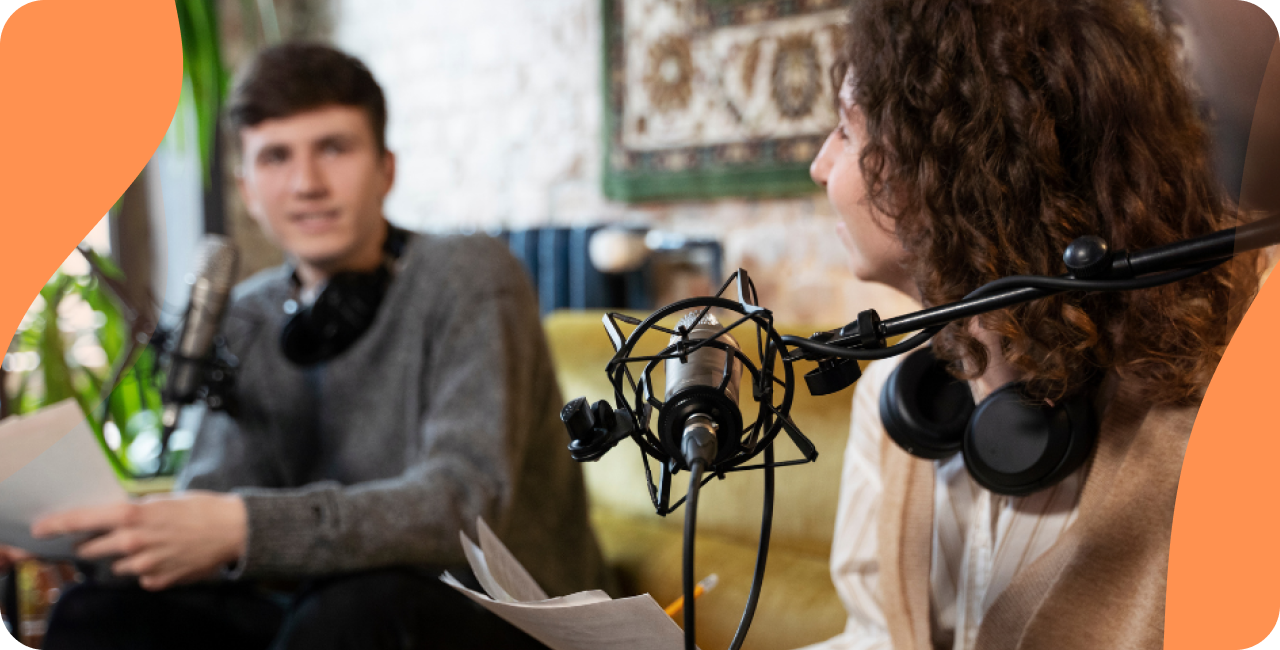 Furthermore, it will allow your students to bond and get to know each other better through music or shared passions.
Top Tip: With the Radio Manager, add as many team members as you like!
3/ Create fun workshops
Although running a radio station requires hard work and dedication, it also allows for various fun activities. There are many workshops that you can create for your students, for example:
Music selection
Creating playlists
Live debates
Interviewing guests or other students
On-air games and contests
Let your imagination run wild when it comes to creating content to broadcast on your radio!
4/ Let your student's voices be heard
When you create a radio station for your school or university, you give your students a platform to express themselves. Regardless of the various themes your students choose to discuss on the radio, it offers them the possibility to make their voices heard, or raise awareness for certain issues that they are passionate about.
It also encourages them to do proper research on a topic in order to prepare their radio shows.
Go further: Take a look at how to prepare a radio show
5/ Help build confidence
Creating a radio station can also be extremely helpful for students who have difficulties speaking in front of big crowds, as they aren't physically showing themselves whilst talking! This can help build confidence as they practice speaking live on air, or pre-recording their content.
The radio format can feel less intimidating as it's "just you and your mic!" Plus, pre-recording content will eliminate any stress that comes from broadcasting live. As confidence builds, students can begin speaking directly live on air.
Go further: Pre-recorded vs live content
How to create a radio station?
Before you create a radio station, it's important to properly prepare your idea! Here's everything you need to keep in mind when creating a radio station.
1/ Find your radio concept
Radio format
There are multiple radio formats that exist. In order to have a clear idea of how to organize your radio and create relevant content, you must decide on which format best suits your goals.
Generalist: includes music as well as information, debates, radio plays, etc. 
Musical: mostly music (top charts, specific musical genres…)
Thematic: targets a specific subject such as cinema or sports.
Local: focuses on current events in a specific area.
Community: addresses people of the same religion, ethnicity, origin, sexual orientation, or students from the same school!
Information: dedicates its air time to the news.
Choose a name
Choosing a name for your radio station should not be taken lightly. As a student radio, it makes sense that the name of your radio reflects the name of your school or university. However, remember that the name should be:
Simple to remember
Easy to pronounce
Not too long
Not too similar to any other school clubs or associations (to avoid any confusion!)
Create your identity
Once you have chosen your format and name, you can move on to your audio branding and visual identity. This englobes everything from your logo to your jingles. Your identity will help people recognize and remember your radio station, it will also help you stand out from your competitors.
Your identity should reflect the core values of your radio station and support the image you want to give to your listeners.
Go further: How to create the perfect logo for your radio
2/ Choose a radio hosting service
In order to create a radio station on the Internet, you will need to use a hosting service.
What is a radio hosting service?
A radio hosting service provides you with an online stream that can be listened to anywhere in the world by someone who has an Internet connection. Most hosting services provide you with an online platform to manage your radio station and upload your content. Once your content has been added to the platform, the hosting service takes care of broadcasting it on the Internet!
Not all hosting services provide the same features, so be sure to take a thorough look before making your choice.
Why choose RadioKing?
RadioKing currently hosts over 4000 radio stations in more than 170 countries! We provide you with an online platform that we like to call the Radio Manager. Here, you can add your content and organize it thanks to various features such as:
Tags: add a genre, release date, BPM, etc…)
Playlists: create playlists manually, or automatically with criteria that you choose
Programs: build your own programs, made up of multiple different playlists
Scheduling: drag and drop your content onto a calendar to organize your broadcast
The Radio Manager is an intuitive platform that allows you to schedule your content to broadcast automatically, you can also broadcast live on air at any time with your preferred live broadcasting software! We also provide you with various widgets, such as a radio player, so that you can easily share your radio station with the world.
3/ Equipment for creating a radio station
Finally, you will also need equipment in order to get your radio station up and running!
Computer
To create your online radio station, the first essential piece of equipment is a computer or laptop with an Internet connection. This will allow you to access your Radio Manager, prepare your content and send it to our servers.
Your radio station will broadcast 24/7, even if your computer is switched off!
Microphone
If you're planning on broadcasting live or pre-recording spoken content, you will need a microphone (or multiple mics if more than one person will be speaking.) There are 2 options available:
USB Microphone: great for beginners and a solo studio set-up. You won't need any additional equipment to start broadcasting.
XLR Microphone: ideal if you're looking for high-quality audio. You will need a mixing desk or audio interface in order to use an XLR mic.
Go further: Take a look at our selection of best budget microphones
Mixing desk
As mentioned above, you will need a mixing desk (or audio interface) if you are using an XLR microphone. The number of inputs on your mixing desk will depend on how many people will be speaking live on air.
Go further: Discover our selection of best budget mixing desks
Headphones
The last piece of equipment you'll need to create your radio station is a pair of headphones. They will allow you to hear yourself (and other hosts or guests) speaking when going live on air. A good pair of headphones should be closed and comfortable!
Go further: View our selection of best budget headphones
---
You know have everything you need in order to create a radio station for your school or university! Happy broadcasting!