Wondering how to create a radio station media kit? You've come to the right place! A media kit is a summary of your brand that includes essential points about what your radio station or content does, who it reaches, and the types of partnership opportunities you seek.
This multidimensional public relations tool aids in disseminating information about your company and its initiatives. A typical media kit will include text, photos, and, in some cases, audio or video content. Most modern media kits are digital files that can be emailed, hosted on websites, or shared through cloud servers. It takes time and effort to create a radio station media kit, but there are some steps to follow to make your media kit stand out!
How to create a radio station media kit?
1/ Start with basic station information
Start by including a short paragraph to briefly explain the concept of your online radio station, or your goals and values. It should be well-structured, comprehensive, and straight to the point. This is likely the same paragraph at the end of your station's press releases. You might want to prepare separate paragraphs for diverse audiences.
2/ Share your publicity photographs
A radio is an audio medium that, traditionally, includes few visual elements. It's important to include a few general photos, such as promotional appearances, interviews with artists or experts, as well as in-studio action shots.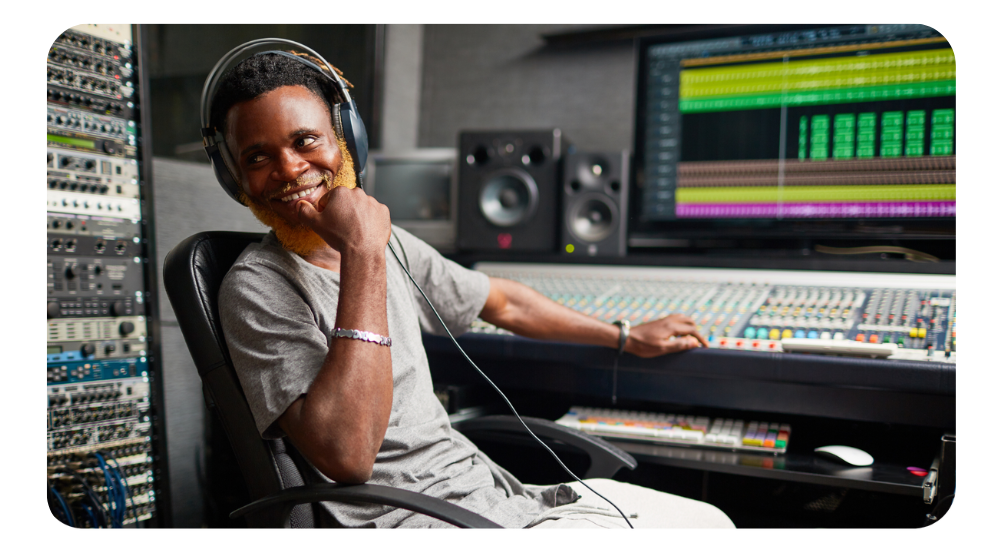 3/ Add important connections
You should also include valuable links, such as your station's homepage, social media pages, and webpages for key shows, on-air personalities, and events, to make it easy for journalists to link to appropriate web pages.
Top tip: find your SmartLink under the share tab of your Radio Manager
4/ Incorporate logos
Include both color and black-and-white logos in full resolution (three hundred dots per inch) for print and low resolution (seven hundred dots per inch) for the web.
Top tip: find out how to create a radio logo
5/ Provide key staff members' bios and headshots
Make it simple for a journalist to write about one of your team members! Include photos of your morning show personalities individually and as a group. Remember to provide both high and low-resolution images. You should also prepare short bios for each team member, explaining their role and field of expertise.
6/ Include press clippings and testimonials
If people are praising your radio station, spread the word! Include links to any press coverage of the station as well as testimonials from clients, artists, local community leaders, and music industry figures. This will help reinforce the notoriety of your radio station and give it a professional feel.
7/ Aircheck reels and highlight videos
Many outlets enjoy multimedia, so if you have a short video of the radio station or audio files of DJ airchecks, make them accessible! It's a great way of showcasing your station and team members.
8/ Highlight your programs
Do any specific radio shows draw the majority of your listeners? In this section, highlight them. A brief description of each show, its presenters, and possibly some listenership statistics (if the numbers are sufficient) are key elements to include.
Top tip: find out how to create a radio show
9/ Create a radio station fact sheet
Create a list of key facts about your radio station, such as ratings, revenue figures, and years in operation. This will make it easy for people to find your radio station's most relevant and important information.
Top tip: get all your statistics directly under the statistics tab of your Radio Manager!
10/ Mention your marketing channels
Mention all of the channels through which you communicate with your fans. Facebook, Twitter, Instagram, YouTube, website, Livestream, Ustream, and email marketing are all possibilities. If the total reach is extensive, you can also mention it.
11/ Signature event explanations and photographs
Include photos and brief descriptions of signature events like annual concerts or fundraisers. It's a great way of showing how you interact with your community.
12/ Share key show descriptions
Include brief descriptions of key shows, such as the morning show, and any specialty shows you broadcast.
13/ Don't forget about metrics
Include all relevant information about your listeners, such as the number of listeners per day, month, or show, average listening time, social media followers per channel, newsletter subscribers, and other statistics that advertisers may find helpful.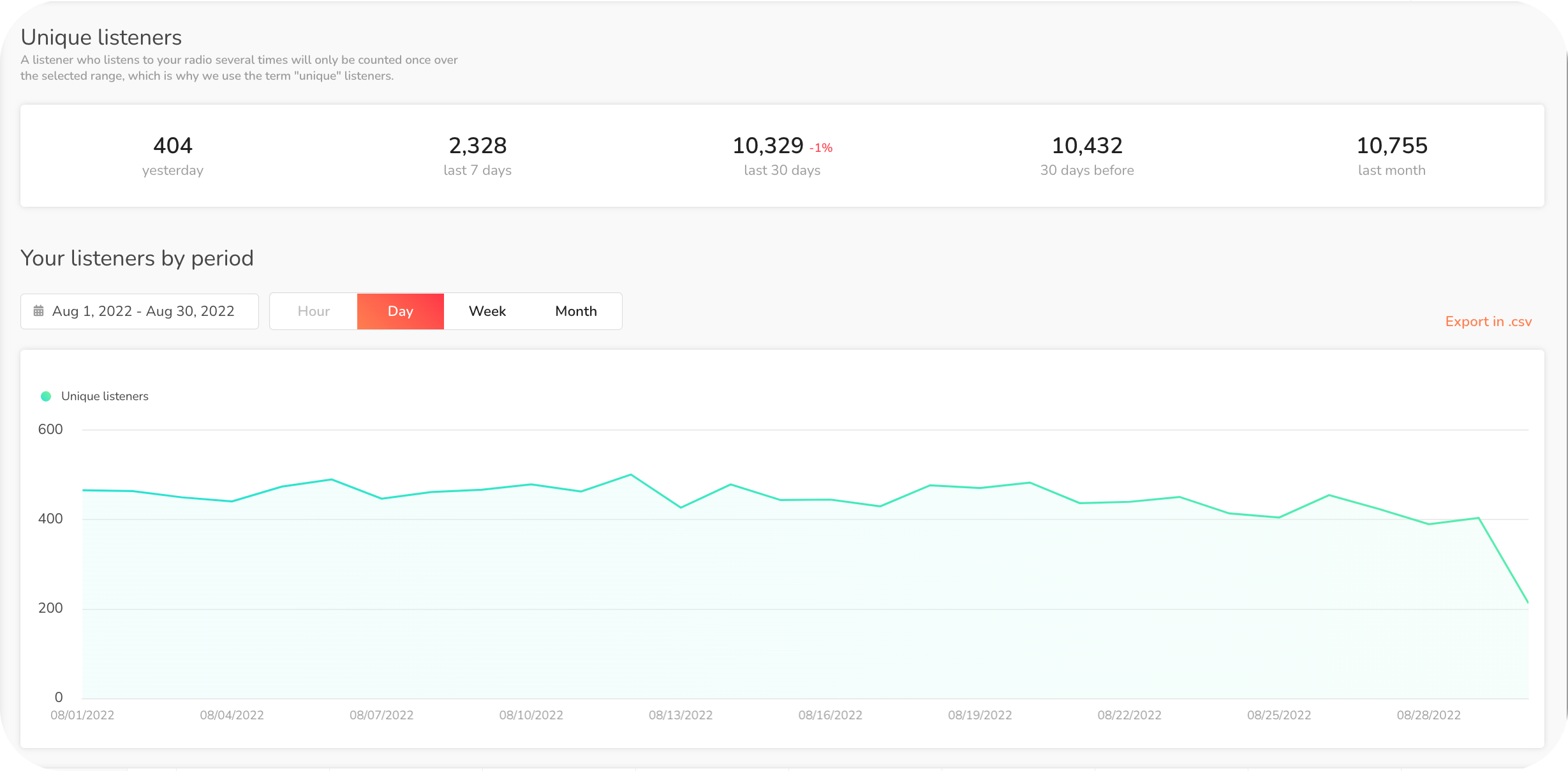 Tips for creating suitable media kits
1/ Look into other media kits
Investigate your peers' and competitors' media kits to learn from them. What exactly are they? Is your media kit adequately formatted? Find a radio station in your niche with a media kit and use it as inspiration.
2/ Be truthful
Be open and honest about what your radio station has to offer. Actual statistics and figures should follow this statement. Don't try to improve your numbers by hand or lie about the quality of services you can provide. Brands and businesses will base their expectations on your media kit, and any false information will be the source of their disappointment.
3/ Include it on your radio station website
Make your media kit accessible by including it on your radio station website. Most stations will publicize an email address that directs potential partners or collaborators to a marketing employee, who will then send a hard copy media kit as an attachment. Consider adding a direct link from your website's "About" page to those with digital media kits.
Top tip: Easily create a radio station website with RadioKing today!
4/ Maintain the accuracy of your media kit
Make a reminder on your calendar to update your media kit or advertising page every two or three months. Your update frequency will also determine whether you have a digital or hard copy media kit.
5/ Keep it short and sweet
Readers will already have to absorb documents and information from media kits. As a result, try to include only the necessary information and avoid creating a media kit that is overly detailed and lengthy.
---
You now have everything you need to create a radio station media kit and share it with the world! Don't have a radio station yet? Start your free trial with RadioKing!