If there's one essential element to capturing the attention of new listeners and keeping them loyal, it's the musical selection that they will hear from the very first minutes. An original playlist consistent with your radio station's perceived personality will be the foundation of its success. This includes your DJ skills and the popularity of the chosen artists. Let's talk about what independent artists can bring to your radio station and how to find them.
Why broadcast independent artists?
Differentiate your radio
The richness of the independent scene, alongside its often limited success, makes it an inexhaustible source of music that your listeners will probably never have heard before. This confidentiality immediately gives your music selection a personality boost, which will be associated with your radio by your listeners.
Renew your radio continuously
As you know, renewing your playlist regularly is essential to keep your content fresh and your most loyal listeners interested. Independent artists are no strangers to the importance of regularity in their releases, as they struggle to make their mark. So they produce a daily batch of new music, ready to be scanned by your expert ears!
Support the independent scene
As a creator and host of an online radio station, you're also an independent artist, and face similar challenges as musicians: growth, profitability, regularity, etc. By choosing to put forward lesser-known artists, you anchor your radio in a social approach and give it a political dimension.
How to find and listen to independent artists?
Musical promotion platforms
On these platforms, artists can submit their music to professionals and get in touch with them, either to receive feedback on their creations or to develop a promotional partnership. This is what our French friends offer at Groover. For 2 Grooviz (or $1.99 per contact), artists are guaranteed that their music will be heard and that they will receive constructive and supportive feedback within 7 days. An advanced filtering system allows both artists and professionals to contact collaborators who match their universe. Finally, professionals are rewarded for their listening work at the rate of 1 Grooviz per feedback, regardless of their decision to share the tracks or not.
Playlists and specialized blogs
Whatever your radio concept and universe, chances are you'll find something to sink your teeth into by browsing specialized blogs and playlists. Blogs usually focus on independent music, which is perfect here. The playlists that you can find on listening platforms will generally gather artists with a little more notoriety, but that's not a problem! It's also wise to keep a certain balance with more known artists in your programming, except if the concept of your radio goes against it obviously. Don't close any doors and trust your ears and your taste!
Social networks
We now know (too well) the algorithmic system of social networks that offers us content related to what we like, watch, or consume the most. The idea here is to use this system to your advantage! By being part of a digital environment that is favorable to musical discovery, you will probably get interesting suggestions! This strategy is valid on networks like Instagram or TikTok, but also on Youtube.
👉 For more ideas on how to discover music, check out our article How to discover new music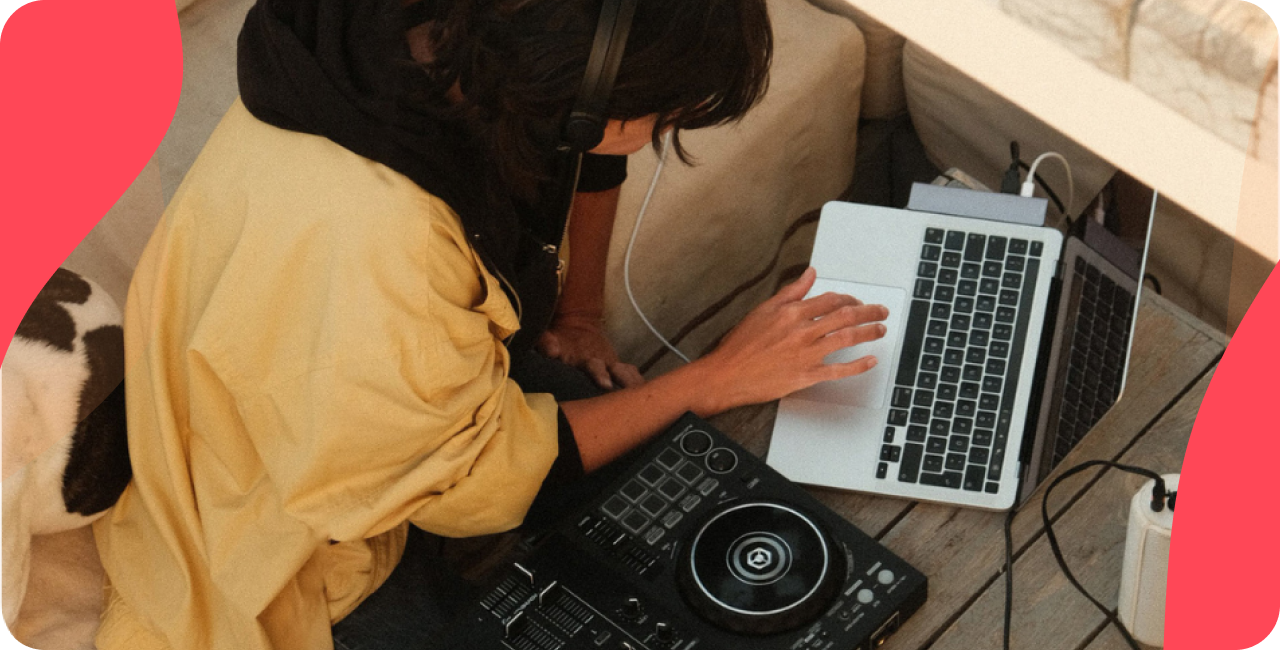 How to choose the artists to broadcast on your radio
When you come across an artist you like, how do you decide if they belong on your radio? There are mainly 2 points to think about:
A fit with your editorial line: Each radio station has its theme, its universe, and its target audience. For a track to fit naturally into your programming, it needs to match a common denominator that makes your radio different from the rest. This can be a genre, a mood, an era, or an origin, in short, you know better than anyone what makes your radio unique. What if you come across a lot of songs you like but don't fit in with your radio? It may be a sign that you need to create one or more specific slots to integrate them.
Quality and access to the file: Although it's far from a general rule, some artists, still at the very beginning of their artistic career, don't have the budget or the necessary connections to be able to produce a professional quality track. While they deserve your support as well, put the quality of your broadcast at the forefront of your music selection. Improving the final quality of their production can be part of your feedback on Groover for example! You must also be able to access the sound file in order to upload it to the Radio Manager. You can contact the artist to start a collaboration or buy the track on online platforms.
For the rest, let your eardrums and your heart speak!
How to integrate independent artists into your radio programming?
A little bit everywhere
As we saw at the beginning of the article, the new music that you regularly include in your playlists renews your programming and keeps your listeners loyal. This is a very important element that every listener, even if they listen to your radio for 10 minutes, must be able to perceive. You can be sure that if the same person comes back to your radio and hears one or two songs they heard the day before, it will probably be the last time they will tune in to your station.
Therefore, it would be counterproductive to put all the new items in one specific program! Spread them around your programming so that as many listeners as possible are aware of the renewal work you are doing. The Statistics module on Manager Radio can help you to understand when your listeners tune in to your radio, and how long they stay, to best adjust your programming.
Create privileged content with certain artists
Do you have a crush on the work of a particular artist? Have you heard a touching or unusual story about their career? Do you realize that an artist you love lives just a stone's throw from you? Why not push the collaboration further?
There are many ways to partner with artists to liven up your radio and provide even more value to your listeners. Here are 3 ideas that you can use without moderation:
Live sessions: Independent artists are more than eager to get visibility for their creations, and will be very happy to perform live on your radio. Don't forget to take the opportunity to share the content in images on your social networks: Instagram stories, Facebook posts, full performances on Youtube… Make your work live beyond the audio immediacy offered by your online radio!
Interview: Artists often have a lot to say about their personal story, their artistic journey or their vision of the world. Organize interviews to allow your listeners to discover an artist from a new angle.
Personal playlist: Before being music creators, artists are first of all music consumers. Offering them the chance to create a playlist to broadcast on your radio and promote it is an idea that they may like, because their choices will reflect their own universe, and they will be able to integrate some of their tracks as a bonus.
Don't hesitate to approach the artist without having a firm and definite idea of what you would like to do with them! You can brainstorm ideas together after the initial contact.
Create your own online radio as an artist
Why not? If you've made it this far and you're a musician yourself, have you thought about starting your own internet radio? Let's face it, running an online radio station properly takes time. But if you do it right, your radio could become an interesting lever to gather a community, expose your creations, and feed your professional network in the audio world.
We offer a demo period to test the Radio Manager, during which you can start broadcasting for free! If you like the idea, give it a chance.