We're back with another product review, and this week we're looking at the Maonocaster E2 portable live streaming and podcast console. This audio interface is also a great tool for radio broadcasters, streamers, or content creators thanks to its simplicity and efficiency. If you're looking for an intuitive tool with a wide range of features to enhance your live sessions or recordings, then keep reading!
Unboxing the Maonocaster E2
Connection features
Connecting the Maonocaster E2
Build quality
Interface features
Portability
Unboxing the Maonocaster E2
The Maonocaster E2 comes in a sleek little black and yellow box. When you open it and remove the layer of foam, you'll come face-to-face with the console.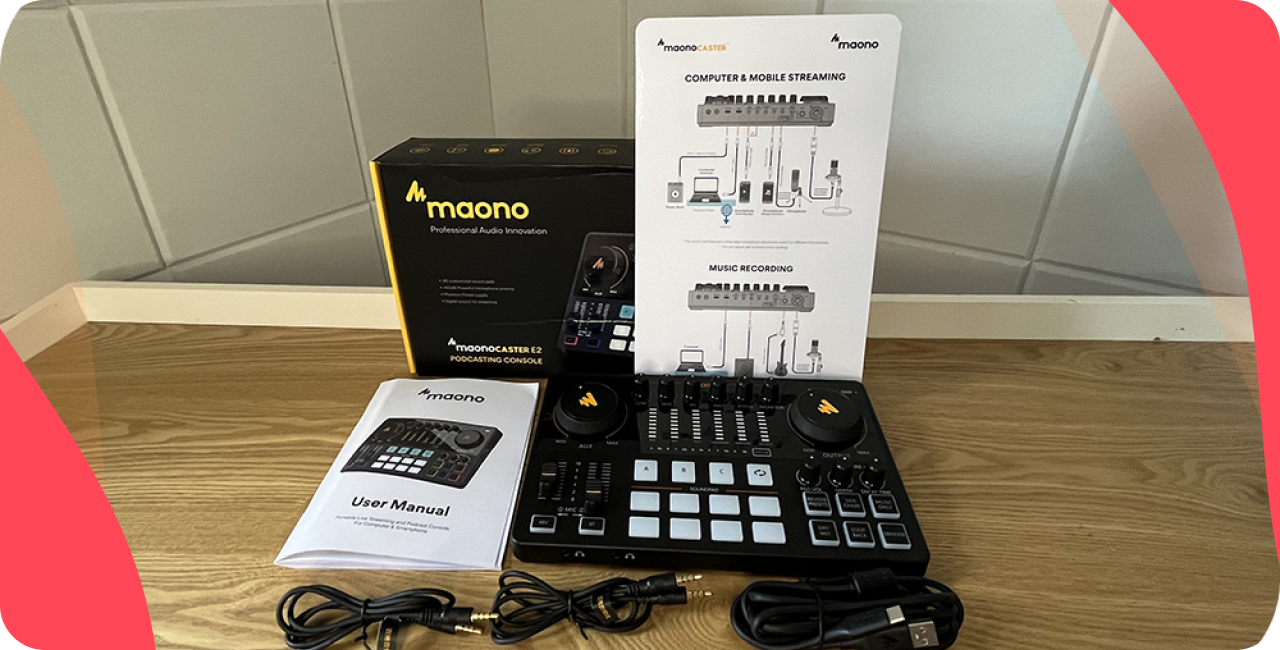 You'll also see a small user manual to help you fully understand each available feature, as well as a quick "cheat sheet" that shows you various set-ups and important explanations with clear images, such as:
Computer and mobile streaming setup
Music recording setup
Gaming and education setup
Finally, you'll be provided with a USB-A to USB-C cable to charge the console, as well as two 3.5mm TRRS audio cables.
Maonocaster E2 Connection Features
Before we dive into a more detailed analysis of the available features on the Maonocaster E2, let's take a quick look at the various connections on the device:
Two mic inputs (1 XLR and one 3.5mm jack)
Aux in (music playback only)
Live output 1 and 2 (for connecting phones for streaming apps)
Mic setting toggle (for condenser and dynamic mics)
¼-inch instrument in
Bluetooth connection (music playback only)
Monitor SPK (for headphones or speakers)
Aux Knob
Monitor Knob
Two 3.5mm headphone jacks on the front panel
We'll start by saying that the number of available connections is quite impressive for an audio interface of this size. This alone makes it an attractive piece of equipment that can be used for many different purposes.
Connecting the Maonocaster E2
The Maonocaster E2 connects directly to your PC via USB and doesn't require a power outlet. Once the battery is charged it can last for up to 8 hours, making it a fully portable audio interface.
If you're a beginner, you can easily plug your mic into the console and start recording or broadcasting your radio show with the standard configuration. As you familiarize yourself with the product, you can start playing around with the various knobs and buttons.
Bear in mind that you'll need to adjust your "Mic1 setting" on the side of the audio interface to the correct position for optimal results. Here are the guidelines provided by Maono:
40dB: condenser mic sensitivity higher than -40dB
50dB: dynamic mic sensitivity between -50dB and -55dB
60dB: dynamic mic sensitivity between -55dB and -60dB
The build
Feel and durability are important factors to consider when purchasing new equipment. Although the Maonocaster doesn't have a metal structure, we were happily surprised to see that it's made from high-grade plastic. We love how it remains lightweight, which is a huge advantage for its portability, without feeling cheap or flimsy. The overall construction quality is very impressive for a console at this price point ($119.99).
Interface features
The Maonocaster E2 has a long list of features that can suit many different needs. We're going to focus on essential features for live radio broadcasting and podcasting needs.
General overview
You'll find a total of 6 knobs at the top of the interface, which may sound overwhelming for someone without a sound engineering degree. However, one of the things we love about this device is its intuitiveness. You'll find clear indications all over the console to guide you:
Low (EQ)
Mid (EQ)
High (EQ)
Inst (Instrument volume)
Pitch (pitch adjustment)
Monitor (output volume monitor)
Additionally, as mentioned above, Maono provides clear instructions and product presentations to help you understand each feature.
The two largest dials found on either side allow you to adjust AUX input and output volumes. The faders on the left-hand side are used to adjust the levels of the 2 microphone inputs. This is particularly handy if you're broadcasting or recording with a guest, as you can easily adjust the 2 microphones separately. Again, you'll find that it's pretty well indicated on the interface itself.
The Maonocaster E2 interface also has Bluetooth connectivity to connect to other devices. This can be extremely useful for playing audio from another source for example.
Finally, the console also provides phantom power (48V) which you'll need if you're using a condenser microphone.
Programmable buttons
The Maonocaster E2 offers 3 programmable buttons (A, B, and C) that provide 1 minute of sound, as well as 8 buttons that offer up to 20 seconds. These buttons can facilitate your life as a radio presenter or podcaster and add a level of professionalism to your audio recordings and live broadcasts. Use them for various sound effects such as applause, laughter, or even your jingles, intros, or outros for example.
Note: be sure to set up your pads and test them before your live broadcast to avoid any surprises or technical issues during your live broadcast.
This feature can also be a huge time-saver in terms of post-editing. By integrating your sound effects directly into your recording, you avoid having to add them manually after each session.
You'll find 3 knobs on the right-hand side, designed to control the pad volume, reverb depth, and decay time. Beneath these knobs are several other buttons:
Reverb presets: 6 preset reverberate effects (Studio, KTV, Church, Hall, Valley, Room)
Sidechain: lowers the volume of the playing music when you begin speaking into the microphone and turns up your voice volume
Music only: removes the background track's vocal noises
Dry/wet: filters out purely the dry signal for the microphone input and outputs
Loopback: record system audio from USB-C input
Denoise: digitally removes background noise from your sound recording in real-time
Again, these features can help save a lot of time in post-editing as many effects can be applied directly.
Recording sounds with the Maonocaster E2
The process of recording sound for your pads is pretty straightforward. Simply press and hold the pad until it blinks and begin your recording via your mic, external audio input or Bluetooth. When you're finished, press it again to end the recording. To hear the finished product, just press the button once.
You can use the "pad volume" knob to adjust the volume of your recordings, which can always come in handy if you want to include a fade-in or fade-out.
Note: ensure that the "pad volume knob" is turned up before recording!
Portability
As we've already said, the Maonocaster is the perfect portable companion, ready to accompany you for all of your broadcasting or recording sessions on the go. The device itself is small and lightweight, allowing you to easily transport it.
The interface comes with its own battery and takes roughly 2 hours to fully charge. It has an 8-hour battery life, which is pretty impressive! It's an ideal piece of radio equipment if you're covering live events or broadcasting outside of your usual studio setting.
---
The simplicity and portability of this device are what really make it shine. It has a wide range of essential features for radio broadcasters and podcasters, whilst remaining easy to use. Overall, it's a great quality piece of equipment for a reasonable price point.