Why create a radio mobile app? What will your radio station gain from it? Well, there's a double benefit: being on mobile avoids losing listeners, and also allows you to win over new ones!
According to Statista, in 2020 there were 3.6 billion smartphone users worldwide. Can you imagine the number of potential listeners for your radio station? However, don't forget that being present doesn't always mean you're being effective. Let's take a closer look at how to create a successful radio mobile app.
1/ Be visible on the right platforms
To determine the right platform, you need to look at the market figures and, therefore, the number of potential listeners for your radio. The current trend clearly highlights two mobile platforms on which you should be available:
Apple iOS: As you can see on the image below, the USA has slightly more Apple users (almost 60%). The UK seems to be split relatively evenly between iOS and Android.
Google Android: There may be fewer Android users in the US, but once you take a step back and look at the bigger picture you will find that being present on Android is non-negotiable!
Market share of mobile operating systems in selected countries (July 2020):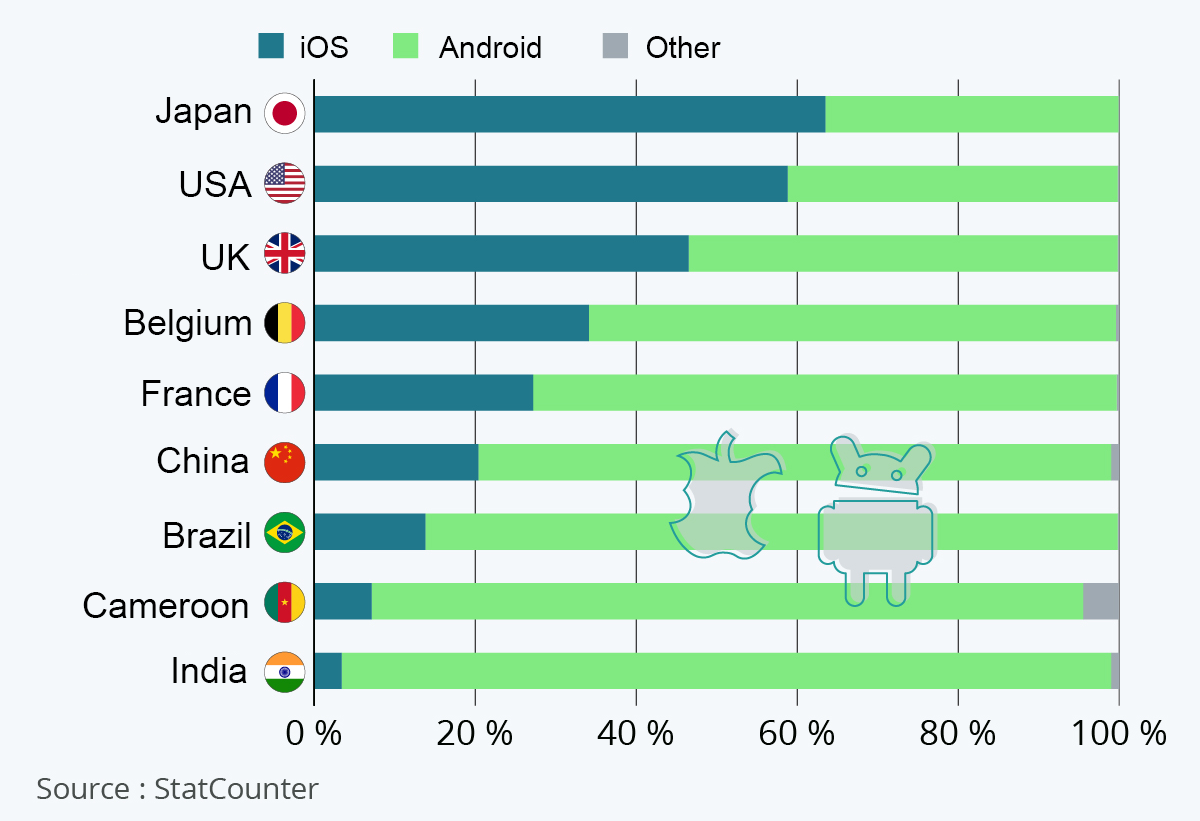 We recommend being present on both iOS and Android with our Business Mobile Application Offer. The offer also includes publishing your app on Apple Watch, Apple TV, Android TV and Android Auto.
Top Tip: to better understand where your listeners come from, head over to the Statistics Tab in your Radio Manager!
2/ Create interactions between you and your audience
Being present on the right platforms is great, but you need an effective radio mobile app to attract new listeners and retain your current audience. Today's listeners are no longer content with just listening to the radio, they also want to interact with it.
This statement makes even more sense if the listening medium is mobile. On a smartphone, you can integrate a number of interesting features that allow listeners to interact with you and your radio:
Playback information display:

Displaying the artist, title and cover of the song being played is a good way to make your application interesting and give your listeners a reference point.
Share the current title: Offering your listeners the opportunity to share what they are listening to on your radio via Facebook, Twitter and Email is a good way for you to promote your radio and your mobile application.
Purchase the current title: Provide a purchase button so that your listeners can buy what they are listening to on iTunes. This feature adds interest to your application and can also help you monetise it.
Contact buttons: Integrate contact buttons directly into the application to allow your listeners to contact you with a single click. Various contact buttons are available: phone, SMS and Email.
3/ Offer an application that reflects your image
Your mobile application should reflect your radio station. Being present on mobile is an excellent way for you to perpetuate and propagate your brand image. Spreading your image is all very well, but be careful, it mustn't be damaged by an application that doesn't represent you properly….
Let's take a concrete example with the Maine Vibe Radio mobile app (created via RadioKing):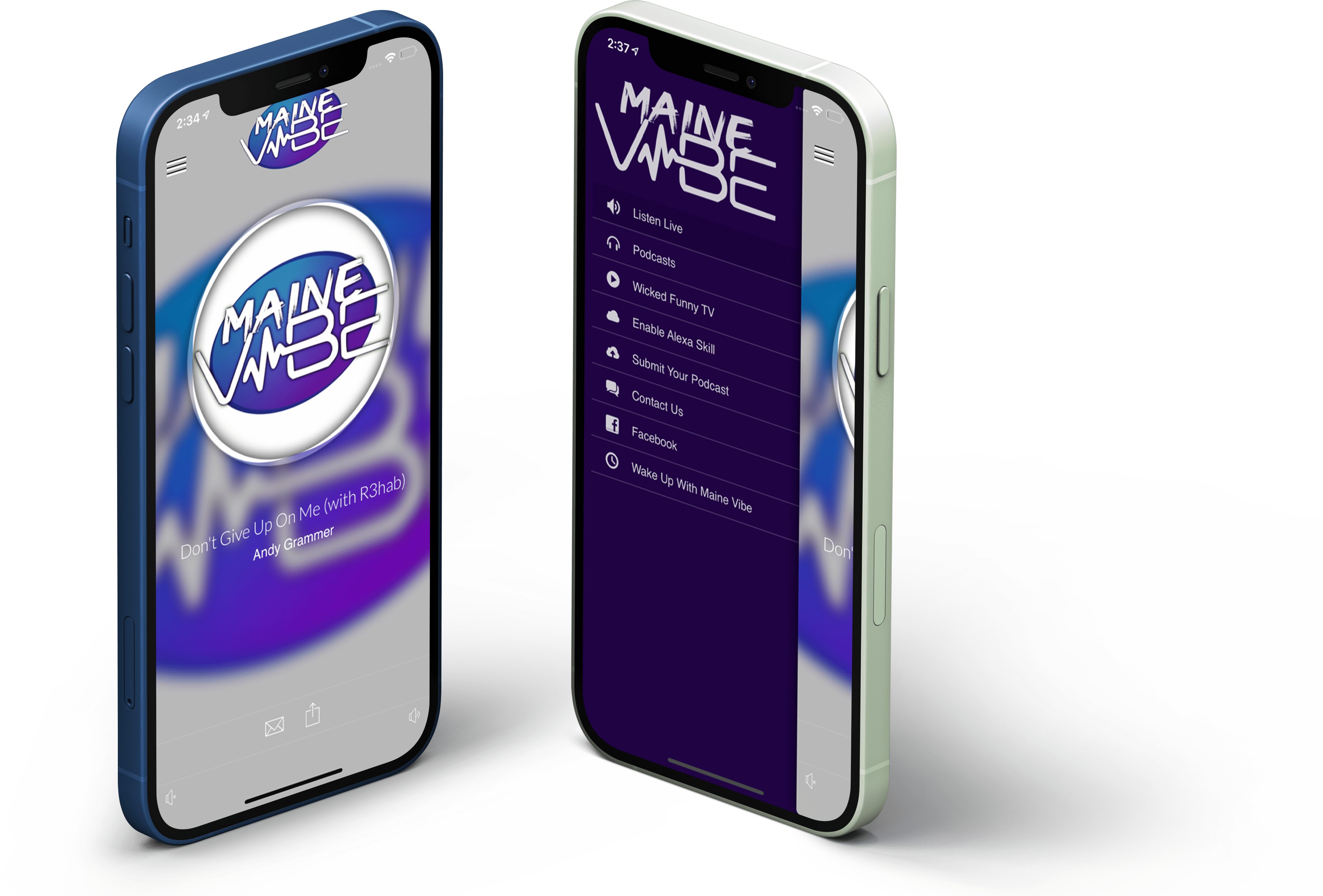 It's based on a real graphic coherence, the logo is highlighted and the colour code of the brand (purple) is well put forward without being aggressive. The application has a real interest in terms of communication. The radio's brand image is effectively promoted.
4/ Increase the appeal of your application
A common mistake in many radio mobile apps is the lack of content, and therefore indirectly the lack of interest. Many radio applications offer one and only one function on their application: listening.
While the listening function for a radio app is mandatory, it isn't necessarily the function that will keep users of your application interested.
So how do you make your app more appealing? It's very simple, it has to have content. Of course, your listener wants to listen to you, but they also want to read your latest news, visit your website, read your tweets, see your Facebook page and all that whilst listening to your radio. This is also what will make your listener listen to you on your app and not on a general listening app.
Top Tip: Don't forget to add different tabs to your application and, above all, to update them regularly. You can rename the tabs, and even choose the icon!
5/ Make your radio mobile app profitable
All radio stations recognise that it's essential to be on mobile. However, a good number of radio stations don't take the plunge, often for budgetary reasons. Remember, there are effective ways to monetise your application:
Adverts: If you want to make the cost of your application profitable, this is of course the most efficient way to do it. You have several options:

Integrate an automatic advertising network like Google AdMob. You don't have to manage anything and are paid according to the number of clicks.
Selling the placement on your splash screen is another solution. It's the first thing that people see when they open your app!
Provide a dedicated tab for your sponsors/partners.

iTune Affiliation: A second way to monetise your application is to allow your listeners to buy the current title on iTunes. The profitability is lower than for advertising but you get a percentage of each sale if you have an iTunes Affiliate Account.
PayPal button: You can also integrate a PayPal button into your application to collect donations.
Don't hesitate any longer and create an effective radio mobile app for your listeners today!