Wondering why you should create an app for your radio station? Is it really worth it? What will your radio gain from it? Well, not only is an effective radio app a great way to avoid losing listeners, it also allows you to win over new ones!
1. Be visible on the right platforms
2. Create interactions between you and your audience
3. Create an app for your radio that reflects your image
4. Increase the appeal of your application
5. Make a profit with an app for your radio
According to Statista, today there are 6.92 billion smartphone users worldwide, compared to 3.6 billion in 2020. Can you imagine the number of potential listeners for your radio station? However, don't forget that being present doesn't always mean you're being effective. Let's take a closer look at how to create a successful app for your radio station.
1/ Be visible on the right platforms
To determine the right platform, you need to look at the market figures and, therefore, the number of potential listeners for your radio. The current trend clearly highlights two mobile platforms on which you should be available:
Google Android: All you have to do is look at the figures below to realize that being present on Android is non-negotiable! It's currently the most popular mobile operating system worldwide.
Apple iOS: Although this operating system may have lost in popularity over the past few years, it remains in second position, with a significant lead compared to Samsung and Windows for example.
Mobile Operating System Market Share Worldwide in June 2023: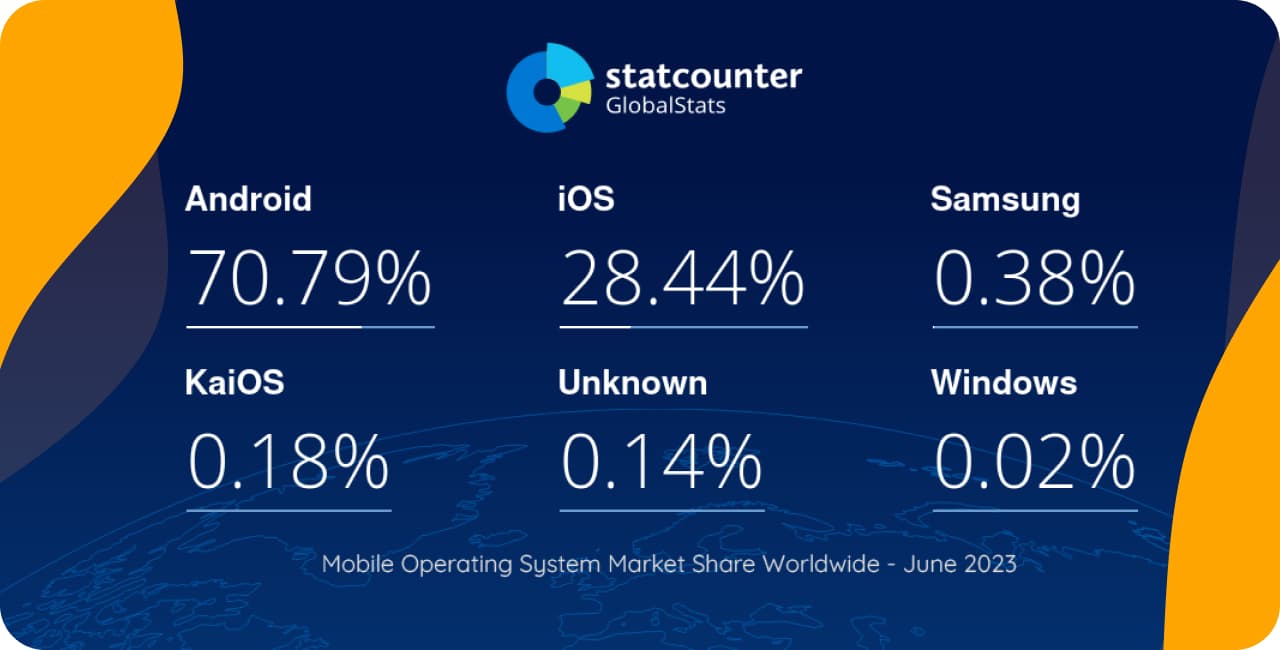 We recommend being present on both iOS and Android with our Business Mobile Application Offer. The offer also includes publishing your app on Apple Watch, Apple TV, Android TV and Android Auto. Making your mobile app available on as many devices as possible will increase the reach of your radio station!
2/ Create interactions between you and your audience
Being present on the right platforms is great, but you need to create an effective app for your radio to attract new listeners and retain your current audience. Today's listeners are no longer content with just listening to the radio, they also want to interact with it!
Essential features
This statement makes even more sense if the listening medium is mobile. On a smartphone, you can integrate a number of interesting features that allow listeners to interact with you and your radio station.
Playback information display:

Displaying the artist, title and cover of the song being played is a good way to make your application interesting and give your listeners all the information they need. As opposed to traditional radio where you may miss the radio host announcing the song title, with a an app for your radio, your audience has constant information about what's currently playing.
Share the current title: Offering your listeners the opportunity to share what they are listening to on your radio via Facebook, Twitter and email is also a great way for you to promote your radio and your mobile application.
Purchase the current title: Provide a purchase button so that your listeners can buy what they are listening to on Apple Music. This feature adds interest to your application and can also help you monetise it.
Contact buttons: Integrate contact buttons directly into the application to allow your listeners to contact you with a single click. Various contact buttons are available: phone, SMS and Email. This opens up a means of direct communication with your audience and shows them that you are available to listen to their questions and feedback.
Creating interactions is a great way to build loyalty and encourage your audience to express themselves. It creates a direct connection between your radio and your listeners, which is something that can set you apart from other stations.
3/ Create an app for your radio that reflects your image
Your mobile application should reflect the image of your radio station. Being present on mobile is an excellent way for you to perpetuate and propagate your brand image. Spreading your image is all very well, but be careful, it mustn't be damaged by an application that doesn't represent you properly….
Let's take a concrete example with the Maine Vibe Radio mobile app (created via RadioKing):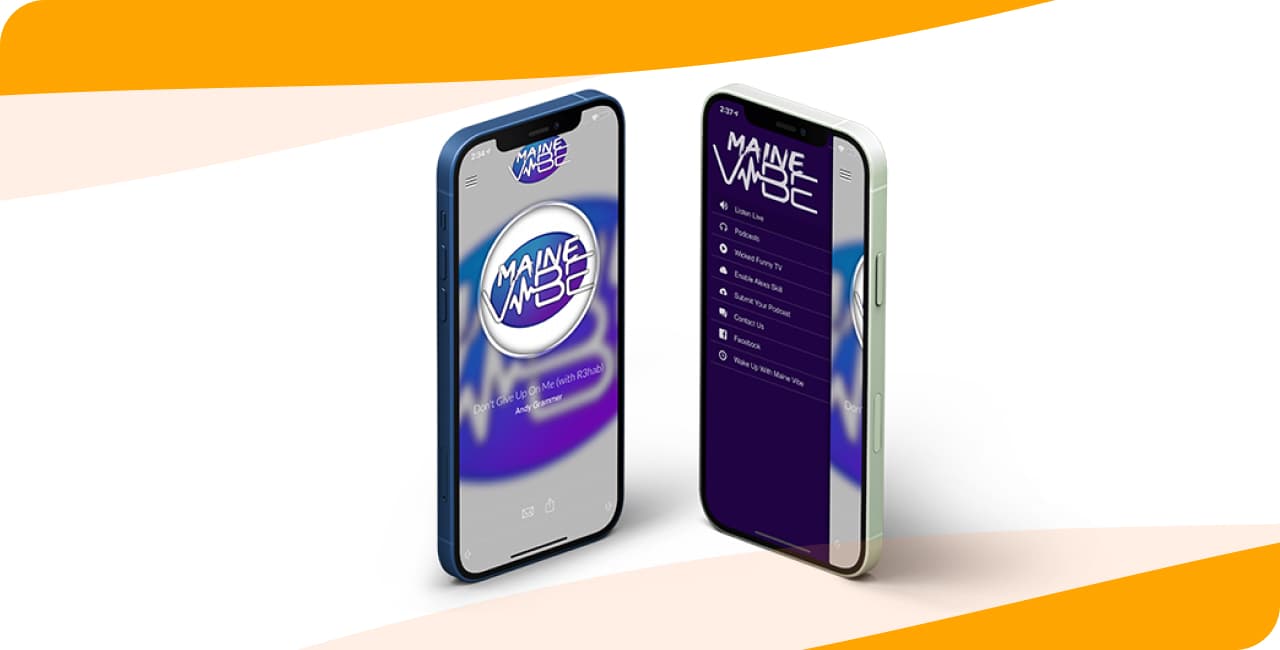 It's based on a real graphic coherence, the logo is highlighted and the colour code of the brand (purple) is well put forward without being too aggressive. The application is incredibly effective in terms of communication, and is instantly recognizable to listeners.
4/ Increase the appeal of your application
A common mistake in many radio mobile apps is the lack of content, and therefore indirectly the lack of interest. Many radio applications offer one and only one feature on their application: listening. While the listening function for a radio app is essential, it isn't necessarily the only feature that will keep users of your app interested.
So how do you make your app more appealing? It's very simple, it has to have content. Of course, your listener wants to listen to your radio, but they also want to read your latest news, visit your website, read your tweets, see your Facebook page and all that whilst listening to your station. This is also what will make your audience listen to you on your app and not on a general listening app. Other attractive features include:
Song votes: give you listeners the possibility to vote for the songs they like the best!
Alarm clock: allow your audience to wake up to the sound of your radio station.
RSS Feed: directly add the RSS feed of your podcast for example.
Audio shout-outs: allows people to leave you a vocal message of up to 30 seconds.
With RadioKing, you can add as many tabs as you want: including fully customizable HTML tabs. This opens up a wide range of possibilities when it comes to the content that you can offer you audience via a mobile app for your radio!
5/ Make a profit with an app for your radio
All radio stations recognise that it's essential to be on mobile. However, a good number of radio stations don't take the plunge, often for budgetary reasons. Remember, there are effective ways to monetize your application:
Adverts: If you want to make the cost of your application profitable, this is of course the most efficient way to do it. You have several options:

Integrate an automatic advertising network like Google AdMob. You don't have to manage anything and are paid according to the number of clicks.
Selling the placement on your splash screen is another solution. It's the first thing that people see when they open your app!
Provide a dedicated tab for your sponsors/partners.

Affiliation: A second way to monetise your application is to allow your listeners to buy the current title on iTunes for example. The profitability is lower than for advertising but you get a percentage of each sale if you have an iTunes Affiliate Account.
PayPal button: You can also integrate a PayPal button into your application to collect donations.
---
There are many reasons for you to take the leap and create an app for your radio station! Try RadioKing's online app simulator for free today to see what your future mobile application could look like!