Needless to say that over the past few years, the Internet has become an essential part of our daily lives. The way we use the Internet has evolved, and with that, the way that we consume audio content has changed too. Broadcasting an FM radio station on the Internet is a great way to embrace a traditional form of media and adapt it to the world of today. Not only is it simple to put in place, but it can also help your radio station's visibility and reach.
1. No geographical boundaries
2. Grant easy access to your listeners
3. Record and repurpose your content
4. Increase your radio audience
5. Creating an online stream is easy
Listen to an audio summary of the article here:
No geographical boundaries
The Internet is a wonderful thing, it connects people from all around the world, and it's no different when it comes to online radio. In order to better understand the potential reach of both FM and online radio stations, it's important to understand how broadcasting works for both types.
How does FM Radio work?
Traditional FM radio stations use frequency modulation (FM) to broadcast airwaves to radio towers. The signal is sent to radio receivers in listeners' homes or cars where they can listen to the radio broadcast. This type of broadcasting provides a clearer signal than that of AM broadcasting for example. However, FM radio is limited by the distance from the transmission antenna and can be blocked by barriers such as buildings or the distance between your radio receiver and the antenna. This explains why some radios are easier to pick up in certain locations and, on the contrary, why you may lose certain stations in others. This ultimately means that the distance range for FM transmissions is usually less than 100 miles, making it more limited than AM.
How does online radio work?
Unlike FM stations, there are no geographical boundaries with online radio! The process for broadcasting online radio is similar to that of FM radio, however, instead of using a radio tower to transmit your signal you will need to use a radio server. The image below shows how online radio stations broadcast: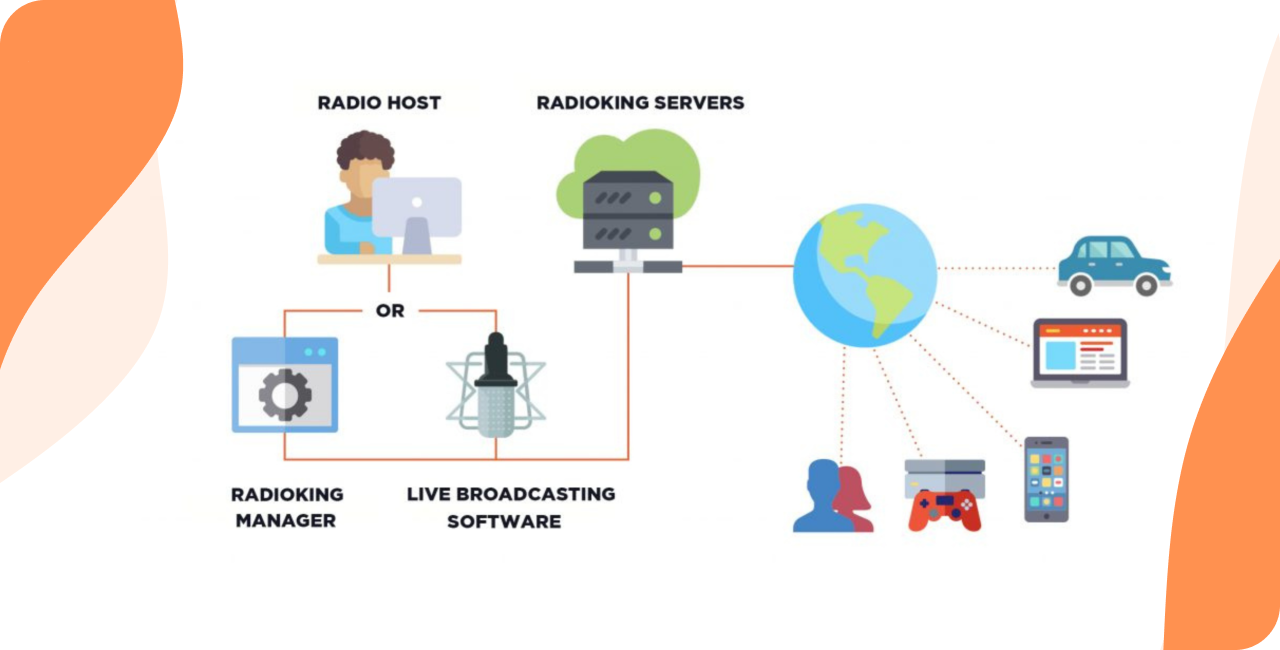 You can choose to use the RadioKing Manager to broadcast automatically via a schedular, or a live broadcasting software to broadcast live on air. The content is then sent to a dedicated radio server which, in turn, makes it available to access via the Internet. This means that as long as your listeners have access to an Internet connection, they'll be able to tune in via their preferred device wherever and whenever they want.
Careful: We invite you to check your broadcasting license to ensure that you have the necessary rights to broadcast worldwide. A licensing fee must be paid to cover the royalties required by the recording artist or record label. Bear in mind that the pricing of this license will vary on the type of radio you have, the type of music you wish to broadcast, as well as where you are broadcasting from and to. The geo-protection feature will allow you to block specific countries from accessing your radio station if necessary.
Grant easy access to your listeners
One of the main advantages of streaming your FM radio online is to allow your listeners to access it in one easy click! Having an online stream opens your audience up to many listening options, here are a few examples.
Website
Creating a radio website makes your radio easy to find on search engines such as Google. Your listeners will be able to type the name of your radio station directly in the search bar in order to arrive on your site. Having an integrated player bar will allow your audience to listen to your radio station as soon as they arrive, with one easy click. This will also allow them to continue browsing your website whilst tuning in to your radio. Furthermore, a radio website is the perfect way for you to create more content surrounding your radio station such as articles, upcoming events, as well as more information about your radio and your team.
Mobile Application
A mobile application is the ideal solution for anyone who wants to listen to your radio station via their smartphone, on the go! To reach the most listeners possible, we suggest that you create an app for both iOS and Android. Thanks to services such as RadioKing, you can easily create your own radio mobile app with no technical skills required thanks to our online app simulator. Add your radio stream to grant easy listening, as well as links to your social networks, website, blog, etc… the design is completely up to you!
Plus, with our Business Mobile App Offer your application is also available on Apple TV, Apple Watch, Android TV, and Android Auto.
Listening platform
Don't have a radio website or mobile app? Referencing your radio station on the RadioKing listening platform thanks to your online stream is also another way to grant easy access to your listeners. This allows your audience to tune in to your radio on our online listening platform via our website, or to download the RadioKing listening app.
Listeners will no longer have to fumble in order to tune into the right frequency, they can head straight over to their preferred online platform (listed above). Making your radio station available on the Internet also allows your listeners to access it without needing a traditional radio receiver on hand. For example, creating a radio website or radio mobile app will allow people to listen to your radio directly via a smartphone outside of their homes. Not only is this great news for your audience but being referenced online can also help you boost your visibility.
Record and repurpose your content
By streaming your FM radio station online, you open yourself to the possibility of recording your broadcasts. As FM radio is live and in the moment, if your listeners miss a live show or interview they won't be able to access that content at a later time. By recording your broadcasts, you can easily provide catch-up content on your website or app for those who weren't able to tune in live. Plus, transforming your content into different formats allows you to extend the life of your content and reach more people.
Turn it into a podcast
Radio and podcasts are complementary formats, so why not make the most of it? By recording your radio shows you could preserve them by transforming them into a podcast. This doesn't mean taking the raw recording and uploading it directly as a podcast episode, but rather cutting it down, choosing the most pertinent parts, and piecing together a new content format.
Create social media content
You could also use snippets of your recordings to create content for your social media pages. Take an interesting quote from a guest and turn it into a post with a behind-the-scenes photo for example. Or pick a 60-second extract that could be either funny, educational, or inspiring and share it with your followers. The possibilities are endless, so let your imagination run wild!
Transcribe your content
Converting your audio content into written content has several advantages. Firstly, it's a great way to create content for your website or blog! By publishing your radio shows as articles with keywords linked to the topic, you also help your SEO which can improve your rankings on search engines such as Google and Bing. Plus, there are many online platforms that provide automatic transcription services to help you save time.
How to record your radio shows
You may think that recording an online stream requires specific technical skills, but that's not true at all! The first step to recording your content is to broadcast your FM radio on the Internet via an encoder. You can use a physical encoder or a virtual one such as BUTT (compatible with Linux, MacOS, and Windows). If you choose to use BUTT to stream your FM radio online, you'll have the possibility of recording your broadcast. All you'll need to do is click on the small "recording" button and your stream will automatically be saved to your computer!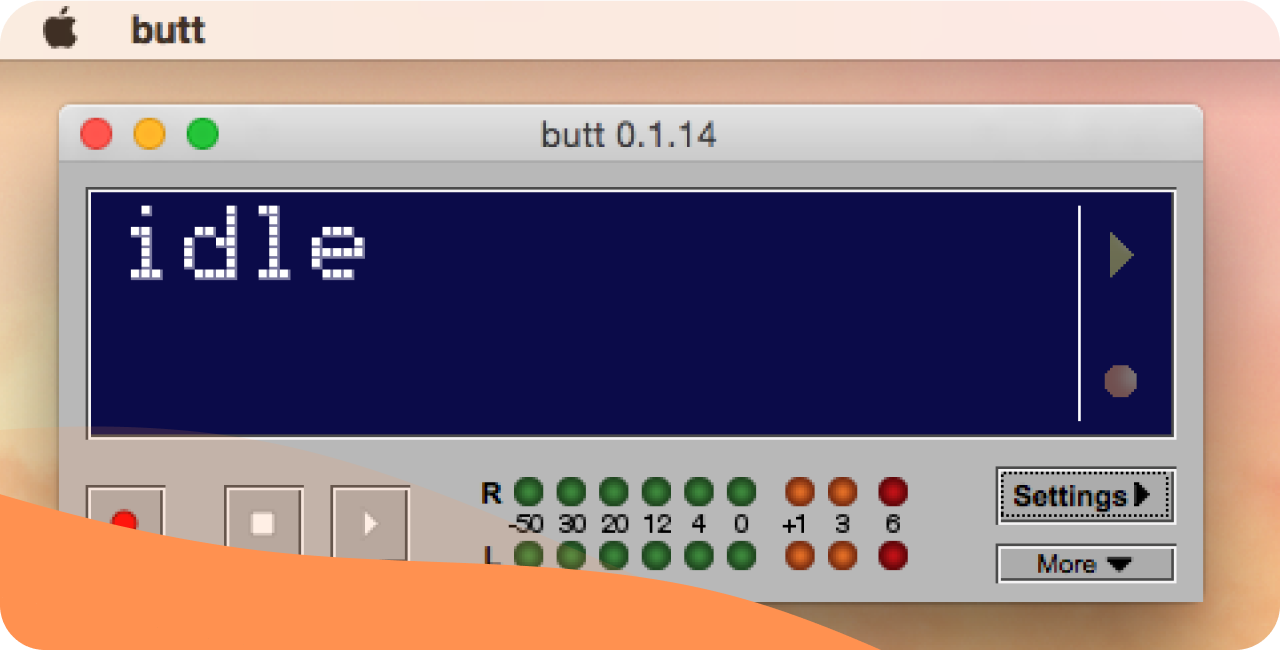 Increase your radio audience
Modern-day technology is evolving at a rapid pace, so it's important to keep up with the latest trends. According to Edison Research, half of the American population over the age of 12 tunes into online radio every week. That's millions of potential listeners for your radio station! By streaming your FM radio on the Internet, you're opening yourself up to a whole world full of potential new listeners.
Online radio directories
Adding your radio to online radio directories is a fantastic way to attract new listeners. These platforms regroup thousands of radio stations that are often categorized by genre, country, etc… Plus, most of them allow you to add your radio station for free! Generally speaking, you will be able to add your logo, a short description of your radio, as well as links to your website and social networks.
Smart Speakers
Having an online radio stream will allow you to create a vocal app for smart speakers. Smart speakers are directly linked to a virtual assistant, such as Alexa, that is capable of launching a radio station with a simple voice command. According to Edison Research radio stats report, approximately 100 million Americans own a smart speaker in 2022. With the rising popularity of these devices, it can be a great way to reach a new audience!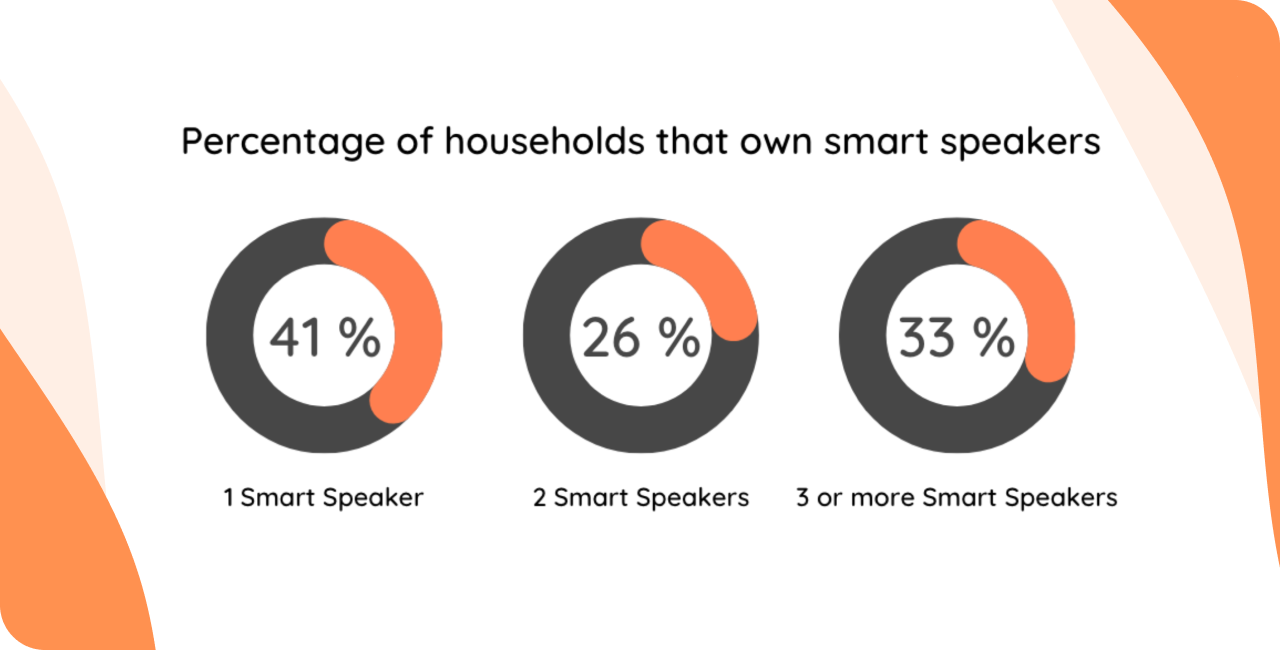 Creating an online stream is easy!
Launching an online stream for your FM radio may seem daunting, especially if you have no experience in the world of Internet radio. However, rest assured that broadcasting your FM station online is incredibly easy!
To start, you'll need to create your online stream to which you will send your content. With RadioKing you can start your online radio stream starting from $39/ month or $408/year. The great news is that you can even launch a free 14-day demo to test it all before making a real commitment! As we mentioned above, to get started you'll need to use a physical or virtual encoder.
Virtual encoder
The software BUTT is free to download on all operating systems. It will allow you to encode your sound and transmit it via the Internet.
Physical encoder
A physical encoder will send your data to our servers. You'll simply need to connect it to your mixing desk! Bear in mind that there are two types of encoders: Exstreamers and Instreamers. To send your FM broadcast to our radio servers, you'll need to use an Instreamer. If you're not sure which brand to use, we invite you to take a look at Barix.
---
Launch your free 14-day trial today and follow the steps in this tutorial to broadcast your FM radio on the Internet!