The growth of digital media is exponential, it is time to stand out by discovering your audience and putting humans in the heart of your radio. Indeed, a good way to start creating a close relationship and getting to know your listeners better is to meet them in the field by creating an event dedicated to them.
Why create an event around your radio?

We can guess that you've already felt remote from your audience, a little alone in your corner. [In this context, a gap can quickly develop between what you imagine and what your listeners expect from your radio.]
Organising an event around your radio has many advantages. First of all, organising an event will allow you to create original content by engaging your partners and audience. It also gives you the opportunity to meet and greet your first fans and create a connection with them. By talking to your audience, you will get to know them better and therefore provide them with content that will better meet their needs in the future. It is also a great way to convey a dynamic image.
In a way, your event is a communication tool that will trigger word of mouth around your radio.
Finally, it will also give you the opportunity to boost your sales by directly offering products or services. These may be derived products with the image of your radio or services related to the theme of your radio.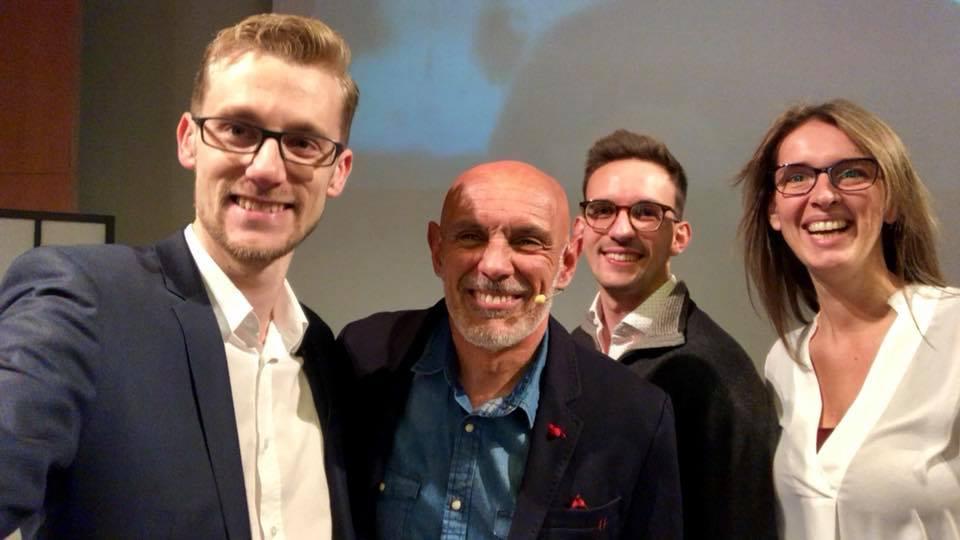 What is an event?
As a reminder, an event is a point that marks a before and after in the life of its participants. In order to make a difference in the life of your audience, the goal of this gathering is to give your listeners an emotional experience by having a great time together. At this point, you might tell yourself that you do not have the charisma of a rockstar, rest assured, me either. However, you have easy access to 3 resources that can help you create an emotional experience and make this day or evening a memorable event. There's no need to take big risks, simply combine these 3 super powers: music, games and chocolate.
For example, here is how my team and I used these 3 levers to energise the first event we organised for our listeners:
We opted for the installation of a video projector to show music clips of the radio's leading artists as well as humorous clips recorded by the members of the team before the event, during breaks and after the event to share the atmosphere of the radio with everyone present. What are your listeners' favorite songs and how could you bring them to your event?
Then we decided to organise a competition to collect testimonials from our listeners. The game consisted in filming yourself to share your opinion on the radio programs, a winner was drawn randomly at the end of the event to win a gift. Beyond the gift, a playful approach makes it possible to involve the participants of your event and to create a shared experience that they will remember. What game could you organise and what gift could you give to your listeners?
Finally, one of the recurring negative comments I've seen and heard from other events I've attended over the last 10 years is not about content, but about … food! Think about it for a minute: do the listeners who come to your event deserve to save $10 just by giving them a single packet of chips bought last-minute at the convenience store? Not only does this tarnish your brand, but you could also save money by preparing a cocktail yourself. Why not make them discover your team's favorite chocolate cake? It's a gesture that requires additional effort, but it will make a huge difference, as it shows your involvement and it also creates a link with the participants! What could you give to your listeners?
Now that you have learned the value of creating an EXPERIENCE for your participants, let's see how to organise an event step-by-step.
The essential steps to creating your first unforgettable event

– Clearly define your expectations by making a brief. What is the purpose of your event? Develop your fan community? Start a new program or a new format? Launch new products or services? Develop your reputation? Share the values and mission of your radio? Create a meeting and networking space? Create proximity by revealing behind the scenes?
– Meet the needs of participants by organising a survey. Concert, Conference, Live Broadcast? What would your audience like to share with your team? There are not 10 000 ways to find out! Why not run a survey to understand the interest of your audience with a few questions and make the event fit their expectations? Free tools such as Facebook or Google Forms allow you to create a survey in minutes that will allow your audience to share their tastes, preferences and expectations.
– Share the event with other listeners by capturing sound and images. Think about how you can capitalise on your event by remembering everyone who cannot attend for geographical or other reasons. You'll always have the possibility to communicate on this event in the weeks that follow, by retransmitting extracts on your airwaves or monetising by selling the captures you made.


– On a human level. Before making investments, it is essential to evaluate the interest of your audience and to check the availability of your partners and collaborators. As soon as you know approximately how many attendees are expected at your event, you can create your team and appoint support managers such as: reception, catering, photographers, etc.  If your team does not have these skills, you can delegate using an external company. In order to promote your event, you can also ask your partners or contact influencers to communicate with their audience, they could very well ensure the animation or interventions during your event and generate more interest.
– On the equipment level. Depending on the activities you plan to organise, it is time to list the equipment you will need as well as finding the venue that will host your event. Make an inventory of all the necessary equipment, don't forget to ask your animators if they will need anything for their intervention with your listeners. Don't hesitate to gather and share your resources to limit the cost of the event. Here are some ideas to take into consideration: Computer + Micro Overhead Projector +  Cameras, Authorisation for use of image, Roll-up with the image of your radio, Pen, Paper etc … As for accommodation, I invite you to explore possible venues with the capacity of reception that you need in advance. For example, you could consider running your event in a conference room of a hotel, a village hall, privatise a bar, or even a concert hall. These places can already be equipped so that you can have equipment for your event!
– On a financial level. You will have to cover a certain number of expenses for the organisation of your event such as the renting of the venue or the equipment as well as the snacks and refreshments. Therefore, it is a good idea to cash in participants' entries as early as possible, even before incurring expenses. In order to determine the price per person, I invite you to add all your expenses (communication, transport, accommodation, rental, food, drinks, etc.) and divide by the number of people present. You can come back to your audience to propose a date, a place and a rate. This information will allow your auditors to validate their choice and pay their entry ticket. Depending on the amount collected, you can already validate your choice of premises and the activities planned in the program.
You now know how to organise your first event. You understand that this mission may prove to be daring, but incredibly rewarding. It will lay the foundation for the relationship you will have in the future with the fans of your radio. Just be aware that attendees will appreciate your welcome and the effort you have made to create this event for them and they will reward you a hundredfold!
I'll conclude by asking you this: When are you going to create an event to meet and discover your most loyal listeners?
Go on then, chop chop! Head over to your Radio Manager to identify the geographic area in which you currently have the most listeners. It's precisely where you will be able to organise your next meeting with your listeners!
Thanks to Maxime Gasc from radiovictoire.fr for this article. If you also want to participate to the blog, send us your article ?
Start your Radio Station and create your own event!