This week, Marky Marcano himself gives us a better insight into The MM Station, the growing success of his show and the importance of being active on social media!

.Can you describe your project and the idea behind "The MM Station" in a couple of words?
.
The MMStation is a dream project come true! RadioKing has provided us with this awesome opportunity to create a radio show for those that are passionate about all types of music. The Marky Marcano Show line up is the main priority, although a large part is dedicated to top latin pop music from the 90's as well as the latest hits.
.

.
. Prior to this, did you have any experience in the radio world?
.
I spent 4 years visiting local FM Stations in Orlando,Florida, learning things on the go. I later applied that knowledge to create my own podcast show.
.
. How did you hear about RadioKing?
.
I'm very active on the social media and am always promoting myself and my weekly podcast to our followers. I then came across RadioKing after they invited me to check out their webpage…
RadioKing filled in that missing link and I was able to use a professional and reliable platform to create my own online radio station. The big advantage being that I was allowed to try it out for free for 7 days. It definitely met my expectations and more!
.
. In your opinion, what are the essential features that RadioKing offers to a radio station?
.
Wao! I would say that the Dashboard and Settings are very clear and easy to understand. I personally like how quick and straightforward it is to set everything up whilst making your own choices.
.
. What are the different ways to listen to "The MM Station"?
.
The MMStation is available on the RadioKing platform as well as online at www.TheMarkyMarcano.com and other radio directories such as iTunes Radio and Streema. You can also follow us on Twitter @TheMMarcanoShow and check out the tracks that are being played!
More recently on Facebook, on which we've embedded our Radio Player!
.
Top Tip: Want to be like Marky and integrate your Radio Player into Facebook? Simply head over to the Widgets tab on the Radio Manager and click on Facebook Player!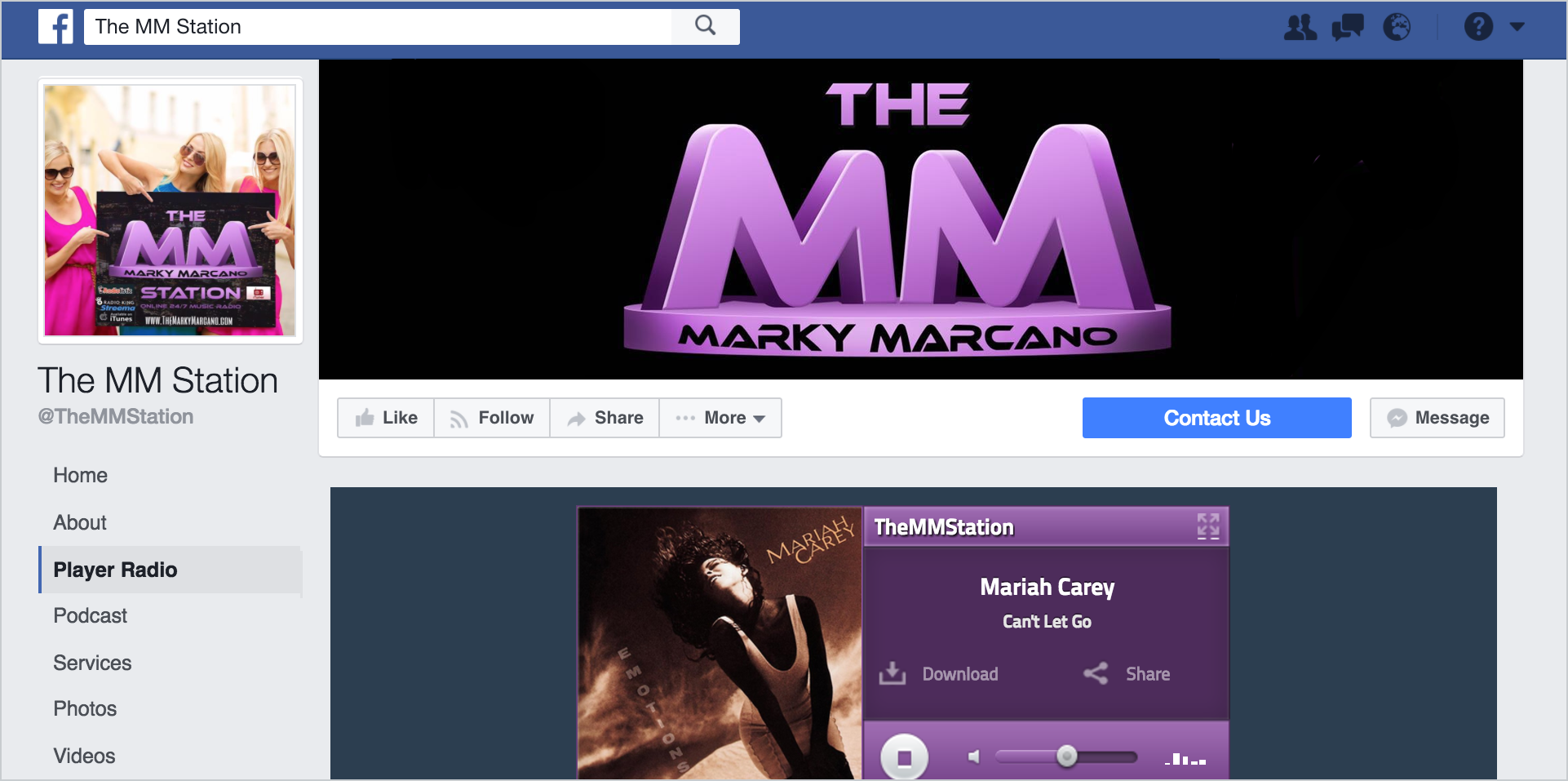 .
. Can you tell us about your audience profile?
.
Music is a worldwide language and it's great watching the world listen to our station from early in the morning to late at night. People seem to love what we play, whether they're young or old, The MM Station is for everyone!
.
. What do you value most about this project?
.
What I appreciate most about our project is being able to share our passion and music taste with others. It's great knowing that we've got a concept that takes a step away from regular radio stations. 
.
. How do you select the artists broadcast on "The MM Station"?
.
All artists are welcome on The MM Station, it doesn't matter what genre or language.
We try and focus on supporting local independent music artists who are extremely talented but simply haven't had the opportunity to shine. A lot of starting out artists really appreciate us giving them that starting platform and not shutting a door in their face.
I try and select what I think our listeners will enjoy and sometimes something new and different that they've never heard before.
.
. Do you have a quick anecdote in connection with your radio station or the setting up of this project?
.
I do! When I first started with the radio station, there were a couple of listeners who told me they were hearing things being repeated over and over again. I decided to listen to the station for the entire day to try and work out what the problem was. I was then able to fix the issue. Now everyone's happy!
.
. What's next for "The MM Station"?
.
Keep the momentum going and be known around the world like many other online radio stations! We also want to invite as many people as possible to follow and listen to us. The idea is to continue growing!
.
. To finish up, do you have any words for anyone wishing to embark on this adventure?
.
Go on and do it! If you really love radio, go on and share your passion.  I did it, so you can do it too! Thanks once again to my RadioKing crew for this wonderful opportunity, always here for you!
.

.