With so many choices out there, deciding on the best radio broadcasting software to use can sometimes be a bit daunting. That's why we've put together this article to help you figure out which solution is the right one for you!
However, our radio streams are also compatible with a range of other radio broadcasting software. To simplify things, we can separate radio broadcasting software into 3 categories: DJing, automation and broadcasting. Here are a couple of them worth knowing:
Mixxx
If you're looking to perform live mixes, Mixxx is a DJ mixing software to check out as it essentially mimics a turntable deck. It comes with a number of fun features such as the beat looping buttons, being able to scrub back and fourth and much more. If you're working with number of tracks, you'll certainly appreciate the integrated database library to organise your music. Moreover, this free open-source software is available on Windows, Mac and Linux.
Virtual DJ 8
Available for Windows and Mac, Virtual DJ is another well known and appreciated audio mixing software among professional broadcasters. There's no need for expensive equipment and it's perhaps even easier and more straightforward to use in comparison to Mixxx. It's particularly handy when it comes to beat matching or setting up cue points. However, if you're looking for compatibility with a whole range of controllers, it does come at a cost – $299 to be precise.
Note that with both of the above, if you're looking to create shows that consist of multiple presenters intervening or live call-ins, they might not be the most suitable .
Radio DJ
Radio DJ is a free radio automation software. However, it's only available for Windows. Moreover, it can be rather complicated to install. You'll need to download MySQL which is a database used by Radio DJ for the music on your computer. On top of that, to actually broadcast live, you'll then need to install an AltaCast encoder! Nevertheless, once you've got it up and running, you'll find a number of must have features to easily manage your shows, including automated playlist generation and being able to edit track metadata.
Sam Broadcaster Pro
Once again, another Windows only software. However, Sam Broadcaster Pro certainly cannot be overlooked when it comes to advanced radio automation software. In terms of managing a large music library, creating playlists and scheduling shows, you're in total control. You'll also have access to numerous mixing tools to put together your shows. Voice overs are a breeze and you're even able to modify the sound of your voice using the Voice FX feature. The main downside being, you'll need to pay $299 if you want to take things further than the free trial.
Radio Boss
To add to our Windows based automation software, let's not miss out Radio Boss. With its simple interface and various settings, generating and scheduling your playlists from templates is pretty straightforward. Other features in include automatic volume levelling, cross fade support and time announcements in various languages. You get around 50 uses with the free trial and it's definitely interesting if you're looking for something slightly more affordable yet professional for your audio programming.
BUTT
If you're a newbie to live broadcasting, BUTT (Broadcast Using This Tool) is a doddle to use. It's also free and available for Windows, Mac and Linux! The fact that it already comes with its own encoder means that you don't have to worry about downloading extra plugins or software when configuring your stream. If you're purely looking to broadcast live using an external mic or mixer, BUTT is incredibly efficient.  On top of that, the software also allows you to record your live sessions which is handy if you're looking to turn your show into a podcast.
Nicecast
Nicecast is nifty live broadcasting solution that's particularly suited for radio presenters as live intervention is incredibly simple. If you're looking to make brief announcements before the start of a track or take live call-ins, this software is also worth looking into. Other standout features include easily being able to capture audio from programs such as iTunes or Spotify. You can purchase the software for a very modest $59, although you'll need to be a Mac owner.
Winamp
A free and old-school media player, you can also broadcast using Winamp. However, you'll need to download the Edcast DSP plugin in order to broadcast live on your radio station. If your main interest is addressing your listeners live on air, it's pretty easy to connect devices such as your microphone without any issues. In their own words, "it really whips the llama's ass."
Our team has developed a software that takes into account the needs of radio presenters as well DJs. If you haven't already had the chance, it's time to discover StudioKing.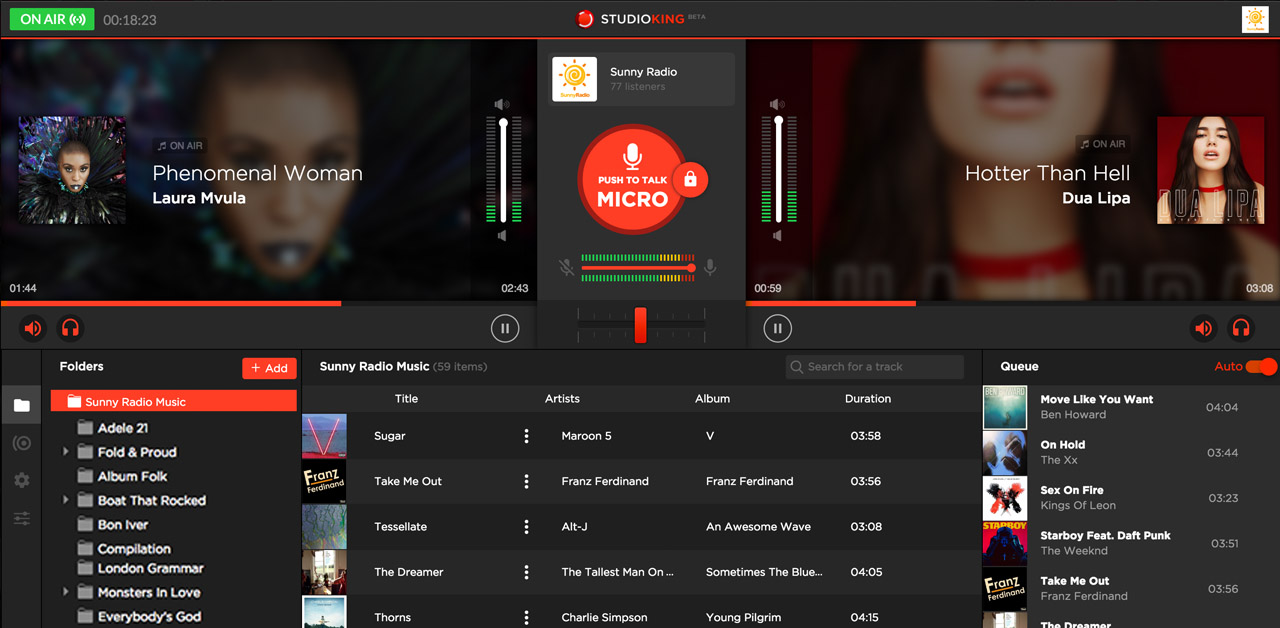 StudioKing – a software at the crossroads of DJing & broadcasting.
Available in beta form for Windows & Mac, StudioKing is the ideal tool for radio presenters who are looking for a simple & comprehensive software to broadcast live. StudioKing offers a range of useful functions such as Auto DJ and CrossFader for professional transitions, live metadata editing and a number of samplers to surprise your listeners. Like on the Radio Manager, StudioKing also allows you to select your desired broadcast quality and offers real-time display of connected listeners. 
Discover how to get started with StudioKing
Regardless of your chosen broadcasting software, you're going to want to ensure that you've got a stable radio stream to air your content. With radio offers adapted to your needs that cover stream hosting, automation and live broadcasting, RadioKing is the ideal radio platform to get your project off the ground.
Rest assured that when it comes to configuring your RadioKing stream with any of the above software, the required information can be found under the Live tab of the Radio Manager. Don't hesitate to give our team a message via the chat on our website if you need any help!