If you're looking to dive into the world of internet radio but aren't quite sure where to start when it comes to finding a radio hosting solution, we're here to help! For over 10 years, RadioKing has been helping people all over the world to get their voices heard through Internet radio. In this article, we'll guide you through the essential steps and show you why RadioKing is the perfect radio hosting platform!
What does a radio hosting platform provide?
Essential features
What equipment do you need
Sharing your station
Monetizing your station
What does a radio hosting platform provide?
First of all, what exactly is a radio hosting solution? Generally speaking, it's an online platform that allows you to create and manage your very own station on the Internet. Here at RadioKing, we provide you with an online stream (which broadcasts 24/7) that you can manage via an interface we like to call the Radio Manager. When it comes to choosing your hosting provider, bear in mind that not all of them offer the same features. Here are some of the main features provided by RadioKing:
Live and automatic broadcasting
When it comes to Internet radio, there are two different ways you can broadcast with RadioKing:
Automatic broadcasting: anything that is scheduled to play on your radio stream via our Radio Manager. This stream broadcasts 24/7, even if your computer is switched off. If nothing is scheduled to play, the Radio Manager broadcasts random tracks from your media library to ensure that there is always something playing for your listeners.
Live broadcasting: grab your microphone and go live on air via the broadcasting software of your choice! RadioKing is compatible with numerous software (free and paid) that allow you to speak, or mix music live on your station. You can broadcast with multiple people, and even invite your listeners to call in and participate in your live shows!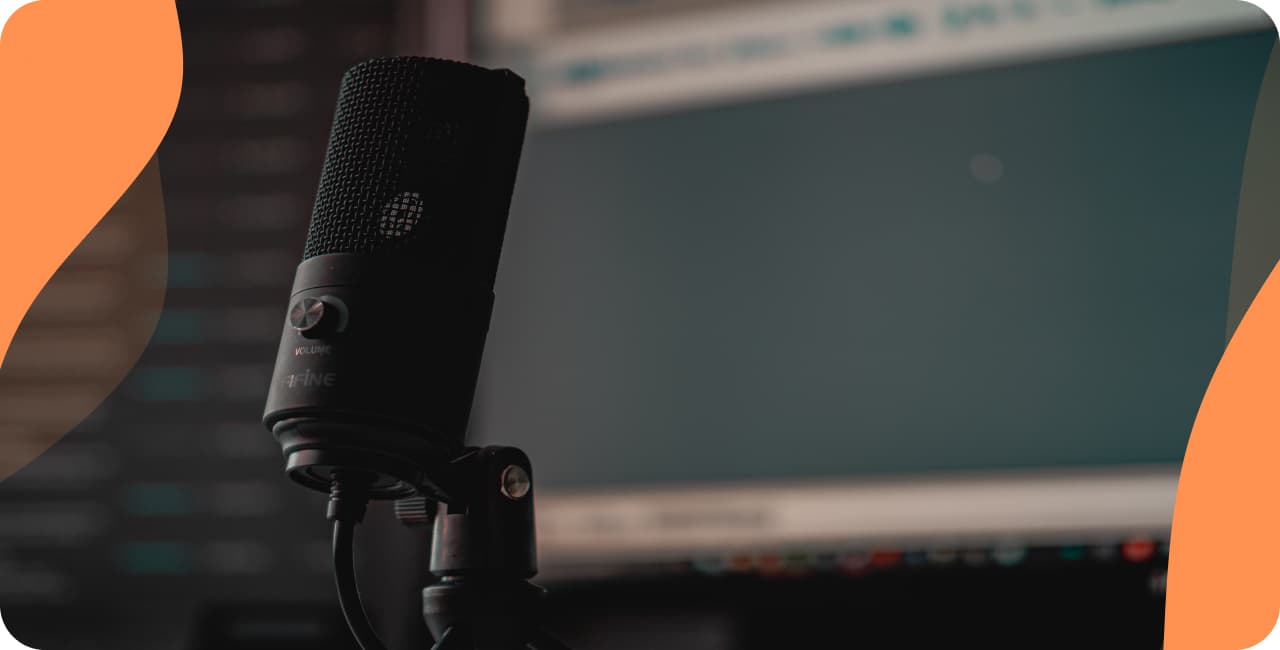 Essential features for a radio hosting platform
An intelligent media library
RadioKing also provides a number of features that are essential for any radio presenter! You'll have access to an intelligent media library that makes organizing your content a piece of cake. Create custom tags to categorize your tracks according to genre, BPM, release year, mood etc… You can use these tags to create dynamic playlists that automatically update themselves according to specific criteria that you have chosen, or simply build manual playlists if you prefer.
The programs module allows you to build a show template composed of multiple playlists. Select the number of tracks to play from each playlist, whether they will play in random or sequential order, and even add intros/outros.
Advanced statistics
The statistics module is the key to understanding your audience's listening habits and adjusting your content accordingly. View the number of listeners in real time, as well as their location, listening duration, listening device, and more!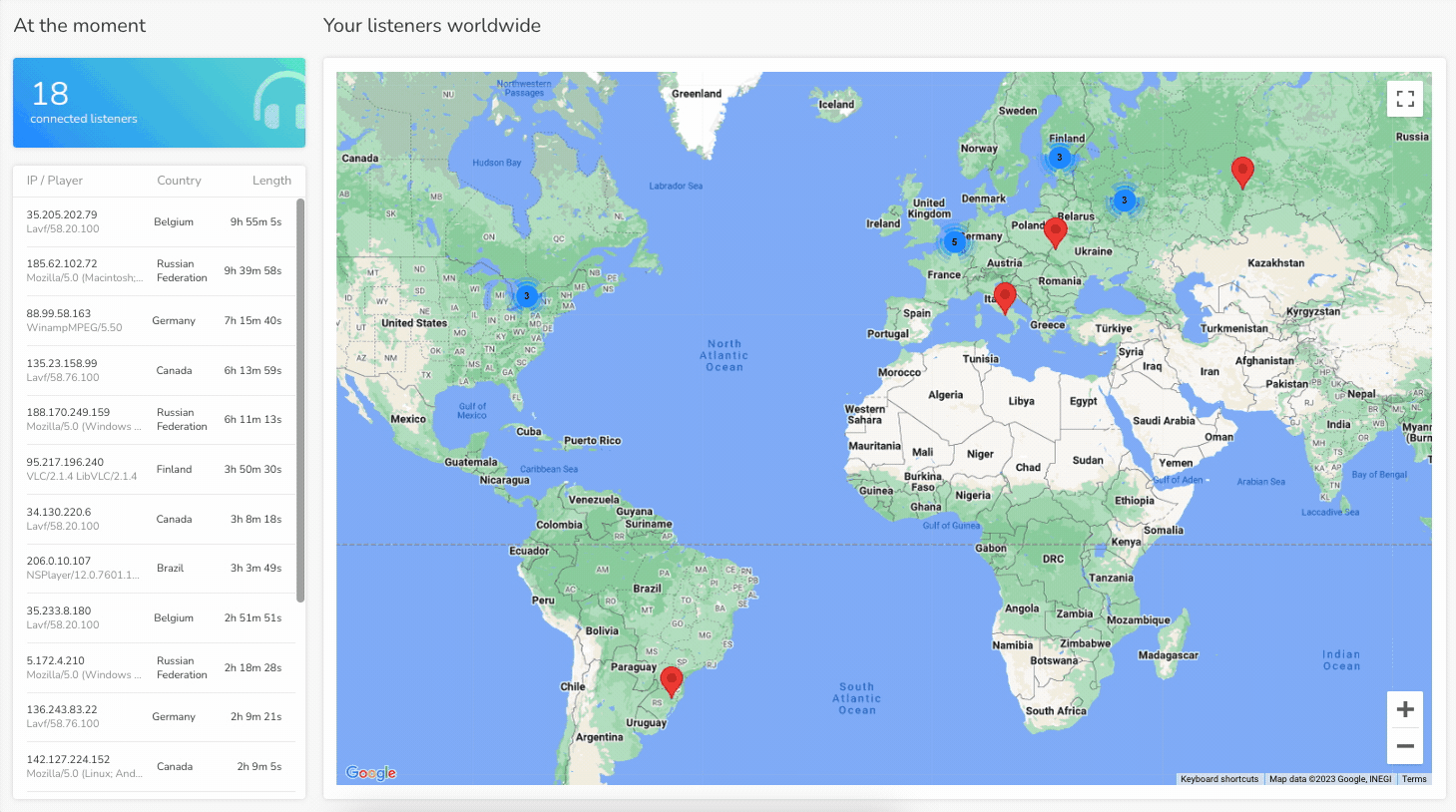 Customizable widgets
RadioKing also provides you with a number of customizable widgets that can help you share your radio, and your content. Easy integrate them onto your website with a simple copy/paste:
Smartlink: regroup your website, social media, and listening links all in one place.
Radio player: customize your player and embed it onto your website for easy listening.
Track history: show what was played on your radio on specific day, at a specific time.
Current track: inform people of the song that is currently broadcasting.
Next track: share what's coming up next.
Top tracks: your listeners' favorite tracked, based on their votes.
What equipment do you need
The equipment you need depends on your budget, as well as the type of content you are planning on broadcasting on your station. Below we have listed the suggested equipment for basic, intermediate and advanced set ups for radio hosting.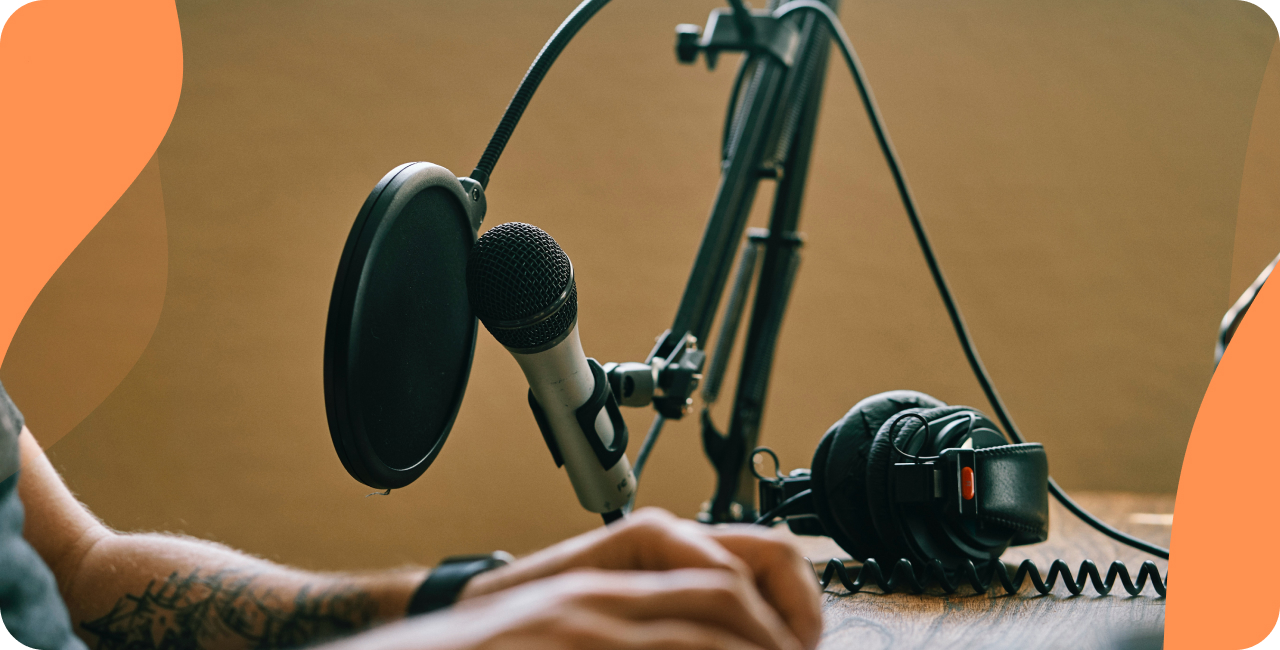 Basic radio hosting
This set up is for someone who only wants to broadcast in automatic mode on their station. For this, the only necessary equipment is:
A computer: this is the device you'll use to connect to your Radio Manager in order to prepare and schedule your content.
An Internet connection: this allows you to send your data to our servers, we then take care of making your content available worldwide!
Intermediate radio hosting
If you want to broadcast in both automatic and live mode (one-person only) and are on a budget, you'll need:
A computer
An Internet connection
Headphones: in order to hear yourself and your music when broadcasting live.
A USB microphone: plugs directly into your computer and provides you with good quality audio for speaking live on air.
Advanced radio hosting
For someone looking to broadcast in both automatic and live mode, potentially with multiple people, and with a larger budget:
A computer
An Internet connection
Headphones
An XLR microphone: you will need to purchase a mixing desk or an audio interface, as well as an XLR cable to connect it to your computer. An XLR microphone gives you room to grow as you can choose each component separately and upgrade them at any time.
A mixing desk: allows you to connect multiple microphones, and various devices such as computers, smartphones, and tablets for example. You can group all inputs to one output and independently adjust the level of each input separately.
Note: if you're planning on broadcasting commercial music on your station, you'll need a music license.
Broadcasting on your radio station
Automatic
As mentioned above, automatic broadcasting refers to any content that you have scheduled to play via your Radio Manager. RadioKing provides you with a calendar that allows you to easily configure your content to broadcast on the day and time that you want. You can even schedule up to 6 months in advance! Once your content has been scheduled, you can turn your computer off and we'll take care of the rest. Your schedule is sent to our servers who then distribute it through your stream and make it available to listen to via the Internet.
Going Live
In order to go live on air, you'll need to use a broadcasting software. RadioKing is compatible with a wide range of software solutions (free and paid) for MacOS, Windows and Linux, that provide various different features and complexity levels. Easily configure your radio stream to the software of your choice using the connection information provided in your Radio Manager. Your audience can tune into your show via the same link that is used to listen to your automatic broadcast. Once your live show comes to an end, the Radio Manager will automatically revert back to your scheduled content for you.
When it comes to choosing a broadcasting software, here are our top 3 suggestions:
Find out more about going live on air here.
Sharing your station
Once you've got your station up and running, you can finally start sharing it with the world! But how exactly do you do that? There are multiple ways for you to spread the word.
Listening link
This link provides direct listening access to your radio station! You can include this link in the description boxes on your social network profiles, or post it regularly on your Facebook Page for example. This link can also be used to reference your station on various online directories. These platforms regroup thousands of Internet radios worldwide and allow listeners to search via genre. Most of them allow you to reference your station for free, be sure to check out our list of radio directories.
Website
Creating a website for your radio is another great way to easily share your station with the world. Regroup everything related to your radio station, and even provide additional content such as podcasts, events, photos and contests! Be sure to include keywords in order to improve your SEO and appear in top search engine results.
Mobile Application
RadioKing also provides radio apps for iOS and Android, allowing you to put your radio in the pockets of your listeners! With an app, your audience can access your station on the go, in just a matter of seconds. It's by far one of the easiest ways to tune in. Try our online app simulator for free: choose your colours, add your content and your app come to life in front of your eyes.
Vocal app
With the evolution of technology and the arrival of vocal assistants, it's now possible to create vocal apps for your radio. These apps allow your listeners to launch your station via a simple voice command, and also ask for the name of the current track. RadioKing offers the creation of Alexa Skills, which work with Amazon's virtual assistant. No need to fumble around for the right frequency, or even click open a link, simply ask Alexa to launch your radio and enjoy!
Monetize your station
If you're wondering whether it's possible to earn a bit of cash with your radio, the answer is yes! There are various methods that can be used to monetize your station. They may not exactly make you rich quick, but in the longterm they can certainly help bring in extra funds for your project.
Sponsorships/Partnerships: find sponsors & partners that will provide a win-win situation for both parties.
Sell in-stream ad space: allow business to promote their products/services on your radio station.
Sell goodies: allow your most loyal listeners to purchase goodies with your radio logo to help support your station!
Make a paid app: when creating a mobile app, you have the possibility of charging people a small fee to download it (careful not to make it too pricey!)
Become an affiliate: becoming an affiliate on various platforms such as RadioKing, Amazon, iTunes etc… can be a great way for you to promote products that your listeners will love, whilst earning a commission.
RadioKing is the perfect radio hosting solution for anyone looking to start their own station. With an intuitive platform, professional features, essential widgets, and additional turnkey services to help boost the visibility of your station. Plus, we have a wide range of resources, such as tutorials, and a YouTube channel, as well as a dedicated support team to answer any questions you may have.
---
Launch your free 14-day trial today and see for yourself!