Broadcasting live may seem more complicated than it really is. Let's take a look at one of the simplest setups you can use to broadcast live with the RodeCaster Pro!
The RodeCaster Pro for live radio
The RodeCaster Pro is a podcast production studio designed to record shows easily and independently. However, it can also be a great ally for broadcasting live radio.
Its ergonomics and features allow great control over your different audio sources. It also has little extras that make the difference, such as the possibility of adding a Bluetooth input or the integrated pre-configurable pads.
Here's a video recap of all the features available on the RodeCaster Pro: ▶️ We tried the RODECaster Pro for live radio and we love it
Necessary equipment and software needed to broadcast live
The typical installation for live radio is very simple, and this is no different. The only additional piece of equipment you'll need is the RodeCaster Pro! In total, you will need:
Headphones with a 3.5mm Jack in order to listen to your content
The RodeCaster Pro
A computer (PC or Mac)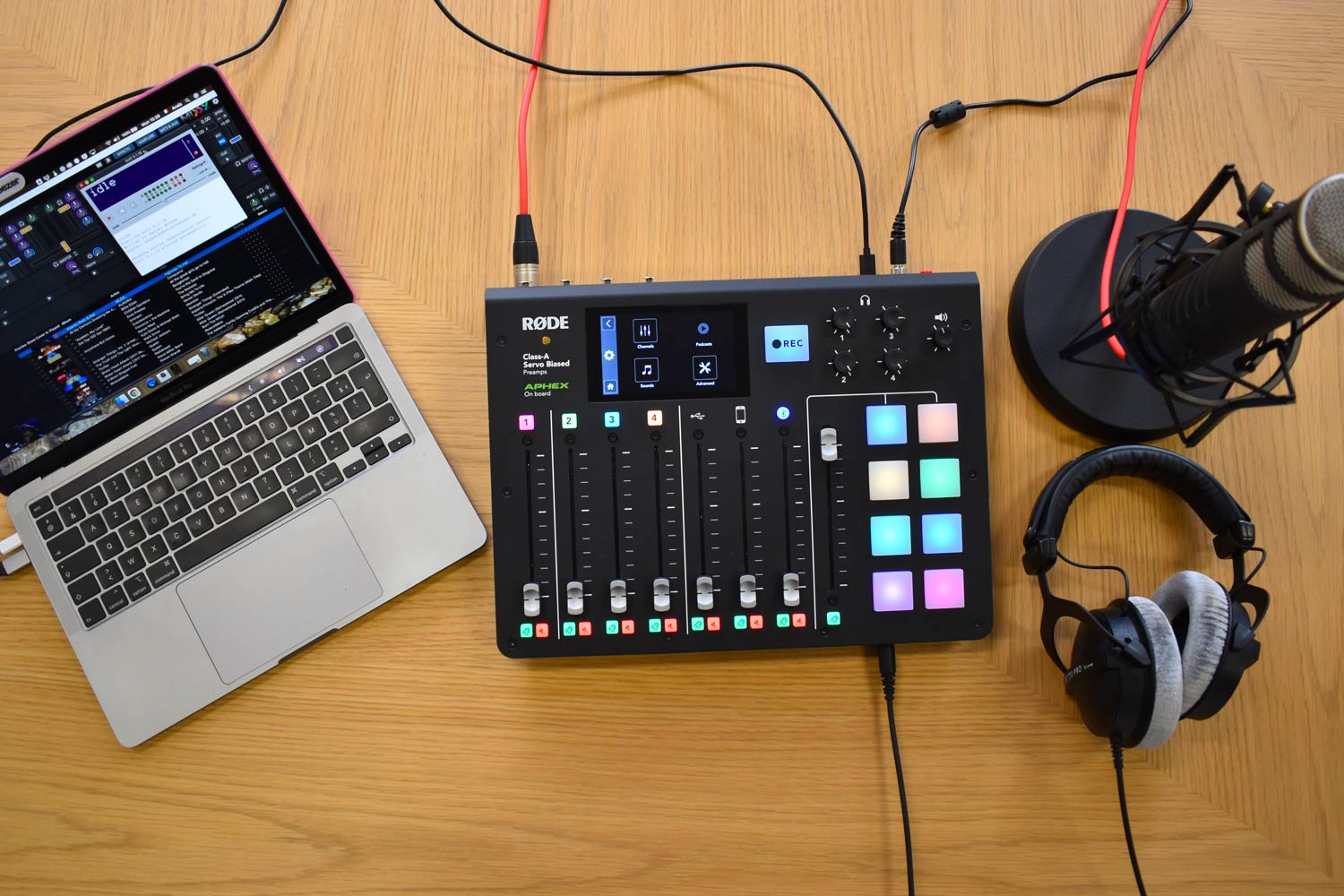 In terms of software, you will need a DJing software, we'll be using MIXXX here (you can also use Virtual DJ or Serato DJ for example). Even though this software is able to broadcast live, we'll only be using it to manage our music in this set-up.
Finally, you'll need an encoder to send your audio to your online stream. For this, we'll be using BUTT.
Top tip: discover our selection of the best software for your online radio station in last week's article "Essential software for radio stations"
The installation is also very simple since you only need to connect:
an XLR microphone to the input of the RodeCaster Pro
your computer to the USB port
your headphones to the main output on the front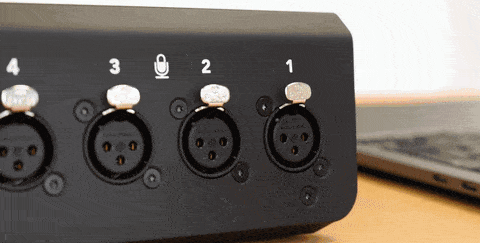 You can connect additional audio sources as needed, such as guest microphones, a 3.5mm jack device, or a Bluetooth device.
Configuring the RodeCaster Pro in MIXX and BUTT
To broadcast live with this set-up, we will need to configure the RodeCaster Pro in MIXXX and BUTT.
MIXXX
We're going to use the mixing features of MIXXX to monitor our music before sending it to the RodeCaster Pro. So we need to set the RodeCaster Pro as the audio output of MIXXX.
If you have connected your computer to the USB port of the RodeCaster Pro, it should appear in the various output devices of MIXXX under "sound hardware":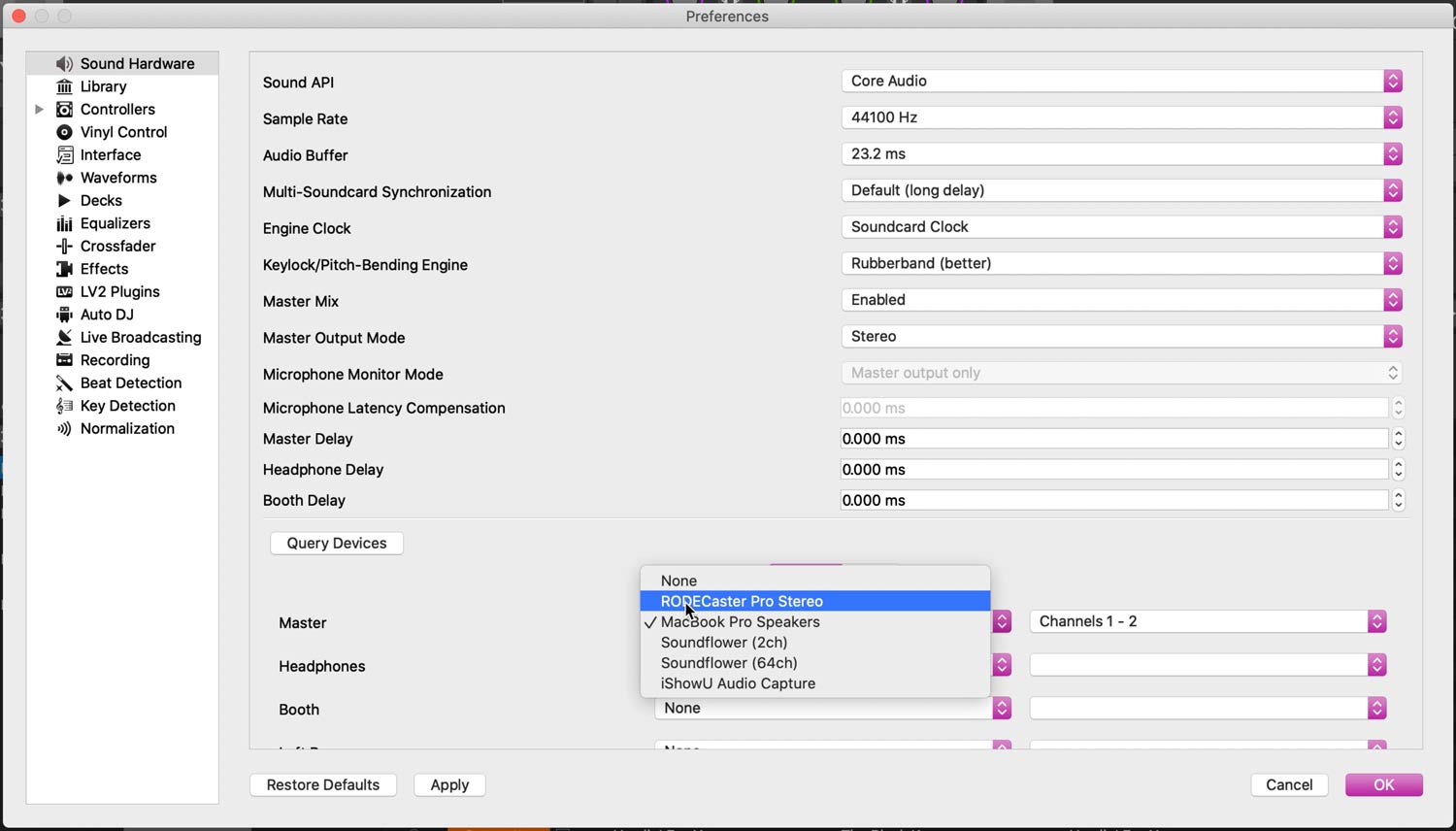 BUTT
The role of BUTT is to encode the audio sent to it via input, and to broadcast this signal to your online stream. We will therefore define the RodeCaster Pro as the audio input of this software.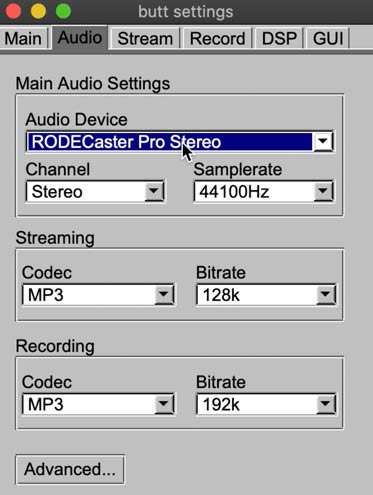 As a reminder, here's how to broadcast live on your radio with the Radio Manager: Broadcast with BUTT
All that's left to do is play your music via MIXXX and launch your live broadcast via BUTT!
---
That's it! You now know how to broadcast live radio with the RodeCaster Pro, MIXXX and BUTT. We hope you found this article useful. See you soon live on air!