Interested in the idea of starting your own online radio station? There are many benefits to streaming your radio online, today we're here to give you 5 reasons to take the leap!
1/ No need to be a tech wizard!
You may think that running an online radio station requires technical knowledge and experience. Well, we're here to tell you that's simply not true! To start your own online radio, you will need 3 things:
A computer
An Internet connection
At least 1 MP3 file
Do you have those things? Perfect! RadioKing has designed an intuitive Radio Manager that allows you to easily manage the schedule of your station, by simply dragging and dropping your content. Our service was created for anyone and everyone, regardless of your technical experience.
Furthermore, we have a knowledge base full of tutorials, and our technical team is on hand to help with any questions you may have!
2/ Broadcast from your home
Another great reason to launch your online radio project is that you can do it all within the comfort of your own home! How practical is that?! (Especially during the current situation where a lot of us find ourselves at home most of the time.)
You can also broadcast live with your listeners and guests, without having to step outside. This can be a great way to keep creating content and interact with new people, even during a global pandemic!
3/ Reach an International audience
As opposed to traditional FM stations, you have no geographical boundaries when it comes to online radio! Your stream can be reached by anyone in the world who has an Internet connection.
You'll even be able to see where your listeners are tuning in from thanks to the Statistics Tab: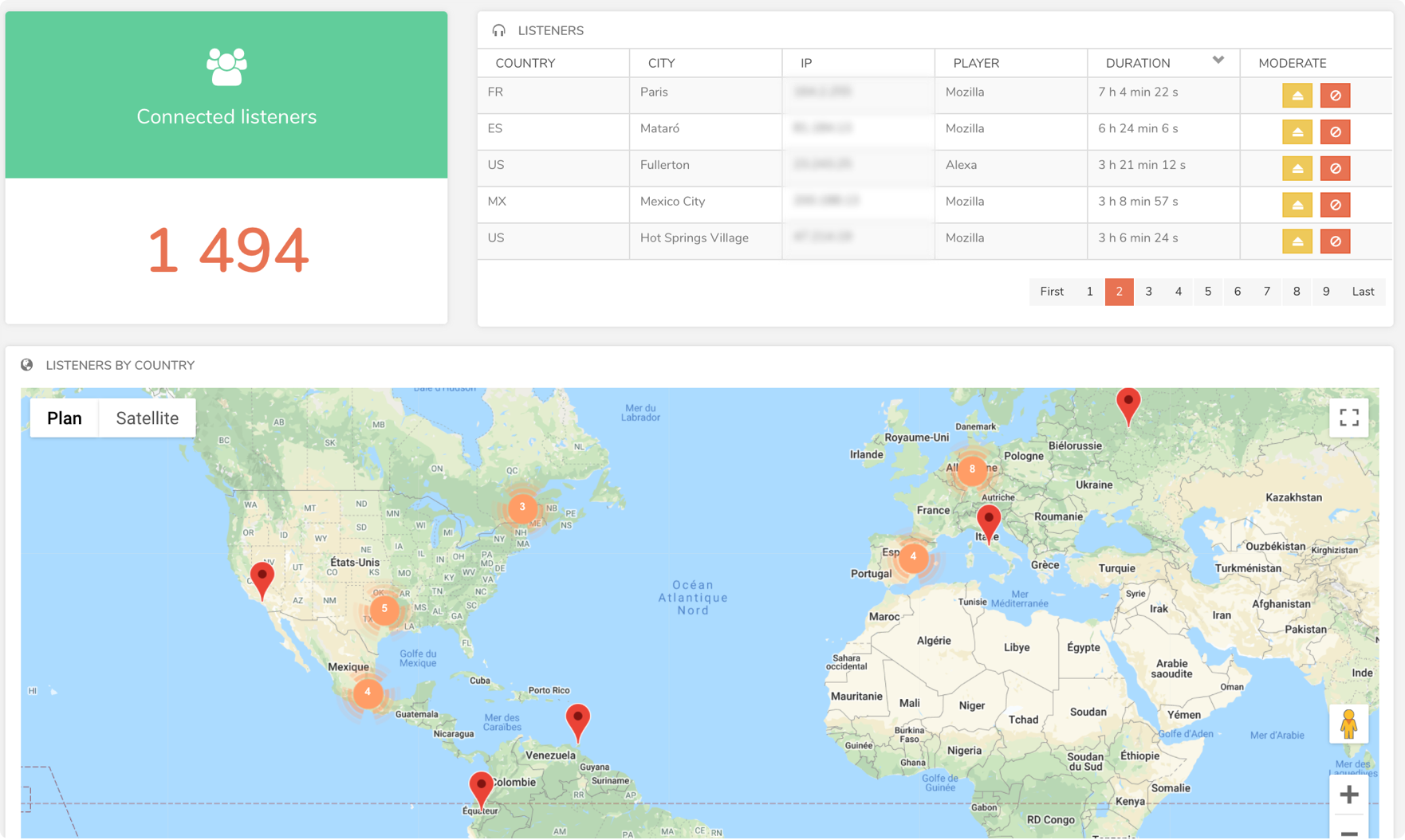 Note: you have the possibility of choosing which countries can or cannot access your stream via the geo-protection feature.
4/ Share your passions
Creating an online radio station gives you the opportunity to share your passion(s) and expertises on any topic! It's the perfect way to connect with people who have similar interests.
The content you choose to broadcast on your radio station is 100% up to you! Whether you want a music-only radio, a talk radio, or a bit of both, the choice is yours.
Top Tip: Creating a website for your radio station gives you a platform to transform your content into articles, or even share your broadcasted shows as a podcast! Still not convinced? Take a look at our article 👉 Why create a website for your radio station?

5/ Easy accessibility
As we explained earlier, anyone with an Internet connection can listen to your online radio. This means that there's no need for traditional radio devices.
Your listeners can use a computer, smartphone, tablet, connected speaker, smart watch, smart TV, connected car, and any other device with Internet access! All of these listening options simplify the way people can tune in to your radio station. Plus, it allows people to listen, wherever they are!
Top Tip: with the large choice of online directories out there, you can easily help boost the visibility of your radio for free.