Creating a website for your radio has many advantages, being able to monetize it is one of them. 
This week we're giving you 10 simple tips on how to make money with your radio website.
1. Include advertising on your Radio Website
One of the most profitable methods is to display advertising and get paid for each click. For this reason we recommend that you use Google Adsense which will allow you to place advertising on your website. Be careful, and this is a tip that applies to all the points in this article: choose to display relevant ads. The ads you post on your site must be directly related to your radio and of interest to your listeners.
Careful: To register on Google Adsense you must have your own domain name.
2. Become an iTunes affiliate
The iTunes affiliate code allows you to be paid for iTunes purchases made on your Radio Site. Your listeners have the possibility to buy the tracks broadcast live on your online radio by clicking on the download button of the Player. The download button is also in the Top vote, Broadcast titles, Music. Each purchase will earn you a percentage on your iTunes affiliate account.
How do I get my iTunes affiliate code? By following the instructions in this tutorial.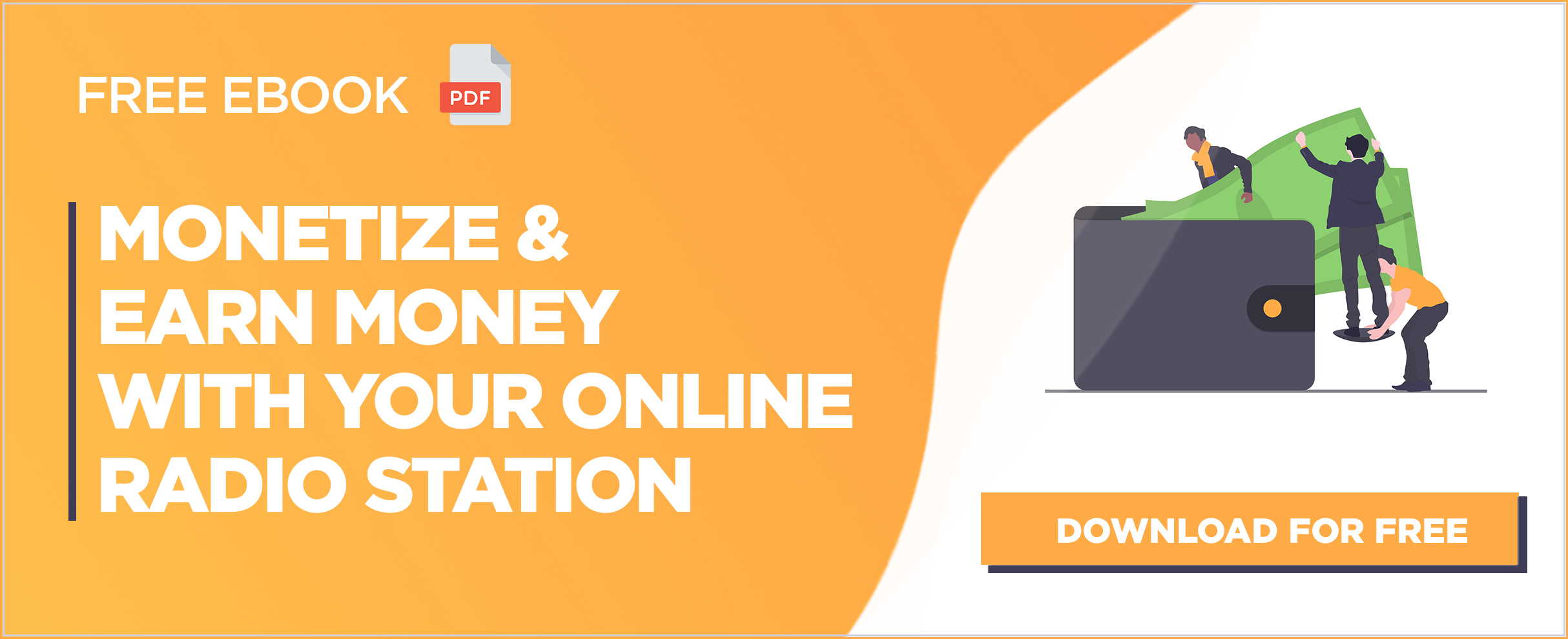 3. Create exclusive content
Are your listeners always asking for more content? Why not offer them some in exchange for a financial contribution? Create new podcasts by compiling the best moments of your shows, make a bloopers etc.
You can also make a bonus video by giving a tour of your radio studio. There is no shortage of ideas when it comes to offering additional content to your listeners.
How can you do this? Create a Patreon on which your listeners can support you every month. You can then redirect them to the User area of your site, where your content is located.
4. Integrate a Paypal button
Small, simple and efficient the Paypal button redirects your visitors to your Paypal account so that they have the opportunity to make a donation. You can install it wherever you want on your website and allow your listeners to help you as they wish.
How do I integrate my Paypal button on my Radio Site? We explain everything in this article: The essential Widgets for your radio website.
5. Connect your Amazon Associates account to your Radio Website
The Amazon Associates Program allows you to offer Amazon products on your Radio Website and receive a percentage for each sale. Access to this program is free and quite simple. Register for the Amazon Associates Club by filling out the form.
Once you have registered, go to your Amazon Associates account and choose the products you want to promote. Once you have chosen your product, simply copy the HTML code.

You will then simply paste this code into a custom block, as if you were adding a widget.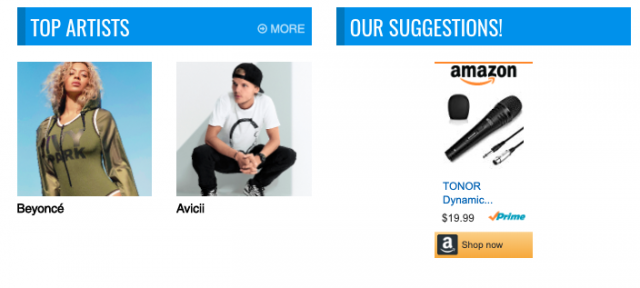 6. Write sponsored articles
A sponsored publication is an article highlighting a product. Requested by brands, it's a good way to earn money. Feel free to contact companies to ask them if they are interested in a publication on your website.
7. Rent your Slider to advertisers
The slider of the Radio Website is a great visibility space, take advantage of it to rent this space to advertisers in order to earn money. Especially since this module has been designed with this in mind. Indeed, when configuring your Slider you will have the possibility to choose the recurrence and an end date, perfect to schedule your campaigns.
8. Sell products derived from your radio
Install your online shop on your radio website and create goodies for your radio. Your listeners will be able to snatch the products derived from their favourite shows. Don't hesitate to think about offering them original goodies.
How to create your shop? Find our article to create your shop step by step.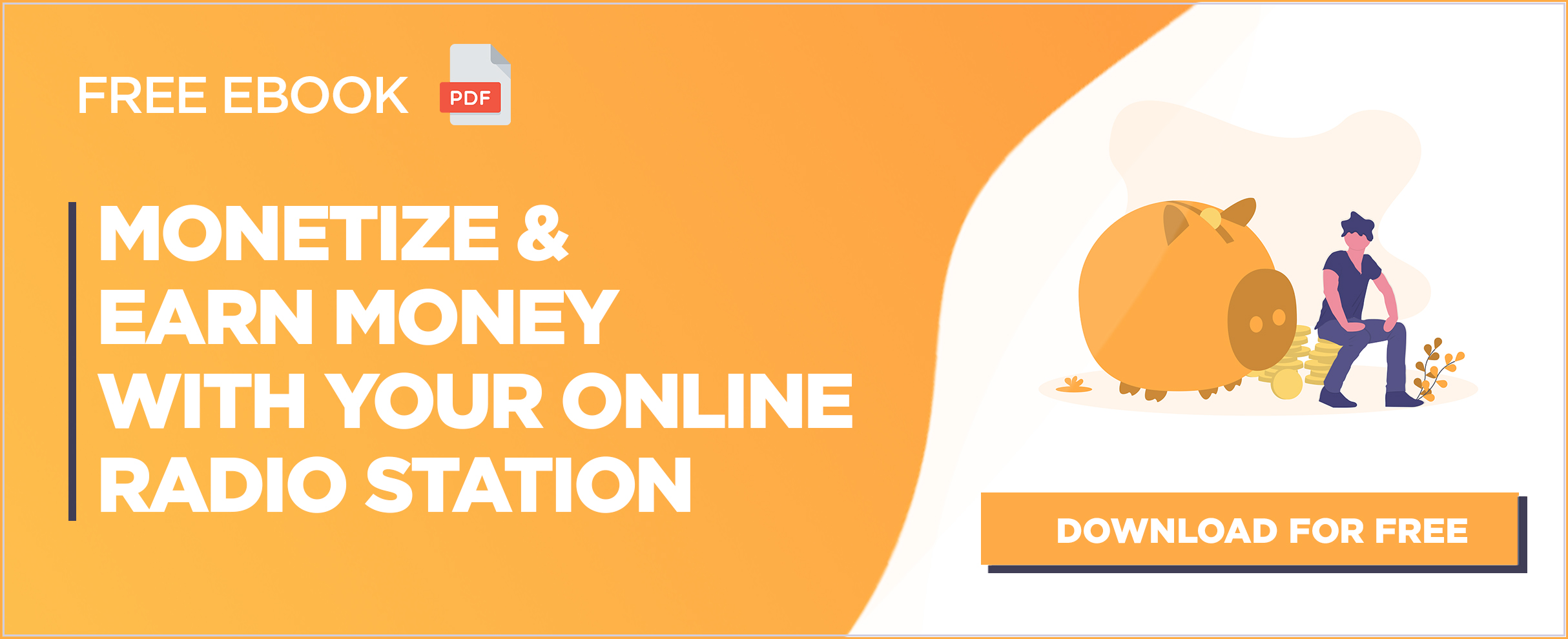 9. Become an affiliate customer
Today, there are many affiliation campaigns offered by companies. Affiliation means promoting the brands' products on your site and receiving a commission for each click or purchase made from your site. Of course we advise you to promote products related to your radio universe so that your listeners feel attracted by the products highlighted.
If you're interested, why not join RadioKing's affiliate program!
10. Build partnerships
Why not contact brands to establish a partnership with them? The partnership consists in highlighting your partners on your website and remind your visitors that they support you.
How to find partners? Contact the brands that might be of interest to your listeners, do not hesitate to highlight the statistics of your Site, the number of your listeners, in short everything that shows that by associating with you the brands will have a good visibility.