Launched in France thanks to Killian Desnos, Teufeurs shares with its listeners underground sounds of the free party movement: we're talking tekno with a K!
.


. Can you describe your project and the idea behind "Teufeurs" in a couple of words?
I launched Teufeurs in 2011 on a forum, pretty basic, I wasn't intending to launch a radio station but as the years went on, we gained more than 260 000 people that followed us on Facebook!
The demand from our followers for a radio station was strong and we also wanted to embark on this adventure ourselves! And that's how Teufeurs was born 😉
.
. Prior to this, did you have any experience in the radio world?
Honestly, none at all. This our first and we hope it goes far!
. 
. How did you hear about Radio King?
I heard about RadioKing thanks to a radio station on your platform called DeepKulture. A friend of mine was a host for the station and told me about RadioKing. Now he presents on Teufers!
 .
. In your opinion, what are the essential features that Radio King offers to a radio station?
RadioKing, what is there to say… incredibly fast support, assistance on Facebook, Twitter, readily available! It's a massive strong point… and then the mobile app really is that extra little touch!
.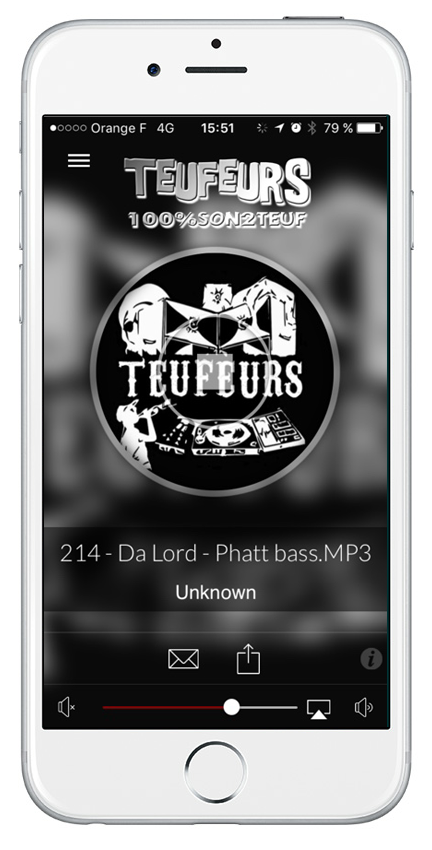 Not to mention the player which is really attractive!
. What are the different ways to listen to "Teufeurs"?
You can listen to us on our website or via the Teufeurs mobile app (available for iOS and Android)!
. 
. Can you tell us about your audience profile?
Our listeners come from the free-party movement, I would say that they tend to be quite young people between 20 and 35 years old, they love tekno, but not just any techno, the one with a K!
.
. What do you value most about this project?
I appreciate the enthusiasm of the people, I appreciate the fact that we're followed enormously and provide auditory happiness to all our listeners, it's a real pleasure! Not to mention the free rein that you have when on air, it really is wonderful!
.
. How do you select the artists broadcasted on "Teufeurs"?
We select artists based on the sound style but really underground sounds, little or no commercial, you know that you won't get the music that Teufeurs broadcasts anywhere else…apart from Teuf haha!
.
. Do you have a quick anecdote in connection with your radio station or the setting up of this project?
We started the radio station with the smallest offer thinking that that would do… and would you believe it, after 2 days, we smashed our number of listening hours and launched a donation campaign that brought us over 300€, not bad for starters!
.
. What's next for "Teufeurs"?
Why not switch over to an FM band in the future, it's my aim, it's the aim for each one of us!
.
. To finish up, do you have any words for anyone wishing to embark on this adventure?
Don't hesitate to go for it, it's an extraordinary adventure that has started for me and my team. We all want to share our passion with others, radio is a great way to do that!