Time to head off to Boulevard de la Croisette for La Radio du Cinéma! This year, Patrice Caillet & his team will cover the 70th edition of the International Film Festival in Cannes. For the occasion, RadioKing wanted to dig a little deeper to find out more about this unique radio station and its origins.
Can you describe your project and the idea behind "La Radio du Cinéma" in a couple of words?
Patrice: I've been a radio host since I was 16 and for nearly 30 years on Radio France, where I'm also a programmer. My interest for online radio stations started during the summer of 2012, I dreamt of quickly creating my own radio station and for free. So I launched "Pointures" with the files available in my hard drives: music and quotations from films… Today the radio station has moved up to the next level, it's taken 5 years to achieve this professional result!
What is your relationship with the Cannes Film Festival?
Patrice: In 2013, I tried to get the green card for Cannes Film Festival and without any success. The simple reason being that online radio stations were not authorized… After a new attempt in 2015 with a more solid file and notoriety… Bingo, authorization was in the bag! I was proud to represent my own radio station in the biggest festival in the world.
Prior to this, did you have any experience in the radio world?
Patrice: I knew the adventure of free radio stations in the 80s. I then abandoned my history studies (I wanted to be an archaeologist) in favor of signing my first contract as a radio host, I was then recruited by Radio France when I was 21.
How did you hear about RadioKing?
Patrice: I knew RadioKing right from the start but at that time, "La Radio du Cinéma" was still a mere hobby on the side. Today, I've created a company to manage the radio station. We are 7 collaborators working on Cannes 2017 and the professional projects are numerous, hence my choice of your platform, without hesitation.
In your opinion, what are the essential features/services that RadioKing offers?
Patrice: Those interested should know that I have often dealt with the technical team since the launch of my radio and they are very responsive! The creation of programs is very intuitive and given our concept, I need a malleable tool to create the radio station that I want. Moreover, I just launched the new version of our Radio Website with RadioKing. Thanks to the CMS proposed, I finally have a real radio website compatible with mobile & tablet.
What are the different ways to listen to "La Radio du Cinéma"?
Patrice: On the website but I'm also thinking of creating a mobile app quite soon. The stream is also referenced on several platforms and directories (Freebox, Orange Radio & TV etc.) but also on our Facebook page with the Player proposed in the Radio Manager and the RadioKing app.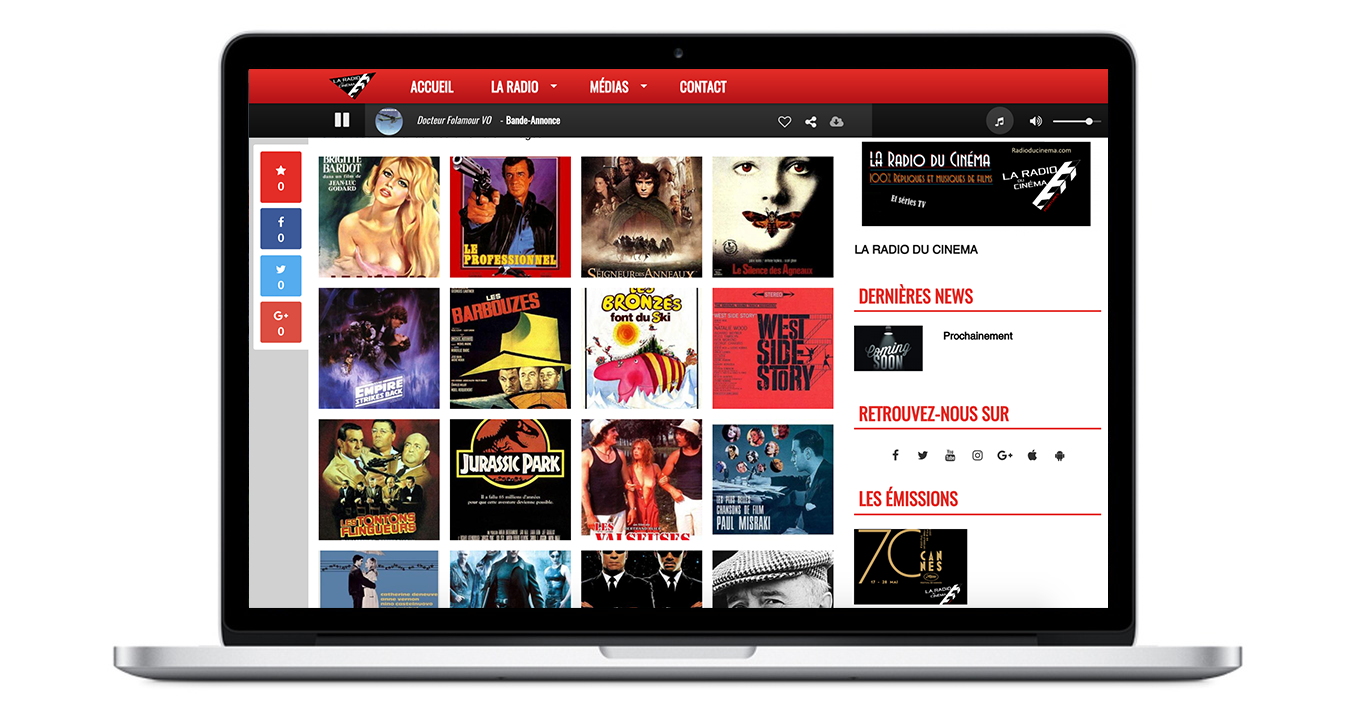 Can you tell us about your audience profile?
Patrice: Cinema can attract "demanding" clientele and many enthusiasts. I make sure to offer music and film clips of all ages, all styles with a good mix. A short 20 second extract of La Grande Vadrouille won't scare Techiné fans and vice versa… The happiness is realizing that the radio station is being listened to at all hours of the day across all continents. Shops and cinemas also broadcast our radio station.
What do you value most about this project?
Patrice: Everything needed doing, the radio station started from scratch. Previously, no other station had proposed this concept, we have grown. RadioKing is a new step and I really appreciated the involvement of the RadioKing team for this new start because we had to quickly adapt to this new tool. Cannes 2017 will serve as a launching pad and it is exciting to see the enthusiasm that our project has provoked.
How do you select the songs on your radio station?
Patrice: I think I have a real Soundtrack culture. I have been listening to film music for a long time and I make sure that they are not excluded when I integrate them into my media library: neither too long nor too "specific". I make sure that by listening to us for quarter of an hour, the listener can recognize at least one piece of music or film excerpt.
Do you have a quick anecdote in connection with your radio station or the setting up of this project?
Patrice: This radio station allowed me to meet Patrick Poivey in 2014, the French voice of Bruce Willis, although he had an exclusive contract with a big FM station, he agreed to record a couple of jingles for free. He is a delightful person who knows a thousand and one anecdotes about the trade.
Another memory is from 2015 on the island Sainte-Marguerite, just off Cannes during a lunch alongside Gilles Jacob at a press conference. The former president of the Cannes Film Festival, very curious, asked me several questions about our project and about La Radio du Cinéma throughout the whole meal. We had unobstructed views of the Cannes bay, an unforgettable experience.
What's next for "La Radio du Cinema"?
Patrice: In addition to our new website with RadioKing, we are taking advantage of Cannes 2017 to launch the "Movie Mix" concept on May 21st, at Sandra & Co on the theme of cinema. There will be a mix of current music including replicas and well-known film music throughout the evening. These themes will be mixed by Dj Noyz or to be more exact,  Noam, the brother of Kev Adams. We want to have this concept travel across the world and at many festivals.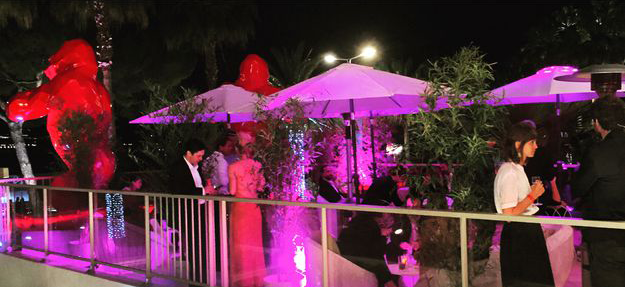 To finish up, do you have any words for anyone wishing to embark on this adventure?
Patrice: Create a radio station? OK, but before starting, know very clearly what type of concept you want to create. Does it already exist? Can I ensure it in long-run? Is it just to please me or to gain a lot of listeners? Can I count on friends? You should also know that financially speaking, your radio station will not always bring money in, unless you have a unique concept.