Summer is an exciting time for radio station owners. It is a time when listeners have more free time to listen to their favorite station. However, it can also be a challenging time in terms of radio station management. In this article, we will look at some useful tips to help you prepare your radio station for summer 2023!
Everyone deserves a break this summer, including you! By following our top tips you can ensure that you keep your listeners engaged this summer and still have a vacation of your own.
Plan your content
Planning your content in advance remains a crucial step to the effective and diversified management of your radio station over the summer. It allows you to create programming that, during this active time of year, aligns with the tastes and interests of your listeners.
Plan in advance
Even while on vacation, planning your radio station in advance remains important. With the Radio Manager, you can program your content up to six months in advance. With the help of this feature, you can program your radio to broadcast continuously even when you are away. You can offer a captivating radio experience that appeals to your listeners throughout the summer by thoughtfully preparing your content.
Planning ahead allows you to build a solid foundation for smooth operation, while maintaining the flexibility to make last-minute adjustments. Despite your meticulous planning, spontaneous changes to your content may occasionally prove necessary. Whether it's integrating breaking news or covering unexpected events, the ability to make last-minute adjustments ensures that your radio station remains both supple and responsive.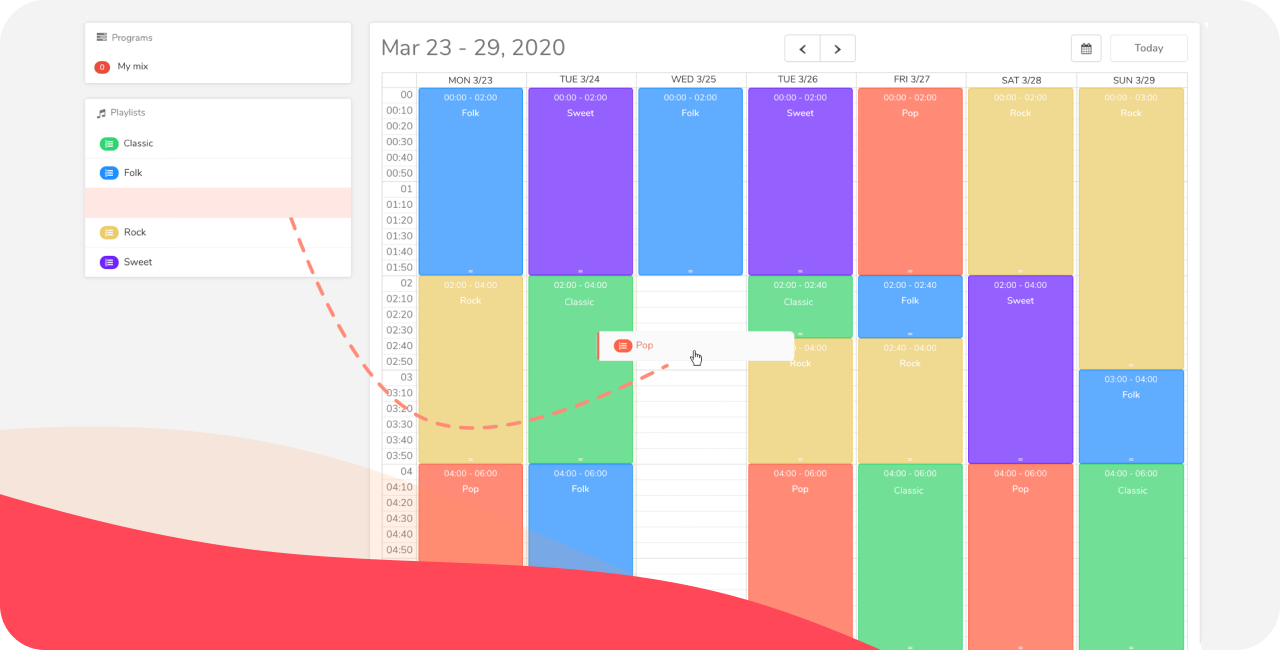 This will allow you to create a programming schedule that matches listeners' expectations during the summer season. Working with a team? Be clear on everyone's vacation dates by writing them on a calendar for example. This will ensure that all team members know who is available or not during the summer schedule.
Adapt your programming
Summer is a time of change, and it is crucial that your radio station embraces this dynamic season, adjusting its programming to cater to the interests and desires of your listeners.
Summer programs
An effective strategy is to offer programs specifically tailored to your audience's interests during this warm period. By developing a range of compelling and refreshing programs, you can ensure an unforgettable experience for your listeners. Consider programming content that highlights summer activities, such as outdoor events, travel destinations or even tips for staying cool in the heat.
You can also adapt your programming for the summer season by offering programs specifically designed for this sunny period.
For example:
Pool party
Beach vibes
Barbecue beats
Road trip
By adding seasonal music and creating specific playlists, you can offer your listeners a refreshing summer experience.
Different events
To prepare your radio station for summer, it's crucial to stay updated on local festivals, concerts, sports events, and more, allowing you to engage with your listeners by discussing these exciting happenings on-air. By incorporating these events into your programming, you create a sense of community and provide valuable information and entertainment to your audience.
Another exciting way to engage your listeners during the summer season is by organizing captivating contests that offer them a chance to win tickets to various events. These contests not only foster a sense of community but also provide valuable promotional opportunities for both your radio station and the event organizers.
Use social media
Social media is an important tool for managing your radio station this summer. It allows you to interact with your audience, share exclusive content, promote upcoming events, and more. Utilizing social media platforms allows you to inform, engage, and create a connection with your listeners.
Stay active
It's important to stay active on social media throughout the summer to keep your audience engaged and informed about everything that's happening on your radio station. Share enticing teasers about upcoming shows as well as exciting events you have planned for the summer. Use eye-catching visuals, such as vivid images and videos, to draw attention and spark curiosity.
As you prepare your radio station for the summer season, it's a must to stay active on social media, even when you're away. By scheduling and planning posts in advance, you can maintain a consistent online presence, even if you're on vacation. Take advantage of scheduling tools to improve your radio station's online presence and strengthen the bond with your listeners.
Take the weather into consideration
The weather can be a key factor in managing your radio station during the summer months. By taking weather forecasts and trends into consideration, you can adapt your programming to the current atmosphere.
Adapted playlists
When preparing your radio station for summer, it's essential to take the weather conditions into consideration, including the possibility of heat waves for example. If you know that a heat wave is expected, you can offer cooling programs and adapted playlists. Additionally, you can provide useful tips on staying cool during these waves, such as hydration advice or indoor activity suggestions.
In case of forecasted storms, it's a great opportunity to prepare programs that encourage your listeners to stay indoors. Consider creating playlists that are suitable for indoor activities, such as relaxing tunes for rainy days. Moreover, you can use this opportunity to share tips to help your listeners make the most of their indoor time.
Accompany your listeners
Consider summer's ever-shifting weather patterns, and seize the opportunity to build a closer connection with your listeners. If thunderstorms are forecast or a heat wave is expected, you can proactively address these weather events with programs focused on safety preparations. Invite experts in meteorology to give their opinions, advice and tips on how to stay safe in severe weather.
Accompanying your listeners as a radio host during this season allows you to create a sense of familiarity and connection. With that, you become a trusted companion during their summer activities and adventures.
Listen to your audience
Summer is a time of change, and it's important to take your listeners' feedback into account. By actively listening, you'll gain valuable information that will help you adapt your programming to meet their expectations.
Take suggestions into account
The summer months bring about a vibrant energy, and understanding what your audience wants to hear during this time can make a significant impact on your station's success. Make sure you encourage your listeners to share their thoughts, whether through social media or dedicated platforms for feedback.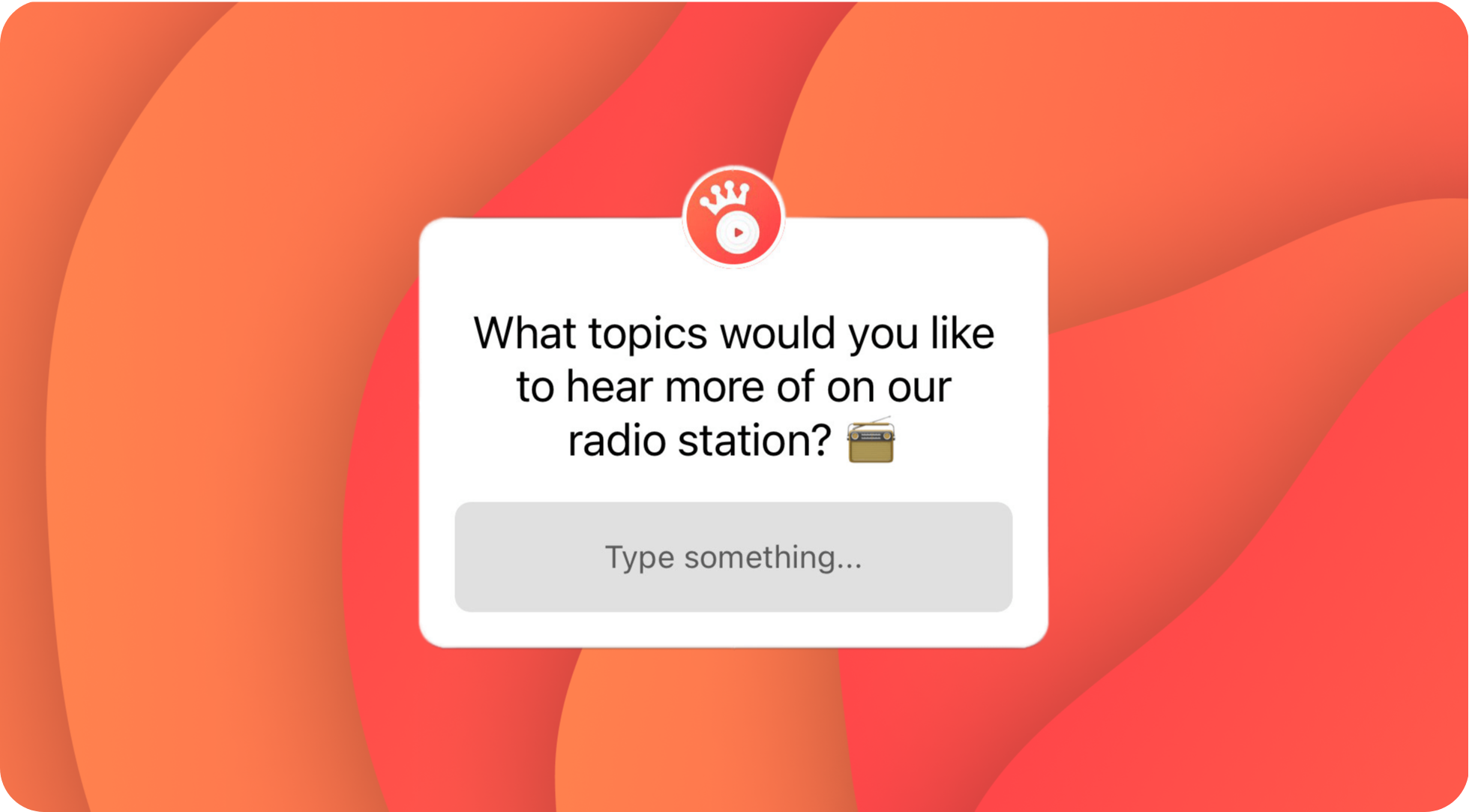 Listening to your audience is a vital aspect of preparing your radio station for the summer season. By taking their suggestions into account, you can adjust your programming to their preferences. Taking their feedback into consideration also helps you keep your audience engaged and attract new listeners.
When listeners feel heard and valued, they are more likely to remain loyal and recommend your station to others. So, as you prepare for the summer, remember to prioritize the voice of your listeners and let their input shape the direction of your programming.
Running a radio station during the summer can be a challenge, but with proper planning and adaptation to the season, you can successfully deliver programming that is tailored to your listeners. By using social media and listening to feedback from your audience, you can keep your station active and engaged throughout the summer season.
---
Ready to spark up the summer with your radio station? Get started now for an unforgettable season full of summer memories!