Thanks to the new website update, the podcasts on your radio website now have their own Apple-compatible RSS feed. This means that you will be able to share them on all podcast aggregators!
Here's everything you need to know about podcasts and how to share them with the world.
What is an RSS feed? 
An RSS feed contains all the information about your podcast: its address, the description of your podcast. This is what will allow all listening platforms (iTunes, Deezer…) and podcast aggregators (Podcast Addict, Castbox, Majelan) to display and make your podcast available.
The Radio Website now generates an RSS feed to allow you to share your podcasts on these applications and platforms and more particularly on iTunes.
Find your RSS feed on the Radio Website
Head over to the Podcasts tab > Podcasts Management. Then click on the arrow next to Edit and select RSS Feeds. You can then copy the internet address of your stream.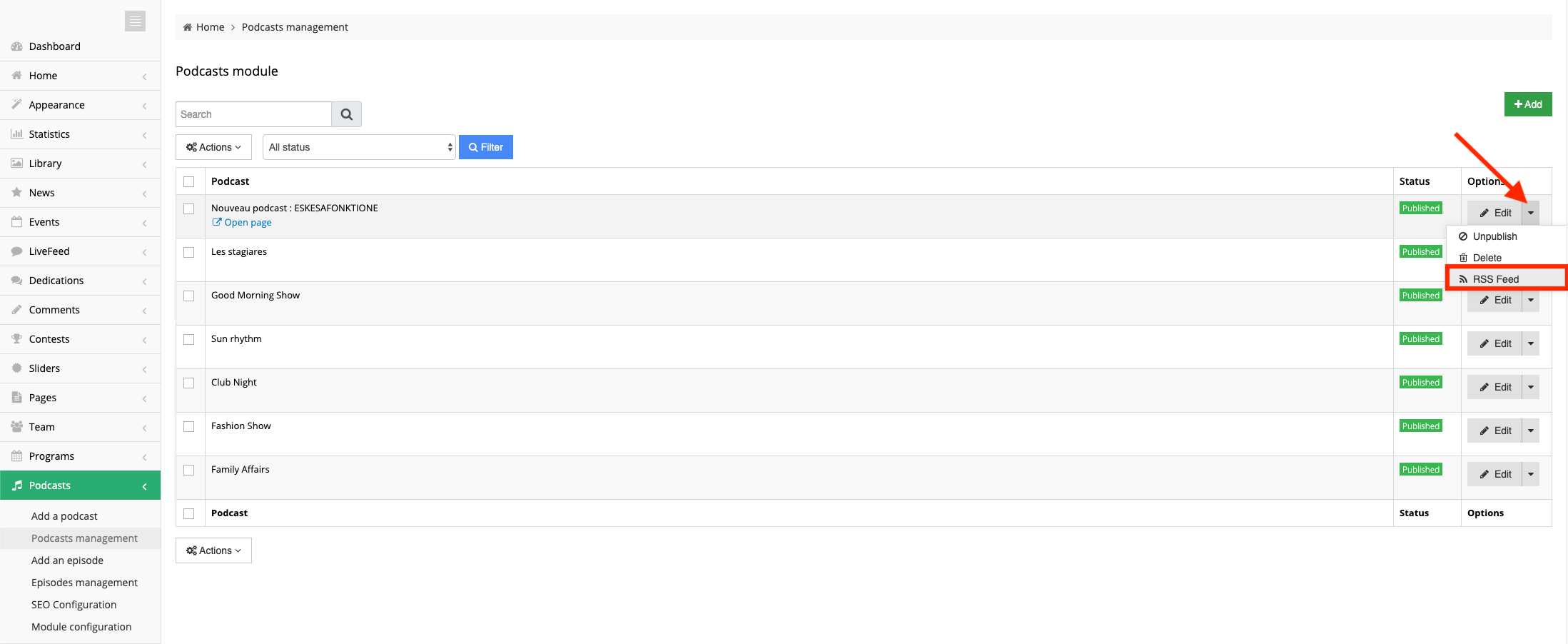 Where and how do I share my podcast? 
Just like online radio stations, there are many directories (aggregators) for listening to podcasts, but today the place to be is still iTunes. Indeed, in addition to representing a large part of the audience for podcasters, a large part of podcast aggregators use the iTunes directory. If your podcast is on iTunes it will therefore also be on the majority of podcast applications.
Share your podcast on iTunes
Head over to: https://podcastsconnect.apple.com

. Log in with your Apple ID or create an account if you don't have an ID yet. 

Retrieve your podcast's RSS feed from your Radio Website admin panel under Podcasts > Podcasts Management.
Once sent, your RSS feed will be checked to confirm that all the information attached to it is iTunes compatible (episodes, size of your cover…).
The confirmation window will then appear and an email will be sent to you to validate your podcast.
Share your podcast on Deezer 
You can also make your podcast available on Deezer, which is an important listening platform, by filling out a form. Please note that you'll need your RSS feed here as well.
Your feed isn't compatible? Don't panic, make sure you've filled in all the information in your podcast. To do so, go to the administration panel of your Radio Website under Podcasts > Podcasts Management.
What do you think of this new update?
Create your radio website today!