In the field of
digital and portable recorders,
we no longer need to present the brand Zoom as it has become an essential reference! Want to buy a high quality portable recorder to record shows for your radio wherever you are? The
Zoom H2n
could be ideal for you.
Features of the Zoom H2n
The portable device has 5 built-in microphones for 4 different recording modes. It includes a mini-jack output and a USB 2.0 port. It can be used to record shows outdoors, do interviews or even replace a microphone during a live broadcast.
The Zoom H2n has a very complete menu that will allow you to activate a pre-recording or automatic recording mode. You can also standardise your files directly from the device.
You will be able to select the recording format (Wav or MP3). To record in MP3 and upload your files directly to the Radio Manager, press the Menu button located on the right-hand side of the device and go to REC > REC Format.
Careful: 4CH mode will necessarily be in Wav.
Are your settings done?
Then you are ready to record by simply pressing the record button on the front of the device. A red light will appear to warn you that you are recording.
You can listen to your recording straight away by pressing play on the side of the Zoom.
Record an Interview
The big question when you have 5 microphones and 4 recording modes is: Which configuration should you choose to record an interview?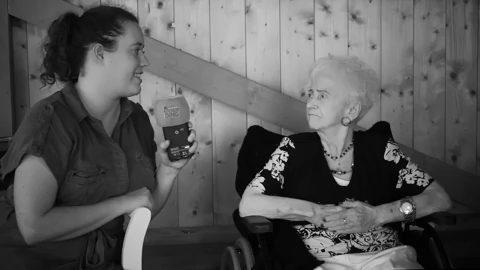 X/Y mode
:
This is the backwards mode that captures sound sources at a 90° angle (when you ask questions for example).
Mid-Side (MS) mode:
This is the stereo recording mode at the front of the microphone. It records sources located at a 180° angle.
You can also choose a Surround recording that combines signals from the X/Y and MS microphones.
2 channels: Create a single stereo file
4 channels: Create 2 tracks (XY and MS) to get a 360° sound
To conduct an interview that will both capture your questions and the answers of your guest, use the 2CH recording mode. If you want to capture the ambiance of a place, the 4CH mode might be more suitable.
Use the Zoom as an Audio Interface
You can also connect the Zoom to your computer by connecting the USB cable. Ideal for
broadcasting live
on your radio station! Choose the Audio mode to record directly with the recording software.
Don't forget to connect your microphone before launching your broadcasting software. Once the software has started, go to the Input and Output settings. Under Input Devices choose H2n.

Top Tip: When making adjustments, make sure to choose 48KhZ for Mac.
Comes with an SD card
Discover the best USB microphones for radio hosts: