10 years of RadioKing! Where did the time go? Grab a tissue while we take a little walk down memory lane…
Where it all started
It all started back in 2013 in Lille, with 2 University students, and an idea. Lots of things were invented in 2013, like cronuts, gravitylights, collapsible helmets… But our co-founders were focused on the idea of inventing a platform that would allow people to create their own custom radio station. And so RadioKing was born with one simple goal: to help people get heard everywhere.
We accomplished this by developing an intuitive tool that wouldn't require any technical knowledge to get to grips with. From music lovers to companies and FM stations, we are honored to help spread your messages to listeners all around the world.
RadioKing throughout the years
A lot has happened over the last decade (wow, that doesn't make us sound any younger…) From new product features to new offices for our team, the ball has been rolling for 10 years, and we're not about to drop it anytime soon!
Turnkey tools
Looking back on the first version of the Radio Manager, we can't help but smile a little… we had to start somewhere, right? The product itself has evolved (almost) beyond recognition! Aesthetically speaking, it's had a few makeovers but more importantly, it has continued to evolve over the years to meet new needs. Some of these improvements were made to make your life as a radio host easier, such as the new statistics module. Other updates were implemented to improve the listening experience of your listeners, such as advanced normalization.
But we didn't stop at the Radio Manager. We wanted to provide you with everything you could ever need to manage, broadcast, and share your radio station. So new services emerged, such as the radio website, radio mobile app, and vocal apps for Alexa. Not to mention the RadioKing listening app, which is available on iOS and Android.
Here, there, everywhere!
In addition to new products, RadioKing itself has continued to evolve since 2013. After becoming the number 1 platform in France, it was time for us to conquer the world! In 2016 we launched our services in English, Spanish, Italian, German, and Portuguese in order to be more accessible to anyone in the world who wanted to get their voice heard.
Over the last 10 years, we've participated in many events to exchange with experts in the radio industry, get a better understanding of our customer's needs, and share our vision of the radio of tomorrow.

RadioKing today
So, 3650 days later, where are we at? Well, we've come a long way, to say the least! We're extremely grateful to be hosting around 4000 radios in over 150 countries.
RadioKing would be nothing without our dedicated team. Passionate about audio, we are always looking for ways to improve your user experience, as well as your listening experience. Our numbers have multiplied by 7 over the past 10 years, growing from 2 to 15 team members. We outgrew our old offices (a couple of times actually), and have moved into a new space that perfectly reflects who we are!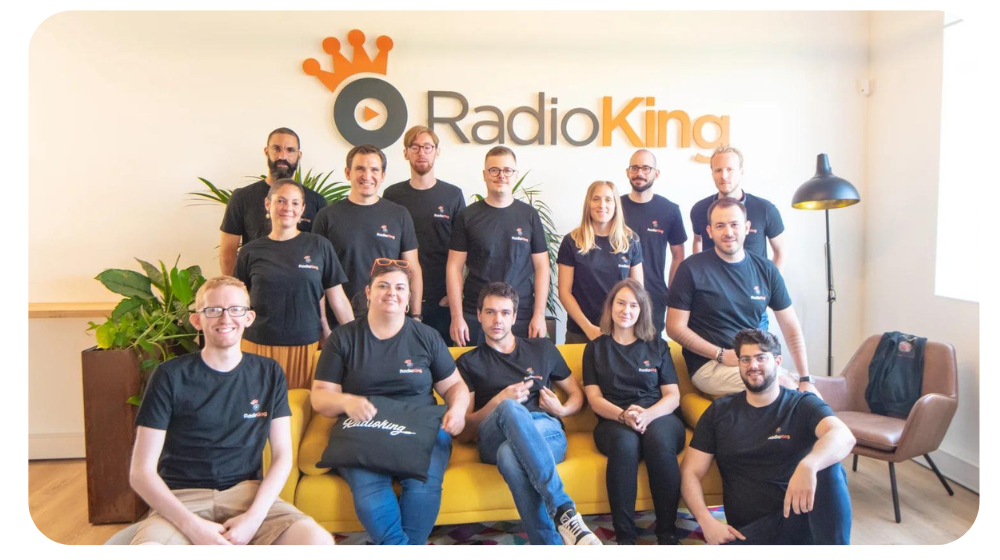 Like all of you, we faced the challenges of a global pandemic that forced us to rethink our way of working, communicating, and even recruiting. We found different ways to stay connected and new rituals were born to help maintain a fiery team spirit, even from hundreds of miles away.
What you have to say about RadioKing
So now that you've heard from us, we thought we'd put you in the spotlight and share what you have to say about your RadioKing adventure. 🧡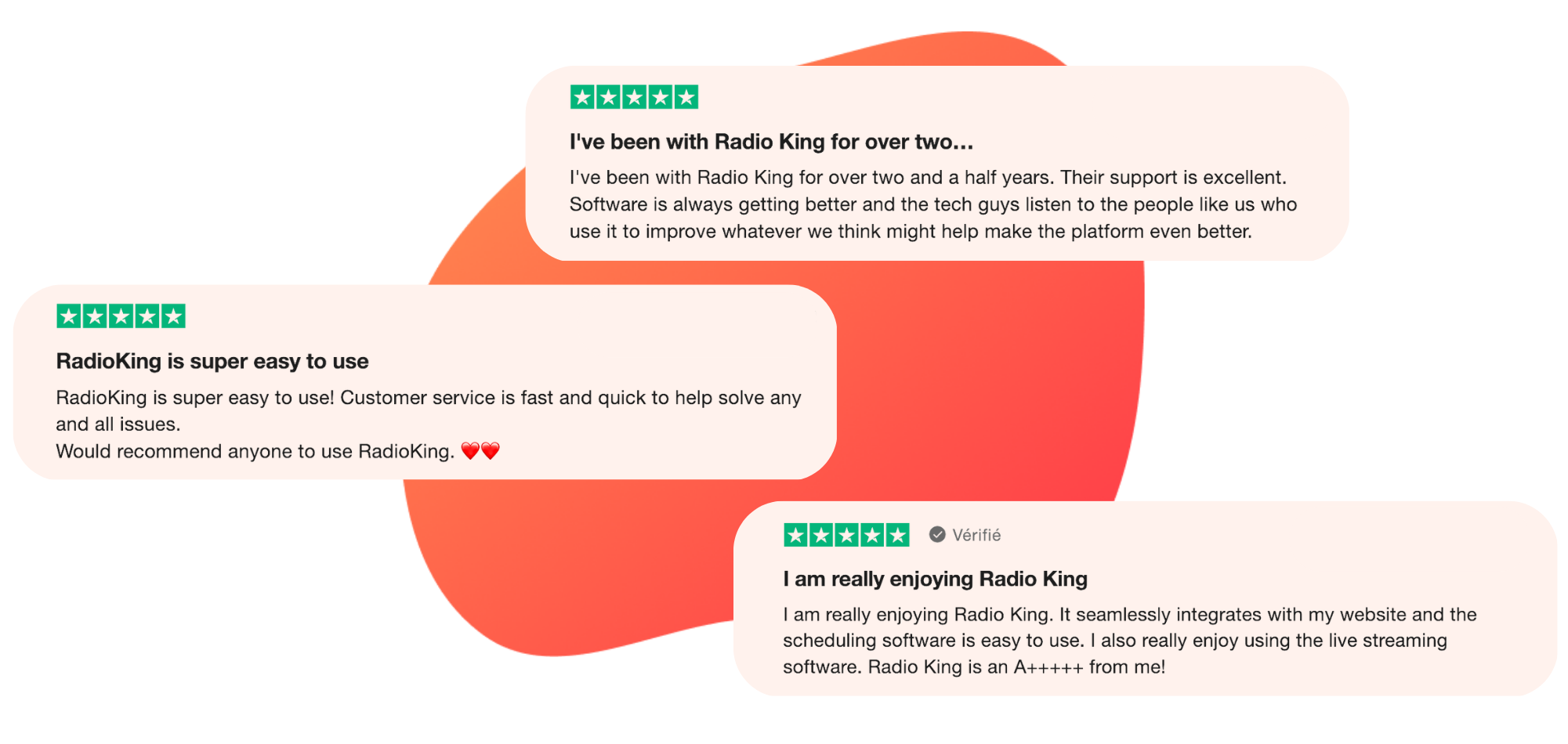 Here's to the next 10 years!
We already can't wait to write our 20th birthday blog article (which should be at least twice as long as this one…) What's sure is that we've got a bunch of ideas, and a whole lot of motivation to accomplish them all.
What else can we say except thank you! Thank you for your ongoing support, thank you for helping us improve, thank you for motivating us daily, and thank you for sharing our passion for radio. We are beyond grateful to see all the amazing projects that come to life through our platform and can't wait to continue improving our services to help you get heard everywhere.
The RadioKing Team 🧡