GDPR means General Data Protection Regulation. It is the new European reference text on the protection of personal data.
What is GDPR?

The GDPR is the new data privacy legislation in Europe. All companies, public bodies and associations that process personal data of citizens of the European Union are involved. Organisations from countries outside the EU are also involved if they collect and process personal data of European residents.

Also, the GDPR gives users the right to request to delete or correct their data. Your radio station may also be affected, especially if you have a Radio Website.
What to set up on your Radio Site to be in good standing with the RGPD?
The first thing you should do is update your privacy policy. It has to explain how your Radio Website collects, uses, discloses and manages your users' data.
For example, you will find among the data concerned: surname and first name, email address, telephone number, postal address, IP address and GPS data (i.e. location data), Cookies, identification number or identifiers, and sensitive data: information relating to physical, mental, genetic or economic identity.
New features for your Radio Website
In the administration panel of your Radio Website, a page has been specially created to allow you to fill in all the information that the RGPD asks you to provide. You can find it in the Privacy tab of the Configuration > General configuration module.
Go to Privacy. You will have the possibility to inform the privacy policy, the legal notices and to display or not this link on the website in the footer.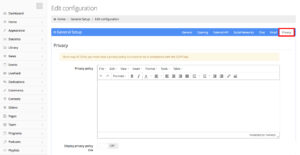 If you are not familiar with the writing of these, you will be able to find generators of legal notices or privacy policy.
In a second step, your Radio Website now offers your users the possibility to delete their personal data via a link that you can find at the bottom of your configuration page. You will be able to view this same link at the bottom of your privacy policy page.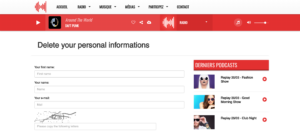 This form allows a user to delete any data he has entered on the website, i.e. data from contests, contact messages, comments or user account data.
You will have to inform your users of the possibility of this approach, report on the use of this data in your privacy policy. For example for the contests that you set up on your website.