Not everyone has a huge budget when it comes to purchasing radio equipment, so today we're going to take a look at the Fifine K669B USB Microphone. This microphone is highly rated on Amazon (4.5 out of 5), with over 7800 reviews and is priced at $45.99. Let's take a look and see if this low-budget mic has what it takes to be an ally for radio hosts worldwide.
What about the build of the Fifine K669?
In terms of build, the Fifine feels incredibly solid in hand. It has a metal body with a good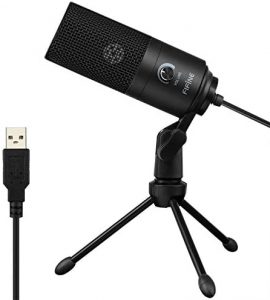 weight to it, a nice quality metal mesh and sturdy 1.8 meter cable. It also comes with a handy little tripod and pivot mount to hold it upright when using it.
We'll admit, the tripod quality isn't as impressive as the microphone however it will do the job perfectly if you're recording at your desk. If you're interested, you can purchase an alternative stand. There is minimal pop-protection on this mic, so you may also want to purchase a windshield or pop-filter to help with any plosive sounds.
You'll find a volume controller directly on the mic itself, however unfortunately there is no headphone jack. It's a pretty small microphone (140×90×50 mm) which makes it practical to transport, and it also won't take up much space on your desk.
One of our favourite things about this microphone is undoubtedly how easy it is to use. Compatible with Mac OS, Windows & Linux and requires no drivers or software to get started. The Fifine is what we call a "plug and play" mic, simply plug it in and you're good to go!
What about the sound quality of the Fifine K699B?
Now let's get to the part you're really interested in….the sound quality! Like many popular microphones, the Fifine K669B is a condenser mic with a cardioid pattern. This means that it captures most of the audio from the front so you'll get the best results from placing it directly in front of you which is perfect for radio broadcasting and podcasting. The cardioid pattern also reduces any background noises.
For a crisp, clean sound we suggest that you place the microphone roughly 10cm away from your mouth. You'll also need to correctly configure the audio settings of the live broadcasting software or recording software that you're using. You may have to play around with the settings at first to find the perfect balance.

What's the difference between the K669 and K669B Fifine Microphones?
You may have seen another Fifine model called K669, so what's the difference? Well, there is none! Yes that's right, the K669 and K669B are exactly the same. The only nuance is one is pink (K669) and one is black (K669B).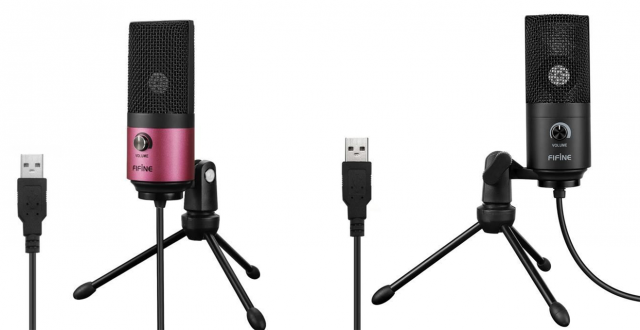 Where can I buy a Fifine USB microphone?
The microphone is available on Amazon for $45.99/ £47.99:
What are the specifications of the Fifine K669B?
Connection: USB 2.0
Frequency Range: 20Hz -20KHz
Use: PC or Mac with USB
Sensitivity Range: -34dB
Polar Pattern: Cardioid
Microphone Type: Condenser
For audio tests, check out this review of the Fifine K669B:
Overall, the Fifine K66B USB microphone is a great option if you're on a low budget and you need an easy yet effective mic for radio broadcasting or podcasting. Not only is the build of it extremely solid, but the price/quality ratio is amazing. Obviously the audio isn't perfect, but what did you expect for $45? In any case, the Fifine microphone is ideal for radio broadcasters looking for a cheap, easy solution to speak live on air.
Create your online radio and begin broadcasting today!