You may or may not have heard of the RadioKing Affiliate Program! We decided to create this program as it's a win-win situation for both parties. You can easily earn commissions by sharing our services, and we gain in visibility! Signing up is completely free and could be a great way to generate some extra cash without even realising.
What is an affiliate program?
Affiliates or partners promote the products and services of other companies on their website thanks to a unique referral link. In return, they are paid commissions on the sales made
Some popular affiliate programs that you may have heard of include: iTunes, Amazon, Fiverr, Wix…
How does the RadioKing affiliate program work?
As an affiliate, you'll be able to share our products worldwide with a unique referral link. For each RadioKing subscription purchased via your link, you'll earn a commission between 10 – 20%.
STEP 1: ACTIVATE YOUR REFERRAL LINK
Join the program for free and obtain your referral link here.
STEP 2: SHARE AND PROMOTE YOUR REFERRAL LINK
Promote your referral link on as many different platforms as you can. The more you promote your link, the more likely you are to earn commissions!
STEP 3: GET YOUR COMMISSION
For every subscription made directly via your referral link, you can earn between 10 – 20% on each billing period (each month for a monthly subscription, each year for a yearly subscription). The commission only stops if the subscription is cancelled.
How do I share my referral link?
To share your referral link, all you have to do is copy/paste it directly from your affiliate interface. It's then up to you to decide where you want to share this link, whether it's your website, blog, newsletter, social media…
Here's an example: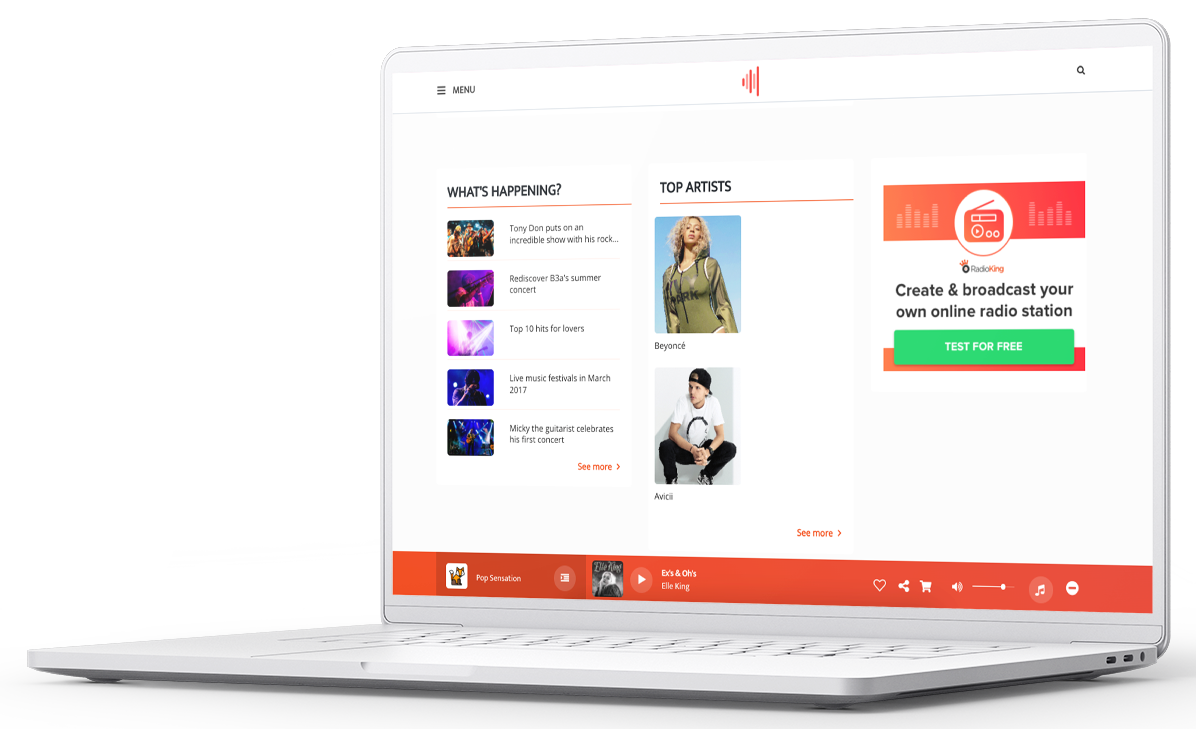 To help you share your link, we've prepared a small advertising kit that you can download for free:
How much can I earn?
There is no limit to the amount of money you can generate via our affiliate program! Each of our services will earn you a different commission, here's a detailed list of the commission percentages:
Commissions 👇
– Business Radio: 20%
– Pro Radio: 15%
– Start Radio: 10%
– Business Application: 20%
– Pro Application: 15%
– Start Application: 10%
– Website Lifetime License: 15%
– Full Website: 15%
– Simple Website: 10%
– Vocal Apps: 10%
– Pro Radio Player: 15%
How do I obtain my commission?
Our affiliate program works on a performance basis. You will be able to make a withdrawal as soon as you have reached a minimum of $50 from your affiliate area > Request a withdrawal.
If you have any other questions regarding the RadioKing affiliate program, don't hesitate to contact our team!