Do you want to join the radio adventure but have some unanswered questions? Well, today we're taking a look at the most frequently asked questions we receive about starting an online radio station!
Launching your online Radio Station
What equipment do I need?
All you need to get started is a computer and an Internet connection! You'll also need a few tracks to upload to your Radio Manager in order to get your radio station up and running.
Do I need any technical knowledge?
Not at all! Our platform is extremely intuitive and was designed for a user-friendly experience. Our aim is to help anyone and everyone make their radio project a reality, our team is available to help if you have any questions. We also have a knowledge base with all the tutorials you may need to make your project come to life.
How much does it cost?
Here at RadioKing we have 3 different radio offers, available in a monthly or annual subscription:
Start Offer: $29/ £19/ €24 per month or $288/ £192/ €228 per year
Pro Offer: $59/ £39/ €49 per month or $588/ £384/ €468 per year
Business Offer: $119/ £79/ €99 per month or $1188/ £780/ €948 per year
How do people listen to my radio station?
With all of our radio offers we'll provide you with an online stream, you can find the link to your stream under Widgets > Default link in your Radio Manager.
There are many different ways that you can share your link, you can take a closer look at this article for more information.
Do I need a website?
You don't need a website in order to create your online radio station, although it could definitely be a good idea to create one. Having a website allows your listeners to easily listen to your radio station, plus you can completely customize your website to the colours of your radio!
Having a website is also important in terms of SEO (search engine optimization) and will appear in search engine suggestions when people search the name of your radio station.
Do I need a music license?
If you're planning on broadcasting commercial music on your radio station, you will need a music license.
Bear in mind that music licences also concern royalty free music. A royalty-free license is cheaper as you'll only need to make a one off payment which will give you lifetime rights to use the music. If you're looking at simply broadcasting talk radio, you won't necessarily need a license.
Can I make money from my radio station?
There are multiple ways that you can make money from your online radio station such as: adverts, affiliation, sponserships/partnerships, selling goodies etc…
For more information about the various ways you can earn some extra cash with your radio station, you may want to take a look at this article.
Can I broadcast my FM station online?
Do you have an existing FM radio station that you want to broadcast online? It's completely possible with RadioKing! First of all, you will need a Radio Subscription in order to create your online stream.
To broadcast the content of your FM station online you will need an encoder (whether it's a physical encoder or a software such as BUTT). You'll find all the necessary steps to follow in this tutorial.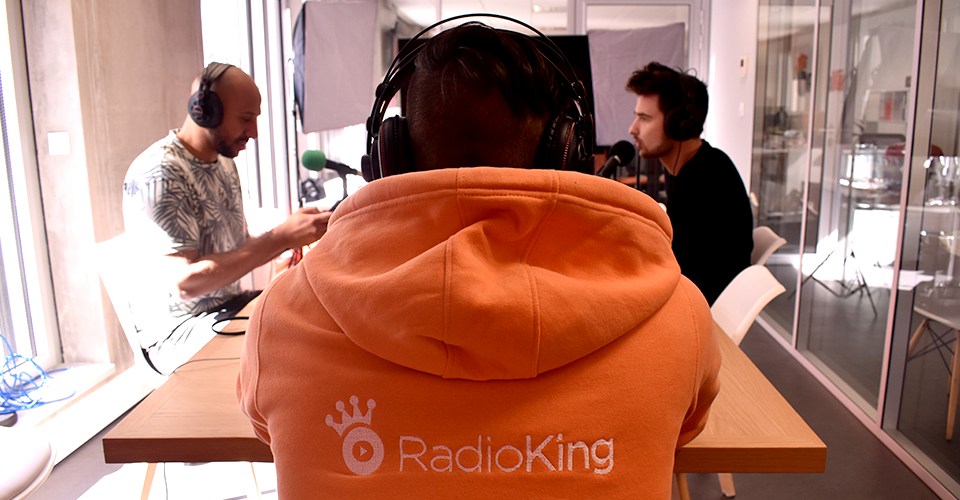 Broadcasting on your Radio Station
Can I schedule my content to play automatically?
Yes of course! With all of our offers you will have access to an online platform called the Radio Manager. This is where you will upload the content of your radio station, create your playlists/ programs and schedule them to play.
You can even schedule your content up to 6 months in advance! It will play automatically at the scheduled time, even if your computer is switched off.
Can I broadcast live with RadioKing?
You can also broadcast live with all of our radio offers! When you launch your live broadcast, it will take over the automatic broadcasting. When your live broadcast is finished, the Radio Manager will go back to broadcasting your scheduled content.
If you're looking for a live broadcasting software, we invite you to read this article.
Can I broadcast live with people who aren't in the same location as me?
It's indeed possible for you to broadcast live with people who aren't in the same geographic location as you. You'll need to download various (free) software depending on which operating system you're using:
Can I broadcast what I want on my radio station?
The content of your radio station is completely up to you! You are solely and exclusively liable for any content published on our Services (Radio, Website, Mobile Application…) You must ensure that your content is compliant with legislation and regulations, rights and interests, public law and order and proper customs. This refers to any racist or sexist content for example.
What about RadioKing?
What payment methods do you accept?
RadioKing accepts credit card (CB, E-Carte Bleue, Mastercard, Visa, Visa Electron, American Express) and PayPal payments!
Can I upgrade or downgrade my offer?
With our subscriptions you can easily upgrade or downgrade your offer at any time, all of our billing is done pro-rata!
What format must my music files be in?
Any files that you upload to your Radio Manager must be in MP3 format that does not exceed 300Mo.
Can I have more than 1 radio station?
You can create as many radio stations as you want, however bear in mind that you would need to purchase each one separately. If you have multiple radio stations, you'll be able to easily switch between them via your Radio Manager.
Can I add other DJs to my radio station?
You can add as many DJs as you want to your radio station! They'll simply need to create their own free RadioKing account so that we can find them on our system. Once that's done, you'll be able to add them to your radio station under Live Tab > DJs using the email address they signed up with.
You'll also be able to manage their access rights! This video tutorial may be helpful.
Do you offer other services?
We offer various turnkey services to help your radio station in its digital development, such as: Mobile Applications, Radio Websites, Alexa Skills and Radio Players. 
Bear in mind that all of our services are sold separately (with the exception of our Business Radio Offer which includes an Android App).
Can I get technical assistance?
Our team is available Monday – Friday (9AM – 5PM French time) to help you with any questions you may have. You can contact us via the Support. We'll always do our best to get back to you as quickly as possible and find the right solution for you and your radio project!
Can I test RadioKing for free?
We offer free 7 day demos so that you can test our services for free! You can create a maximum of 3 radio demos and 3 website demos under the same account.
Click here to launch your free Radio demo!